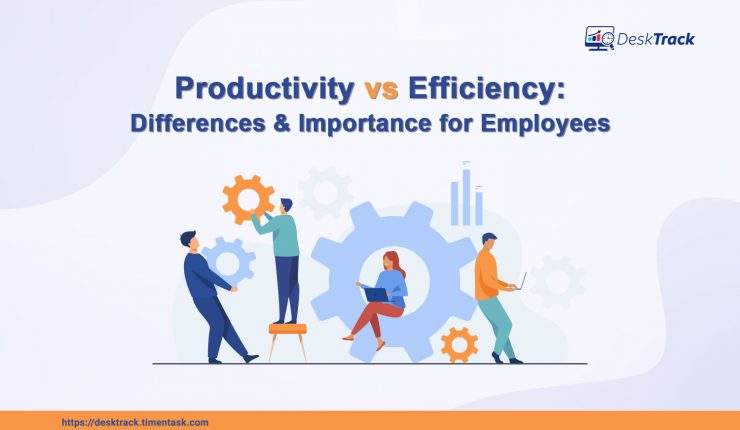 We often use these two terms – productivity & efficiency at work multiple times working in our organization. But have you ever thought about whether they both have the same meaning? Let us tell you the proper definition, productivity means the quantity of work, whereas efficiency means quality. 
We cannot say if an employee is being efficient in his work, then he is productive as well and vice versa. So, an increase is a must in both, or this leads to fewer business achievements and potential. Therefore, in this article, we'll let you know about both terms, including much more information about the same. 
Table of Contents
Productivity vs Efficiency: What is the Difference & Importance for Employees?
What is Productivity?
Productivity is equal to maximum output, which means measuring the outcome of the work done in a specific duration. Productivity delivers you the cost at which products are being produced, or an assignment is being accomplished. So, productivity implies much more than just digits. It's the performance measurement that is acquired operating detailed information. When you work on productivity, you concentrate on reaching more utilizing the same resources. 
Productivity Formula
The formula for calculating employee productivity is given below that can help you to track productivity per user, team, or department. It doesn't matter if you are a small or large firm, your organizational productivity should be measured with proper processing and on a timely basis for better work culture and outcome. 
Total Output / Total Input = Labor Productivity
What is Efficiency?
Efficiency means achieving the target with less effort and time. Therefore, productivity is about completing assignments, whereas efficiency is about accomplishing things perfectly. Better work efficiency helps you gain your objectives in less time as it makes you take the shortest path to achieve them perfectly. By performing things with proper management, you reach your top class of efficiency and productivity. 
Efficiency Formula
Productivity lets you know the number of each employee working in your organization, but it does not provide the exact insights as to the quality of work. Therefore, you can approximate your existing products with the expected effort needed to gain the same outcome. So, below-given is the formula for measuring the efficiency of the user, team, or department.
(Standard Labor Hours / Amount of Time Worked) x 100 = Efficiency
What is the Difference Between Productivity & Efficiency(Productivity vs Efficiency)
In general, companies think more about increase productivity & efficiency, but without proper efficiency, only the increased productivity will not help you improve in any aspect. The balance between productivity and efficiency needs to be equal for meeting your targets as it is a process that goes hand-in-hand, so if one goes up while the other goes down, it leads to poor work culture. You can be productive and efficient at the same time by analyzing the quantity or quality of your work. 
Productivity and efficiency are equally crucial for any company's improvement, but they ought to be balanced perfectly for ultimate outcomes without wasting much time or effort on unnecessary things. 
If your employees are working overtime or are wasting a lot of time in completing their work and being productive, then there may be some issues in overall productivity or efficiency. Therefore, an increased workload may cause a lot of pressure and stress that may be considered "over-productive" and can increase the risk of burnout. 
For a better work-life balance, it should be crucial for individuals to maintain their everyday productivity and efficiency at workplace together so that they can complete their assigned tasks on time and with complete focus and engagement. Productivity and efficiency goals help employees save time for their personal life as well without continuous anxiety from their job. 
The Importance of Productivity and Efficiency
If we tend to do the productivity and efficiency measurement, then the comparison itself says that calculating efficiency will provide more insights in contrast to productivity. Companies must tracking productivity to specify that their expectations have been fulfilled and to set accurate working hours. Even though, increasing productivity is not compulsorily linked to growing earnings. 
The speedy processing of production can lead to multiple blunders. Teamwork is essential to attain the targeted goals, and if team leaders do not involve their co-workers in accomplishing the tasks, it leads to the consumption of more time and resources. So, because of inefficiency, productivity can result in a net loss rather than a profit.
However, the increased efficiency demonstrates progress. There are no possibilities in which more increased pace of undertaking to measures or finishing assignments in a shorter span do not provide the essentials. Smarter companies will deliver engagement to both efficiency and productivity but will also consider transformations in productivity in more considerable circumstances.
How to Boost Productivity and Efficiency at Work?
Whether it is about increasing the productivity of a particular employee or the whole company delivering multiple benefits. As a result, increased productivity & effficiency at workplace for employees can provide high earnings or advantages. Also bonuses at work on the company level. it can offer more profitable outcomes and economic development. 
Employees who feel at home working in their organization manage to be more productive and indulge in delivering more profitable outcomes. In addition, comfortable and involved employees are additionally likely to be efficient and deliver a mindful usage of resources. 
Have a look at the below-given tips that can help you increase productivity & efficiency at work:
For companies:
Conduct employee feedback
Employees are the most valuable asset for any company, and their feedback plays a very essential role in improving overall productivity. So, companies should conduct weekly or monthly meetings to know the requirements, thoughts, and perspectives of every employee. 
Facilitate learning options
As the studies have shown, training and learning help employees boost their performance and skills in their job. Making the classes or training available for employees can provide them with immense advantages, so the employees will be more encouraged and less nervous to accomplish their duties. 
Keep a transparent company vision
Creating transparency and clarity in the workplace leads to a better work culture with compatible results. It helps employees work together in a team with morale and motivation and upgrades teamwork. Therefore, a transparent vision helps in building an effective environment at the workplace.
Have your employees' track time
Employee time tracking helps the company and the employees have a record of work done throughout the day by which they can get multiple benefits and help in work performance. Therefore, employees will get to know better management of their time and resources for more profitable results. Go for the automatic time tracking tool and avoid manual entries to get the actual insights of your workforce. 
For Employees:
Multitasking leads to delays in completing a task or project before the deadline, and that affects productivity. When employees dive into accomplishing multiple projects at the same time, they easily lose their productivity. Therefore, getting into multiple things at a time, one should work on the ongoing or the most crucial tasks and streamline their work patterns so that they never cross deadlines, use resources efficiently, and never undergo a fall in productivity again.
The use of technology saves a lot of time and effort and speeds up methodologies. The usage of proper tools reduces manual efforts while utilizing the resources efficiently and minimizing the chance of errors.
Tracking your productivity is critical as it helps you stay informed about your work performance and progress by being more efficient and providing the constant result. Therefore, time tracking helps you know the time spent on each project or the wastage of time and allows you to improve overall productivity and efficiency. 
Distractions are the main reasons for low productivity and efficiency. Employees stay on their systems but are unable to focus on their given tasks because they feel distracted for multiple reasons. As the studies have shown nearly 3 out of 4 employees acknowledge they feel distracted when they work. As a result, it takes 23 minutes and 15 seconds to fully recover focus after a distraction. However, installing a tracking tool can help manage all the issues and reasons for distractions. The increase in productivity can only be possible if the employees stay focused on their work, and this helps them utilize their resources more efficiently.
Elements that Decrease Productivity or Efficiency
As we all know, both productivity & efficiency are the most essential aspects of business enhancement and growth. But the decrease in both of them may cause a lot of differences, employee burnout, disengagement, and many more, which lowers the chances of development of the company. 
Mainly it is about the work culture as it can build or destroy productivity & efficiency. As per the research of Gallup's State of the Local Workplace, 85% of workers are not committed to their work or are disengaged and wasting their productive time, which leads to a lost productivity of $7 trillion. 
Productivity and efficiency at work may decrease for a lot of causes, including the absence of inspiration, disturbances such as personal phone calls, fun conversations, workplace distractions, anxiety, boredom, or health issues.  
So, to improve the overall issues and distractions for productivity advancement, the most essential task is to build transparency among teams working in your organization and create a work culture that helps to concentrate and stay engaged. Therefore, for a better work environment, companies should start establishing exact work hours, limits between private and productive time, and a managed zone where no one feels lost and get things on time when needed. 
Efficiency advancement strives for less distraction and a more focused and engaged work environment. It authorizes smooth work culture and duration. So, for better efficiency in work patterns, companies should set some the things like working from home, approval for music as it helps to remove distractions and improve focus, or specifying the exact duration for personal phone calls and meetings.
Productivity & efficiency to beat the competitors
Productivity and efficiency measurement play a significant role in the development of business and beating the competitors in the market. They both are techniques that can be operated to succeed in the market over the competition as both these techniques help you to win the market in many aspects. 
Also, they let an enterprise be more efficient in the way and methods of how they work. This allows them to create more outcomes concerning the process that they are setting into the operation. Therefore, this method can help companies win the market over their challengers with ease and comfort. 
The Final Words
Productivity and efficiency in the workplace are two crucial visions in the business, or we can say for every type of organization and industry. Balancing both of them is a challenging task for workforces, but it is important in providing uniform outcomes for achieving the desired success. 
However, managing both of them hasn't been so difficult as the tools available in the market make things easy and effortless, including automating task allocation and processing, enabling employees to achieve more in less time, and authorizing team members to cooperate and work more efficiently with complete focus and engagement. 
The market is holding unlimited technologies, so if your employees are working away from your premises, then also they can boost their productivity and efficiency in every aspect no matter where they are. 
Hopefully, you now have a more satisfactory knowledge of the differences between these two terms with the importance and some concepts to bring the most acceptable of both.