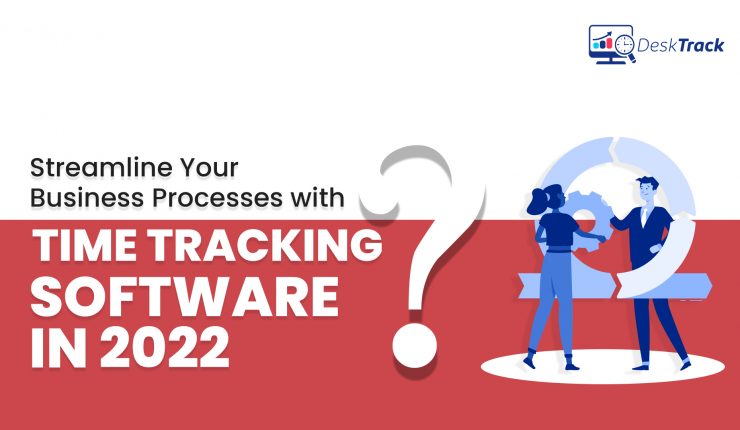 Streamlining your business processes is one of the most important aspects to skyrocket your growth. The first step towards streamlining small business workflow is to take time management on a priority basis because time is everything. However, it may always seem a far cry if your team can't achieve better time management skills.
Table of Contents
Streamline Your Business Processes with Time Tracking Software
Though time management should come as one of the foremost life skills, what we often lack is the right motivation to stop procrastinating. Time tracking software comes with all the required features that can help your team focus on a particular work. Also, it ensures a more efficient and on-point product delivery process as your team gets empowered through better time management skills. Hence, we must say that with time-tracking software, things always become easier as far as streamlining your business processes is concerned. Here in this article, we will discuss how time-tracking software can help you streamline your business in 2022. So, reading out continuously to know more about the same.
What is the Meaning of  Streamlining Business Processes 
Streamline Business Process means Simplifying or eliminating unnecessary tasks in order to improve the efficiency of a business or organizational process. The streamlining of processes requires the use of modern technology, techniques, and other possible approaches.
Typically, defining a business process, we can say that it's a repeatable course of action. Businesses follow day-to-day to achieve both short and long-term business goals. A streamlined business operation allows you to move closer to achieving your long-term business goals by properly addressing each of the short-time goals.
A well-organized process ensures top-most productivity with utmost transparency and ultimately thrives. The best time-tracking software in India offers you the proper data to analyze and make the right decision for your business. Also, this software can easily come into integration with the existing software and tools in your organization. As you integrate tracking software with HRMS or CRM tools, it automates the process of employee management. Therefore, implementing time tracking software in your system is the first step toward streamlining your main business process.
Ways to Streamline Business Processes using Time Tracking Software 
From helping you analyze your workflow to calculate actual profitability and ROI, time-tracking software helps your business with the right data and statistics. Likewise, employee time tracking software helps you to run a streamlined process by finding and eliminating loopholes in the current system. Take a look into the ways time tracking software contributes to streamlining your business.
1. Analyzing the Workflow
It may sound a bit strange, but the fact is that many business owners are there who don't have any clue about their business processes or workflow. The reason is simple: there is no useful data on employee activities that can offer productivity insights.
Your workflow needs to sustain and evolve in this ever-changing market demography. If your team referring to your system workflow can't keep up with the required advancement, then your business will not be able to fit your customers' changing needs.
You can always ensure the workflow with time-tracking software that is exclusively beneficial for your business with data analysis. The pool of data collected through employee tracking software helps you to decode the pain points in your system. Also, by analyzing the workflow, you can always find out and automate repetitive tasks in your business process.
2. Increased Productivity
As organizations across the globe are shifting towards a work-from-home model, there is always a risk of lower productivity among your employees. In fact, according to a study by Owlslab 2019, 82% of managers are concerned considering that remote work might reduce employee focus and productivity.
Also, it's common to see that remote work affects employees' productivity because many distractions are present at home. That's why it is impossible to stay productive at remote work. Many people have found it difficult to switch off the work mode while working from home as it is likely to be. This is why there are always chances of stress and burnout.
With employee productivity monitoring software, your team members can easily track their performance, keeping them motivated in the long run. Also, having a clear idea of how significantly you have worked during the designated hour will offer the required sense of completion to switch off from the work mode. Finally, by eliminating stress, you can always ensure better productivity from your team members.
3. Better Team Management
Skillful team management plays a major role in improving your team's overall efficiency and productivity. And, what can be better than having real-time updates of every ongoing work under your supervision to manage the entire team properly? Well, it may not feel important enough if you're a 2-3 people's team. 
But, if you're working with equal to or more than a minimum of 5 employees, introducing time tracking software to the system is the key to success. Yes, with such a tool, you can schedule your work, assign the work to your team members according to their strengths, cut down the extra workloads, and ensure the lowest consumable time to work out the best results and make your business profitable. 
Alongside that, time tracking app clearly shows you the strengths and weaknesses of your team members. So you can always help every individual with your valuable input. Moreover, since the complete work gets tracked, you get a clear idea of what time a certain work will take. This way, you can easily optimize your team's resources and use them to the full potential for your business growth without any wastage. It is the best answer of how to streamline business processes.
4. Billing Clients Becomes Easier
Often freelancers want to charge on an hourly basis for a particular project. In fact, billing at an hourly price works best if you are a creator, such as a copywriter, video editor, or something that involves creativity. You get the exact data on the required time by using employee time tracking software which is very useful for billing on an hourly basis.
Employee tracking software offers solutions related to activity tracking, it helps to streamline business process operations management for organizations. You can get data related to actual productive hours spent on a project through activity tracking. Thus, billing becomes much more transparent and easy.
For remote work management, the only way to precisely get the report associated with total working hours is to have time-tracking software. Not only that but a lot of tracking software comes with billing solutions on their interface, which makes it fairly easy for your accounts team to generate bills depending on the exact time required to complete a project.
5. Complete Work Documentation
To streamline business process efficiency, The documentation of the entire project work is quite important because you never know when your client will ask why a particular task took so long. Moreover, since a time tracking app keeps taking screenshots of the entire desktop, every detail gets saved, and you can show the entire log to your client to maintain transparency. 
Proper work documentation helps you pass through tough negotiations with clients and saves your team from unreasonable workloads. Above all, having a complete log of who did what and when enables you to improve the rate of day-to-day work progress. 
So, work documentation is necessary to streamline business work. Using time tracking software you easily do that. Especially if your team works remotely or takes up government projects, time becomes money. Hence, having a clear view of where you're spending every minute will help streamline the business. 
6. Helps Keep Projects Profitable
Profitability matters at every stage of your business. Therefore, having a data-driven report that showcases all the insights regarding the human resources invested in a particular project gives you a clear perception of profitability.
In fact, as you gain more and more insights, you can easily find out the loopholes that can be eliminated from the system, making your business much more profitable & streamlined. Also, if your business runs in the service sector, then the employee tracking report will help you offer prospects the right price quotation.
Activity tracking allows you to better understand the strengths and weaknesses of your team members, thus it allows you to assign the right project to the right person. As long as you delegate the right person to the job, your team can complete projects ensuring profits for your business.

7.  Make Precise Estimates
Right estimation can be very useful in streamlining business. But an estimation must have to be data-driven to be authentic and precise. Be it estimating the actual potential of your team or the time frame to complete a project when you have the data related to employee productivity in your hand; you have won half the battle. 
When it comes to estimating the exact time to complete a project, it's exclusively important since it's directly associated with client satisfaction. You need to set the right deadline knowing your team's potential so that you can get the job done within the decided time frame.
Unrealistic deadlines can create unwanted stress within your team members, causing their productivity to decrease. Eventually, it can adversely affect your organizational growth as productivity decreases, and employee retention becomes a hard thing to achieve. However, you can always know your team members well enough to make precise estimations with employee tracking.
Benefits of Streamline Business Processes
Streamlining the business processes is the key to making a very successful business. The more streamlined your workflow, the more efficient your workforce is. With time tracking software you can streamline your business very easily. As well as there are many benefits you can get when you efficiently streamlined your workflow.
Take a look at the following Benefits of Streamline Business Process
1. Better communication
Streamlined business processes are better for communication between departments because everyone knows what needs to be done and how best to do it not just one person in one department. This makes it easier for everyone involved in the process and means there will be fewer misunderstandings and disputes between departments over who was responsible for what part of a project or task at hand.
2. Time-saving
Streamlined business workflows allow companies to reduce their administrative costs by eliminating unnecessary activities such as paperwork shuffling and emailing. This not only saves time but also helps a company save money on paper, postage, and other expenses associated with paper-based communications.
3. Reduced Expenses
Streamlined processes also help reduce employee expenses because they don't have to spend time on non-productive tasks such as reading emails, sorting documents or filing them away in cabinets or drawers when they could be doing something more productive instead like preparing reports or analyzing data from data entry errors.
4. Improved Productivity
The streamlined workflow will improve productivity at your company because employees will have a better understanding of what they need to do each day, allowing them to work more efficiently. The organization of the workday will also help employees feel less stressed, which can improve their productivity even further.
5. Improved Employee Satisfaction
By streamlining your business processes, you can ensure that employees are happy with their jobs and perform at their best levels every day so that they can increase their efficiency and productivity even further! This will give them a sense of accomplishment and pride which will make them want to do more for the company and make it an even better place for everyone else who works there!
Conclusion
That's all! Now you know how to streamline your business processes using time tracking software. If you have further queries, drop us a comment. And, if you're willing to sign up with one of the most-used time tracking software DeskTrack, click here. 
Our DeskTrack time tracking solution has been serving customer needs in different industries. No data logging is one of the many perks that is helping us to serve more customers daily. If you also want to try our services risk-free, connect with us now.