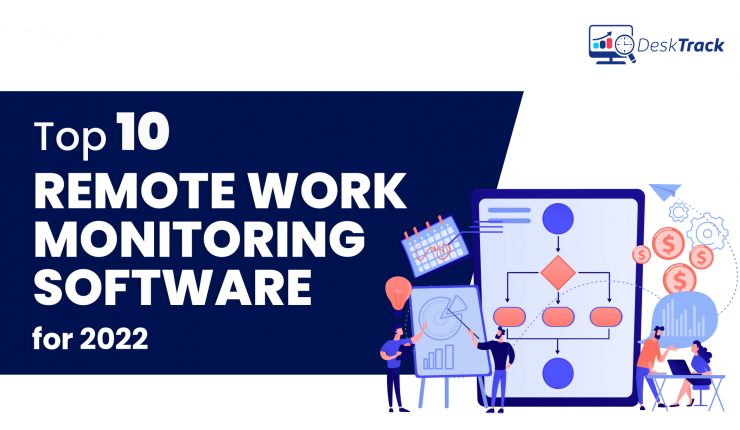 More individuals are working from home because of the COVID-19 outbreak. Additionally, the need for employee monitoring software applications is on the upswing.
Remote work monitoring tools are acting as the lynchpin of keeping all the remote working things organized. With this tool, you can easily track the work of your remote employees. To be precise, it's a conduit between the employee and the employer. With technology and its innovation, it could be considered as a boon that provides transparency while working remotely for both parties, i.e employees and employers. 
      1. Achieving accountability among employees
Employees might be held responsible for their behavior in this manner as well. They may have been swamped with work if they say they didn't have enough time to complete a job.
      2. Incentives for great work
When it comes to employee monitoring, it isn't only about penalizing those who aren't performing their tasks effectively or productively; it is also about rewarding those who are.
       3. Keeping workloads under check
Even if you attempt to prevent it, most teams end up with imbalanced workloads; some employees are overworked and stressed, while others don't have enough work to complete. Workload redistribution may be improved by pre-planning and analyzing the data insights. 
       4. Accounting and invoicing.
Payroll, billing, accounting, and other financial activities may all be integrated with certain technologies for remote project development. Tracking employee time spending and converting that time spent into an invoice may be done quickly if you charge by the hour.
Read more: Challenges of Managing Remote Teams
Best Remote Working Monitoring Tools
It's a common question among bosses throughout the world: What are the most effective strategies to monitor the productivity and performance of employees? Here are the listed top 10 remote working tools.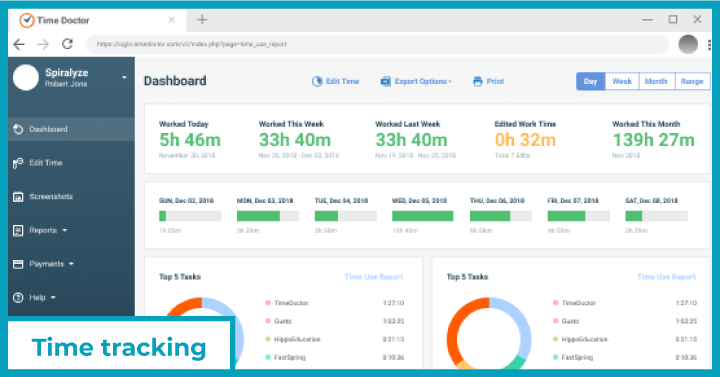 Using TimeDoctor, you can monitor the productivity of your employees as they work remotely and steer them away from unproductive websites and applications. With the usage of pop-up notifications, managers may quickly see who is working and who isn't.
Your team members' displays may be captured at predetermined intervals by TimeDoctor. Daily or weekly reports may be sent to managers to help them keep tabs on employee hours, website traffic, and application use. employees may monitor their own time use in order to immediately identify and change their own time-wasting habits.
Features
Time spent away from the computer during breaks on the track.

Make sure that employees are paid for their time worked.

Get notified when you spend too much time on social networking or other sites that aren't linked to job.

In the event that you're not connected to the Internet, you may still see how far you've come

All devices may be used with this software. Windows, Mac, Linux, Android, and iOS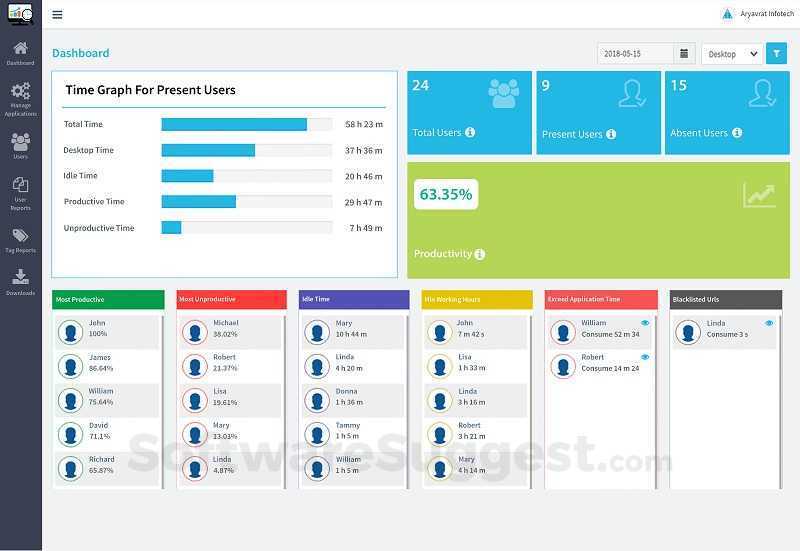 User insights are recorded by DeskTrack desktop activity monitoring software. Simply said, this data may be used for user behavior analytics that flags suspicious behaviors, assets utilized, gaps, and so forth. Users can't turn off the agent in DeskLite and Stealth mode but with the Tagger plan companies can enable the permission for users to pause/resume the tracking so that they can have personal time and relax themselves to boost productivity & focus.
Features 
Even if the internet is not accessible, DeskTrack will continue to track the system, but data syncing to the server will be interrupted until the internet is reconnected.

Keep track of the applications/websites you use and the overall amount of time you spend with each one

Classify activities used as per the functional role to find the engagement & evaluate work efficiency 

Categorize apps & websites as per the work nature into whitelisted & blacklisted to track productivity

View the team's current action in real-time on their screen with screenshots

A cloud-based & mobile dashboard for admins/managers/employees that can be accessed from any location and at any time.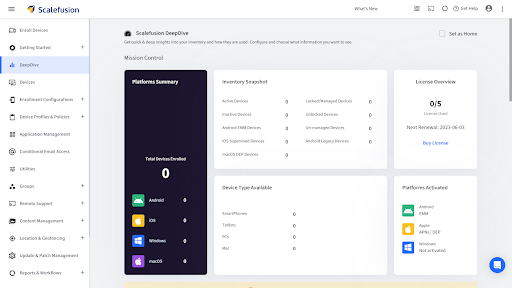 Scalefusion is the right fit for all organizations that embrace remote work and those with a geographically dispersed workforce. Scalefusion makes the management and control of remote devices seamless. Whether the device is corporate-owned or employee-owned (BYOD), IT admins using Scalefusion MDM will always be on top of device security. Scalefusion also automates patch management of devices running on different operating systems. Scalefusion simplifies IT tasks as everything can be managed remotely from a single, intuitive dashboard.
Key Features:
Remote Cast and Control: Remote troubleshooting of device issues with ease

Reports and Workflow Management: Create extensive reports for the entire device fleet

Kiosk-mode Locking of Devices: Run devices for single- or multi-app purposes

Device Encryption: IT admins can push policies and compliance for enhanced device and data security

Location Services: Track device whereabouts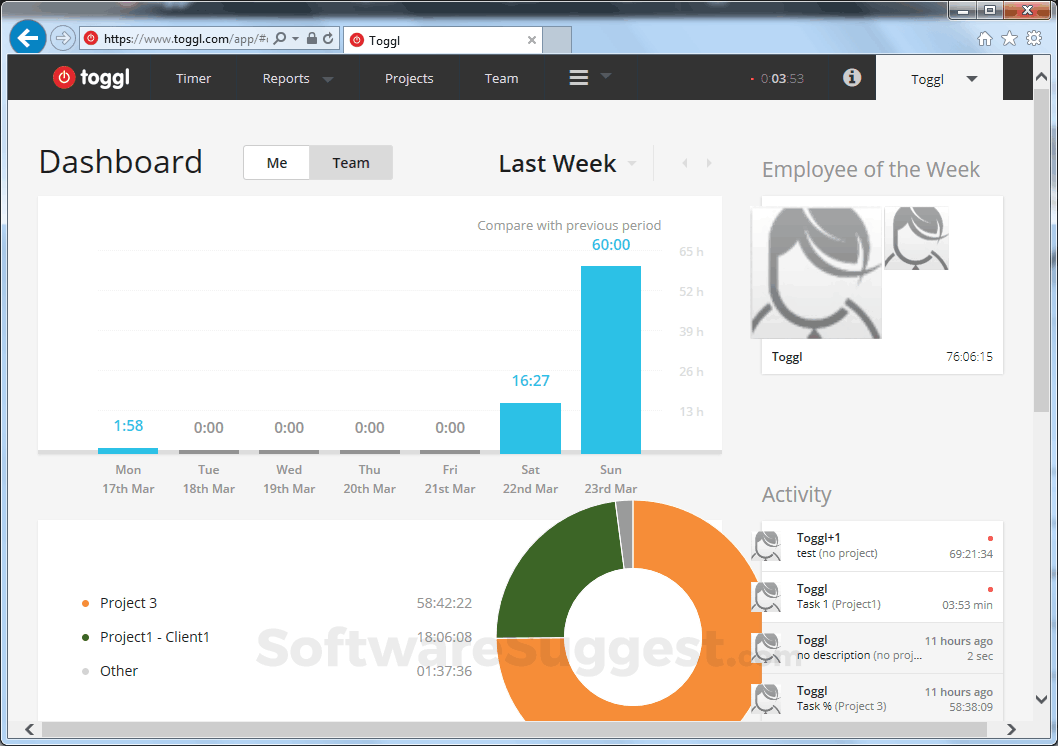 Use Toggl to determine whether your remote employees are putting in the hours. It's a good tool for easy job management and time monitoring since it has features and programs tailored to small enterprises and entrepreneurs.
Features
Hundreds of different tools may be tracked with this powerful browser plugin.

Advanced reporting options to assist you in better understanding how much time you've invested. To save space, each report may be saved as an XLS, a CSV, or a PDF.

Virtual timesheets that may be accessed from any computer with an internet connection.

Monitor your employees' typing activities using keystroke monitoring software.

For a quick and simple onboarding process, the user interface should be simple and straightforward.

Excellent communication with the client.

Auto-tracking for a wide range of applications is supported.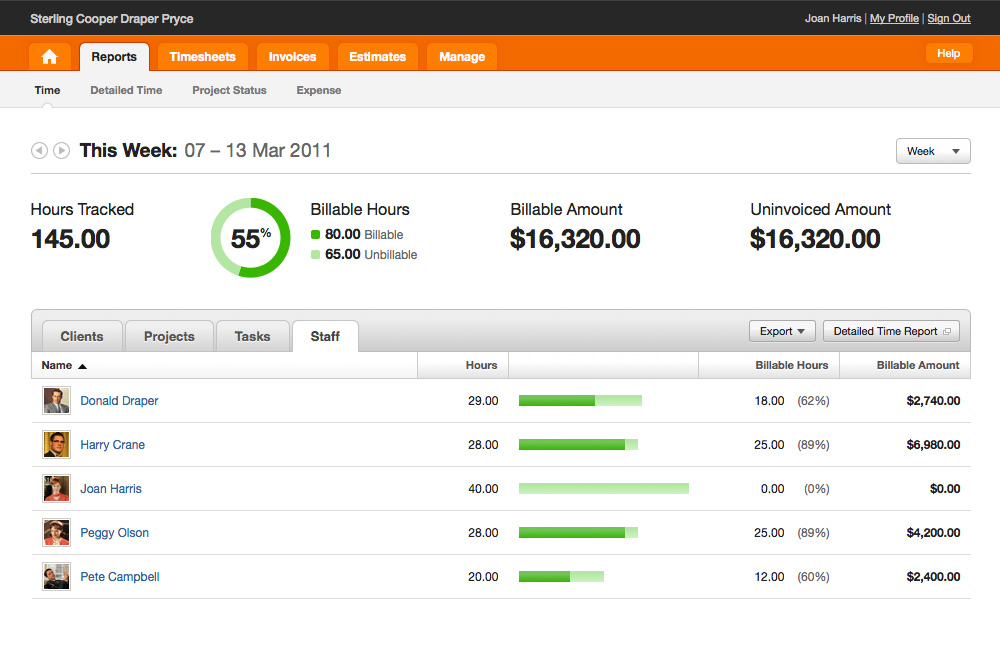 If your company has a lot of customers on a daily basis, Harvest is a wonderful time-tracking solution. Using Harvest's powerful invoicing features, you can easily link your billing operations with Harvest.
Features
PayPal or Stripe may be used to accept payments from customers in different time zones.

Adapts to changing work schedules by automatically synchronizing across devices.

The ability to tailor billing rates and tracking and processing to the specific needs of your clients.

Harvest is able to work with a wide range of applications, including email, project management, and video conferencing. More than a thousand applications may be linked to it using Zapier.

Numerous options for integration are available.

Financial management tools at the enterprise level.

Simple onboarding thanks to a streamlined user interface.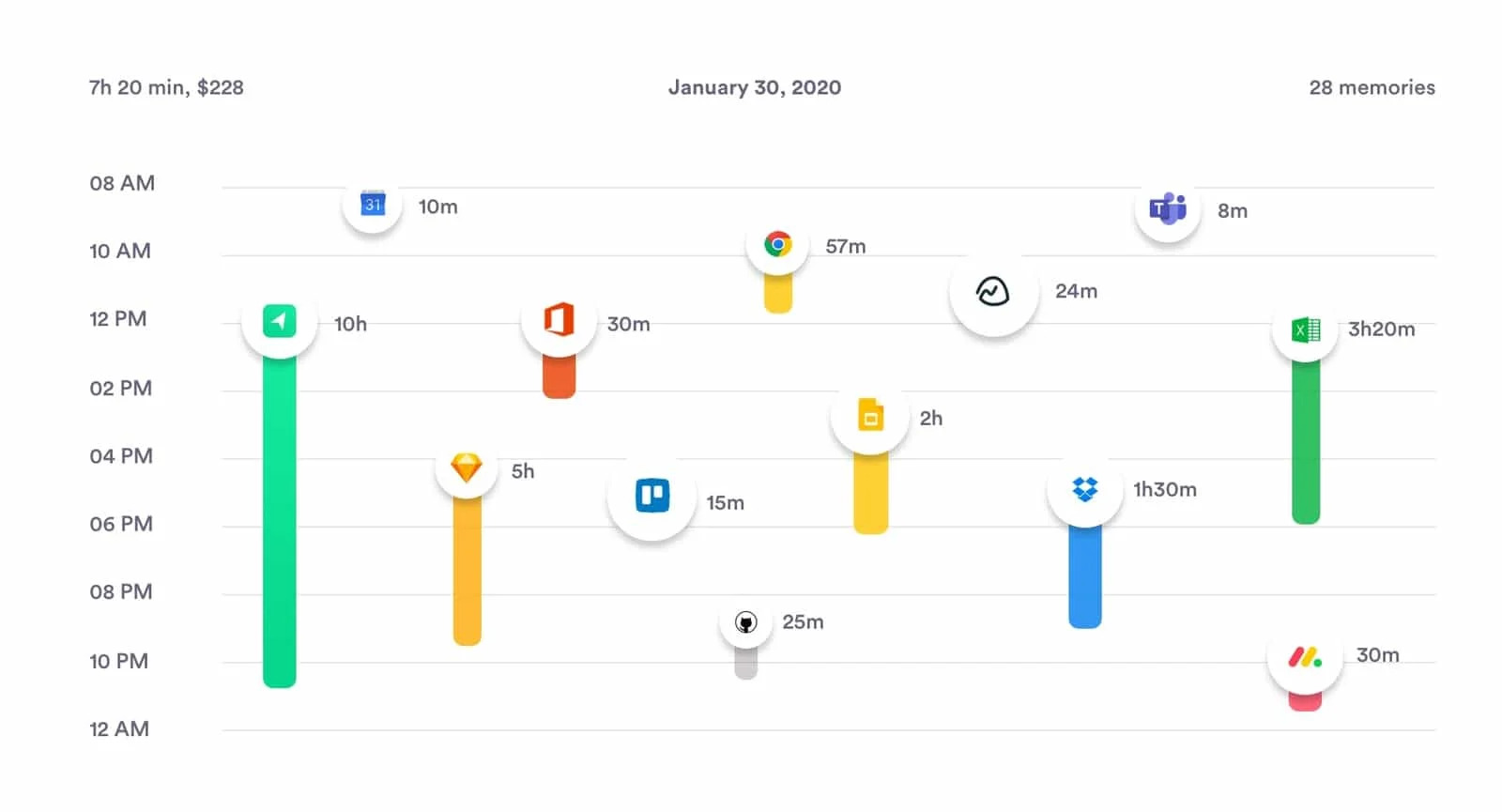 Another tool for checking on remote employees' productivity is Timely. You may organize your time using Timely by tasks, websites visited, and tools utilized.
Features
Automation that eliminates the need for human involvement in-time monitoring.

Detailed timesheets and reports allow for easy tracking of chargeable activities.

Non-billable actions may be tracked as well.

Your team can interact via activity streams thanks to an integrated dashboard.

Some of the most popular project management, communication, and video chat applications are all compatible with Timely. However, many of these features are only available in the more expensive versions of the products.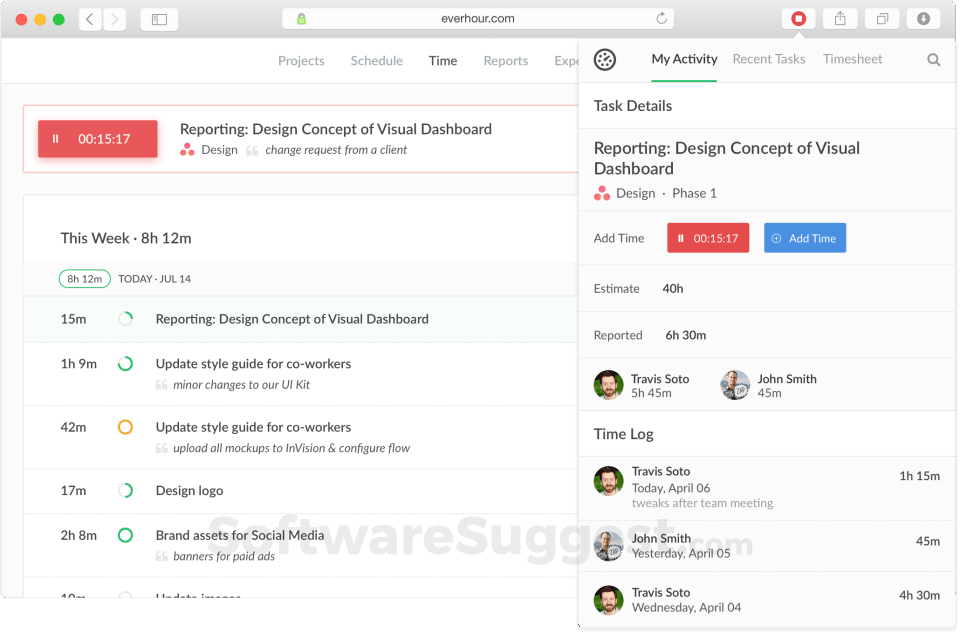 Everhour is an excellent web-based program for monitoring whether or not remote employees are really at their desks. You can keep analysing your remote employees with its built-in time monitoring features.
Features
A powerful real-time dashboard for keeping tabs on your team's current workload.

Invoices may be generated in several currencies using this feature.

Feature-rich browser addons that are simple to use.

If you've made a mistake, you may go back and change the time records. Managers, on the other hand, have the option of temporarily disabling the time-editing capability.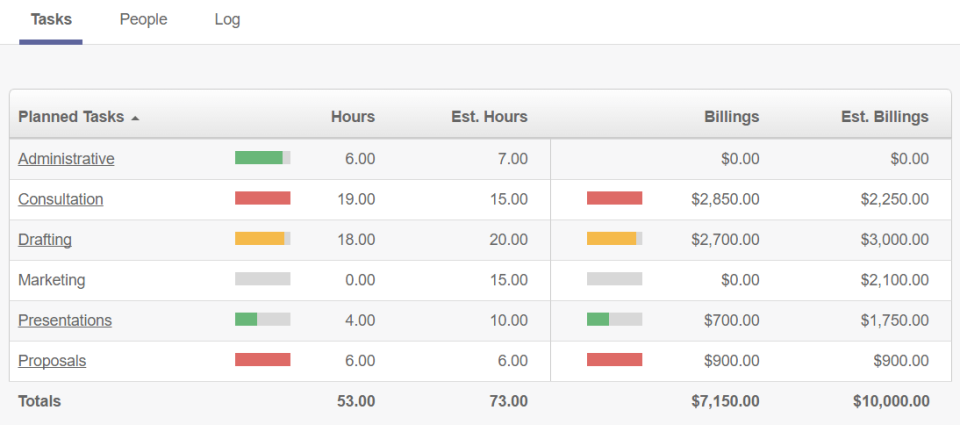 ClickTime is an excellent time-tracking tool that may help you keep track of your tasks and the resources you have available.
Features
You may get a clearer image of your workforce with the help of a variety of reports that can be generated by ClickTime. For example, you can simply monitor staff productivity and job allocation using this information.

All of your projects' schedules and deadlines may be seen from a single dashboard.

Browser applications that enable you to keep track of your time without having to leave the website you are now on.

Despite the fact that ClickTime can interact with a wide range of other applications, they also provide a proprietary API that allows you to create your own integrations.

Custom API for more complex personalization options.

Notifications allow you to stay up to date on the development of your project.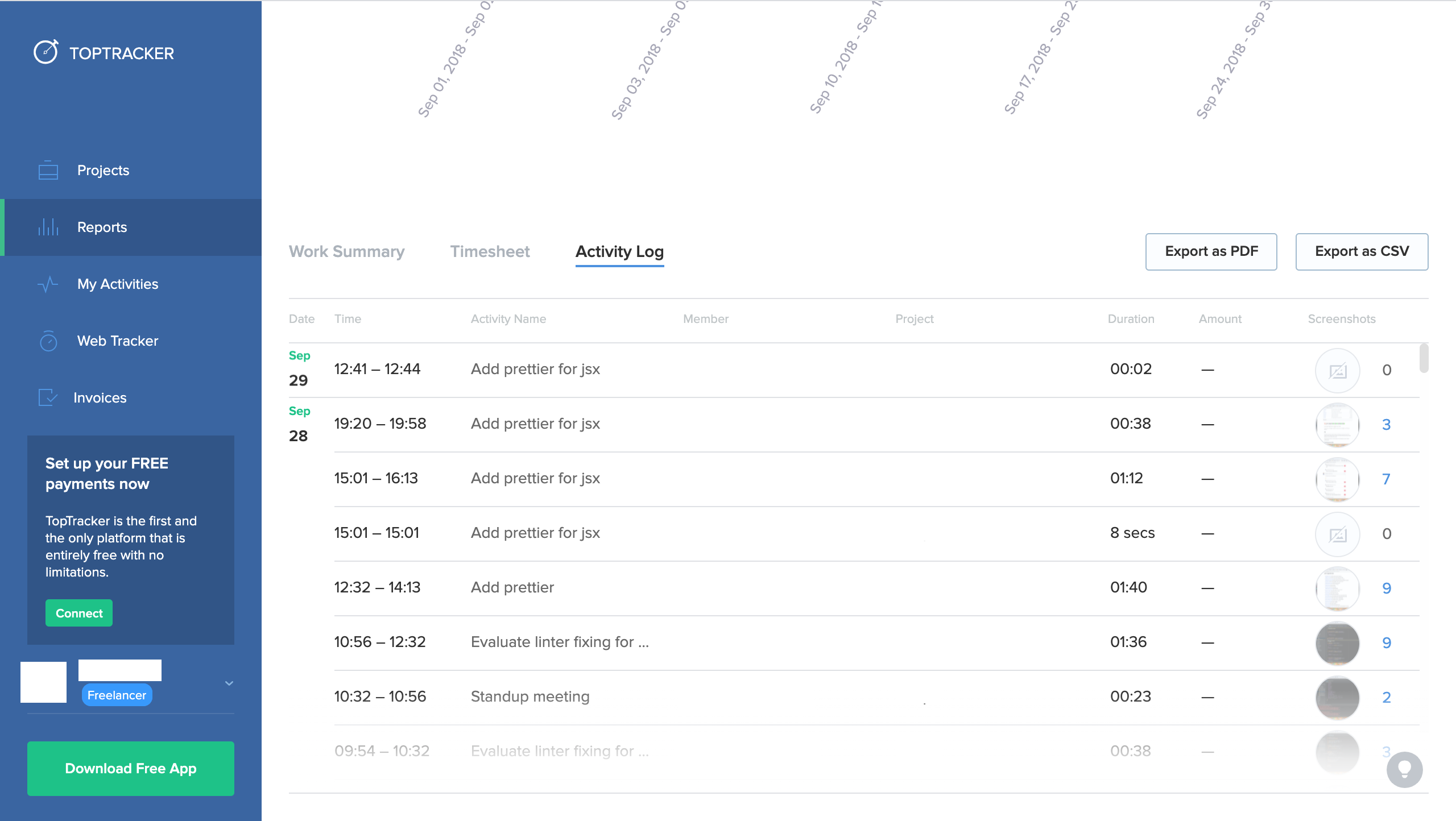 Time monitoring tool TopTracker is ideal for freelancers, solopreneurs, and small businesses. In order to remain productive, it makes it simple to keep track of the time spent on various initiatives.
Features
Monitoring and managing the output of your employees has never been easier with a dashboard like this.

Project and team progress reports that are easy to understand.

Desktop applications for Windows, Linux, macOS, and Fedora are available.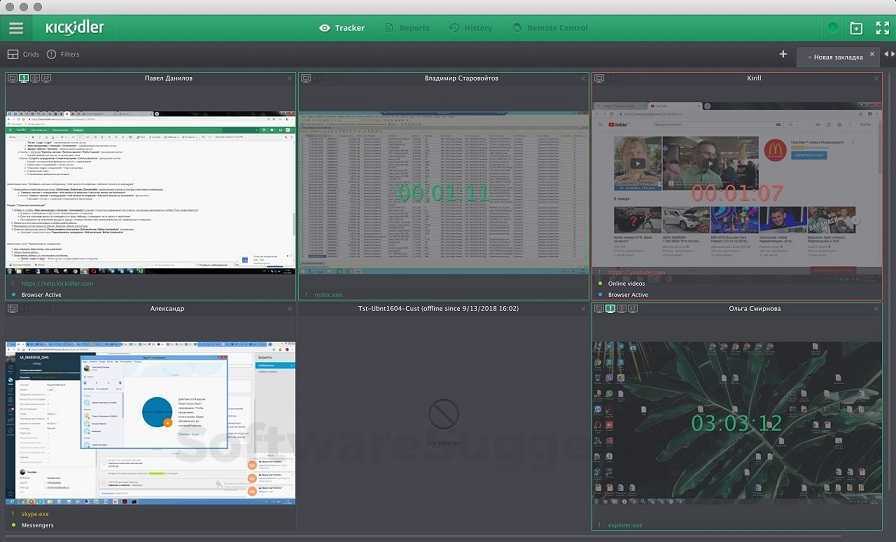 It's easy to keep track of how much time you spend on various tasks using Hours. Looking for an easy way to keep track of how much time you spend? Look no further than this time tracking app.
Features
You may use this to track how much time you spend on various chores.

When you start or stop a timer, you'll get a notification to make sure you don't accidentally log time.

For more adaptable work schedules, you may use the Mac web app to sync your data across mobile devices and Apple watches. 

It's impossible for Hours to work with any other applications.

The interface is easy to use.

You can see how much time you've spent on each task in a graphical representation.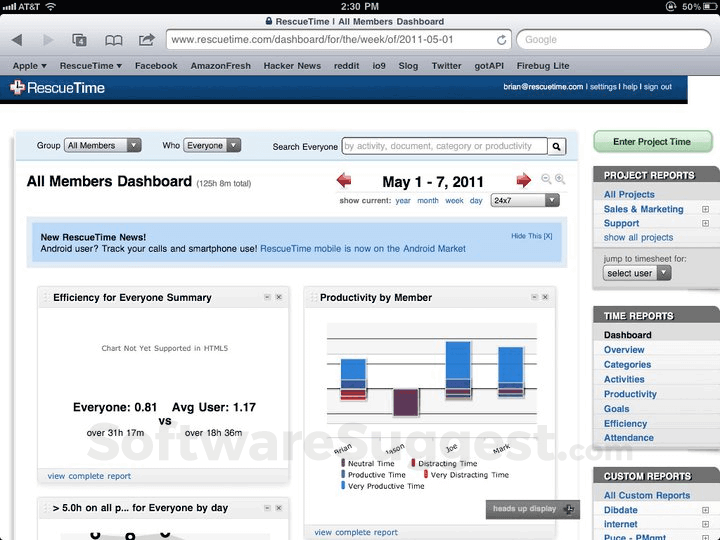 Rescue is background-running web-based productivity software for employees.
Features
Keep track of how much time you spend working on a certain tool or website.

Distracting websites may be blocked. You may personalize this list of non-productive websites.

If you're spending too much time on a single job, the app will alert the user and let them know.

Employee productivity levels may be improved by providing you with thorough data on how your employees use their time.

It's possible to use RescueTime with a wide range of other applications on the market today.
Conclusion
Keeping tabs on your employees who work from home doesn't have to be a hassle anymore.
Employee monitoring software helps in the management of what your employees are up to while also keeping your team occupied.