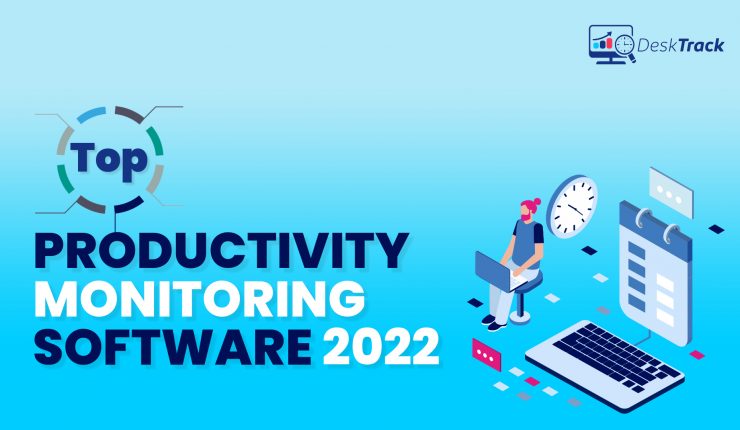 Every manager wants their workforce to be as productive and self-sufficient as possible. Unfortunately, it's difficult to guess how your employees perform based solely on intuition throughout the day. With the help of productivity tracking software, it's now quite simple to keep track of your employees' productivity. We are in the age of Hybrid Work, and managers find it challenging to keep a complete track of employees' activities. They don't have insights as employees who work on-site, such as how much work they're producing and the quality of that work, and the causes for any changes. In the post-pandemic environment, systems that previously focused on tracking employee activity, registering suspicious behavior, and sniffing out potential insider threats are now shifting to track not only productivity but also health and wellness and boost employee engagement.
Productivity tracking software is a form of monitoring software aimed at increasing worker productivity. Its primary function is monitoring the overall productivity, which comprises a variety of time tracking and task tracking capabilities to determine whether the user is filling their work hours appropriately and with the necessary job. Examples are a productivity meter that breaks down the percentages of productive and unproductive apps, lists, and also leader boards that indicate active and inactive users or the most frequently used apps.
This software can be installed remotely and accessed via a management console, and it can also be downloaded separately on each machine. Most enterprises are now investing in this productivity tool that makes the work allotment better.
Benefits of Productivity Monitoring Software
Effective Project Management
Employee productivity monitoring software aids in handling project management by allowing you to plan, schedule, organize and prioritize work. All of the resources have been assigned to the task. You can design and arrange the task here by looking at how long it takes the resource to execute the allocated assignment. This will further help to organize or prioritize the functions by the schedule.
Time Tracking and Planning Resources
When handling projects, employees have to use the right resources properly. The productivity monitoring software will do you with adequate time tracking and planning to execute the project. The tracking software's automated time tracking features will allow you to estimate the projected time it will take to complete the project deliverable before the deadline.
Effective Communication Channel
To resolve any challenges during project development or work progress, employees must work effortlessly with team members. In other words, have a smooth communication flow. Now, new technology is being used to integrate all communication tools into a single platform, and software as a service is being offered.
Employee Productivity Software allows you to share files, emails, video conferences, and other tasks all from one place. Integrating effective communication channels with staff productivity tracking apps facilitates work throughout the day.
Top Productivity Monitoring tools for 2022
Since we have already seen the advantages of these tools, let us check the list of top productivity monitoring software to choose and install for your enterprise management.
#1. DeskTrack
DeskTrack is a cloud-based employee monitoring service that helps enterprises track user activities like total time spent on a system, idle hours spent, and projects handled. Users can restrict app access, permissions, and usage time limits using the platform's whitelist feature.
Users can access team tasks, project information, and daily timesheets and create reports via a unified dashboard with DeskTrack's analytics module. In addition, the desk capture tool takes screenshots to show how much time was spent on various tasks. Managers can record timesheets of many users working in the same or different shifts managing different work hours and timing of login/logoff using the multi-user management feature. When it comes to pricing, it is divided into three different sections. Stealth – $5.99 per user per month. Tagger – $7.99 per user per month. Standalone – $20 per user per year.
It helps with 100% transparency and analyzes employee performance
40% improvement in focus and productivity of employees
Helps in reducing the cost by 35%
No more manual process to create project, timesheets, and calculate the bill
Features of DeskTrack
Allows Screenshot Capture
DeskTrack allows users to take screenshots at regular intervals. Users can take the shots of URLs, websites, or the entire page at the 10-sec interval.
Categorizing productive/unproductive website
Users can tag websites under the category of productive and unproductive. This allows employers to know how much time employees spend on vital work and not so important work.
Website & Application Usage
DeskTrack also gives a complete report on the date and total time spent on every activity done by employees. Users can generate separate reports mentioning websites and applications used.
#2. Connecteam
Connecteam is yet another user-friendly employee productivity monitoring tool that includes a number of employee monitoring features such as real-time time tracking and an absence management feature. It can schedule shifts and jobs, allowing users to ensure projects have sufficient human resources. It features communication capabilities that will enable you to send announcements, bulletins, and updates to all employees to be up to date on the latest company news and developments.
If you want to track employee productivity when they're working remotely, Connecteam is the best employee monitoring software. Connecteam also has a mobile app version allowing managers to review forms, share data with the team and conduct other vital works. The pricing for Connecteam starts with the basic price of $47 and the expert service is charged for $191. All three packages can be used for above 50 workforces.
Some of the features Connecteam come with are-
Helpful for Retail stores
Retailers use this platform to get opening and closing checklists and daily reports.
Helpful for a larges workforce
If you have a team of more than 50 employees, then Connecteam is the best option because it helps in monitoring and scheduling easily for all employees in one go.
Create workflow report
Connecteam allows users to create clock management and creating workflow reports. Moreover, the checklist features and location tracking can allow for digital documentation.
#3. ActivTrak
Listing on the top is the ActivTrak productivity monitoring software having user-friendly features, including informative dashboards offering detailed details to the workforce. Managers can use the tool to set up complete workforce productivity and fully track the team's progress in completing the project. The user can monitor real-time user behavior using ActivTrak, checking on staff without disturbing them.
ActivTrak is an ideal employee monitoring software for its weekly coaching summary if you need help coaching team members. The weekly coaching report can be used as a guide for coaching sessions and entirely focuses on the areas where individual team members are having difficulty. When it comes to pricing, ActivTrak is available for free if needed for only 3 computers. The paid account starts with $9 monthly under advanced and the premium version comes with $15 on monthly basis.
Some of the features it comes with are-
Learn how to identify patterns that drive success and gain valuable insights to improve team productivity.

With Just-in-Time reporting, you can instantly see the status of productivity and availability of your users and teams.

Understanding the applications and websites employees use can help identify adoption gaps, as well as possible risks from unvetted tools

Using key insights across people, processes, and technology, you can optimize work, increase productivity, and reduce risk to ensure healthy work habits.
#4. Sapience
Sapience is data analytics software that allows companies to create reports to get insights into their operations, including employee productivity, project management, and company compliance. When a risk is identified, the enterprise risk management module allows leaders to develop and implement an organization-wide action plan.
Sapience streamlines data gathering and analytics processes by integrating with tracking attendance of the third party, project management, and ERP solutions. Sapience also has Android and iOS apps, allowing employees to manage their tasks anywhere.
Some of the features it comes with are-
Visual representations of the work and data
Productivity monitoring and techniques
Pop-up reminders and focus hours option
#5. ProHance
ProHance is cloud-based productivity management software that allows companies to see and monitor their operations completely on a real-time basis. Organizations can use the program to improve procedures and collaborate on projects across departments and processes. Enterprises can track users' activities in different areas and teams with ProHance's timesheet. Administrators can create custom workflows to automate procedures, route jobs based on expertise, prioritize tasks based on specified criteria, and track task completion.
Managers can use ProHance's reporting and analytics to learn more about completed jobs, employee productivity, asset optimization, expenditures, resource use, and more. The pricing of ProHance will be on request.
Some of the features it comes with are–
Helps administrators for analyzing different optimization and collaboration across various departments
Managers can track and view employee activities
Get complete insight over resource utilization, the performance of teams, and other metrics
#6. Monitask
Monitask is a productivity tracking tool that can help you track staff performance and increase productivity. It can manage tasks and projects to guarantee that projects are completed on schedule and budget. Monitask features a time-tracking function for figuring which tasks are taking the longest to complete and devise strategies to make them simpler and easier to complete.
Monitask is currently among the top productivity monitoring software. It checks how employees use their computers during work hours because it breaks down which websites and programs they utilize. The pricing of Monitask software is divided into three different sections-
Pro- $5.99
Business- $8.99
Enterprise- $19.99
Some of the promising features it holds are-
Time tracking features for monitoring the workload of your team and employees.
Dashboards allow understanding of what is happening in your team and employees' web.
Screenshot features help to track employee and performance remotely
Conclusion
For an enterprise to succeed, employee productivity is a critical aspect, and tracking them, helps people reach their full potential and help businesses flourish. Using the top productivity monitoring software, you can help cut down on wasteful hours and ensure that the given task ends on the given time.