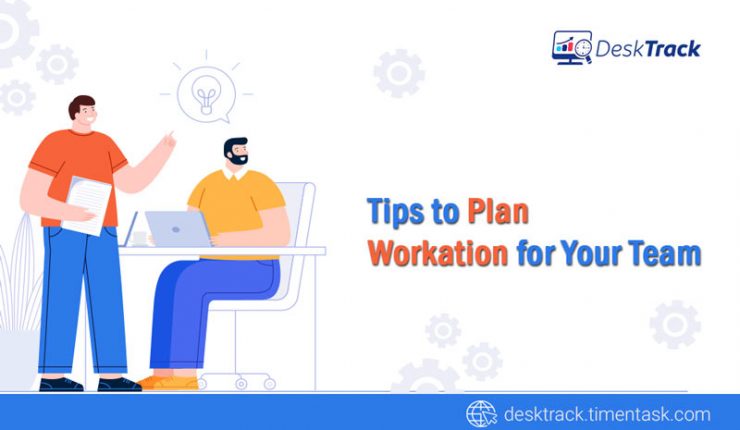 Could you ever think of being on vacation while working? I am sure we all could imagine that. But can we call it COVID-19's boon after which the trend of Work+Vacation = Workation is on the rise? 
Table of Contents
Tips to Plan Workation for Your Team
Let's get familiar with everything about workation when it comes to implementation in your organization.
Is it all good to bring employee productivity on the rise?
Or does it have some challenges as well?
Are you ready to bring this new normal to your organization?
If yes, then how can you prepare your employees to get along with this new culture of work?
Workation Meaning
Workation is a terminology that emerged out of these two concepts called work and vacation. It can either be spelled out as workation or workcation. This new concept of work is basically based on combining work with leisure to prevent employee burnout and enhance productivity.
This culture is very appreciated in USA and Europe wherein as per statistics, 70% of US employees prefer to sustain themselves in the organization, and 8 out of 10 employees find this working culture one of the best ways to prevent burnout. 90% of them say that workation helped them to boost their productivity.
The concept of workation can be considered an extended form of working remotely. 
Who doesn't like to be a star at work relaxing along a beach or sitting in a place covered by mountains and hills around?
Additionally, workation is defined as taking a break from your workplace temporarily and not from the work itself.
Types of Workation
There are three types of workation on the basis of its duration.
Short-term Workation

Medium-term Workation

Long-term Workation
Short-term Workation
This type of workation lasts for a short

period of time

. It can either be organized for three days, during mid-week or weekend break. 

Such a type of work mode can be adopted in a hybrid work culture. 

This type of workation is suitable to be organized at nearby destinations to save long duration traveling.
Medium-term Workation
This type of workation lasts for some weeks to a month.

Such a type of work mode can be adopted in remote work culture.

Such workations are usually planned within the country.
Long-term Workation
This type of workation lasts between several months to some couple of years

Such workation can either be organized as solo or group workation, depending on the no. of people involved in the same.
Group Workation – Your organization can plan such a type of workation for more than one employee or a team as a whole.
Solo Workation – Such workation is allotted for one person who requires to travel across countries.
Generally

,

such workations require visas as it requires flying across countries.
Why Workation Became Popular in India
Why is Workation important for Employees?
With an increasing workation trend, it goes without saying that this option is taking a prominent place in an organization. 
The impression of the uncertainty of life that COVID-19 left on people also led to the mentality of spending more time with family and friends. Therefore, in times when remote work has become a new normal, workation is not considered a rocket science to implement in today's time.
In order toIn order to bring work-life balance for your employees, you can take this as a new method for employee motivation.
As per a study, 81% of American employees could enhance their creativity after taking a workation.
Below are the Workation benefits 
Nowadays, with an increase in employee burnout, there needs to be a preventive approach towards it and what can be better than a workation?
As mentioned earlier, 90% of US employees found enhancement in their productivity which as a reason is giving rise to workation tourism proportionally.
Nowadays, where organizations are becoming conscious of their employee engagement rates to analyze productivity delivered by their employees, workation is considered to be a boon.
In times when organizations are working on employee retention models, workation has started to contribute majorly to it. 
To know more about employee retention models, visit how to bring employee retention in your organization without money?
Challenges of Workation
If not planned carefully, the challenges of workation can be many. Below are some mentioned challenges for workation:-
Expensive nature

– Affording workation can be expensive and may exceed the decided budget for the same.

Disruptive work-life balance

– Employees may end up spending more time at leisure than working which can cause a disrupting work-life balance.

Lack of team coordination

– In case of group workation, there can be a lack of team coordination where teams are expected to voluntarily engage in the allotted project on workation.

Acquiring visa

– In case of long-term workation, acquiring visas for the team may create a challenge for your organization.
Workation in India
It was reported that by 2025 TCS is going to extend remote work to 75% of its employees which seems to set a benchmark for many IT organizations specifically regarding flexible work culture.
How to know if workation is suitable for your company?
Though the term workation sounds like a modern new normal, before bringing this work mode in your organization, you need to know if workation is suitable for your company.
In case your organization deals into retail, hospitality, architecture, or any on site related work, then definitely allotting workation on that note would make no sense.
However, if your firm deals in the IT sector, traveling industry, or nature of work that includes delivering work through a laptop, then definitely you can gift your employees this new culture of work and receive employee satisfaction and retention from the other end.
How to plan a successful Workation?
1. Make a team of like-minded People 
To plan a successful workation, you need to ensure that people you are planning to take on workation are like-minded people and do not need any motivation to stay as dedicated as spending quality time on workation.
To enhance employee engagement in your team/organization, read How to Measure Employee Engagement in the Workplace?
2. Set the right work Goals 
Setting the right work goals beforehand helps you and your team to plan every day of workation accordingly. This way it would be clear to your team how much of their everyday time could be spent either roaming around enjoying the beautiful sceneries or doing the local adventures at the workation destination.
3. Workation Package
Well! It depends on you for what duration you are planning workation for you and your team. It goes without saying that workation packages differ from one destination to another. Also, depending on the project you are planning to carry on workation may differ depending on your workation duration. It can vary from one week to a month.
To seek updates on average rates of workation packages, workation packages for a month, or week, visit Workation Packages.
4. Be Choosy About Your Accommodation 
Since sitting to work requires a dedicated workspace, therefore, it needs to be ensured that the accommodation you are choosing for workation possesses with:
Good Internet Connection

A desk to sit and work

A Calm surrounding
5. Setting a Routine 
Sticking to one schedule will let you and your team organize and take out time for daily recreational activities at your workation destination.
6. Staying at the same place for the entire Workation 
Hopping from one place to another leads to disturbance in planning and scheduling regarding accommodation, workflow, and being productive daily.
How to make your workation productive?
There must be some reason why workation is proved to be productive across countries wherever it is being implemented. 
To implement this culture of workation successfully, I found the best employee productivity software called Desktrack which not only helps organizations in managing employees' time and tasks but also enhances their productivity.
An employee productivity tool called Desktrack is designed not only to enhance employee's productivity but also to do effective time and task tracking for a given day.
Below are given some mind-blowing features that would make allotting workation to your team a less of a stressful decision:-
Desktrack is not only limited to these features but also gives insights on Field Employee Tracking , Application Usage Monitoring, etc.  
Also, not just that you get it all at a very reasonable price.
 For more info, visit Desktrack and take a free trial to plan a hassle-free workation.
Top 4 Workation Places in India 
Though there are a lot of workation options in India I would like to share the top 4 workation places in India with you all. These workation destinations in India are most often preferred to plan workation on a small and large team level.
1. Workation in Goa 
2. Workation in Rishikesh 
3. Workation near Mumbai 
4. Workation in Manali  
For more workation destinations, you can visit Workation India.
Conclusion
Workation has become a choice for the employees of the next generation which should not only be supported but also needs to be improvised subjectively. This trend would not only improvise the concept of the remote work culture but also would improve employee engagement and employee retention.
To implement this culture of workation successfully, I found the best employee productivity software called Desktrack which not only helps organizations in managing employees' time and tasks but also enhances their productivity.