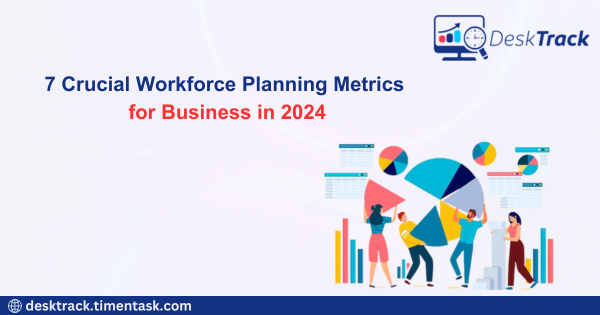 Workforce planning metrics helps organizations to collect useful insights into how  workforce use to track and analyze team performance. These are valuable metrics that help create better plans for the workforce including financial as well as human development angles.
In this blog, we will share 7 useful workforce planning metrics for you to make better and sustainable plans for your business.
Best 7 Workforce Planning Metrics for Business 
1. Voluntary and Involuntary Employee Turnover Rate
Employee Turnover is an essential measure of workforce planning, measuring how often people leave your workplace over a period of time. The employee turnover rate has two different components: voluntary and involuntary.
When people leave any workplace willingly, this is considered as voluntary turnover. Multiple reasons for voluntary employee turnover can be retirement, resignation due to personal reasons, etc. 
Contrarily, some employees might leave workplaces due to unwanted reasons that might be because of unhealthy working conditions such as work pressure, workplace politics, issues with managers, etc.
The high employee turnover due to involuntary reasons is an indicator of problems in the workplace which needs quick attention.
2. Total Headcount
The headcount of a workplace refers to the total number of team members during a time period. This includes all the employees such as part-time employees, seasonal employees, freelancers and outsourcers, including full time employees. 
The changing headcount overtime is helpful in determining the health of workplace management. Also it helps in planning for future changes such as hiring new employees or removing a few additional ones for a particular team or department.
3. Pay Gap and Compa Ratio
Since the first priority of every employee is salary and no other employee benefit can satisfy employees more than an ideal salary. So, it is essential for an organization to ensure equitable compensation for every employee. Equal pay for equal work is a must for every organization to maintain a long-lasting organizational health.
Compa ratio, a mathematical formula can help you know if you are offering an ideal salary for a job role to your employees or not. It helps you compare the market's average salary for a job role to what you are offering.
4. Employee Engagement Score
Employee engagement represents how committed employees are to their work commitments and how well they align to the organizational goals and objectives. This is one of the most essential workforce planning metrics in 2024. There are different ways to measure employee engagement from time to time. 
One method is through conducting employee surveys from time to time. It is essential to get accurate insights into employee engagement by conducting 100% anonymous surveys.
Also, one on one meetings with the employees can also help in understanding their point of views.
5. Employee Absenteeism
Employee absenteeism is more than just an individual missing work. It is  a workforce planning metric reflecting both personal and workforce-related issues. The personal reasons for employee absenteeism can be chronic illness, depression, or home problems. However, there can also be different workforce-related issues behind constant absenteeism such as workplace harassment or job hunting.
For employers, frequent employee absences are a costly concern, signaling potential serious issues within the workforce. Although employee absenteeism is  a complex workforce planning metric, it is challenging to calculate without understanding individual motivations. However, an increase in absences following policy changes, like transitioning from remote to office work, may indicate employee dissatisfaction or fear of repercussions for expressing concerns.
The absentee rate is a crucial HR analytics metric to measure unplanned absences due to illness and related causes. A high absentee rate indicates unproductive hours, prompting the need for preventive or corrective measures.
As your company expands, the importance of monitoring absenteeism grows. It can influence policies, impacting decisions like holiday office closures. 
Read More: Average Salary in Dubai: A Comprehensive Guide
6. Average Tenure
Calculating the average tenure of employees is an essential workforce planning metrics. It is vital to know how long your employees are staying in your organization. Also, calculating the average tenure of employees is also essential. This helps in analyzing how people are perceiving about the company, if they are considering a lifelong career in the organization or just want to complete a fixed tenure to get hired by other organizations.
7. Employee Dissatisfaction
The negative scores of employee engagement surveys can be disappointing. For accurate workforce planning metrics, it is essential to know who is the least satisfied with their jobs in your team, find the most dissatisfied department, and gather insights into the reason for dissatisfaction. 
Once it is done, it is essential to the best productivity monitoring software for increasing employee satisfaction in the organization.
Conclusion
It is always essential to make strategic plans for workforce development in the organizations. Also, it is essential to make roadmaps that lead to strategic goal achievements.
So, if you are considering improvement in your business, do consider the 7 workforce planning metrics shared here.