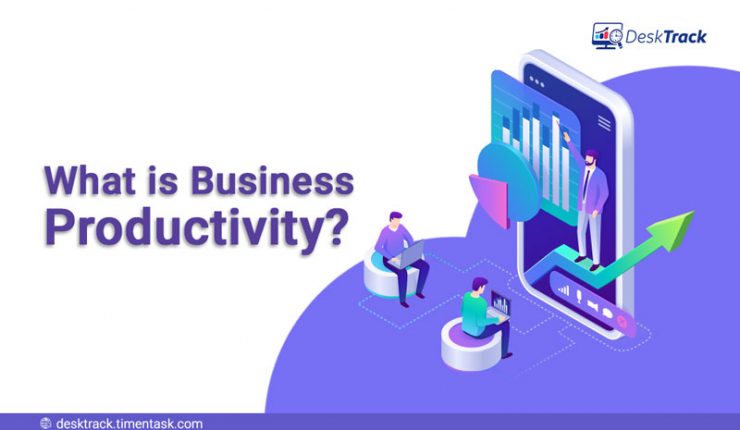 What is business productivity? Does business productivity matter? Is it important to improve your business productivity? Does improved productivity enhance organizational growth and revenue? Why do businesses have to focus on business productivity? How does productivity contribute to business growth? Why is productivity important to businesses? All these questions state that improved and increased productivity leads to measuring the overall efficiency of a company and its team.
Table of Contents
What is Business Productivity? How to Measure & Increase it?
What is Business Productivity?
what is business productivity? Business productivity is the utilization of a company's resources and time in a way that offers the maximum results for the company within its specified budget. This can be achieved through various strategic use of time and resources (ranging from manpower to infrastructure) across the organization to help increase efficiency, reach goals, and meet business objectives while at the same time allowing employees to work on their core competencies.
Business productivity measuring in the workplace can be stated as the calculation of employee efficiency and work done in a day with complete focus and engagement to achieve targeted goals and production of goods and services for customers. 
Productivity measurement software helps your workforce drive functioning modifications, adding employees or tools to meet deadlines on time or create new connections with clients. Therefore, it is very essential to build an atmosphere and environment in the company that helps employees improve their overall productivity and efficiency. 
But is it possible for companies to improve their productivity in all aspects? Yes, but improved productivity does not just depend on the work done throughout the day by the employees but on how effectively the team has managed their time spent at the workplace. 
With the help of this article, we'll be going to make you understand better the importance of productivity in business and tips to improve it in all aspects. 
Here are Some of the Productivity Statistics
Business productivity plays an essential role in every industry, whether it is about on-site, remote work, or employees working from home. So, here are some of the statistics which will help you understand how business productivity matters with trustable research of known institutions: 
As per the studies of

Gallup's State of the Local Workplace

, 85% of employees are not committed to their work at the workplace, which results in $7 trillion in lost productivity.

As per the studies by

the American Institute of Stress

, because of job stress, 12% of workers have faced sickness.

According to analyses by Robert Half, 71% of people operate more productively at the workplace while listening to music. 

As per the research of

statistics

of about 2000 UK employees, 79% of them agreed that they do not consider they are effectively working for a whole eight-hour working day.

As per the statistics on productivity and technology,

89%

of employees consider game-style motivations every day to

increase productivity in the workplace

.

These stats state that

every year, productivity loss due to exhaustion costs $1,967 per employee.
Why is Productivity Important in Business?
Business productivity is the measurement of employee work performance and progress to achieve the goals for better revenue. Specifying your team's effectiveness helps managers identify the gaps, struggles, and top performers of the organization. 
Also, this process helps the company streamline the tasks and projects in a manner that helps them simplify processes and prioritize critical ones. Improving business productivity can help you manage employee engagement toward organizational goals and create new plans with trendy techniques. 
Here are some reasons that help you understand why productivity is important in businesses:
Investment decisions can be more manageable
To make better investment decisions, companies need to know how productive their workforce is operating on tasks and projects to achieve the targeted goals. 
Therefore, the productivity measurements of a company help them figure out the reason for less productivity, efficiency in operations, the areas for improvement, and the things that need to be updated. 
Measure employee effectiveness and proficiency
Business productivity tools and technology help companies measure the effectiveness and ability of their complete workforce to know the efficiency to meet the timelines on time. 
Measuring employee productivity frequently helps managers and the company know their performance and their ability to achieve the targeted goals. Improved productivity of business allows the organization to make better investment decisions, choose who can bring on extra duties, and better workplace management. 
Better functioning decision-making
Business productivity review allows leaders to inspect and change the processes of work in the organization. Therefore, the business productivity analysis software will help you gather complete information about the work done, progress, and performance by which the management can identify delays, struggles, and gaps among the teams. 
Also, business productivity measurement allows you to make functional modifications like boosting customer services or investing in further production tools and techniques.
Methods of Measuring Business Productivity
Measuring productivity in the workplace by various methods. Different businesses have different working patterns and processes, but the thing which matters the most is the accurate measurement of productivity in all aspects. Therefore, companies choose to have the best-fit business productivity tools as per their needs and requirements. So, there are multiple types of productivity measuring that you should desire to come across: 
Focusing on profits

Getting the job done

Time management

Feedback and equal assessment

Comparing labor time to goods produced

Monitoring employee progress

Customer satisfaction
Top 10 strategies to improve productivity in business
Business productivity meaning states the engagement of employees toward their team leaders, managers, and targeted operations. Generally, employees work faster and better when they know their activities are getting monitored and provide an appreciation for measures. Therefore, companies need to build an environment that makes their employees stay more engaged and focused on their work and processes.  
So, below-mentioned are some of the Top 10 Strategies that can help to improve company productivity and boost workforce efficiency in all aspects:
1. Set Business Goals
The most essential aspect for every organization is to set clear goals and let your entire team, clients, and associates know about the procedures and business targets. It is critical to let them know about the processing so that they do not have to face issues afterward. 
Also, business productivity software can help you consider the organizational goals and provide complete info about what has been done, what is going on, and what has been left to achieve before deadlines. 
2. Use Productivity Software
As stated in the first point, technology plays a very important role in our life whether personal or professional. Therefore, when it comes to measuring business productivity tools and applications, cost-efficient and effective productivity software for business can easily help you boost your business productivity at the workplace by binding teams in your company effortlessly and can connect and provide data sufficiently.
3. Focus on One Thing
As the phrase says, "Focus on being productive instead of being busy" which means one should concentrate on a particular thing instead of being a multitasker. Generally, multitasking ruins things and creates a mess which leads to a loss in multiple factors.  Therefore, avoiding multitasking and working on a particular task at a time can be more beneficial to the team and company as it provides better results because of focus and engagement in work. 
4. Specify Distractions
Nowadays, social media and mobile phones have become the reason for distractions for people in both their personal and professional life. Therefore, companies need to identify the gaps and limit the distractions to avoid them for better work management. 
5. Motivate and Encourage Employees
Motivation and encouragement are very essential for employees to fully concentrate on their allotted tasks and projects and achieve their goals on time with better results. Alternatively, the managers should give rewards for achievements to the employees who are giving their best with extra efforts to fulfill the needs of their company. 
6. Teamwork
In an organization, teamwork matters the most as a team can resolve things faster compared to individuals working separately. Companies should invest in human resources professional PEO Services as they are the most essential elements for an organization to achieve the targeted goals with ease. So, managers should have to take care of the patterns and procedures of the employee work, help them focus, and move their business ahead. 
7. Offer Training and Development Program
Bad management can lower the engagement of employees working in an organization, and that leads to decreased productivity. Many times employees are unable to fulfill the needs of their company. That is why companies should offer training and development programs to the employees to learn and grow as per their roles and responsibilities.  
8. Hold One-On-One Meeting
One-on-one meetings are the best type of technique to stay connected with your entire workforce and help them understand things better. Also, this will help managers know about the actual pattern, progress, and performance of their employees. 
Therefore, employees can easily convey their issues, and these meetings can easily increase business productivity. The intent is to stay connected with your workforce and help them resolve the problems they are facing while completing their allotted tasks.
9. Developing a wellness program
Wellness programs encourage employees to live healthier, happier lives by taking a proactive approach. In addition to helping employees understand their vulnerabilities, it facilitates employers' determination of how to best support them. Research shows that improved wellness results in lower employee absenteeism, higher attendance, and improved productivity.
10. Review your goals every day
Review goals daily is one of the strategies to improve productivity in business. It gets your day started on the right foot and keeps it going, so you can focus on the most important tasks. Review your goals daily and use them as an opportunity to reflect and take action to achieve them.
Ways to Improve Personal Productivity
As we have learned about the business productivity increment in the above-given guidance, now is the time to know about how to increase productivity in employee's point of view. Here are some of the tips to increase productivity in the workplace on an individual level for better work management and organizational outcomes:
1. Work Smarter
The business productivity apps help employees know about their work done throughout the day, which helps them self-assist themselves and know the actual work progress and delays. When individuals know about their work progress they can easily cover the gaps and pauses. This will help them stay motivated and focused on their operations. 
2. Start with the significant task
Individuals should start their work with the most challenging and critical tasks so that they can easily complete them at the full of their energy at the beginning of the day. This can help them boost and improve their productivity as well as habits to accomplish the most demanding one first. 
3. Switch to smaller tasks when in doubt
Many times individuals get stuck with tasks that may lead them to waste a lot of time because of issues and confusion. So, when this happens, employees should move to the smaller tasks that seem easy and less time-consuming. With this process, one can efficiently maintain productivity.
4. Be Transparent
Individuals should maintain complete transparency among their team and the entire workforce while operating on any project or task. Discuss with the team and take proper time duration as per your comfort to accomplish the work on time without any issues. 
The Final Words
So, now that you have learned about how to measure and tips increase productivity in the workplace with the help of this article. It is time to take these above-explained measures and techniques in your business practices to succeed in building the preferred working environment and business productivity. 
Business productivity is not an easy task that a company can instantly achieve on a particular day but regular measures in improving the performance will pay you off in all the desired aspects. 
Also, the business productivity software and tools will help you manage overall business productivity measures from employees working on-site and from home. Managers can easily have the complete info and data of work done by employees in a day and their patterns and progress. 
Productivity enhancement is the most crucial aspect of every company's competitiveness and long-term survival, and that is the reason organizations should measure and track the productivity of their complete workforce. 
Determinating everyday snags and concentrating on implementation leadership can help businesses drive productivity advancements that improve business productivity which helps in increasing profitability and development.