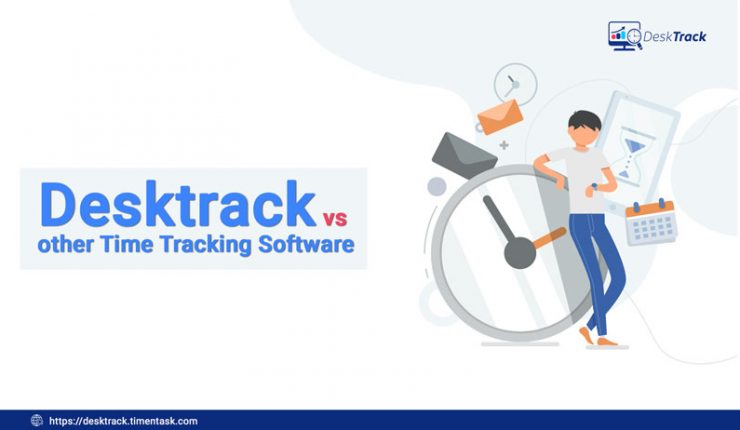 Ever wondered what effective time-tracking software is? Is it software that is solely built to track time for employees? Or does a versatile time tracking software is equipped with some more features that are pro to organizational productivity?
On the basis of sheer analysis and comparison, here is for you a detailed comparison of time-tracking software for employees. The comparison is between Desktrack and other Employee Time Tracking solution. The reason being Desktrack's multi-facet features that are not only meant for tracking employees' activity and time at work but also focus on enhancing the workforce's productivity and engagement at work.
Let us dive deep into the understanding of Desktrack vs other time-tracking software for employees.
1. DeskTrack
Desktrack is a time-tracking software built to solve multiple purposes under one solution. Let us seek a deeper understanding of its robust features –
This feature is meant to generate actual login/logout reports of employees with total work time calculation.
Not merely the attendance data but a separate absence record report is generated for managers and HR to analyze a proper pattern of workforce consistency at work. The absence report is generated in a very self-explanatory form with details like Total days, No. of days present, No. of days absent, User location, team tag, department tag, etc.
All these details help to bring out a lot of understanding about the workforce pattern of doing work, consistency at work, employee engagement, etc.
This feature leads to configuring shift timings and managing business trips/away time. Its detailed report includes parameters like the Name of the employee, Total no. of days, Total Company Holidays, Working Days, and Incomplete Shifts.
This time tracking software delivers deeper insights into the activity log of every second with detailed insights into apps accessed, files visited and websites worked on.
The parameters covered under this feature are the Name of the employee, Application name, URL/file, total time spent, desktop time, start activity, end activity, etc.
This feature of application tracking analyses the working behavior of your workforce. The data shows the applications visited by your employees during work hours and how much it contributes to organizational productivity. 
This feature details the full list of applications opened with active and idle time analysis.
This feature keeps track of all sorts of files opened. Apps like Word, Excel, PowerPoint, etc are tracked through this feature.
This feature on Desktrack time tracking software is built to keep a log of consolidated web browsing history with active and idle time analysis.
This feature throws light on how your team is spending time on projects and tasks so that you can plan your projects effectively.
This feature is meant to avoid data thefts by keeping a view of real-time user activity 
Productivity management is yet another add-on feature delivered by this time tracking software. It is done by classifying apps and websites as whitelisted and blacklisted for teams and departments to track productive and unproductive time.
This feature is a graphical representation of employees' productivity to evaluate work performance.
Employee Engagement Report
Desktrack as a time-tracking software is equipped to generate a holistic report for employee engagement. 
This report details classifying apps/web apps into categories like communication, mailing, and browsing which simply gives a clear idea of how and to what extent your workforce is investing their time in delivering productivity to the organization.
To know more, visit: DeskTrack
It covers all sorts of plans that not only serve a larger enterprise but also solopreneurs or freelancers.
Click — Pricing Details

2. Clockify
This time tracking software free unlimited tracking for unlimited projects stands out the software more than the rest. Its Summary Report feature includes tracked time for each employee or project, cost per employee per project along with profits and estimates.
This time tracking system for employees also comes up with an employee monitoring feature to capture screenshots of employees' screens as soon as they complete their tasks. For remote employees, this computer usage time tracking software keeps tabs on GPS locations while they are working from home or field employees as well.
This time tracking software also works in offline mode. Once the connection is retrieved, the time entries get automatically logged in the timesheet.
Suitable Users – Freelancers and small businesses 
Cons
No feature to mark completed projects 

Mobile app glitches exist 

Unclear and confusing summary to navigate 
3. ClockShark
It is time-tracking software for employees that target small to midsize businesses, especially in the construction and field service industries. It works on three clock-in methods i.e., mobile app, kiosks, and facial recognition.
This time tracking software has a built-in GPS wherein employees can be tracked. Besides, the software also functions in an offline mode wherein in case of connection loss, the employees can track their time as the software saves the hours they worked and jobs they completed. Once the connection is retrieved, the software syncs their data to their account.
Work shifts change option available – There is a drag-and-drop schedule editor available to create and change work shifts. Whenever there is any change in your work schedule, your team is informed either through email or a mobile app.
Additionally, the software is built with a feature called JobFlow that offers a list of active and inactive jobs, their current stage of completion, the number of hours worked on them, and the clients associated with them.
Suitable Users – Small businesses in construction and field service
Cons 
Its basic plan only covers five employees for small businesses 

Higher-level plans are costly.
4. Paymo
This software is focused on time tracking, invoicing, and billing. Each task that is started in the software includes its start date, end date, description, expected hours to complete, billing type, and estimated price.
Besides, you are able to set reminders for whenever the billable amount of a task is approximately 90% of the estimate. Whenever the task is completed, an invoice can be created and sent directly from the software. Additionally, the higher-level plans let you set live task timers in order to track progress in real-time along with sending reminders and alerts to team members in real-time.
In order to streamline workflows and enhance visibility, Paymo's Kanban boards are ideal. Besides, this time tracking system for employees is equipped with Gantt charts that can be used to plan, schedule and monitor minute details of a project.
Suitable Users – Best suitable for businesses that are looking forward to tracking hours, and generating invoices easily.
Cons 
Covers limited users with the basic plan 

It has got a steep learning curve.
5. Deputy
This employee time tracker starts to monitor the employees' tasks once you create and assign ongoing tasks or checklists to employees. A central dashboard is used for tracking, and it shows which tasks have been finished and which ones are still outstanding.

Additionally, the software's time clock app provides managers with insights into the whereabouts of employees. This helps them to find replacements if needed. You can schedule breaks, paid time off, and overtime as per requirement.
This Employee Time Tracking solution is also equipped to calculate wages based using the timesheet feature in compliance with employment contracts or local labor laws.
Suitable Users – If you are focusing to stay compliant with labor laws, Deputy has got you covered.
Cons
There is a lot of scopes to improve the user interface.

This time tracking software for employers has a free plan that is very basic.

The forecasting feature is only available under the Enterprise plan.
6. Toggl Track
This time tracking app offers more than enough to freelancers, solopreneurs, and small businesses. A timeline, an auto-tracker, idle detection, offline time monitoring, and weekly reports are just a few of the software's fundamental time-tracking capabilities.

Moreover, there is no limit to tracking of clients.
The only thing you need to do to utilize this software turns it on and let it count the seconds and minutes. The entire amount of time worked will be saved to your account once the timer is stopped.
Suitable Users – Freelancers, Small businesses, Solopreneur 
Cons
No invoicing and scheduling features are available 

Paid plans are pricey 
7. TrackingTime 
It is a web-based time tracking system built to manage projects and teams. It is featured as a real-time tracker that keeps tabs on working hours and tasks.
Moreover, you get to categorize employees' tasks as billable or non-billable. Additionally, your staff members can clock in and out using programs like Slack or Microsoft Teams, TrackingTime time cards, or their mobile devices.
Additionally, you receive automatic monthly attendance reports which provide details on your employees' work schedule along with breaks, overtime and paid time off.
Suitable Users – For small teams that require basic time-tracking capabilities.
Cons 
Invoicing feature is not available 

Limited customization 
8. Time Doctor
It is a cloud-based time-tracking software that focuses on productivity monitoring. This tool basically tells you how employees manage their time and give you a red alert when they waste their time.
This time tracking system prevents your team from sitting idly by sending alerts and reminders to increase productivity by fixing a time limit when the employees can be idle. Once the limit is exceeded, the employees receive a pop-up that asks them if they are still active at work.
In case, there is no response within 60 seconds, the timer stops recording. This time tracking software for employees is also equipped to capture employees' screens at random times to keep a check on employees' activities, i.e., whether they are visiting any sites that can hinder their productivity while being at work.
Suitable Users – Appropriate for remote or hybrid workforce 
Cons 
Expensive for larger companies 

Idle time alerts can be distracting 
9. ProofHub
This time-tracking software is built with an automatic timer to track every billable hour as soon as one starts working on a task. Manual time entries are also possible in this Time Tracking Software for Employees. Such time data then gets stored in the form of timesheets which can be used for invoicing purposes later.
Advanced features like online proofing, file sharing, group chat, custom workflows and kanban boards, etc are also available on this time tracking application. Additionally, third-party integration is also available for billing and invoicing purposes.
Suitable Users – Teams and managers who aim to track employee productivity 
Cons
The mobile version is not as great as the desktop version.

Integration services are not available 
10. Hours TimeLord
This time-tracking software is most suitable for people who are not looking for advanced time-tracking features. Task and project management become easier in color-coding patterns.
Also, a time adjustment feature is available in this time tracking software.
Suitable Users – In order to fulfill the purpose of simple time tracking and basic report sending Hours TimeLord is an appropriate Time Tracking Software for Employees.
Cons
The main drawback of this employee time tracker is that it is a brand new software which is more prone to encounter bugs in times to come.
Conclusion
It goes without an iota of doubt that how choosing a time tracker software all depends on your requirements and the idea of monitoring your workforce. Everything from what effective Time Tracking Software for Employees looks like and how time-tracking software work has been explained well above.
The wise choice is yours!