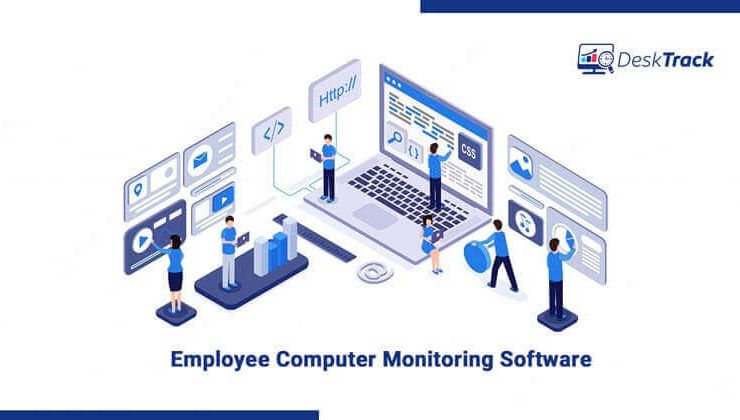 Nowadays, almost every business is in competition and wants to be in first place. As we all know, the stairs to success for a business are its employees. Therefore, every organization maintains the best atmosphere for its workforce to operate efficiently in safe, relaxed and suitable surroundings. And that's why they use employee computer monitoring software to have a tab on its employee's computer activities. So that they can save them from any possible viruses or hacking attempts or downloading of harmful content.
Table of Contents
Employee Computer Monitoring Software: Features, Working
Presently, there are many software companies that provide you with the best employee pc monitoring software that helps you track and monitor the everyday activities of your employees. The software will help you monitor employee computer screens and present a detailed report of the entire day's activity. Since many companies have employees working remotely, freelance, or outsourcing, the significance of monitoring systems has been increasing day by day.
What is Computer Monitoring Software?
Employee Computer tracking software is designed to track the per-day activities of employees done on their computer screens. It provides a detailed report of time spent on work, login/logout time, usage of apps and websites, and many more. Also, it can track and monitor employee activity on company appliances and help you prevent data theft or violations.
The main objective of computer system monitoring software is to help managers know what their employees have done throughout the day and where they are spending their time to assure that they are productive.
Why Do You Need Employee Computer Monitoring Software?
Companies that are using undetectable computer monitoring software are being dependent on the tool and call it a necessity. Whereas, those who still haven't used it are limited because of official and ethical concerns. Even though employee computer tracking and monitoring are authorized in some countries, you can inform your team and get their approval under specific conditions, companies are still not assured about it because employees could assume it is a practice of spying. Therefore, in any business in which computer support is essential, it needs to be managed precisely so that any issue does not impact the assistance provided to users.
To dodge any kind of error, you should have the best employee computer monitoring software to resolve it. The software helps you collect employee working data, analyze workflow, see patterns, and enhance your business operations. Therefore, managers can get real-time detailed reports of every employee and work done by them throughout the day. Moreover, they can identify gaps, and performance, help the employee improve better, and many more.
How does Employee Computer Monitoring Software Work?
Desktop monitoring software tracks the time spent by employees on tasks or projects, apps, websites, internet usage, and all the other activities performed on the system. Also, it provides real-time reports to identify the over and under-utilized resources and their performance.
>>Automated Time Tracking
The software can automatically track and monitor employee time duration from the login time to the logout time and classify the productive and unproductive time spent on daily tasks and projects.
>>>Idle Time Tracking
Track time spent on the system with their login/logout time through the best employee computer monitoring software and identify the time wasted on unproductive sites, social media, away from the device, or stuck in meetings.
>>>Automated Screenshots
Most computer monitoring software allows you to set up a time limit for screenshot monitoring as it shows the work status of the employee by capturing real-time screenshots in scheduled intervals.
>>>Detailed Reports
Generate detailed reports of employee attendance, work progress, productivity, hours spent on work, and employee performance to identify the gaps and distractions and motivate them to focus more on their work.
>>>Attendance Management
The software helps to manage the attendance data of employees, maintains the holiday calendar, and allows the HR department to manage the data and send it to the employees via email or messaging.
>>>App/URL Tracking
Track the internet usage with apps and URLs and know how much time has been spent on each one of them during working hours.
>>>Project Management
Monitor computer activity software and schedule tasks as per the roles and responsibilities of your employees, and achieve your organizational target by completing your projects before the deadline.
Benefits of Computer Usage Tracking Software
Implementing a computer surveillance app in your organization is not an easy task as it involves the agreement of your complete workforce. Maintaining track of your employee's daily activities helps keep them focused and have a higher outcome. However, tracking and monitoring your employees provide numerous benefits. Below given points will help your company with employee monitoring:
>>>Boost Productivity
Knowing your employee's flaws and skills makes you understand their work better. The representatives build teamwork, help grow employee proficiency, boost overall organizational outcomes, provide a sense of value, create trust among the team, and make them focus on the significant idea. Allocating duties to the employees as per their skills heads to satisfaction and dedication. Also, you can designate assignments as per the roles and responsibilities of your employees and focus on the least-occupied employees so they can grow in their areas of work.
>>>Reduce Time Wastage
The most common issue among most organizations is the wastage of productive time. Employees waste a lot of time away from their system, whether in a meeting, busy with some official work, or wasting time on social media, playing games, or away from their PC. Likewise, all of that wasted time munching away at your company's production and reduced earnings. So, implementing software to monitor activity on the computer can make your employees work with more dedication and focus. It improves employee performance and progress in many aspects and helps the company grow in every way.
>>>Employee Performance
Computer system monitoring software helps employees stay focused on their allotted tasks or projects and help employers to know the progress of each employee, where they are, and what they are working on. Tracking computer activities can present you with hidden data and manage idle time, offensive behaviour, and digital protection among the workforce. Therefore, it will let you know the overall productivity of each employee. By this, you can identify the top performers and employees who are struggling and can help them improve for a better outcome.
>>>Improved Employee Efficiency
You might be wondering what is employee computer monitoring software?. Employee computer monitoring software is a system that monitors the activity of employees and monitors their behaviour. It records keystrokes, mouse clicks, websites visited, emails sent, time spent on certain applications and other activities. It helps in enhancing the efficiency of employees and thereby reducing any possible loss due to fraud or theft.
>>>No More Micro-Managing
Micromanagement does not work for fast-growing companies anymore as it can reduce team confidence. Therefore, having the best employee computer monitoring software in place can help you see what your team is up to. Micromanagement needs manual checking of each employee to know what they're doing in the present time, and this can disrupt their focus and privacy.
Read More: Benefits of Employee Monitoring Software
Features every Employee Computer Monitoring Software should have:
Monitoring employee performance, progress, productivity, and efficiency is essential for the development of the business. Nowadays, the market is crowded with numerous possibilities to make these things happen effortlessly. That's why the duties rely on organizations to select employee monitoring software according to the needs of businesses and employees. Below mentioned are some of the features you should check before buying any employee tracking software for your company:
>>>Increase Productivity by Analysing, Measurement, and Improvement
increasing productivity is to measure and analyze the data that you have available to you. It's also important to understand how your company does business so you can make improvements in areas that may be causing issues for your employees or clients.
By analyzing and measuring your current processes, you'll be able to identify where your organization is strong and where it could use improvement. This knowledge can then be used to improve the way things are done so everyone can work more efficiently.
>>>Keep your requirements on priority
Different Softwares have different attributes and functionalities, so you cannot buy any random software that doesn't fit your organizational requirements. You should have some plans, specificity, and priorities that should help you function satisfactorily. Therefore, the software you purchase should match your needs, else it is not worth buying. So, get started by collecting your initial requirements, and it all relies on your work culture.
>>>Flawless integrating property
Companies use multiple applications to make their work flawless and time-concise. So, if you are owning a company you should think wisely and get software that can collaborate with the other applications you use frequently. Get the best Employee Computer Monitoring Software and integrate your applications perfectly with it. It will save you time and money as well.
>>>Geofencing attribute is a must
Having employee monitoring software does not mean you always poke your employees. Employees feel more comfortable with companies when they get proper comfort and freedom at work. That's why geofencing is something that provides privileges to employees and improves company growth. Mainly, geofencing helps employees log in from any location during their office time. Also, prohibit them from doing the same if they are not at the work location.
>>>Mobile-compatible
The whole world is now very much relied on mobile phones as they are the most desired things by every person. Therefore, the mobile-friendly factor of employee monitoring software is essential. whereas Before buying any employee monitoring software you should look for a mobile-friendly feature that can also help to reduce the production costs of small businesses.
>>>Time management
Purchasing software that works for your complete workforce in every aspect needs to be searched more carefully. Select the best monitoring tool for your employees that can deliver them everything from integral qualities to time management in one console. Time management improves employees' presence in the workplace but also encourages them to balance their work processes and boost productivity for better outcomes.
Best Employee Computer Monitoring Software
Find some of the best employee computer monitoring software that can help your organization grow and employees improve their performance:
Teramind
InterGuard
ActivTrak
Veriato
SentryPC
BambooHR
Hubstaff
Controlio
Insightful
Conclusion
Integrating employee computer monitoring software in India into your organization will be a generous decision, as it may bother the morale of some employees or can build more trust and transparency among others. So, before going for your final decision, you should consult with your entire workforce and make them comfortable by resolving their doubts about the software implementation.
Explain each and every feature and benefit of using the software and build a stress-free and reliable workforce. Therefore, if you are confused about multiple options available in the market then you can undoubtedly go for DeskTrack employee monitoring software. Take a free trial and make your organization more productive with the software.