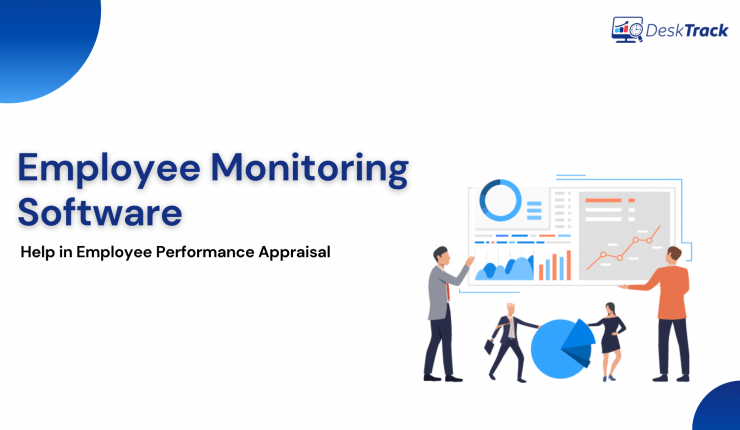 What if you could monitor your employees more closely? We'd like to help you determine if this software could help you improve your performance appraisal process. We've analyzed the pros and cons of the software, so you can make a more informed decision. Inside, we'll talk about how effectively monitoring employee performance with EMS(employee monitoring software) & connection between employee performance appraisal and employee monitoring.
Table of Contents
Does an Employee Monitoring Software Help in Employee Performance Appraisal?
An appraisal is undoubtedly that time of the year every employee looks forward to eagerly. However, it can feel like crunch time for managers and human resource personnel since analyzing team performance has always been a hurdle to overcome.Employee monitoring software is an easy-to-use platform that allows you to get a full view of your workforce performance by giving you the capability to discover what your employees are up to throughout their work day. In doing so, it makes it easier for you to tap into the competencies of your employees to make the best of them in order for them to perform at their peak capacity.Today, we will look at how employee monitoring software helps managers quantify the growth and contribution of an organization's employee performance appraisal.
Employee Monitoring Software & Employee Performance Appraisal
Five ways enumerating the connection between employee performance appraisal and employee monitoring are given below:
1 Historical Performance Recording
The first and most powerful advantage of deploying an employee monitoring software is the real-time monitoring capabilities it offers to the management of a workforce of any kind.
Performance tracking with EMS, managers know what team members are working on in real-time. As a result, they do not need to communicate with members for updates as frequently. This allows team members to remain focused while staying transparent about task progress.
All of this data is stored in a database and can be accessed and filtered through at any time. Since appraisals happen yearly, the historical data collected and maintained within the employee monitoring software becomes a key performance indicator for any employee.
The management can take cognizance of the work done throughout the year and engage in a one-on-one discussion with each team member to negotiate increments and bonuses.
2 Marking Off Productive Time
Quality employee monitoring software allows managers to tag applications, URLs, and files associated with projects. This allows the employee monitoring software to measure "productive time" and "unproductive time" based on what the team member is doing in their workday.
Monitoring of employee performance with employee monitoring software provides reduces management pressure, lessening the chances of micro-management and over-supervision.
In turn, team members have greater autonomy over their work, which helps improve the quality of the output.
The data on a team member's average production time is a key performance indicator that can help the management fairly appraise the team member.
For example, DeskTrack allows managers to monitor application, browser, and file activity during work hours. Managers only need to be concerned about the output if they see progress slow down or come to a halt.
3 Tracking Improvements in Job Proficiency
The time and effort a task will take to complete are often guessed when team members are allotted tasks. There is nothing fundamentally wrong with this approach to task allocation, but it sometimes leads to members working more hours than others.
Performance appraisals with Employee Monitoring Software gives managers an authentic insight into the skillset or capacity of a team member. For example, managers can observe if a team member spends less time than others working on tasks with an employee monitoring software. The team member can be assigned more tasks accordingly.
This improves time utilization and boosts job satisfaction since the entire team will notice that tasks are equally distributed.
But what is more relevant is that the employee monitoring software records this data over long periods. This gives management the measure of baseline performance they need to assess improvements or declines in job proficiency.
The historical data of employee monitoring software also makes it easy for management to see a quantifiable increase in output by a team member.
4 Quality Assessment
Work performance and quality are two sides of the same coin. Enabling managers to measure one will allow them to recognize the other.
With employee monitoring software, managers can do things like:
Monitor the sales team's interaction with clients and the conversion ratio;
Keep a check on the operations team and resource allocation;
Analyze the efforts and output of the marketing team;
Measure the productivity of the accounting team and more.
Using quality Employee Monitoring Software will help managers understand what optimal team performance and work quality look like.
The same managers can then use this knowledge to keep the proverbial ship pointed in the right direction and also assess whether the quality of work has improved over time, collectively and independently of every team member.
5 Easier Access to Absentee Records
Looking at excel sheets or database records of when team members were absent can feel tedious. The bigger the team gets, the more difficult this task gets.
The employee monitoring software keeps track of the exact number of days any team member has worked. This is another key performance indicator that helps to measure employee performance during appraisal.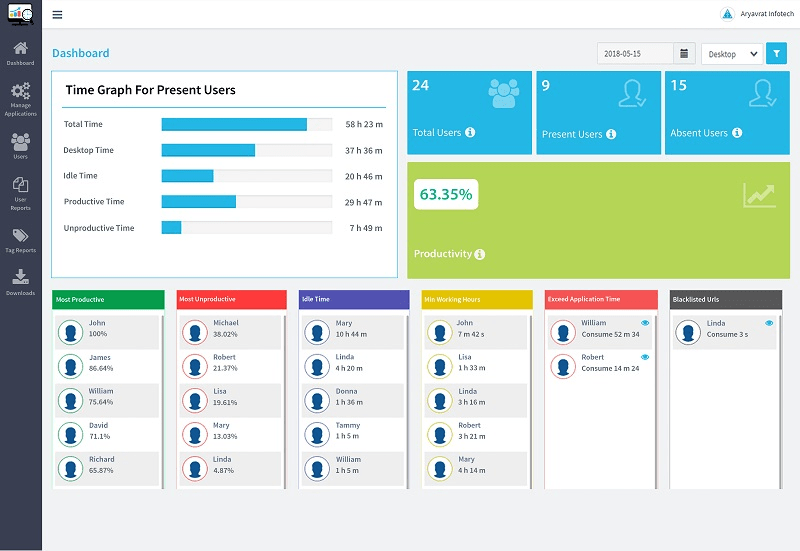 The data is graphed out automatically in quality employee monitoring software. Making it easy for managers to review employee performance at a glance.
Endnote
Employee performance appraisals can be an enormous task for the management of a business without the right tools.
Having easy access to various key performance indicators and historical performance data makes tracking employee performance with EMS easier and taking note of performance milestones straightforward.