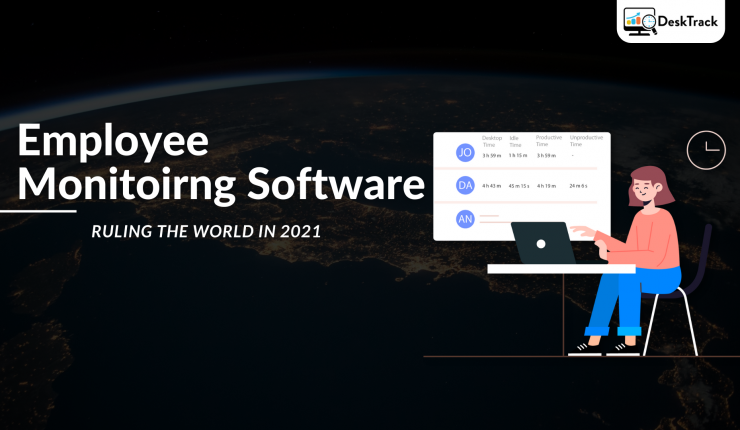 Work From Home or flexible working style or remote employee working has got a major outbreak in INDIA, USA, Australia etc. after COVID -19 and it can be easily backed up by the technology. Technology has diversified itself at every place and has designed solutions to help businesses/individuals in managing the work effectively & efficiently. The only solution is an employee monitoring software for remote teams.
Platforms for online meeting & communication, project & task management, real-time reporting, HRMS, remote work monitoring & time tracking resulting the best team & work management and allowed remote working more accessible & functional, thus working in an office has become less of a necessity for many businesses.
On the top it's a very cost-effective approach for every business as it reduces operating costs by 30% and helps employees in managing work-life balance hence remote & flexible working style has become a choice for everyone.
A survey conducted by Smallbizgenius state that –
40% of employees found that the greatest benefit of remote work is flexible working hours.

16% of companies hiring remote workers only

Companies allowing remote work have 25% lower employee turnover (is the measurement of the number of employees who leave an organization) those that don't

76% of employees would be happier to stay with their current organization if they could work remotely

People who work remotely at least once a month are 24% more likely to be happy and productive

Improves Loyalty

Decreases Stress

Benefits the environment

Likely not to take more holidays and employers don't lose productivity

But, the major concern that comes up among the business is; whether employees working remotely are fulfilling their responsibilities properly or not. Are they really productive or not?
Thus the question arises; how to track the performance of in-house, freelancers, work from home & remote teams?
Measuring employee performance and productivity seems quite difficult, but with Activity Monitoring & remote working monitoring software Tools like DeskTrack, you can easily analyze employee performance & productivity.
Why Employee Monitoring Software will be Ruling The World?
Stats provided by financesonline shows that the time tracking & employee monitoring software industry will grow in the coming years – 
Companies can eliminate daily lost productivity and recapture a total of $666,400.00 in yearly wages by automating time tracking

Companies that utilize software with timekeeping and payroll features were 44% less likely to commit errors

Multi-tasking with time tracking increases productivity by 45%

The global time tracking market size will grow at a CAGR of almost 20.69% until 2025. The significant increase in CAGR accounts for the potential effects of COVID-19
Monitoring is a positive thing to measure work, every employee thinks that it is a restriction but not; it is a tool for tracking outcomes, and productivity to highlight the best performer. With the best work from home employee monitoring software, managers can get essential data and understand how work is performed, and where employees need improvement. and what work process requires closer attention?
Activity Time Tracking Software brings below utility to organizations & employees:
Creates Transparency
Transparency means business improvement, in every work environment transparency is very important to bring employee effectiveness which leads to increased business revenue. This tool will give you transparency through the accurate timesheets and daily activity logs (Application & URL Tracking) that allows managers to quickly review the output.
Traceability of all Data
Data Tracing seems to be weird but just think about why it's needed no one wants to trace the activities; it is important for individuals so they can justify the working time and efforts as well as identify the areas where they are lacking. To Improve all things activity monitoring & time tracking software are required.
Improves Estimation Techniques
Sometimes employees have to think like an employer because every employer wants their work on time. Your dedication tells by your deadlines how much you are dedicated to your work, and your deadline will tell your estimated cost. The Time Tracking Software will help you and the organization to set correct future estimations by comparing the last set deadlines and estimates with actual results.
Performance Evaluation and Appraisal Planning
Employee Activity Time Tracking Software provides detailed insights of the work done in a day which helps in analyzing the value of the efforts made and also helps in tracking the deadlines/outcomes for aligning the targets timely. All these analyses streamline the HR processes and share actual stats for processing the payroll & appraisal.
Better Strategic Planning
Time Tracking Software helps to diagnose and intercept unexpected time leaks, workflow bottlenecks, and other business problems. Just by compiling all the above points businesses/individuals can overall help themselves in setting up the best business processes by bringing transparency.
The stats obtained from Time Tracking and Employee Monitoring Software for work from home helps to recognize possible loopholes to increase productivity and efficiency. Most organizations use the Time Tracking Software to set business processes and ease their workflow.