For every business, it is a challenge to calculate employee productivity. Most employers are trying to find the best way how to calculate employee productivity, and how to get the best productive of employees. As they do not have proper reports for the team's work. The next challenge is, increasing business operation costs and revenue by 1.5 times every year and profits are not growing at the same rate. in this article, we are discussing how to calculate time spent on a task & calculate employee productivity with auto employee monitoring software DeskTrack.
Table of Contents
How To Calculate Employee Productivity & Performance With Monitoring Software?
Two main factors which have been observed for these challenges are either;
Employees are inefficient in performing the tasks assigned.

They have put themselves in resting mode.  They are lost and not able to identify the areas where they are lacking as they do not have proper reports of the work done.
Managers are struggling with it as they are not able to understand what is happening and how to calculate employee productivity because they don't have any records to showcase the mistakes done or to identify the areas of improvement. It's seemingly impossible to record employee activities for identifying the areas of improvement, however, technology has made it easy with DeskTrack – A software to track & calculate employee productivity. An easy answer of how to measure business productivity. 
How to Calculate Employee Productivity Using Employee Monitoring Software
When you hire new employees, one of the first things you're going to want to do is monitor their productivity. Here I'll show you how to calculate employee productivity using employee monitoring software and what kind of effects they can have on your organization.
Timesheets to Calculate Productivity of Employees
DeskTrack Time Tracking provides the Automated Timesheets for the employee which monitors the actual time each team member spends at work. The data includes their attendance, absenteeism, overtime, meetings, and idle hours. It provides insights into the employee's punctuality, and attitude towards work, as well as plays a major role during appraisals. It determines incentives or addresses any misunderstanding between the company and employees. 
Timesheets play an important role in payroll. By collecting timesheets, you can easily identify the total time an employee spends at work, in the office, and on projects & tasks. This allows the calculation of actual billable hours for employees and clients.
Timesheets in productivity
The time spent on the work can be a major determinant of tracking & calculate employee productivity in some businesses, it can be derived by:  Here is the sample time to productivity formula to calculate employee project productivity. 
               Productivity = (Time spent at work/ Shift Time (Office working hours)) x 100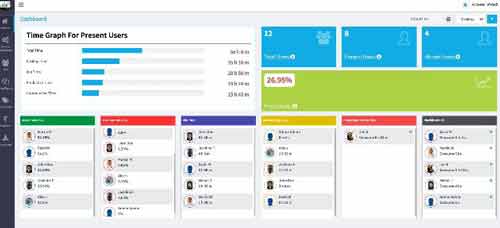 Automated Daily Work Reports Calculating Employee Efficiency
DeskTrack provides 100% accurate reports of the team's work with the total time spent on each activity. These reports comprise detailed information of apps and documents opened (name & path), URLs browsed, emails sent and received with counts, and all other desktop activities. With this detailed reporting of the employee, you can easily be measured and calculate employee productivity.
Calculate

Employee Performance With the Daily Productive Reports

It would be very easy to evaluate the performance with detailed reports of the activities performed by the employee in a day or month or year. From these activities, you can easily analyze the working behavior; how focused and distracted an employee is likewise it happens if anyone continuously switches over different tasks then he would not stay focused thus the quality degrades.
Identify Areas of Improvement in Productivity
Usually, Activity Monitoring is not preferred as it is considered micromanagement; however, identifying the areas of improvement is required. Individuals should identify on their own with the data logs, to improve their working style, stay focused, avoid distractions, and upgrade the quality of their work.
How To Calculate Employee Productivity
To calculate employee productivity' these reports are key points. It provides a crystal clear picture of the employee's activities as the employer"s can calculate their team productivity. On the basis of the Timesheets and activity logs, you can set the parameters to evaluate the productivity of an employee. The best parameters to calculate productivity are the time spent on important apps, URLs, files, and office working hours. Here is the formula to calculate productivity on task.
Productivity = (Time spent on important apps, URLs, files /  Shift Time (Office working hours)) x 100.
Project Timesheets to Work Done on Time
Revenue and profits depend upon the project and task delivered to the client, it should be delivered timely with high quality. Profit ratios are calculated by comparing actual hours spent on a project with the project cost and the team's cost. When profits are low, business operation costs are high. Productivity is low then the Project Delivery Time is more as per the estimated time. Thus the project cost is increased by 1 or 2 times. Therefore to determine productivity the most important parameter is Project Timesheets. Formula to calculate productivity on project and task.
Productivity = Time Spent on projects & tasks / Shift Time  x 100
Every business must have proper records to determine the business profits and employee productivity use of an employee productivity tracker (DeskTrack- An Employee Automated Time Tracking Software)
1. DeskTrack: Employee Productivity Calculation & Monitoring
It is the Best Employee Productivity Monitoring & Time Tracking Software that works on real-time data, & provides accurate productivity reports on Simple Dashboard.

Features: Silent & visible working, Online & Offline Tracking, productivity Calculator, Screenshots, Track Working & Idle Hours

2. Workpuls: Workforce Analytics Software  
Workpuls Analytics Software that helps to increase the productivity of employees. It is made for large-scale & small-scale enterprises.

Features: Balance workloads & workflow, Boost productivity in the Workplace or remotely, Simplify payroll & billing, etc
3. Time Doctor: Employee Time Tracking
It tracks websites and applications used while working. So that you can track patterns and learn to stay on task. 
Features: Internet usage tracking, Keystroke logging, Screenshot monitoring
4. Everhour: Intuitive Time Tracker for Teams
Best Project management tool for teams. To track who's idle in work time, who's overworked, and who can handle more. 
Features: Estimate Tasks, Set Budgets, Build reports & track time
5. Asana: Project Management & Productivity Tool 
Web & mobile work management tool to organize teams, and track their work & productivity. 
Features: Project management, task management, Timesheet, Communication with team
How to Measure Employee Productivity in different Industries
Measuring employee productivity in different industries is a vital agenda. It is very difficult to analyze productivity if performance is not observed. We need to understand what measures & techniques can help us measure productivity. Here we are showing how employee productivity is measured in different industries.
How to Measure Employee Productivity in IT Industry
More challenging to measure employee productivity in the IT industry through the traditional approach. But when we implement effective techniques, we can get actual productivity in IT industry without any hassle.
Some Effective Techniques to measure employee productivity in IT industry
Measure employee productivity using key performance indicators.
Get Reviews from Colleagues.
Use Self Assessment Technique.
Use Productivity monitoring software
How to Measure Employee Productivity in Service Industry
In the service industry, productivity is measured by the efficiency of time management. They are more productive when they produce more in a shorter period of time. As a result, measuring employee productivity in the service industry also involves measuring the efficiency of time use and the results achieved.
There is a various tool available in the market that allows employers to measure employee productivity in the service industry. They provide top features to manage time & work easily
Automated time tracking for a certain task
Apps & URL tracking
Blacklist unproductive url's
Screenshot monitoring
How to Measure Productivity of Employees Working from Home
Managers are worried about remote employees' productivity. They want to measure the productivity of employees working from home. Here we provide some measures to calculate remote employee productivity.
Keep regular communication with employees
Invest in productivity tools
Create milestones & inspire to achieve them.
Take Reporting on Daily Basis
How to Calculate Productivity of BPO Employees
The productivity of a BPO employee can be calculated by dividing the output per hour by the number of hours worked.
Output per hour = Number of calls answered/Number of hours worked.
For example:
If a BPO employee answers 100 calls per day and works 5 hours, then his productivity is 100 calls/5 hours=50 calls per hour.
How to Measure Productivity in Business
Productivity is a key metric for businesses, and it's something that you want to be able to measure. The most obvious way to measure productivity is by measuring time. If your employees work more efficiently, they can accomplish more within a given period of time. Business productivity is can be measured with the help of employee monitoring software. The article will help you in brief how to measure business productivity. Read now.
Conclusion
Calculating & tracking employee productivity is a big task for everyone. Employee productivity monitoring software is the best solution to get accurate productivity reports of your employees. Desktrack is known as the best employee productivity monitoring solution. It has the best features that are never available in a similar market. We need to understand the importance of productivity in our life Because every deadline is important and as employees, we need to do work on time. That's why our Productivity monitoring tools are needed in every organization.