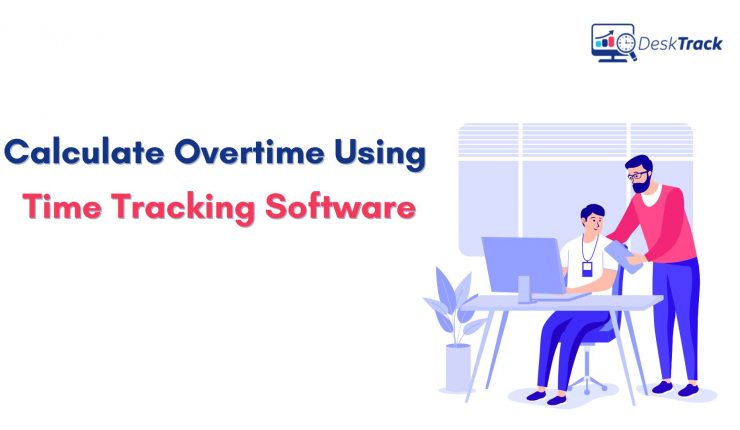 Are you calculating the overtime of your employees? If not, then it can be easier for you to calculate overtime using time-tracking software for your complete workforce. We know there were times when employees worked for the time they were not getting paid for but to complete their work before the deadline or to achieve their goals on time was more crucial for them. 
Table of Contents
How to Calculate Overtime Using Time Tracking Software
Most employees tend to work for 8 hours a day, but sometimes, it also may seem less. Many times, employees have to work more than their working hours to finish a project or task in its allotted period, which leads to overtime. But with the overtime time tracking software, you can effortlessly get the complete data of your employees working in the office, on an hourly basis, remotely, or working from home.
As we can say, it is challenging for managers or team leaders to handle the overtime period of their employees, but it's not impossible. Therefore, the market is flooded with ample options available that help in multiple aspects of companies, including the management of overtime. 
Knowing the proper procedure for calculating overtime can have a remarkable effect on your company's work plans and budget. Integrating a systematic time-tracking tool will help your employees in terms of proper overtime calculations and accurate hourly pay analysis. 
What is Overtime?
Overtime refers to the extra time spent by employees at their workplace more than their standard working hours. As the law of the Fair Labor Standards Act says, any time an employee overextends forty hours of work in seven days is defined as an overtime period. The FLSA law was established in year 1940. It mostly helped employees working overtime by considering an eight-hour per day and forty hours weekly standard working hours. 
Mainly, overtime refers to the extra productive time spent by employees more than their office hours because there are situations when employees stay at the office not for work but for some personal discussions or to complete their office hours. Therefore, overtime would be considered when employees are being productive or working on any project or task. 
Generally, in India, the working span is of eight to nine and a half hours, and employees mostly lead to work for extra time to achieve their organizational goals or increase their productivity. 
How to Calculate Overtime?
Overtime tracking can help you record and manage every minute of extra time spent by employees on their productive work. And if you want to calculate or are being confused about how to calculate overtime for salary employees? Then, here is the formula for how to calculate overtime to manage accurate working hours and error-free pay:
Total overtime = Total working hours – Actual working hours of the company 
For an instance:-
Yatendra worked for 45 hours this week, and his hourly rate is Rs 162.5. For working more than 40 hours, he will be paid 5 hours more than the regular hours, his bonus earnings would be:
Rs 162.5 x 5 = 812.5
For that week, his total payment for the week will be:
Rs 1300 (regular hours) + Rs 812.5 (overtime pay) = Rs 2112.5
How to Track Overtime?
In spite of the fact that everyone seems to be at the edge of tracking over time, commonly, managers have to track overtime. There are tools available in the market which can help you track overtime easily. 
The software can track all employee activities automatically without any manual effort. You only have to install the app and let it work. Therefore, get the timesheets that you can later share with your team members and managers.  
Benefits of Overtime Tracking
As the studies have shown, every week an American employee works for four hours as overtime, and 59% of employees working remotely operate for overtime weekly. As the researchers say, during covid, in the UK, 1 out of 4 healthcare managers are functioning for more than 20 hours of overtime a week. However, at that time as well, some companies were expecting some employers to work overtime to meet growing market orders.
Why Is Overtime Tracking Important?
If you are thinking about overtime tracking, then it is necessary to follow fair labor laws. As a manager, you are legally allowed to pay for overtime by calculating the wages of employees with complete accuracy based on the number of hours worked. However, if it's not done correctly, then it may lead to considerable legal risks and can result in huge disadvantages for your business to manage. 
Consequently, if employees get into overtime for so long, it may create fatigue. Likewise, the employees' limit to excessive stress lowers productivity and enthusiasm, which leads to the careless undertaking, inadequate results, and not-so-efficient work procedures for the complete team.
Importance of overtime tracking for managers
Overtime tracking for managers means taking into consideration of adherence and labor laws. Managers need to have a track of overtime as it helps them have a tab on daily working patterns and procedures. 
Therefore, the managers get to know more about the unmanageable workloads that create situations for overtime and possible burnout. Overtime tracking helps reduce the possibilities of burnout, disengagement, and unproductivity in employees. 
Importance of overtime tracking for employees
The increased pressure and unproductivity of overtime create definite burnout among employees leading to less work engagement. Therefore, the software to calculate overtime can help employees manage themselves better. It provides them the facility to manage their workload, get into more significant self-management, and maintain a better work-life balance. 
Companies should know how does overtime get calculated so that the employees can maintain their projects and plans as per their schedules. Also, the software helps them manage their time so that they can achieve their targets on time without any delay or burnout. 
The Advantages of Time-tracking Software for Managers and HR Department
As we all know, over time plays a significant role in the private sector, whether in India or any other country. So, the question arises of how do we calculate overtime. And the solution says to integrate an efficient time-tracking software with a login/logout feature, leave, attendance, and activity management system will help you calculate the accuracy of time spent on productive work, and this helps in error-free hourly pay and proper overtime calculations. Below mentioned points will help you know the advantages of time-tracking software for your organization:
Improved work rates help companies in multiple aspects as it helps them maintain transparency and clarity among the complete workforce. Therefore, customers and employees will trust your work more, which leads to indulging in your company for the long term. It helps you to enhance your business, as it not only influences outer connections but also allows employees to achieve better.
Time tracking and attendance management

:
As QuickBooks Time says, time tracking does not only benefit employees working on an hourly basis, as only 66% of US employees and 54% of Canadian employees track their time and get their pay based on hours. Whereas others get a salary, earning with self-employment or business owners. 
But can we say that attendance management and time tracking are the same things? No, they are not. Time tracking system helps you manage and maintain upcoming and ongoing schedules and plans, whereas attendance management helps manage accurate calculations for overtime, hours worked, and error-free payroll by having track of the presence of employees at their workplace. Therefore, having both systems can help your organization in equal aspects and help bring better outcomes. 
Improved team engagement

:
As mentioned above, time-tracking tools create transparency among the complete workforce. So, once the employees get ensured of exact time tracking, the chances of burnout, stress, and disengagement decrease. The software helps you manage your workforce working time and patterns with trust and engagement. It can also help employees self-assist themselves so that the managers don't have to micromanage their teams. 
Better deadlines management

:
The time tracking software provides detailed data of ongoing and upcoming tasks or projects so the employees can manage their work procedure in a better way to avoid surpassing the deadlines, which may lead to customer dissatisfaction. 
With the help of time tracking software, managers can get complete detailed data of employees' work done throughout the day. The system builds confidence and clarity among the staff members and leaders, which helps employees get more authority in their work and towards the complete workforce and company. 
How DeskTrack can help you as an Overtime Tracking Software
DeskTrack can help you and your workforce in multiple ways as an overtime management software. The software helps track and have the complete tab of employee work and activities done throughout the day from login to logout on their systems. 
But when the question arises of how to calculate overtime salary in India or any other country with DeskTrack, the answer comes up by getting real-time reports of the user system with screenshots. Therefore, with the help of screenshots and login/logout time, one can easily calculate the extra hours employees have spent on their work. 
Also, the screenshots will help managers know whether the employees are working on any project or task or only just wasting their time on any social media sites or any other irrelevant sites or applications. However, the software helps the HR department calculate overtime hours for accurate and error-free payroll and time. 
The Final Words
As the article says it all, calculating overtime with time tracking software is not a difficult task as it makes the procedure more manageable and easygoing. 
But integrating the best option may confuse you because there are multiple options available in the market to make you go crazy about their functioning and features. So, before choosing one, you should take the free trial and get the best one implemented for your employees. 
As a result, it will help your employees perform better and with complete transparency in their time management and target achievement. Also, managers can identify the actual working hours of their employees, which makes them calculate accurate payroll and time.