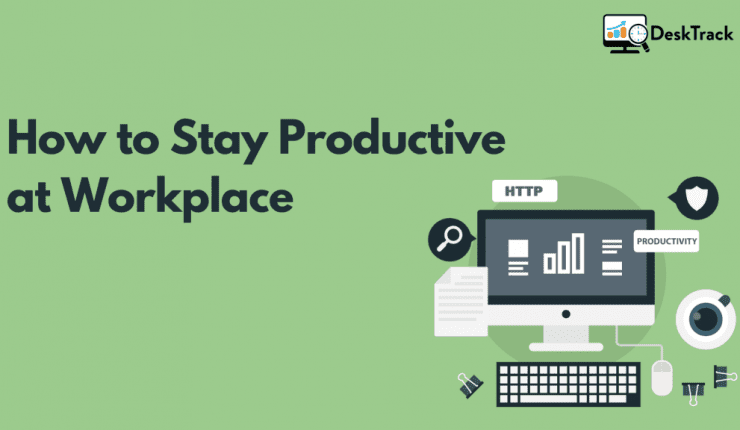 Having productive employees on board can be a great way to grow your business more effectively; a Productive one, right? If your team is not planned properly, not meeting the daily targets then it is the biggest road blocker for today. But what can business owners and managers do to make their employees more efficient and productive?
Take the help of technology and get results in 10 days
Plan the day

Manage time with the help of time management tools

Identifying the daily activities and analyze are efficient or inefficient

Manage transparency 

Use automation as a new practice for balancing work-life

Avoiding distractions

Analyze your day to day performance
To boost the efficiency of your team it's important to keep everyone on track. Time management or Time Tracking Tools allows you to plan your day in such a way that you can complete your task with less effort. This improves your decision-making ability, reduces stress, and gives the opportunity to learn new things and time for personal life.
Common habits that should be avoided by individuals (workforce) to stay productive?
From continuous pings of incoming mails to unnecessary meetings, there are plenty of distractions available in the workplace.
Checking Emails Frequently
Ideally, on average, an individual spent almost 2-3 hours of the day or sometimes the whole day can went like back to emails on 5-6 threads, or kept on thinking what how to process if things are not aligned i.e. 10-15 hrs of a week on the email communication that affects the other activities, thinking process, mindset and at the end deadlines are not matched which leads to stress this directly affects productivity. 
Unplanned Meetings
The meeting is the most important part of the work as it helps in processing how to process the assigned task or information transfer or planning of the upcoming events but if they are not planned properly as:


Meeting time is not fixed discussion keeps going

Too many meetings in a day

Agenda is not planned:
Anyone can take the discussion on the other head which will not solve the current issue.

Lack of preparation.

Get into conflicts as views not matched or any other topic has started.
Multitasking
It is one of the main causes for reducing the efficiency of an individual as he/she is not able to concentrate at work, keeps on switching every-time, nothing is finished at the end of the day, some studies says it is a good practice as one can learn so many things at the one time but in regular routines, it is not founded so, it just increases stress and makes him unproductive.

Learn To Say " No" To Unplanned Activities
Not Creating a Prioritized Day-to-Day Tasks List
You should plan your day, set the priority if it is not done then it will be really hard to achieve the targets set by the manager or whatever you have set for yourself.
Following  Same Daily Routine
Keeping on performing repetitive tasks on a daily basis is a road blocker to self-grooming, as individuals keep stagnant to the work and get themselves into the comforting routine thus their learning gets stopped. This leads to a limited thinking process, no new innovation will be found, hence work life will be bored.
Being Attached to Phones & Internet
Using the internet for scrolling social media feeds, chatting & mobile phones frequently during the working hours office can lead your productive day to an unproductive one. Everyone should have their private time during the working hours to stay relaxed but for a limited time.
To Make Innovative Yourself Do Innovative Things In Working Life
Tips to Make Your Day More Effective
Plan Your Day
It is difficult to use your time more efficiently if you don't know how you are utilizing your time now. Here Time Tracking & Task Management Software can be beneficial.
Track and limit how much time you're spending on tasks.
Plan your day, fix the timelines, and work accordingly, if required set timers so that you can finish the tasks as per the schedule. 
Monitor yourself and check your performance
If you are distracted things go & off, the phone rings continuously then start tracking yourself by using the Desktop Activity Monitoring Software this helps in keeping the log of day-to-day activities performed. It provides a log of emails, apps, URLs, and files worked in a day with time through which one can easily identify whether the activities performed are beneficial for the day or not. 
DeskTrack — A Desktop Monitoring Tool will give you a detailed and clear picture of where your day is flying. What is your inefficient activity for the day and how you can improve?
Say No To Multitasking
Research says multitasking is a major factor for productivity loss, as individuals switch tasks on a regular basis, and in the end, tasks are not finished, simply it means that they are not concentrated. DeskTrack monitors activities and tasks done by an employee or whole team, helps them to plan the day according to work, avoid unnecessary discussions, and meet the goals on a daily basis.
Plan your Meetings, make them Productive
Every meeting should be planned with a fixed time and proper agenda so that you and your team have a clear picture of the points that need to be discussed and they can prepare themselves hence meeting objectives can be achieved. Track all your meetings done in a day & week and see how much time you spent over it whether they are productive or not, this will remove a lot of unproductive meetings. 
DeskTrack calendar integration keeps a track of all the meetings done with the actual time spent on the sessions, analyzing how productive was it?
Set Clear Goals
The one who is creating a task needs to be thought out beforehand. That means every task should have a well-defined expected result and due date. This gives employees a clear picture of what needs to be done and in which time frame and helps to increase their productivity, as they will have a clear focus and clear goals.
Reduce Distractions
Distractions can simply divert the mind of employees and take the focus away from the timeline of the task and reduce productivity. The main cause of distractions in the workplace is the Internet, Social Media, multitasking, meetings, and discussions, therefore it is necessary to track & analyze the activities with the time spent on each activity.
Performance Analysis
You might be thinking your team will be against the Employee Activity Monitoring Software, but it is not so it's just how we are representing the tool in front of them, approx 79% of employees say that it's okay to be monitored as it creates 100% transparency, provides automated timesheets, activities performed thus helps in analyzing actual performance.
Feedback
Provide immediate feedback for a task done. This is the perfect time when you exchange updates and can address pending issues with the workflow or results. Be available when your employees need you and help them meet their goals. Try to always encourage them.
How an Employee Monitoring Tool can help Managers?
The best way for workforce analytics, it makes them easily understand what the team is doing, who is efficient or inefficient, utilized or not utilized.
Areas of improvement to make them more productive.
The rocking star of the team who is performing the best and can help other employees in motivating & performing best.

HR Managers can easily find the timesheets for the day as it provides an accurate attendance management system.

Good for the regular performance analysis as it is a key responsibility of the managers to identify the working efficiency and help in making effective.
How an employee monitoring tool can help employees?
It will help employees to be happy and relaxed as they don't have to say what they are doing for the day, it can be easily analyzed with the automated reports provided by the Automated Time Tracking Software. Also, it will help in avoiding day-to-day conflicts between managers & employees as it brings 100% transparency.