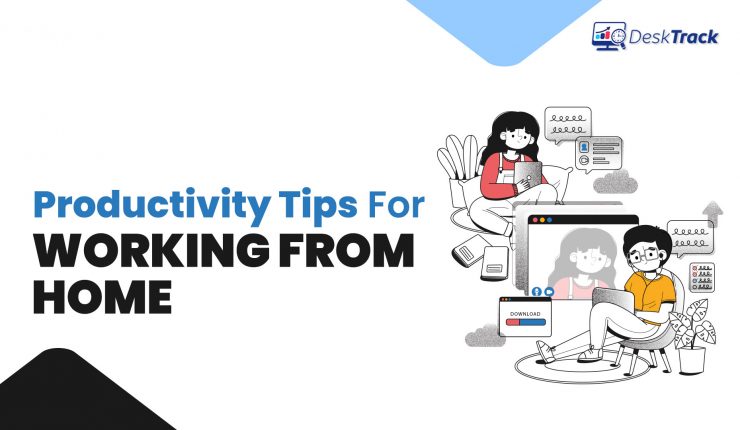 As the world is recovered from the pandemic time. Now all things are normal, but due to this pandemic, a new change is introduced which is work from home. After the pandemic, all companies start working on hybrid work. It means work from home is still running. Many employees who are working from home, need some work from home tips to increase productivity. Getting good productivity for working from home employees may be difficult if you have different distractions such as television and kids. 
Table of Contents
Productivity Tips for Work from Home Teams
According to Gallup Research in Feb 2022, "42% employees had a hybrid schedule, but 39% employees are working from home"
It is become very tough to stay productive at remote work for a long time. So if you are finding it hard to stay motivated and productive, then this blog is for you. Today, we will discuss work from home productivity tips.
Best Productivity Tips For Working From Home Environment
Take a look at some of the best work from home tips to increase productivity, which make you more efficient when working.
1. Wake-up Early
While going to the office, you wake up early to do all the necessary work before you head out. But the scene at home is different. Employees become lazy when they are at work from home.
So to overcome this situation, make a to-do list. Get up early and follow your list without any leniency. Pretend that you're going to the office, and you have to complete all the work. This way, you'll be better prepared for the day and get a lot done. You will also feel more motivated and driven toward your work.
2. Set up a routine
You need to be consistent about getting work done. This will help you avoid distractions and make sure you get everything done on time. It's also important that you set aside time for yourself every day (and not just at work), because it will help keep your mind fresh and allow you to think creatively about problems that come up throughout the day.
3. Setup Dedicated Workspace
If you're a work from home team, it's important to set up a dedicated workspace. This can be anything from a desk in your home or office, to a laptop with all the basic tools you need. Having this setup will help you stay organized, and also make it easier for you to get work done.
4. Keep Track with Work from home software
Having a work from home monitoring software system in place for keeping track of your tasks will help ensure you're always working on what needs to get done. You'll be able to see how much time each task takes and have a clear picture of where your time goes each day.
Set up work processes for yourself so that everything is organized and easy to follow.
5. Figure Out The Most Productive Time
The best work from home tips for employees is finding the most productive time. Nobody can work with the same high enthusiasm all day long. At some point during the day, you feel relaxed and do work slowly. When you are working from home, this happens way too often as you are much more relaxed.
Thus to make sure this doesn't happen to you, track your productivity throughout the day and figure out at which time you are usually the most productive. Use that time duration to do the most important work and get the most of your work done at the same time. It is very helpful work from home productivity tip.
Doing so will help you get all the things done at the right time and prevent overtime. By using this productivity increased from 30 to 50% easily in a single week. 
6. Take a Break at Work
Don't get too much to indulge in your work; remember to take a break. Taking a break from your work may help you work better, that is why there are fixed breaks assigned in offices.
7. Plan Ahead
This is also the best work from home tip to increase productivity of employees. Planning ahead of the task can get a lot of things done in a single day. Draft a to-do list, list things that you need to do the following day, and arrange them according to priority. Having a do-to list will help you get more work done in the same time frame as compared to not having a to-do list. 
With no planned meetings or breaks, everything goes considerably disorganized. Make sure you follow your schedule, segment your day, and decide everything beforehand.
8. Communicate with Cowerkers
Make sure to have regular check-ins with team members to stay updated on progress and address any issues or concerns. Use video conferencing tools like Zoom or Google Meet to stay connected with coworkers.
9. Eat healthy Food
It's important to take care of your physical and mental health while working from home. Eat healthy meals, stay hydrated, and try to get some exercise each day. It is the best work from home tip to increase productivity.
10. Separate Yourself From Social Media
Working from home can be a great way to save money and time. However, it is important that you stay away from social media while working from home. The temptation to check Facebook or Twitter every day may be too much for some people. Instead, set aside time for yourself and disconnect completely from the outside world when you are working on your business. Use these apps only when you are done with your work or out of working time. To track productivity while you working from home you can use a productivity monitoring tool. It can be very helpful to manage your time from social media or your work. 
Online work from home vacancies
Conclusion
Work from home scenarios has their challenges. Sometimes it gets hard to follow the process as people do it in the office. The key to all this is to start your day on time. Make a list of things to do and follow them. It is the best tip for any work-from-home employee, who wants to increase his efficiency at remote work.
Working from home is, indeed, challenging but not impossible for sure. Follow productivity and time management tips for working from home. With these tips, you can never be unproductivity at any place.  
Let's make self-management easier and be productive always by using Time Tracking and Productivity Monitoring Software