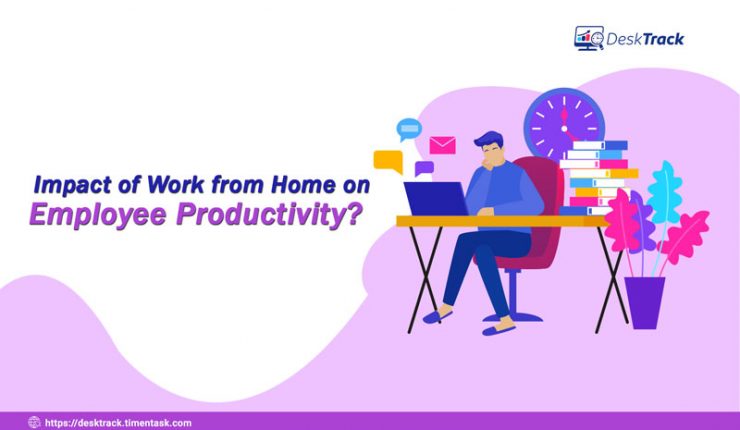 Here we are going to start with, what is the impact of working from Home on employee productivity. So, as the world got hit by the COVID-19 pandemic, many companies have shifted their employees to work from home. The work-from-home strategy has opened up new opportunities for people to function and manage their work by being out of the office. 
However, the technique has provided flexibility and comfort to the employees so they can continue their business operations and bring better outcomes. 
As Apollo Technical stated, 1 in 4 Americans, or it can be said up to 26% of the employees working in the USA, desired to operate remotely via 2021. 
But, this new normal has lifted questions about the impacts of work from home on employee performance. So, with this blog, we'll make you understand how WFH impacts productivity, key points to boost WFH productivity, advantages, and many more. Let's get started:
How Does Working from Home Impact Productivity?
The impact of work from home on employee productivity runs around in every person's head. Therefore, it has become a critical matter from the time of the pandemic for employees who have started working from home in recent times. There was a time when people who worked in offices regularly believed in remote work as a flexible work setup. 
As per the statements by Owl Labs, in 2021, during the pandemic, 70% of employees who worked remotely said virtual summits as less pressured, and now 64% desired hybrid discussions. 
However, working from home offers some advantages to the workers, like reduced travel time, no office dress codes, and no more 9 to 5 working hours which benefits the remote employees the most. Also, remote work practices bring a lot of challenges that sometimes affect user productivity in multiple aspects. 
Remote workers face a lot of distractions, whether it is about watching TV, personal work, day sleep, and many others, that leads to less work or slow processes. Whereas, employees who work from the office give fewer excuses for distractions and late work.
On a serious note, work-from-home productivity demands a lot of effort to maintain self-discipline and self-motivation. On the other hand, at offices employees have managers and leaders to keep them on track while working and help them achieve their goals on time. So, here is what the researchers say: 
Those who work from home take more intervals than employees working on-site. Likewise, some analyses state that taking more regular intervals and work from home monitoring software can increase overall employee productivity. 
Advantages and Disadvantages of Employees Working from Home
As the number has been increased of employees working from home, it's obvious there will be multiple advantages and disadvantages for the organization:
Advantages of Work From Home:
Flexibility and Skill Improvement
Working from home improves the skills of employees and creates flexibility as they can accomplish their tasks anytime, whenever they feel productive and energetic. This helps them achieve their goals on time with complete focus and fewer errors. 
Attract New Talent
Working from home provides the best advantage for organizations to attract new talents as by only offering the proposal of work from home, companies can easily bring skillful applicants. 
Increased Productivity
Employees get more time to achieve their goals while working from home. As the peaceful environment helps them stay focused and engaged in their work patterns and processes. Therefore, many employees who are working remotely work more than the ones who are operating from offices as they get more time to complete the extra work and get paid extra for the same. 
Better Work-Life Balance
Work-from-home procedures help employees balance their personal and work life in a better way as it helps them save a lot of time which they can use to accomplish their household chores and health-related tasks for better well-being and use the productivity monitoring software for better work-life balance. 
Technology Makes it Easier
Working from home got easier with the use of technology as the employees, managers, and team. They can collaborate or schedule important meetings anytime and have conversations on chat through apps like Skype and more. 
Disadvantages of Working from Home:
Does Not Suit Everyone
Work from home strategy does not suit everyone, as it needs the proper structure and routine that offices provide. Some people prefer to work with team interaction, and under the direction of leaders. It can help them achieve their target goals effortlessly. Also, working from home may not fit in some houses as they have many distractions or younger children who do not know the boundaries and cause interactions. That may cause some serious issues for employees. 
Home Distractions
Most employees want to work in a peaceful and cultured environment that may not be easy to create in-house. Working from home needs complete focus and concentration. Whereas, home distractions lead to a diversion of mind that causes less energy and power to accomplish work.  
Cost of Working From Home
Not all companies provide the essentials needed, like laptops, mobile phones, and other IT equipment. Therefore, working from home is not easy as it takes a cost that may be expensive or can't be within space. 
Negative Impact on Mental Health
Not every person can adjust to the strategy of working from home. So, the struggle and pressure of creating an environment for the same may impact their mental health in multiple aspects. It may be like they are unable to find a place, create an environment to accomplish their office tasks, fight to separate their office work and home chores, and many others. Therefore, making your employees believe in themselves by providing training to develop a working routine. It can encourage them and help them achieve their goals with ease. 
Decreased Staff Morale
When every team member works in a different location, it creates disturbance and disorder among the team. So, working from home may lead to decreased staff morale. Because of a lack of communication and interaction companies may face a lot of trouble in accomplishing their targets.
Key Points for Increasing Work From Home Productivity
Why increasing work-from-home productivity is essential for any business? To achieve the organizational targets on time by working remotely with complete focus and engagement. With the team members, it is crucial to increase the overall productivity of the employees working from home. 
So, here are some of the key points that will be going to help you know how one can boost the work from home productivity:
Build a Reliable Workspace
As we have already mentioned working from home is not for everyone. But a situation like the COVID-19 pandemic made people learn how to work remotely. But if there is no such thing which can be called an office place at home, then it may be difficult for you to create a reliable workplace at home. And it can break your concentration easily every time you go to work. 
So, it is essential to build a place where you find fewer distractions by organizing a workspace with the help of home gear and work additions you require to be productive at your workplace. Also, try to dodge distractions like TV, sleeping areas, decorative rooms, and areas associated with obstructive activities. 
As a result, the only thing that can help you the most is that you have to distinguish between your work mode and comfort mode. Because it is difficult for many people to instantly remove the thought of comfort and indulge in work. 
Stay with the Team
Working from home makes you stay away from your entire team members, and this leads to the distance between communication and work too. So, because of less interaction with the team members, employees lose interest in working with the team and collaborating in work. 
However, the team leaders can maintain this by scheduling the weekly work meetings and fun meets. That can help the team members to be together and work for better outcomes. 
Arrange your Work Strategically
Every work needs concentration and complete focus to make it error-free and successful. 
Therefore, when you choose to work from home, it is essential to know and identify the centers of duration when you feel most productive, and when you lose more interest in work because the lack of concentration can create multiple issues and errors in your work. 
So, arrange your work patterns with proper strategies and methods and help your company to grow more in every aspect. 
Take Frequent Breaks
When employees work in an office, they have multiple benefits, like working under the guidance of managers and interacting with the team members about the office work. But at home, it is not possible to make your mindset believe in work talk every time and build an atmosphere that can make you feel like working in the office. 
So, for managing that situation one should take frequent breaks to make yourself feel energetic whenever one sits to start work and use the best employee time tracking software. It will be more beneficial for you to take a small break after every hour to motivate yourself. 
In a Nutshell
As a result, the impact of working from home on employee productivity does not matter as the employee can be more productive or less productive or can be as productive as the employees working in the office. But the main thing to maintain the processes is how the person is operating, what time they are working, what equipment they are using, whether they are away from distractions or not, or if they are working with focus and engagement or just relaxing by being at home. 
As a team leader or manager, you can easily have a tab on employee activity, whether working from home or operating on-site with the team. Also, there are multiple options available in the market for companies to track and monitor their employees from anywhere and anytime with real-time insights and screenshots as work proof.  So, if you are thinking about implementing the best work from home productivity tools in your company to keep track of your on-site and remote workers then you should go for DeskTrack employee time tracking software that can help you maintain your workforce better and with complete transparency.