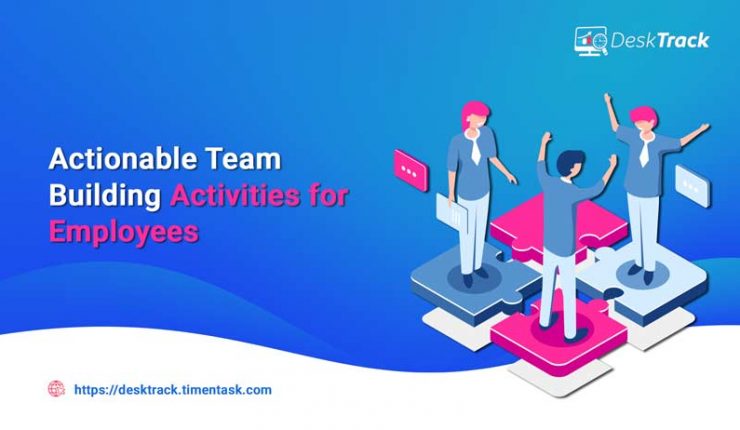 Team building activities are often not the most fun part of working for a business, but play a vital role in the development of your team and working towards a common goal. It is the most effective way to increase productivity of employees at the workplace. They help employees get to know each other better, work together, and build bonds that will last long after the activity has been completed. 
Team building activities can be quick and simple, or they can take several hours to plan and implement. Whatever your team needs, we've got you covered with a variety of team building activities for all types of teams
Table of Contents
Actionable Team Building Activities for Employees
In this fast-growing world, every business wants to be on top. Therefore, this can only be possible when the team holds excellent work culture with engagement and enthusiasm towards organization and work. So, when the workforce operates together to achieve the targeted goal, it means the business is boosting in a proper manner. 
Even if the administration has the most acceptable intentions, it's not enough to effortlessly take a complete workforce together and wish to have a prominent group to create by itself. Team building activities can help you find the lost connection that will help your team members feel more engaged and collaborate more effectively. 
But how will you choose the best team building activities for work? Or how will you get ideas for team building activities to make your team motivated and joyful? Here in this article, we have mentioned some of the best options to choose the most satisfying and effective team building activities for employees.
What are team building activities?
Let's start by introducing team building. It is the method or activity that helps companies build connections among their team members, initiate long-term relations, and foster more profitable collaboration and working approaches. 
And now about team building activities, it contains organizing team games and activities, having team meetings, hosting away days, or merely accomplishing work and tasks together as mates. Team building activities in office help the complete workforce to manage and maintain their work environment together with joy and in an interesting manner. 
Why team building?
Organizations that have employees more involved and concentrated on their goals lead to better productivity revealed by Gallup's State of the American Workplace survey. In reality, 25% of the top companies hold extremely increased productivity, profitability, client feedback, better earnings, and employee engagement compared to the lowest ones. And the same studies have shown that 70% of American employees are not actively engaged in their work. 
And that is why companies need team building activities that help them build possibilities to know their coworkers apart from the office premises or professional life. Therefore, if the company organizes some of the best games that can help employees improve better with their workforce can also help to:
Enhance communication

Promote teamwork

Show team stability and imperfections

Increase imagination

Build trust among employees
What is the main objective of team building activities at office?
Team building activities at the office help employees come and participate together so that they can improve the aspects, where at times team can collaborate easily by knowing each other.  
These activities possess communication, collaboration, alignment, group matters, encouragement, and things that allow a team to work together and help in productively management. Also, it includes fixing disputes, sharing talents, or merely carrying the team together in a communicated understanding.
As the Forbes Notes says, team building activities are essential for bringing the team together and letting them know the strength of teamwork by working towards your targeted plans as a group.
The most motivating team building activities help employees create new relationships, build trust among co-workers, and long term bonds with the employees. 
Team building activities for employees
Team building activities for employees is a technique for companies to let their workforce come together for events and work to maintain a better work culture and environment to achieve the organizational goals without any disputes and losses. These types of events build a more enthusiastic atmosphere and a positive connection among the complete workforce. 
Therefore, organizing some of the best motivating and morale-boosting games will help your employees improve connections, relations, confidence, and engagement in the office. So, here are some of the most interesting games which will definitely help your employees come together and participate at their best. Have a look at the below-mentioned games and the methods on how to play. Enjoy team building activities indoors and outdoors:
What's my name?
It is a game where participants have to say yes or no inquiries to get the identity of the team member. The game can be played with any number of team members. Also, the game will help employees know each other more comfortably and enhance communication skills. 
How to play:
In this game, employees have to write the names of some celebrities, comic people names, some famous personalities, and others who define employees. Then one person has to stick the note on their forehead or back, and the others will ask yes or no questions to help them know who they might be. And when employees have guessed the name of the player, they can withdraw the tag. 
No smiling
This game can help improve the work culture and environment of the complete workplace. We can call this game the most enthusiastic because it creates a healthy and cheerful atmosphere for all the people present, and the processing can help employees reconnect easily in the future. Any size of the team can be eligible to enjoy this game, but if there is a large-size team, it will be more enjoyable. 
How to play:
If you want to maintain an energetic and joyful environment at your workplace, then you should go with the no-smiling game. Fortunately, you can play this game anytime and anywhere, whether it is before a meeting or party. You can tell your employees to stay and hold on to their smiles or laugh until you get the topper of your organization. 
Karaoke
One of the best options to make your employee know each other quickly and more effectively by organizing a Karaoke show. Singing and music make people more comfortable and help them know the nature of others faster. So, let your employees show their real talent among their workforce and create lasting bonds with their co-workers. 
How to play:
The company can take all their employees to a Karaoke bar or may organize a Karaoke shown in the office only with the help of Karaoke games. Generally, the Karaoke game does not have any particular rules or regulations, but you can keep in mind the best selective songs that have to be trendy, and everyone should like it. So, let your employees show their hidden talent in front of their co-workers and improve engagement. 
Video gaming contest
Video game contests can be the best option for almost everyone, as we have all spent multiple hours in our childhood playing video games and now as well. Therefore, organizing an evening for a video game can make your employees feel more joyful and focused. Also, it is good for mental fitness, improving focus, and increasing productivity in multiple aspects. Video games are demonstrated to enhance employee enthusiasm, business culture, and morale. 
How to play:
Start by maintaining a game zone at your workplace and estimating the timings according to the size of your team members. Select the games by keeping everyone's choice in mind and embracing the gaming culture. You can arrange the gaming session just after the completion of working hours or can schedule the video game day once a week. 
Human Knot
Human Knot is a game that brings the team together to solve a puzzle, and it requires better understanding and focus to work in a team without keeping any mistrust about others. The game needs to be transparent and cooperative to win. Also, it improves coordination and trust among the employees even with their leaders and managers in various areas. 
How to play:
The game starts by arranging the players in a circle facing each other inwards. Then they have to hold their hands intersecting each other and have to resolve the puzzle without breaking the circle, or we can say without leaving each other's hands. The game improves trust, cooperation, patience, focus, and engagement toward co-workers and the company. 
Blind Retriever
It is a game that can be played for boosting the communication and listening aptitudes of the employees by making them laugh in no time. The game helps employees improve and perform better with complete engagement and focus by enjoying the time in the moment. 
How to play:
In this game, you have to divide your team into two and make them stand behind a line. Then, select a player from each team and make them tie blindfolds on their eyes. After this, place some of the random objects in the different areas in your workplace and make them find the same by instructing them on the path. Therefore, the blindfolded player has to find the objects before the opposition, and the one who collects faster will be the winner. 
Perfect Square
Perfect square can be played to improve communication, concentration, and connections with the complete workforce. It helps managers to create strong bonds and communication levels that can help them in the future as well while working on any project. 
How to play:
The game will start by making a circle with 4 to 10 people holding a rope in their hands. In the next step, they have to keep the rope down on the floor and have to tie a blindfold to everyone's eyes. Then the team has to select a player as their leader who will be going to guide the players to make a perfect square before the time ends. And the team who will create the perfect square will be the winner. 
Two Truths, One Lie
The game- two truths, one lie states its meaning by itself. Adding this game to your list will help your employees know each other and help them improve their communication skills. Also, the entire workforce will get to know things about each member that will help them build new connections for the long term. 
How to play:
In this game, the players have to sit by making a circle around, whether on the floor or the table, then each member has to tell three things about themselves. And others have to guess if the opposite players are saying the truth or lying. The conclusion will let the employees understand how well they know each other by telling lies. 
Read More: Employees Skill Development Activities that Leverage Employee With Confidence
How DeskTrack can bring cooperative energy to your team
Team-building activities are the most prominent approach to making your employees more engaged and focused on their work and organizational motives. Therefore, companies have to think about the requirements and necessities of their workforce to help them build enthusiasm and team morale in every aspect. If you want your workforce to maintain everyday work culture, then you should ensure that your employees are operating with the correct tools and procedures. DeskTrack employee monitoring software helps employees work together and collaboratively, promoting an atmosphere of responsibility, productivity, and development for the entire workforce, whether your team members are working from the office or remotely. The software helps employees operate and strengthen their work patterns and environment. To make sure about the tools, get the free trial and try it now!Read More: What Features Should be in Employee Monitoring Software?
The final words
Maintaining and managing teams at a workplace is not an easy task, as it takes a lot of effort and continuous measures to uphold the culture. Therefore, when you work together while enjoying team-building activities, it will provide you with all the benefits of team-building without any tension. How companies will going to use these activities will depend on their targets, the size of the team, the environment, and the preparation duration. 
Managers can organize different activities and practices for their employees by maintaining a long list of indoor and outdoor games. Also, companies can organize weekly activities online for their employees working remotely or operating from home. These activities will help them stay in touch with their entire team members, and this will help them create new and strong connections. 
Merge difficult team building activities with some interesting games for the best outcomes. With games and fun employees can easily achieve their target goals and will provide more effective results in no time. Also, these fun games help employees maintain better work practices and an atmosphere that encourages them to give more in less time by building new connections and boosting engagement.