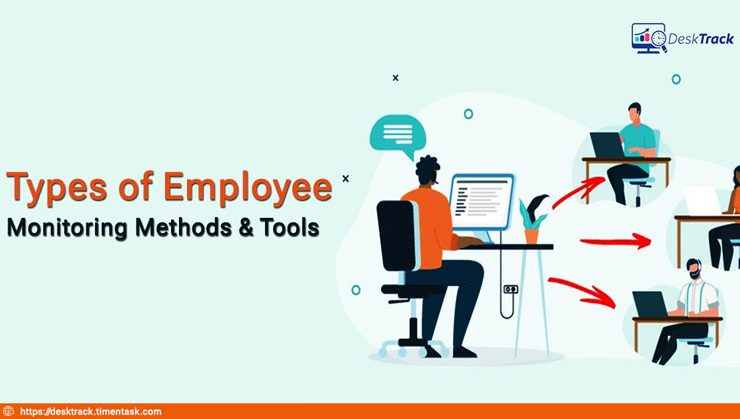 Types of Employee Monitoring Tools: In this fast-growing world, various technologies have taken place in which employee monitoring tool has become one of the most needed tools by companies of every field or size. Mainly employee monitoring tools are used for tracking and analyzing the activities, productivity, performance, and locations of employees working in an organization. 
Table of Contents
Types of Employee Monitoring Methods & Tools | DeskTrack
Nowadays, workplace surveillance has become a required as well as a familiar procedure in every industry. Companies are lawfully likely to operate monitoring software for business-related acts like tracking employee systems, monitoring activities and engagement, their focus on the job, locations where employees are visiting, applications used, office emails, social media activities, and many more. 
Thus, the software helps to outline productivity reports about how the employees spend their working time or how much time they need to achieve a particular goal.
That's why every company needs an employee-friendly tool that can help them improve more and achieve the best. Here's an overview of employee monitoring software, its types, and why your organization must have it. 
Why is Employee Monitoring Important?
Employees are known as the asset of an organization as they enhance the company's development through their efforts, productivity, and efficiency. Therefore, specifying and communicating the organizational plans and objectives leads to better management and outcome. 
But with the help of employee monitoring tools, a company can easily track, monitor, and analyze employee working data by which they can help those who are struggling with their work and appreciate top talents. 
It is equally crucial to estimate, benchmark, monitor, and improve employee performance on the specified objectives regularly. So, every day and constant track of employee performance benefits transparency and visibility in the organization's culture.
Employee Monitoring Methods
Here is the overview of the employee monitoring tool which can help you keep a complete tab on your employees working in your organization:
1. Video Monitoring
Video monitoring is the most common type of employee monitoring tool, or we can say employee surveillance. Mainly it is used for monitoring overall workplace activities, employee working patterns, and controlling violence, stealing, or damage through CCTV camera recordings. Almost every organization uses this type of employee monitoring method to know what's going on during the complete working hours. Also, with the help of surveillance cameras, the owners can watch the recording anytime, whenever needed. 
2. Keycards
Multiple companies are using keycards to keep complete track of their employees being presented in their office area or building. Usually, these keycards have been provided by the companies to their employees. It contains a computer chip that lets the managers know where the employees are. Also, managers can set the location as per their wish for security purposes for each employee. Without these keycards, the employee cannot access every room in their office. It can be helpful to track attendance and the physical location of the employees within the office building. 
3. Network Monitoring
Network monitoring refers to the analysis of company internet usage done throughout the day by an employee. Companies have complete access to track internet traffic that comes and goes from the company network. The network monitoring software tracks the complete data transferred through the user's system, including files and documents, sites opened, social media usage, and many more. However, network marketing is not useful for remote employees as they are not using the company network.   
4. Email Monitoring
The official email IDs are not meant for personal use the employees should understand that the admins have complete access to their e-mail addresses. Many companies use hosting services that help them access and monitor work emails anytime. Therefore, it does not mean that companies are hindering employee privacy. It is for the benefit of the company that if any irrelevant activity takes place, they can easily take charge of that person. 
5. Employee Monitoring Software
It is the most needed tool for companies nowadays and has a great impact on companies as it provides them with a clear picture of activities performed by their employees during their working hours in real-time. There are numerous options available in the market by which companies can select software as per their business requirements. Also, the software tracks remote and WFH employees' activities and the tasks performed by them with flexible time duration. 
5.) GPS Tracking
Companies have employees working in the field or away from the office in different locations. For employees working in the field, computer monitoring or video surveillance does not work; they need real-time tracking software that can provide complete information about employee visits. GPS tracking tools can help organizations get complete data about their employee work and visits to different sites.
6.) Website browsing, Application monitoring, and Social media tracking
Employee monitoring tools help companies track and monitor their website, application, and social media usage. The software helps admins get clear reports of work done by employees during their working hours, ideal hours, unproductive hours, away time, and what they are working on. 
7. Project management apps
Project management application software and employee monitoring tools cannot be considered the same. Tools for Project management are used to allot particular work and tasks to the employees. As per their roles and responsibilities according to their department. It helps employees work by streamlining the overall hierarchy of the project, and managers can assign tasks to their employees directly by having clear communication and discussion without any errors. 
How to Choose the Best Employee Monitoring Software?
If you want to keep track of your employee's everyday activities, then implementing the best-fit employee monitoring software can be the best decision. The market is flooded with multiple options to choose from. But before buying any of your monitoring tools, inspect your requirements. So that you don't have to make any changes in the future.  
However, employee monitoring software helps you manage all your employees under one roof with their leave management, task or project management, login/logout, location tracking, and many more. Integrating the best tool can help your organization improve the overall productivity and efficiency of your complete workforce. 
Whether you are a small or a large firm, you should have a record of your employee work activity with their performance and progress reports in real-time. 
Different Types of Employee Monitoring Software
Have a look at the below explained types of different employee monitoring software, which may help your organization and employee to achieve better:
1. Activity Monitoring Software
The best software to have a complete track of your employee's work activity throughout the day from login to logout in the workplace. Managers can monitor each activity of the employees with this software. And identify the best talent, and under and over-utilized resources. And employees who are struggling and help you secure data theft or any irrelevant act which is not in the favor of the organization. 
2. Employee Productivity Monitoring Software
Employee productivity monitoring software helps organizations boost and improve the productivity of employees working on-site or remotely. It is not easy for companies to have a complete record of their remote employees. And it is where the employee productivity monitoring software takes place. Having track of your employees' activities is not illegal everywhere, so monitoring employees can benefit the organizations in multiple aspects and can help them bring better outcomes with profitable revenues. 
3. Performance Management Software
The employee performance monitoring software helps managers and employees monitor their performance. And enhance it by specifying aspects related to improved productivity, top talents, employees struggling somewhere, decreased turnover, absenteeism, etc. It allows supervisors or team leaders to help grow businesses with more profit by generating and analyzing the real-time data of their employees working for their organization. 
4. Time and Attendance Tracking Software
Time and attendance tracking software are the most essential tools if you desire to have all your employee monitored automatically. It will record the complete working hours, attendance, absence, away time, and productive and unproductive time spent by the employees in the workplace. The time and attendance tracking software helps you in multiple ways, like increased productivity, improved employee engagement, better outcomes, and where the company has spent its money. 
5. HR Software
The employee monitoring tool or the HR software is key to managing and organizing complete HR solutions and purposes of an organization. HR software helps the HR department to have complete control over HR-related work like payroll management, leave management, and many more. Also, it nicely assigns their time and resources to more effective, thriving measures.
Benefits of Employee Monitoring
The monitoring of employee performance is one of the most powerful tools that employees can use to improve their performance. It's a way to get your employees on board with your company's mission, while also ensuring they are working hard and getting results. Here are some of the employee monitoring benefits are given below:
Increase Productivity
Employee monitoring can help you achieve higher levels of productivity. By having a system in place that tracks your employee's time, you can better manage their workloads and keep them on track. You might even find that you have more time in the day than you thought, which allows you to take on additional projects or tasks.
Increase Security
As more companies transition to remote work, employee monitoring has become increasingly important. Not only does it help improve productivity, but it can also help increase security. Employee monitoring is its ability to prevent data breaches, Detect Malicious Activities, and Ensure Compliance.
Improved Team Performance
Through employee monitoring, teams can identify areas for improvement, increase accountability, increase productivity, receive feedback, and collaborate more effectively. It is important to maintain a balance between the need for monitoring and employee privacy. It is possible for companies to improve employee performance by implementing employee monitoring practices that are transparent, fair, and compliant with regulations.
Cost Effective
When it comes to employee monitoring, the benefits of employee monitoring are many. One of the biggest benefits is that it can be incredibly cost-effective. You can save a lot of money on employee behavior issues by using this method instead of hiring employees that you have to pay for and then get rid of because they don't work out.
In a nutshell
As the word comes up, employee monitoring is considered to be both negative and positive. Negative because many employees think it is a tool that is used to control their work patterns. Or track them in every way. But the positive side says that employee monitoring is the most essential aspect for companies to grow their business. And improve their overall productivity with better results and employee engagement. 
So, with this blog, understand the need for employee monitoring software that will help your organization and your employees stand out of the box in this fast-growing digital era. Be sure that your employee monitoring tools manage all your situations related to productivity and handle employee privacy with ease. 
Also, take note before implementing employee monitoring software in your organization that it is legal to monitor your employees with or without telling them in your state or city.