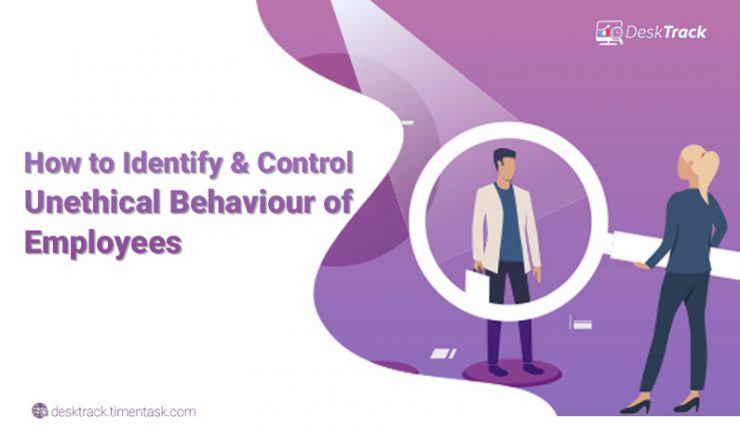 Have you ever found out that some of your employees are being unethical in your organization? If yes, then what can be the reason behind the same? Nowadays, unethical behaviors of employees have become a reason of concern. As it can cause a lot of misconceptions and losses in the workplace. 
Table of Contents
How to Identify & Control Unethical Behavior of Employees
For instance, if an employee, a manager, or a business owner has done something unacceptable or unpredictable that is against the social norms leads to unethical behavior. 
Despite this, workplace standards come with a pack of vibrant effectiveness that differs the employees and their meaning of the workplace. Likewise, some employees come to their office only for work, whereas others work there by considering it as their home office. 
In-depth! Whether employees are working on-site or working from home, for the sake of overall productivity enhancement and virtue of the workplace, establishing workplace ethics and behavior is necessary. 
What is Unethical Behavior in a Workplace?
Ethical behavior leads to the measures taken by individuals between what is legal. And what is correct to do even when no one is monitoring them. So, unethical behavior in the workplace and for those who are working from home means the illegal actions taken by an employee while working or performing other activities that are not in favor of the company or are leading to failing business operations. As a result, unethical behavior may be seen in every organization and in a lot of different ways. 
Read more: Importance of User Behaviour Analytics
How to Control Unethical Behavior of Employees in the Workplace
Below given are some of the main points, which can help you boost ethical behavior in the workplace. Or we can say these points will let you know, how to control unethical behavior of employees in the workplace:
Set specific approaches to the code of ethics that outline the behavioral nature of the company's expectations. The code of conduct helps employees stay motivated, provides equal chances, set values and standards, and helps define what benchmarks are needed if any employee breaks the code of ethics.  
Specifying a set of strategies or code of conduct is not the only thing that can reduce the unethical behavior of employees at the workplace. So, providing a better learning platform can help your newbies as well as existing employees. 
Evaluate executing reporting and monitoring tools that can make employees stay more active and attentive toward their work and reduce the attempts of unethical behaviors. Also, it allows employees to communicate better and with complete transparency with their subordinates.
Data monitoring is another best option to control unethical behavior in the workplace. As managers can set up administration examination panels to examine potential breaches of the code of conduct. Start with outlining email accounts that can capture suitable elements, including related documentation or the names of potential witnesses.
When companies hire new candidates, they should consider their values and capabilities. And examine whether they are capable of the company's standards or not. And provide work balance, payroll, bonuses, etc., among employees and departments as per their roles and responsibilities for reducing unethical behavior. 
How to Specify Transparency and Ethical Behavior in the Organization:
Below-mentioned points will let you know how organizations can determine transparency and ethical behavior: 
No one can know what another person thinks, whether it is about personal life or profession. A company can never know about the values and capabilities of the employees. So, while hiring your candidates, you must focus on the honesty and skilled employees have and what the company is searching for to improve and grow better. 
As we all know, honesty is the best policy. Likewise, an honest environment can make employees feel more motivated and trustful toward their work and the company. The way managers supervise their employees can make them anxious or doubtful about the company's work environment. 
The way a company communicates with its employees describes their connections and transparency. Keeping your employees and the complete workforce together presents a different aspects. Whereas keeping your employees away from your company's information makes them feel away and unknowledgeable, and this leads to dishonesty in the workplace. Therefore, having a flawless and comfortable communication level makes employees stay for the long term and creates better growth. 
Establishing an honest and valuable culture leads to better employee performance and engagement. An ethical environment means the company is not blaming or penalizing employees for taking chances or driving errors because of threats employees lead to hiding things and never coming forward to take any risks or ownership for any tasks. Therefore, creating an ethical culture helps organizations build more trust and engagement among employees.
→ How to Develop Employee Self Management Skills in the Workplace
→ Best Time Tracking Software for Freelancer
→ Top 8 Proven Time Management Skills
→ Benfits of Hybrid Working Model for Employees
→ Biggest Productivity Killers in the Worplace 
Examples of Unethical Behavior in the Workplace
Unethical behavior in the workplace means the work or activity done by any employee which is not in favor of their organization. Also, it leads to a lot of loss in multiple fields. So, here are some of the most commonly analyzed unethical behavior acts discussed below that are applicable in both on-site offices and work from home:
When the employees are not actually working and showing that they were being on any project while wasting time on other irrelevant activities, that means they are misusing the company's productive time and getting paid for free. Therefore, it is clearly defined as unethical behavior of employees towards their company or work. However, there are multiple methods to misuse time, like if an employee is operating on a project of the estimated time of two hours and is wasting it while being on chatting or personal phone calls or any other things which are not related to the work and showing that they are working for more hours bring about unethical behavior. 
Taking other's work credit
It is the most common example of unethical behavior in the workplace. Many people enjoy taking the credit of another person for their praise in the overall company. And this type of behavior can create issues for those who have provided all their efforts and struggles in completing the whole work. No matter whether it is an employee or a manager, this type of behavior leads to unethical behavior. So, companies need to grow and work together rather than take the credits alone. 
Whether it is in your personal life or professional, lying can get you in big trouble at any time. So, for maintaining your work-life balance, one should be transparent about their work and job and to their colleagues, managers, or employees. People ought to understand that lying can make them fall into multiple unfavorable situations, and it may cause a lot of losses in their job. 
When it comes to abusive behavior, it automatically goes to unethical behavior and unprofessional manner in every situation. Abusive behavior includes forceful, harsh, terrifying, threatening, humiliating, or damaging activities with unlawful purposes. It does not matter if any employee is being abusive or not if the incident once took place in your organization then it is very important to create some rules and boundaries which can be helpful for everyone working over. 
In this digital era, if technology is taking place for better growth, then, on the other hand, it has been a threat for multiple reasons, like data breaching. It is the most observed issue in organizations nowadays. Therefore, implementing a employee monitoring software like DeskTrack can help you detect all the activities performed by your employees, including data transfer, applications opened, etc. Also, companies should maintain some rules and regulations and their outcomes if not followed for more pleasing management. 
Read more: Productivity Tips for Working from home
Understand the Signs of Unethical Behavior for Work-from-home Employees:
Remote employees are more likely to engage in unethical behavior if they don't feel authorized by their employers or company. So for maintaining remote employees, companies need to understand the signs of unethical behavior appropriately and try to manage it with these below-mentioned points:
As mentioned above, transparency and trust-building among employees, whether they are working from the office or home, are very important because it leads to a better outcome for the organization. So, maintaining the trust and better communication makes you build better connections out of your company as well. 
Improve telecommuting policies
It is very important for organizations that have employees working from another location to improve their telecommuting policies as it helps them provide complete flexibility and visibility into their work. Using technologies that can help both organizations and employees working from home leads to better outcomes and work performance. 
Empower employees to do their best work
Companies need to make their employees feel more empowered and encouraged at every step. Empowering and appreciating your employees leads to better communication and trust among the managers and remote employees as they can easily discuss anything and will take steps ahead to work more with full enthusiasm and engagement. 
Execute regular performance reviews
If any of your employees are delivering their complete efforts and struggles towards their work, then companies should admire them with rewards and bonuses or by providing regular performance reviews. This will help remote employees feel more motivated and valued while working with your company.  
Invest in tools that boost transparency and accountability
Implementing tools like employee productivity monitoring software will surely help organizations to stay completely aware of the activities done by their employees during their working hours. This will help boost more transparency and accountability among the organization and employees as it will provide a clear report of visibility and the efforts done by the employees, whether they are working from home, any other location, or from the office. 
The Final Words
Not every organisation is perfect in all aspects, as all need proper maintenance and administration. Then also, there are some of the most conservative factors that need to be analyzed and managed for sure, like unethical behavior in the workplace. If left unchecked, it may generate a lot of damage and problems in different aspects of the organization. However, if your organization is having proper management rules and is following ethical behavior and patterns can have a better effect on overall organizational outcomes and profits. Organizations with healthy ethical values build a profitable brand prominence that draws and maintains qualified employees. Also, it enhances trust and belief in the consumer's mind.