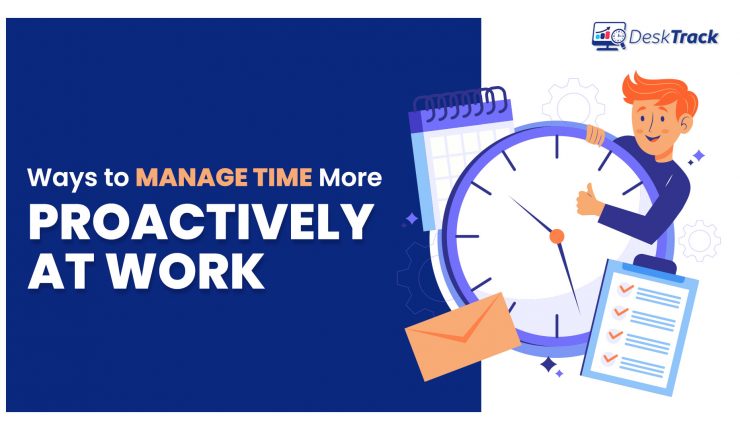 Time is one of the most valuable things in the world. The importance of time management in the workplace is often overlooked by employees. It occurs when employees are unaware of how time management can improve their efficiency as well as productivity at work.
Time management is an essential skill to be successful in the workplace. It is an important aspect for employees who wants to become more successful & achieve goals faster at work. If you want to be more productive, you need to begin by making a conscious effort to break down your workday into manageable chunks. To take hold every single second in your life, you should know why time management is important in the workplace. 
Table of Contents
Ways of Time Management in the Workplace
What is Time Management?
The plan & organization of all your tasks are critical for success. Utilizing time appropriately, and doing the work ahead of schedule is called time management. In a nutshell, time management is the enabler to get better work, which can be done within a stipulated time at the workplace. 
Why Time Management is Important in the Workplace?
The art of time management in the workplace and its effects are various in yielding a positive impact on your life or your organization. In this hustle-bustle of regular life, effective time management in the workplace could save you from entering into a state of unrest. If we learn to master the art of time management & it's important, we could experience a positive change. To be precise, it offers the following benefits-
Fewer stress levels 

Better task management 

Better work-life balance

According to wright.edu, "the importance of time management in the workplace means getting more of the important work done in an assigned time frame.  In fact, effective time management at the workplace is even more important than efficient use of our time. "
If you want to be more productive and less stressed in the workplace then you need to understand the importance of time management in the workplace or in your life, Here are some strategies to improve your productivity. 
Important Ways of Time Management in the Workplace
You need to say yes to strategies to manage time and work both. Here are a few tips that will help you to fuel uptime management. In turn, you will have more best ways of time management at the workplace. 
1. Figure out the current things you're spending time in the workplace
First and foremost, you need to figure out which thing takes more time. According to a life coach, "Most people are prey to the time-wasters, which steal time that could be used much more proactively and productively. Be it managing time at the workplace or in our home. We don't get the actual way out that could help us hatch up our next steps."
Tracking your regular activities during office hours can help you to find out time-killing elements. Do the following things-
Identify the time-sucking periods or objects that drag you to accomplish the same.

Determine how many tasks you can achieve in a day.

Focus on those activities from which you can have good outcomes.
Now, you can get a fair and square idea of how much time is spent on unproductive conversations and activities. Additionally, you will also get to know your most productive hours.  
2. Set SMART goals
You get only 24 hours in a day. Since you cannot change the same, you can set up your goals accordingly. It must be set in a way to reap the benefits. If it's not, then something is missing. 
Set up your goals: S.M.A.R.T- Specific, Measurable, Achievable, Realistic, and Time-bound. It could help you bring a solid structure to your work life and personal life. Use of Time management in business skills A myriad of reasons is there why businesses fail. From underscoring the importance of innovation to resisting the natural growth mindset- experts frequently don't create SMART goals that could have facilitated success. 
However, using SMART goals can change the mindset. It would help you to think differently. No matter how you want to change your life, SMART goals could feel the same to help you reach dizzying new heights. 
3. Use a Time Management Software – Desktrack To Manage & Activity Tracker 
Are you finding a way to keep track of every minute? DeskTrack Time management & Time tracking software could be the answer. This particular software is designed to set time estimates, track time spent on various tasks, and maintain a record of every second spent while working on something. 
For example, if you're working on something, you could set a time estimate for each task to manage the time efficiently. You can use Desktrack time management software, it is the best way to manage the better time at the workplace for every project. 
About Desktrack time tracking feature-
Desktrack is the ultimate solution to track time for effective time management. You will get all the time data in one place. It is one of the widely used tools to manage time at the workplace. The experts are also raving about the same. 
Tracking time manually- 

It can track manually time spent for billable and non-billable hours. 

Taking the help of timesheets- 

You can track your time accurately while using the timesheets. Based on that, you can get the insights to help hatch up your next steps. 

Time Reports- 

You can create custom time reports to see the logged hours. 

Desktop activity tracking- 

You can now record all the opened applications, files, and URLs. Additionally, you can also check the total time spent on each task. 
4. Prioritize your tasks 
Prioritizing your tasks is the key to successful time management and making you more productive. You can start eliminating the jobs you're not performing in the first place. Then, identify the other functions which you need to do first. By performing the same, you can make sure you are doing the tasks in an organized way. 
5. Create routines and stick to them
Take a pen and paper and jot down your plans. Create lists of the most demanding tasks for the day. It will prevent you from wading through the tasks running through your brain. Likewise, you will get the energy to think about the subsequent works. In a nutshell, a properly planned schedule not only help you reinforce your task speed, but it will also make sure all the goals related to work have been achieved.  
6. Take small breaks 
Let's consider this scenario. Shelley and Pritam are two different persons working on the same project. Shelley is constantly working 6-7 hours at a stretch. On the other hand, Pritam is taking small breaks in between work. Who is using the time effectively? Of course, the latter. 
When it comes to time management, you don't need to work all the time proactively. Instead, take small breaks to rejuvenate your mind. Therefore, it will help to increase your productivity level. 
7. Say "No" 
Successful time management also includes declining requests which you are receiving. You already know how much time you have assigned for each task. Saying "no" would help you focus on the important tasks you need to do. 
Doing a lot of tasks may not yield the value you are expecting. On that note, you can complete fewer tasks which will add value. Incorporate the 80/20 rule- 80% output comes from the 20% input. 
8. Sleep for 8 hours at least 
Finally, don't deprive your body of getting a sound sleep. The human brain needs a long gap to function correctly. Switch off from all the tasks before you go to bed. That way, your brain will stop receiving all the notifications. Sleep for 8 hours a day to start fresh for the next day.   
Final Words
Did you catch the ultimate goal? It all rests on making time for your friend by managing it successfully. Introduce these time management tricks and get the best output ever. Every minute is precious. Try to add value to it. 
As an additional basis, you can start using Desktrack time management software for the workplace. Desktrack offers you everything you need to manage your time effectively. Sign up for a 15-day free trial to see this for yourself.