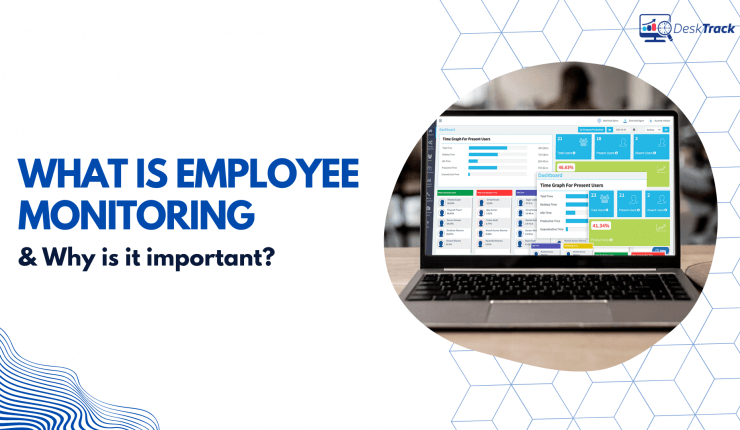 Employee monitoring is the major concern of many organizations today. Most business owners suffer from employee monitoring problems and they are searching for how to monitor employees what is online employee monitoring software? The employee monitoring system is used to collect information about employees' activities & behavior at the workplace. According to Research Conducted by International Data Corp(IDC), 30-40% of employees do non-work-related activities on the internet. Another study found that 21-31 percent of employees actively engage in unethical behavior, including as transferring sensitive information such as intellectual property and company secrets to outsiders, putting many critical assets and projects at risk. Therefore we need a robust employee monitoring system that helps employers to safeguard from risks.
What is Employee Monitoring Software?
Now check what is employee monitoring software. Employee monitoring is a technological method of gathering information about remote, freelance & in-house employees' work activities, to track their performance & efficiency. The primary function of employee monitoring is to track employees' productivity. It is a critical component of every business. Without proper employee time tracking, it is difficult to ensure that your company is producing a quality product. The most common reason organizations implement employee monitoring solutions is to increase productivity as well as overall employee retention. 
Table of Contents
What is Employee Monitoring & its Importance
According to Wikipedia, "Employee monitoring is the (often automated) observation of employees' activities. It is used by organizations for a variety of reasons, including tracking performance, avoiding legal liability, protecting trade secrets, and addressing other security concerns. Because of the impact on employee privacy, this practice may have an impact on employee satisfaction. The extent and methods of employee time tracking vary by organization."
Employee Monitoring Software Market
According to Market Watch, "The Global Employee Monitoring Software market is anticipated to rise at a considerable rate during the forecast period, between 2022 and 2028. In 2021, the market is growing at a steady rate and with the rising adoption of strategies by key players, the market is expected to rise over the projected horizon".
The global Employee Monitoring Software market is projected to reach USD million by 2028 from an estimated USD million in 2022, at a CAGR of % during 2023 and 2028.
North American market for Employee Monitoring Software is estimated to increase from USD million in 2022 to reach USD million by 2028, at a CAGR of % during the forecast period of 2023 through 2028.
Asia-Pacific market for Employee Monitoring Software is estimated to increase from USD million in 2022 to reach USD million by 2028, at a CAGR of % during the forecast period of 2022 through 2028.
What is the Purpose of
Employees
Monitoring?
The purpose behind employee tracking & monitoring is to gather data on employees' online & offline activities in order to monitor their behavior. This data can be very helpful to understand the employee's efficiency and effectiveness and also find that either your organization is at risk or not.
Types of Employee Monitoring
What is employee monitoring software? one of the most common questions that arise in business owner mind is the types of employee monitoring software. There are many different types of employee tracking that many businesses use today. Now let's discuss the types of monitoring employees that can be helpful more.
What is Employee Keystrokes  Monitoring?
In this employee monitoring, Keystrokes are tracked to determine how long and how often an employee enters information into the system. Keystrokes can also be used for password recovery and for identifying users that are accessing the system inappropriately.
What is Employee Video Monitoring?
employee Video monitoring through cameras has become more common in offices throughout the world as a way to monitor employees' behavior at work. These cameras can also be used to monitor customer behavior as well as criminal activity outside the business premises. 
Read more: Pointers to Select the Best Employee Productivity Monitoring Software
What is Employee Email Monitoring?
Employee Email monitoring systems allow managers to see all incoming and outgoing email messages from employees' inboxes as well as who sent or received them along with when they occurred. This gives managers insight into what is going on within their departments so they know if an issue needs immediate attention
What is Employee Time Tracking Software?
What is employee time tracking software? it is a very common thing to consider in this work culture era. Then we provide the exact answer and proper working, Employee tracking software is a great way to track employee performance, productivity, and attendance. It provides a centralized dashboard that displays all employee data in one place, allowing you to easily identify trends and make adjustments.
What is Field Employee GPS Tracking?
Many companies have the field workforce required GPS tracking system to monitor field employees, and they ask about What is field employee GPS tracking? So GPS tracking is an excellent way to track employees who work in remote settings such as factories or construction sites. Employers can monitor full day location of their employees where they are visiting & spending their time in a day
Read More: Impact of Employee Monitoring Software on your Personal Growth
What Are online Employees Monitoring a Good Idea?
Why is online employee monitoring a good idea? This question and fear rising in every employee because there is various controversy, Some employees and employers take it as a positive side and some take it as doubt on their honesty so I will tell them employee monitoring not only to monitor employees but also it can increase productivity, efficiency, and accuracy of work. So according to me employees and employers take it as a positive side.  but keep in mind that there can be potential security risks. It allows you to know what they're doing, and it helps you control them. If an employee is spending too much time on social media or sending inappropriate emails, you'll know about it before it becomes a problem. You also have the opportunity to provide guidance for behavior modification and/or disciplinary action if needed.
However, monitoring employees' online activity can also raise concerns about privacy issues and how much access their employer has over their online activity. While some companies handle this issue differently (some simply ban all social media use during work hours), others may want to limit access to certain sites or even require passwords for certain accounts so they can monitor the content being shared by employees.
What Is Employee Monitoring Legal?
Yes, employee monitoring is right for your team & legal. Employers have legal rights to track their employees to check their performance at certain time periods. Either they use anyway like software to monitor employees, video monitoring, keystroke monitoring, etc. Prior to installing Employee Productivity Monitoring Software, employers should perform a Privacy Impact Assessment to identify any challenges that may arise. Read more.
Importance of Employee Monitoring for Employees?
Employee monitoring is a very important aspect of employee management because it allows you to identify any issues that may arise with your employees as well as provides you with information about how well they're doing their job. 
It helps employees work more efficiently and effectively. It also helps them to be aware of the tasks they need to perform, as well as their deadlines. This is vital if you want your employees to be at their best, so they can complete their tasks on time.  Also,  helps to increase employee productivity which is the major reason for installing employee tracking in the workplace
 It is a very important aspect of employee tracking. It helps in identifying the problems and managing them effectively. This also helps in motivating employees toward their work and keeping them motivated in their personal life.
Read more: Famous Industries that use Employee Monitoring Software
Importance of Monitoring Employees for Employers?
importance of employers' Monitoring software in every big and small organization because it helps them keep an eye on their employees, which will help them ensure that they are doing their jobs properly. It also helps employers to identify any problems that might be happening with their business, so if there are any issues they can address them before they become larger problems.
Pros of Employee Monitoring
Employee morale is boosted by the company's commitment to monitoring employees

and ensuring that they are working hard.

Employees who have been monitored in the past have a better idea of what is expected

of them and are more likely to follow through on those expectations.

The workplace environment is more relaxed, as employees will not be bothered by

supervisors micromanaging their work 

Monitored employees tend to be more productive than those who are not monitored.
Cons of Employee Monitoring
Employee morale often takes a hit when employees feel they are being watched or monitored.

Employees may become less productive because they already know that someone is watching them.

Staff morale may suffer because everyone feels like they are being watched by their superiors or managers.

Employee productivity may suffer because employees fear losing their job if they do not meet quotas or goals set by management.
Read more: Pros & Cons of Employee Monitoring Software
How to Select the Best Employee Monitoring Software
The best employee monitoring software is the one that allows you to keep track of your workers, check their work and make sure they are performing the tasks well. It is important to have good employee monitoring tools in place so that you can be assured that there are no mistakes or issues with your employees.
Before deploying an employee monitoring software, you will have to look at the features that it has. It is important to know what kind of features you want in an employee monitoring system so that you can choose the right one for your needs.
There are several common things that you should consider when looking for employee monitoring software. These include:
1) Cost – The main consideration for employee monitoring software is cost, which should not be too expensive as this will make it difficult for most people to afford it. 
2) Simplicity – The simpler the way it works, the better off everyone will be when using this type of technology. The more complex it is, the there will be more problems with them 
3) Reporting –  It should be able to provide custom reporting. Employers can able to get custom reports of their employees.
4) Real-time Data – It can provide real-time data for employees' productivity.
Read more: 10 Pointers to Select the best Employee Monitoring Software
How DeskTrack is the Best Software for Employee Productivity Tracking?
DeskTrack is an employee monitoring and time tracking software to help enhance employees' productivity. Nowadays, the employee is one of the major concerns. Businesses require robust employee productivity monitoring software that helps in many ways. DeskTrack has proven it is one of the best employee monitoring software many times. Managers can keep track of employees' working hours, online & offline activities, screenshots, projects, tasks, roaster management, etc. It provides the option of creating customized reports of real-time data.
DeskTrack top benefits you get for your business:
Conclusion
Employee monitoring is one of the most demanded topics in today's world as businesses tend to lose a lot out of it, but an increasing number of companies getting benefit from employee productivity monitoring software in many ways, thus helping them to grow as well.