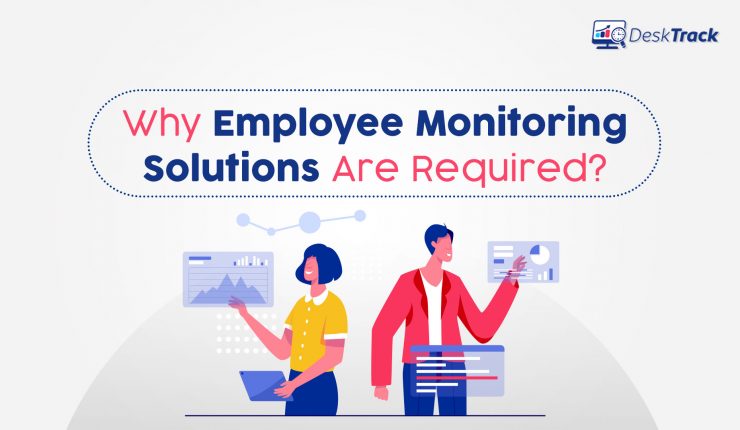 Each entrepreneur wants to know how executives invest their efficiency and time at work. Employee monitoring solutions are able to provide all the information about employees' activity i.e. Screenshots, URL tracking, application tracking, productivity & time tracking. Improving employee efficiency is essential for productivity That's why employee monitoring solutions are required for every organization. 
Requirement of Employee Monitoring Solutions
The

Employee Monitoring tools

can monitor every activity like apps and URLs searches, productivity & unproductivity, capture random screenshots, and provide insightful reports. It helps to increase employees' productivity, streamline HR's work and protect your company from data loss.

Employee Monitoring software

helps you track your application usage and

increase your productivity

. It will also help you block unauthorized applications. This will help you to track every employees activity. 

One concern we have heard from business leaders is they don't have clear visibility into what their employee is focusing on during the business day, is it productive or not? It is also the best reason that shows an employee monitoring system is needed.
Today, the internet and computers are key to the success of the business. Sometimes employees, during the business day, surf the internet, use social media, watch youtube, and get involved in personal activities. Keeping track of employee time at work from home could be tough. Using the right employee monitoring solutions, you can know the exact number of hours worked by individual employees. This will Impact Productivity, which in turn impacts revenue and client satisfaction.
The best employee monitoring solutions act like a directional beacon that guides your entire team – no matter how far they are.
These challenges increase the cost of business and leaders are looking for tools that are capable of Monitoring/Reporting Productive Time, activities, tasks, internet usage, meeting, and idle time as well as the most employee monitoring software is designed to enhance productivity, security, or both. These types of tools are gaining traction and are becoming critical to the success of their teams and business.
IT Industry 
The IT industry is growing very fast, and it requires more and more employees every day. To get track of every employee, companies need an efficient employee monitoring solution. These tools can improve the productivity of employees as well as help in task completion before deadlines. These solutions are needed Because the business owner can easily manage all the employees.
The Recruitment consultants are facing a big issue in managing personnel. They have thousands of clients with different kinds of businesses. Managing employees who work on multiple clients can be a daunting task unless they are tracked properly. The Employee Monitoring Software is one such tool that can help you track employee productivity and identify areas of improvement.
Automobile 
In Automobile companies, employee monitoring software is the best solution for them. This software helps in tracking the employee's present location and their activities during working hours. Not only their activities but also it helps in tracking their work status for the allotted vehicle. This information informs clients about their vehicles.
Architects
Time Tracking is one of the most essential parts of every architect. As an architect, you have to face many challenges like making adjustments for clients, designing new constructions, and monitoring the construction process. With Best employee monitoring solution, it is helpful for both individuals and organizations, doesn't matter the size. It helps constructors to manage all the projects, tasks, working time, and exact billable hours, all in one place.
Accounting 
Accounting professionals are either working on multiple projects at once or performing multiple tasks at one time. When your organization is focused on tax or audit, bill-per-hour, or fixed-fee projects you need to track all the time you spend on multiple projects and with clients during working hours. DeskTrack helps you keep track of multiple projects and billable hours, bill clients accurately, and saves your time from your own accounting
Healthcare
We live in a world where the threat of cybercrime is ever-present, and healthcare systems are particularly vulnerable to data breaches. That's why cyber security is such a high priority for healthcare providers. Employee monitoring solutions are so important in healthcare settings. This tool can take care of all the things that happen in healthcare.
Employee Monitoring Software Full Fill Industry Requirement 
Every employee monitoring software has its own capabilities. They have different features and functionalities. Very less software is available in the market which is built with all features. You need to take care of your usage and then choose accordingly the best tool for yours. You need to check if the software fully meets your industry requirement or not. If it does, then too good, else it is useless. 
How DeskTrack is the Best Employee Monitoring Solution For Your Firm 
Introducing DeskTrack, the time tracking and Desktop Activity Monitoring Application for any business to identify the activities performed by employees each day. It provides real-time Reporting of the Team's Productivity and identifies the areas of inefficient work habits as well as points managers and team leaders to the specific areas that need to be focused on to improve their organization's efficiency.
Research indicates that employees waste approximately 400 hours per year which translates to an increase of 20% in operating costs.
Some of the features of employee monitoring systems are that improve the organization's efficiency and decrease the operation cost.
Best Features for Employee Monitoring Solutions
Real-Time Activity Tracking:
It logs the list of activities done by the teams with actual time spent on them.
Time Tracking:
Recording of actual hours helps in analyzing the total time spent by the teams while working and who is available to have tasks assigned. It easily identifies project hours for billing.
Automated Project and Task Time Tracking:
Our competitor's tracking tool provides the manual time logger for the tasks, however, with our tool DeskTrack, you can automatically get the actual Project Timesheet which helps in calculating the actual billable hours.
Productivity Calculation:
Actual productivity calculator on the basis of office working hours, apps used, URLs browsed, and productive activities for each day. With its powerful reporting, it highlights unproductive time. As well, employee monitoring software in India can help you do this. It makes tracking your workplace activities easier by recording what employees are doing and when they're doing it.
Internet Usage:
It tracks the total time spent on social media, and URLs browsed as well as allows blacklisting of unproductive URLs which shows the actual stats of the time wasted in a day.
Screen Capture:
Some businesses require the actual screens of the team's work as they are working from remote locations. They want to assure the team is working on the assigned tasks or not and some use these records to identify if someone is sharing confidential data outside of the organization. You should always make sure your employees know that a monitoring solution is illegal and unethical to avoid conflicts between them.
Email Tracking:
Easily records the total time spent on email communication with clients and employees, it keeps a record of total emails sent and received in a day to help identify if any emails are missed which may require a response. This feature is very powerful for recruiters, marketing, and business executives.
It easily showcases the areas where teams are lacking, their inefficient work habits, and where they need to be focused on increasing productivity. As well as it has become easy to identify the actual billable hours of the teams on the basis of the timesheets.
Conclusion
Employee monitoring solutions are a great tool to increase the productivity of employees. It can help a lot in employees' skill upgrading & better team management as well as It enhances work efficiency that's why employees can provide better results in company growth. Employee monitoring software like DeskTrack is a great tool in the employee monitoring industry. It provides the best features in the era of monitoring software.  Before getting any software take the help of this blog, It will help you to understand which software is best for your organization & fulfill your needs.