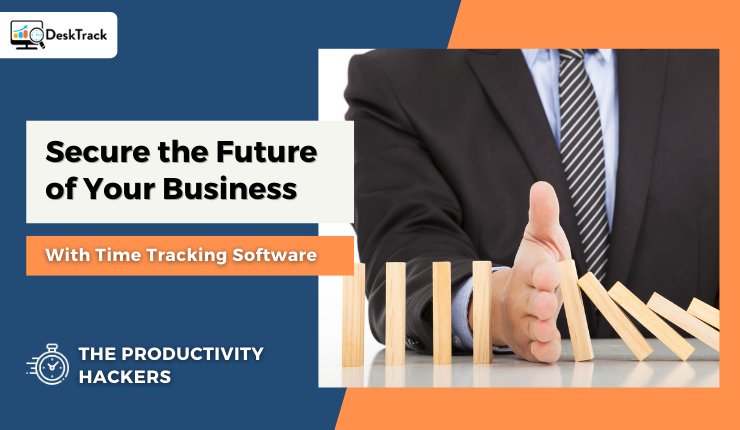 Employee Monitoring Software is the trendy, modern, and effective platform for organizations to organizing your employees, securing working standard compliance, as well as expanding productivity and data security.
Monitoring software is automatic and works in the background and also provides you all insights about your workplace and its digital activities. It collects data from your employees' pc like apps employees use, capture screens, files they are accessing, URLs they are opening, and much more.
What is DeskTrack
DeskTrack is an Automated Employee Monitoring & Time Tracking Software that records desktop activity by keeping track of applications opened, URLs browsed, and files with time. The DeskTrack platform helps identify actual working hours versus distractions that help teams stay organized and productive.
Need of DeskTrack – Employee Monitoring Software

Improve Team's Productivity:

DeskTrack helps to track the overall activity of employees and measure team productivity. Also, helps to calculate the total task performed through which the efficiency of the employee increases.

Terminate Procrastination: A procrastinator can waste a few hours of work and it is completely unproductive & harmful to the company's growth. Time Tracking Software is one of the best solutions to remove procrastination as It helps admin/manager to identify where employees are wasting their time.
Bill & Pay Accurately:

Time Tracking Software records the total time spent by an individual and helps Management to easily measure total billable hours that will further help to bill clients and pay employees accurately.

Hawthorne Effect:

According to a psychological study employees tend to be more conscious of how they spend their time at work if they know their

activities are being monitored

by their admin/managers.



Why Organizations Choose DeskTrack Over Its Alternatives
User-Friendly Interface
DeskTrack provides you user-friendly dashboard and a simplistic graphical representation helps you find what you are looking for in less time.  Admin can also export the activity reports of their employees thus it helps to organize business in a more appropriate way.
Data Security
Data security is one of the most important key factors to see before implementing an employee monitoring system into your organization. DeskTrack ensures the security of your data as it strictly follows the GDPR and HIPPA compliances.
Store the data on the most secured server in the world AWS (Amazon Web Services)

Hybrid On-Premise solution is also available which allows to client to store the data on their server 

Allows clients to store the screenshots

on their local server, Google Drive, Dropbox

Doesn't track the keystrokes, only log time as per the mouse & keyboard events
Behaviour Analysis
DeskTrack helps you to create 100% transparency between the organization and employees. This further helps to analyze employee behavior as it provides a detailed analysis report of what employees are doing during the day including total time spent on each application, URLs browsed, actual working time, idle time, and meeting hours.
Offline Time Capture
DeskTrack provides you a feature to continuously track your employees' work when there is no internet connection available(till 20 days) and when the internet becomes available it automatically syncs the data on the server.
Working on All OS
No worries about which operating system your employees use at the workplace, DeskTrack runs on all operating systems including Mac OS, Windows, Linux.
Private Time
In visible mode(Tagger), employees can stop the tracking at the time of "Break Time", and it will be covered as Idle time not working time. Thus gives accurate and specific data according to timesheets. Employers get detailed knowledge of time spent on Break and working time. 
Mobile Time Tracking
DeskTrack also allows organizations to track employees' needless mobile activities that distract them from work. Managers can motivate their employees to be more productive by showing them the main reasons behind distraction. Some of the advantages are: 
Total time spent on applications

Logs of incoming and outgoing calls with time

Track of Time spent on meetings when an employee is away (Coming Soon)

Location tracking of employees who are out of the office on tours/meetings(Coming Soon)
Value For Money
We offer the best Employee Monitoring Software with all the extra-ordinary features at a very affordable price in the market. After implementing this software into your organizations, with its easy-to-use user interface, Organizations will definitely realize the benefits of this productivity software.
Here Are Some DeskTrack Alternatives:
DeskTime is an economical and easily used combination of time and project tracking that focuses on productivity application monitoring. This is a solid tool with many customization abilities.
It comes with access to a cloud-based control panel. There is an Absence calendar tab with absence classification like a business trip, conference, sick leave, parental leave, etc. which help organizations count employees' vacation or absence.
You can connect your login credentials at the time of signing up with Facebook, Twitter, or LinkedIn.
Pros:
Application and URL Tracking

Have screenshots

Can have third party integration

Provide productivity metrics

Easily manage projects and task

Show team contacts

Make custom reports

Calculate the cost

Have Pomodoro timer
Cons:
No keyword tracking

No keystroke logging

Automated alerts also not available
Pricing:
Pro: $7 User/Month
Premium: $9 User/Month
Enterprise: $14 User/Month
Time Doctor is a hybrid between project management, time tracking, and employee monitoring software. The mouse movements and keystrokes are also measured at intervals from three minutes to an hour depending on how you like to configure the option.
The tool can monitor app and web usage and capture up to four monitors at once. Organizations can't grab a screenshot on a mobile phone but track employee location via GPS.
Pros:
Robust Employee monitoring functionality

Provide online timesheets and payroll

Have distraction alerts

Measure the productivity and summary reports

Ample Integrations with services

Provide project management and budgeting

Have customization options

Private and secure

Have client login access
Cons:
Outdated user interface

Stopwatch features need a chrome extension
Pricing:
Basic: $7 User/Month
Standard: $10 User/Month
Premium: $20 User/Month
Workpuls let you easily track attendance and calculate payroll based on computer activity. Employees can manually add their idle time and Organizations can approve it and count it as their productivity score. 
Workpuls have functionalities like timelines, app and website categorization, productivity trends, reports, biorhythm, and many more. They provide helpful resources like a help center, blog, additional remote team, and productivity guides. 
Pros:
Have real-time monitoring

Track activities

Manual time entries

Can label productivity

Have manager login

Have employee login & client login

Integrate any application or services

Manual screenshots

Alerts
Cons:
No automatic time tracking customized for specific industry

No audit logs
Pricing: 
Employee Monitoring: $6 User/Month
Time Tracking: $8 User/Month
Automatic Time Mapping: $15 User/Month
Teramind delivers a strong performance in the Employee Monitoring Area with deep monitoring features and stunning embedded reporting and analytics. They even include featuring deep alerting and automation. 
In the starter plan features that are focused on are live monitoring, screen recording, web, and app tracking. In user activity, monitor features extend the platform skills to user activity monitoring, audit, forensics, even enforcing user-configurable policies and rules while in the Data Loss Protection edition they have included content-based data exfiltration rules feature.
Pros: 
Have easy to understand Admin dashboard

Innate user experience

Fully automation layer

Includes Anomaly detection

Have logs keystrokes

Offers optical character recognition on-screen recording

Privacy features for a unit like accounts

Provide cloud and hosted deployment

Flexibly switch from secrecy to revealed mode
Cons:
Extensive monitoring features can be overwhelming

Some features are complicated to use
Pricing: 
Cloud Option – 
Starter: 305 INR User/Month
UAM: 637 INR User/Month
DLP: 765 INR User/Month

On-Premise Option –
Starter: 228 INR User/Month
UAM: 475 INR User/Month
DLP: 571 INR/Month