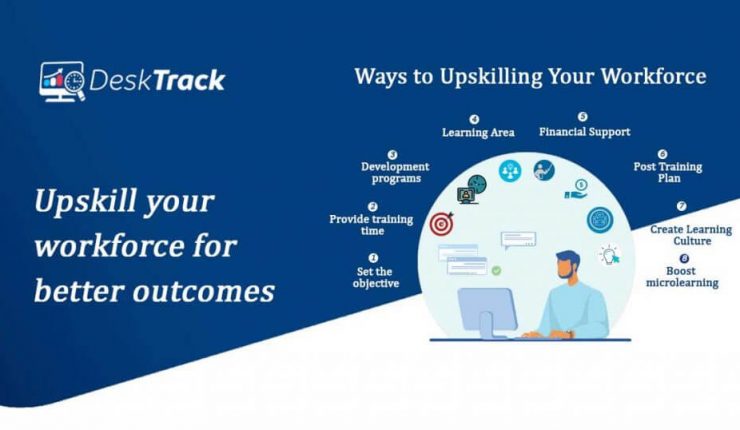 Workforce Upskilling is the process of making your employees available the resources, tools, and time they need to help improve and develop their personalities to achieve objectives more smartly. Upskill your workforce can bring value and proficiency so that they can gain more profitable benefits via your organization. Upskilling your employees leads to improved productivity, increased retention rates, and enhanced employee performance. It will be a more helpful acquisition for your organization, and it won't take long to detect the difference in how your complete team members work. Eventually, upskilling is all about a digital modification that ensures a progressive future for you and your employees.
Table of Contents
Why Upskilling is Important? Upskill your Workforce for Better Outcomes
What is Upskilling?
Upskilling is a process where you learn new skills and knowledge to improve your job performance. It can be a short-term or long-term process. Taking on new skills, learning a new skill, studying for an exam, and upskilling and reskilling teachers, students or an employee are all examples of upskilling.
The idea behind upskilling is that you will become more valuable to your employer when you have the skills to do better work than someone else. In other words, upskilling allows you to perform tasks more effectively than someone who does not have the same level of skill as you do.
Why Upskilling is Important for Employees?
Presently, the importance of upskilling the workforce has increased as compared to the earlier days. Therefore, new skills are highly imperative and are in demand as it is being introduced every year in almost every organization. Workforce upskilling helps companies to make sure that their employees are equipped with the proper skills and adapt to the changing environment. This is where workforce upskilling takes place.
The most important benefit of Upskilling your workforce helps them improve and stay productive to deliver a better outcome by fulfilling their organizational goals. Many studies have shown that training your existing employees helps save more money as compared to hiring new ones. Therefore, processing upskill programs would be more profitable than shifting to a new hiring cycle.
Break down for an individual organization
According to Gallup.com research, "Bureau of Labor Statistics states the overall turnover rate in the U.S. in 2017 was 26.3%. The expense of hiring a new employee can vary from one-half to two times their annual salary, and that's a conservative calculation. So, a large organization of 100 employees provides a salary amount of $50,000 and could have turnover and replacement expenses of about $660,000 to $2.6 million annually".
As a result, employees prefer learning on-site rather than after work. Also, it helps them improve their skills and opportunity enhancement for the future.
What is Digital Upskilling for Employees?
In this ongoing digital world, everyone should have the knowledge to work in the digital era.  Digital upskilling Programs' experiences make people learn how to consider, succeed, and work in the digital world. The trendy environment demands data fluency and in-depth knowledge of the existing technological advancements, which are the industry's foremost inventors.
Ways to Upskilling Your Workforce
There are various ways to upskill your workforce. It all relies on the requirements of your employees and your organizational goals, and the techniques and strategies they use to gain a more profitable outcome. Employee upskilling programs help organizations in retain employees at a lower cost. Below given are some of the points that can help you make upskilling approachable and effortless:
1. Set the objective
The first and foremost step is to define the ease of the action by identifying the requirement. Calculate the productivity present level of skills your employees have and find out the missing ones. The skill gaps in the workplace can create blocks for future company growth. So, before setting any goal for your company, test and know the essential analysis. They are necessary for future strategies and development.
2. Provide training time
If you want to make your team work more effectively, you should upskill your workforce in the workplace to create learning and growth as part of your company culture with their productive hours. It's been difficult for employees to stay back late after working hours, so provide training time to your employees for some hours during the whole working day or allocate a whole workday for upskilling requirements daily.
3. Development programs
A team manager needs to understand the requirement for skill learning for the future personal growth of their team members. Therefore, a personal development plan is essential for all working employees. It can be better if they approach every single employee on their own because the support or confidence helps them give their best in every way. The upskill plan will be perfect to motivate your employee's anytime.
4. Learning Area
The on-sight offices may contain distractions everywhere, and finding a comfortable place for learning may be difficult. Similarly, the same is applied to remote or work-from-home teams or employees because finding a quiet or peaceful place to learn may be a challenge. Having a relaxing and silent space may lead to more dedication and self-development. Therefore, it helps to create more concentration on the provided tasks.
5. Financial Support
Setting up a training program in your company can help and encourage your employees to improve and work better. But, it does not deliver complete knowledge and new skills. So, approaching them with seminars or some third-party conferences can help them more in their training sessions. Therefore, if your employees are showing interest in the learning programs or these sessions, uplift them by providing financial support.
6. Post-Training Plan
If you are thinking about establishing this new upskilling culture in your organization, it can only help your employees learn new things. Whereas having just the knowledge never helps if it does not turn into practice. Hence, there must be a post-training plan for how your employees should apply these skills to real-life situations.
7. Create a Learning Culture
Creating a learning culture can help your employees in every way. So, after completing your upskilling program, let your employees understand the procedures and then help them to take their skills into practice. Learning always helps to improve and enhance work patterns and performances when you create an environment that promotes development and growth.
8. Boost Microlearning
Tiny steps toward big goals lead to more profit. If you overburden your employees, it may cause distraction or stress. Whereas the small steps help employees learn fast and with more focus.
Benefits of Upskilling your Workforce
There are many benefits of upskilling & reskilling your employees in terms of building better employee engagement. Take a look at the best advantages of upskilling the workforce:
1. Build well-organized Teams
Upskilling your employees helps in filling skill gaps. If an employee doesn't have proficiency in their work or is unable to complete any task, another coworker who indulged in the training sessions and has knowledge about the same can make up for that skills deficiency.
2. Boost Productivity
Employees who take the benefits of the upskilling training work with more passion and productively, which leads to more acceptable workflow, employee engagement, teamwork, communication, and more inferior expenses.
3. Acquire Advanced Proficiency
Employees need to stay updated with modifications and learn new skills to achieve their goals. Workforce upskilling can help your business with new talents and proficiency in working patterns, which helps to deliver a huge competitive benefit.
4. Encourage Top Talent
Employees do not give their best in their jobs when they do not witness any career growth possibilities. To Upskill employees, organizations need to provide training and constant learning opportunities. By which employees can enhance their skillfulness, offer actual dedication, and show more effort to stay with the company for the long term. That allows you to keep the top talent for better outcomes and away from competitors.
5. Train for Evolution
Sometimes businesses have to lose their top talents or acquire new employees for better outcomes. For those situations, upskilling your workforce can benefit your business by delivering employees an assorted collection of new skills.
Challenges of Upskilling Employees
Employee upskilling is very useful & beneficial. But some of its challenges when start employees upskilling
Highly Expensive- Upgrading the skills of your employees can be highly expensive. Not only do you have to pay for the training itself, but you also have to account for lost productivity while employees are away from their normal duties..
Need Extra Time- For training & upskilling take a significant amount of time. Employees need time to learn the new skills and put them into practice. This can disrupt your business' normal operations and lead to lost revenue.
Quality of training-If you're paying for training, you want to be sure that your employees are getting the best possible education. Otherwise, you're just wasting your money.
Upskilling can create a sense of unease among employees who feel like they are being left behind. If some employees are receiving training to develop new skills while others are not, it can lead to feelings of resentment and jealousy.
Employees who are not being upskilled may feel like their jobs are at risk of being automated or replaced by someone with more advanced skills.
Upskilling your workforce can be a great way to improve your business. Despite these challenges, upskilling is essential for businesses to stay competitive and for employees to remain marketable. With the right planning and execution, upskilling can be a positive experience for both businesses and employees.
How DeskTrack Helps in Upskilling
DeskTrack employee productivity monitoring software can help in upskilling your team in numerous ways. Below given points will help you understand the use of employee monitoring software better:
DeskTrack helps improve workforce productivity
Measure employee performance and work patterns
Enhance employee engagement
Identify skills for job roles
Analyze user behavior for improvement
Encourage employees to stay focused and motivated
Identify skill gaps and help them improve
Helps in employee retention
Implementing employee monitoring software can allow your employees with self-assessment tests that can help them know about their skill gaps and improve employee performance and engagement.
Conclusion
Workforce upskilling is essential for all types of businesses as it helps employees improve better in their working styles. It sets a high value on present employees and organizational proficiency. Upskilling needs a strategic technique and an organized execution to achieve organizational goals for a better outcome. Moreover, companies should keep a track of employee requirements and influence everyday upskilling approaches, processes, and functional tools to construct the upskilling operation more efficient and satisfying.
Our Recommendations
Hierarchy Management System: Understanding Levels and How the Tool Works
Things To Include In Automated Daily Activity Reports Software
What are the Benefits of Transparency In The Workplace And How To Achieve It?