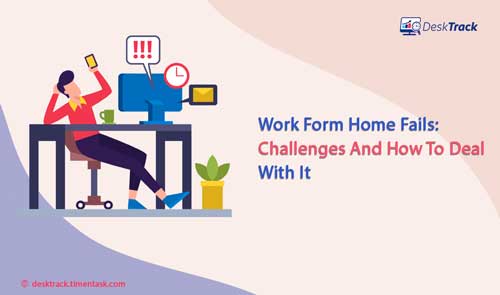 Working from home can be a good choice for many employees, as it provides flexibility and work-life balance. Although, there are some consequences and work-from-home fails that employees may face due to a lack of effective teamwork.
From Employees to managers, everybody is facing the circumstances of Working from home as there is a lack of team management and analysis of work, and it is difficult for managers also to track the overall reports of employees. 
Reasons Of
Work From Home Fails
That Employees Face 
1. Reduced Accountability
In working from home there is a lack of face-to-face interaction because of that some employees feel less accountable for the work and this reduces their productivity of doing work.
2. Inadequate Workspace
A poorly constructed home office setup and lack of IT infrastructure can impact productivity and the full well-being of employees. 
3. Lack of Direct Communication
This is the major problem of working from home because lack of communication creates a lot of misunderstanding and problems. It also impacts the efficiency of employees. 
4. Technological Issues
This is the biggest challenge of every work-from-home employee and it includes issues like Wi-Fi connectivity issues, internet problems, computer Malfunction, and software glitches. 
5. Reduce Collaboration
There are various tasks that are very difficult to do while all the employees are away from each other and this can lead to a loss of creativity and also deterioration of tasks. 
All these are the challenges and the reasons why working from home fails. Solving these issues is very necessary and with the help of various tools we can solve these issues. Let us discuss all these tools in detail. 
Software to Encompass
Work From Home Fails
There are many Work from home monitoring software that make working from home a bit easier. These tools enclose a lot of categories such as management of projects, communication between teams, collaboration, and time analysis. Some of the main Work from home software are:
1. Communication Software
This tool includes platforms like Slack Microsoft team zoom and google meet for smooth communication between team members and to make monitoring easy.  
Slack:

Slack is the most commonly used and also the

best work-from-home software in various organizations. It is a messaging platform for team collaboration and communication. 
Microsoft Teams:

This platform has multiple features such as chat, video conferencing, and file sharing. In the Teams app, groups are also prepared for easy coordination between all employees.
2. Project Management Software
This work-from-home monitoring tool includes tools like Trello, and Asana monday.com and also allows monitoring projects and progress in real-time and teams to collaborate.
Trello:

It is a tool for visual collaborations, it includes a list, cards, and task deadlines for proper team management work. 

Asana:

 Team tracking, task tracking, and progress tracking become very easy with this tool.
3. Remote Desktop Access Software
The work-from-home software helps in accessing other computers or employees from anywhere
TeamViewer:

This is a tool for accessing the remote of other computers or laptops from anywhere. 

Anydesk:

It is a work-from-home access tool used to access computers with delays. Mainly it is used in BPO sectors.
4. Document Collaboration
This work-from-monitoring tool allows the whole team to communicate or collaborate remotely via real-time sharing documents, this document could be in the form of a text spreadsheet or PDF.
Google Docs:

A virtual-based data processor that grants immediate collaboration of any file or document. Google Docs are also one of the

best work-from-home

software. 

Microsoft Office365:

This is a web-based category of Microsoft Office tools for easy communication collaboration.
5. Employee Engagement Software
This work-from software includes tools like 15five, Tiny Pulse, and Culture Amp, which allow employers to review employees and also to solve employee concerns and queries related to work. 
15Five:

This is a platform for continuous feedback service and tracking the goals of employees.

Culture Amp

: The tool is used for feedback, performance management, and regular surveys of employees.
6. Cloud Storage Software
This work-from-home monitoring tool provides services like Drive Dropbox and Google Drive for sharing files more comfortably and easily. This tool also provides collaboration on documents
Google Drive:

This is a file-sharing and cloud storage service that joins with Google's workspace. This is the

best work-from-home software

.

Dropbox:

This is the only cloud storage platform for secure file sharing and collaborations.
7. Time Tracking Software
This software is beneficial for employees to check their own work and time spent on each work. Some of them are:  
Toggl:

It is a tool for tracking and computing the total productive hours and breaks of the employee.

RescueTime:

This tool is used to check the status and tracking of employee contributions to each app and work website. 
All these are the best work-from-home software that helps in Solving the problem of work-from-home fails but this work-from-home software needs high privacy and security for collaboration.
How to Track Employee Activity?
This question of tracking employee activity and productivity always came first in mind while talking about working from home so, for this various types of Employee Monitoring Software are made that track and measure employees' performance and activity but while using this software it is necessary to keep privacy and security in mind. 
Some examples of Employee Monitoring Work From Home Software are:
Desktrack: It provides time tracking of website and app consumption monitoring. DeskTrack also helps in analyzing productivity with optional screenshots. 
Time Doctor:

This tool is used for tracking time worked on one particular task, app, and website usage and also provides some features like productivity reports. 

Workplus:

This tool looks after employees' activity and also gives insights into attendance and productivity. 

Hubstaff:

It provides tracking activity and project management along with app usage and proper screenshots. 

Teramind:

This

employee monitoring work-from-home software

offers complete monitoring solutions with various features like keystroke logging, email monitoring, and tracking of time/productivity. 

ActivTrak:

  This tool tracks productivity and generates reports on work designs. It also monitors users a monitor's employee activities on all the applications and websites related to work

Veriato:

It provides overall monitoring of employees and behavior Analytics for potential security and threats.

Timecamp:

This

employee monitoring work-from-home software

offers attendance management, tracking of productivity analysis, and integrations with common project management tools.
By adopting these effective employee monitoring work from software tools, employees and managers can overcome the problem of work-from-home failing.
Task and Project Management Effectively
Productive work-from-home software helps employees and teams to stay efficiently focused and organized while working remotely and to solve the problem of work-from-home failing.  This includes various features like time-tracking, communication, collaboration, and task management and with the help of this software we can monitor employees' various activities like 
 Email tracking activity

 Create a task list for employees

 Balance workloads of employees

 Self-reporting system for employees

 Using task management 

To set deadlines for each task

Coordinating with employees virtually to know the status of work

Create a proper schedule for employees

Providing delegate workspace
Conclusion
With this, We can conclude that remote working has its own challenges and it also requires flexibility and opportunities for increased productivity of employees. Learning and adopting the solutions of work-from-home failure is very necessary for maintaining a balance between work and life and also for handling the problems of remote working.