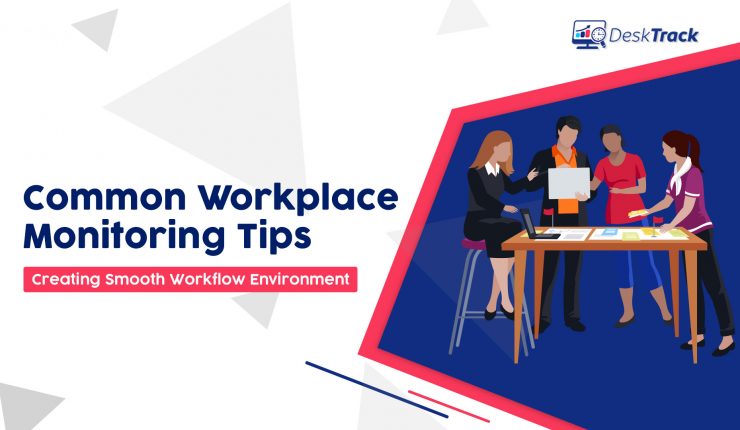 In recent years, the use of common workplace monitoring tools phrases has seen a sudden spike in business circles. When we talk about workplace monitoring software and provide some tips for monitoring employees in the workplace, it is not just restricted to employee surveillance but every aspect of the workplace. In fact, a survey by Top10VPN presented that there was a 54% demand rise for monitoring software at the workplace during the pandemic period. So common workplace monitoring tips help employers to monitor employees and make productivity. 
Working on Workplace Monitoring Software
The workplace monitoring system is basically keeping eyes on actions and conditions in the workplace. This activity can be accomplished using a variety of methods, and employers can use the data gathered in a variety of ways. However, the technique can lead to a contradiction between an employee's reasonable expectation of privacy and the requirement for an employer to run a business, and several high-profile lawsuits have been filed challenging workplace monitoring software tactics on the basis that they breach employee privacy.
 If you have a deep concern that your employees or the complete workplace environment aren't syncing well as per the schedule, affecting the project's progress, or if you suspect an insider threat to your company, you should use some workplace monitoring tips for monitoring employees in the workplace. When we say tips, we don't mean pushing employees every minute of making them uncomfortable at the workplace to work, but about following specific guidelines. 
If you are an employer, these workplace monitoring tips below can help bring changes to your organization.
Why Monitor Employees at the Workplace?
Workplace monitoring can increase business productivity and efficiency. If you are monitoring employees in the workplace to track their working activity then you can check which employees are more productive and which are unproductive. Employers can categorize their production teams and identify their work abilities.
Benefits of Workplace Monitoring Software
Improved security
Regulatory compliance
Increased productivity
Less administrative work
Better business process transparency
Increased stress among employees
Higher turnover
Concerns about lack of privacy
What Can Be Monitor At the workplace according to law?
Workplace Phone
Office Email
Computer System
Company Social accounts
Working Hours
Location Tracking
Keylogging
Screen video and capture
Internet and app usage
Common Workplace Monitoring Tips To Employees for Smooth Functioning of the Business
1. Keeping Things Transparent
In the workplace, all things should be transparent between employees & employers. All the activities are done by the employees in the workplace, employers should be aware. This transparency we can get by tracking employees things like system usage, application & URL access details. Also, they need to be aware of company device usage by employees.
Organizations being completely honest about their methods and motives will have higher acceptance rates and reduce employee perceptions of monitoring as intrusive. The underlying power imbalance influences an employee's ability to refuse in the employee/employer relationship. To reduce the privacy consequences of employee monitoring, these firms must combine employee permission with other actions.
2. Using of Employee Monitoring Software
According to the business study by Accenture, 92% of employers are pretty open about monitoring their employees. The use of monitoring software is one of the best workplace monitoring tips that can benefit the workplace in many ways. Some of the tangible benefits the solution will have on employees:
Screenshot Capturing- It provides the facility of random screenshots capturing certain time intervals.
URL Tracking- When the user browses any of the URL's on the browser, it can be tracked by the software.
Application Tracking- All applications that can be online or offline will be tracked.
Attendance Tracking- It tracks attendance according to the system log-in/logout information. When a user logs into the system, it counts as an employee is started working. & when logout it counts as work is completed.
Productivity Management- You can calculate your productivity for the whole day with the help of this software. It tracks all activity on the computer & provides a real-time data about your productivity
Project Management- Also it is able to manage your projects with proper timing. You can track your task time according to your projects.
3. Following the Privacy-First Workplace Monitoring Methods
One of the essential employee workplace monitoring tips is having complete privacy for employees. A privacy-first employee monitoring strategy keeps track of the bare minimum of data required to achieve its stated goal. For example, if the stated goal is to enforce acceptable use standards, this goal can easily be achieved by monitoring employee internet use. It would be significantly more intrusive than recording camera feeds and following individual keystrokes.
    a. Productivity Tracking
Tracking every aspect of the project assigned and overall workflow is one way of productivity tracking. By using the employee monitoring software, employers can completely follow productivity stages in the daily work process. It can further help assign a new project, payroll, and other aspects of the overall work. 
    b. Using of Fair Data for employee monitoring
One of the effective workplace monitoring tips is to use fair data for the further process. It is vital to use the reference aggregated data to get complete insights, rather than using data of specific employees. Individual computer usage should be addressed only when unacceptable actions occur, such as accessing pornography or illegal activity. Another vital thing to consider is not to use computer activity data as the online performance indicator. Computer activity data rarely reflects job-related actions like creative planning and phone calls. Employee monitoring data is most helpful in analyzing trends, estimating general engagement levels, and identifying notable activity outliers.
    c. Explaining Employees Monitoring Benefits
When they find that they are being monitored, there is a chance that employees may resist the act, as it can be against their work rights. When you disclose implementing monitoring software, explain its benefits for them and the organization. Explain how the monitoring can help them in payroll, further growth in the position, and other ways while on the job. Once they understand the benefits they can enjoy, it becomes easy to handle the process.
    d. Protecting Monitoring Software Data from Misuse
Data from employee monitoring might be extremely sensitive. To prevent monitoring data from being exploited or disclosed to unauthorized parties, organizations must ensure proper security measures. Here are some ways to do it:
Data access should be limited to individuals who directly need the information.

To avoid data theft, use USB device management mechanisms.

Delete data that is no longer relevant to the company regularly.
Types of
Workplace
Monitoring Tools 
Once you are aware of tips on workplace monitoring under the set guidelines, let us now check different types of monitoring tools.
Keycards
Nowadays, almost every employee working for a mid-size or large-size company carries keycards. Without a keycard, it is difficult for an employee to walk throughout the building. Each card has a chip embedded in it, and when the card is swiped at the door, the system determines if the employee in question has access to that facility area. If they comply, the door will open; if they don't, the employee will be unable to enter, and they may even set off an alarm.
The software that runs on the keycard chips keeps track of when each person arrives at work and where they are in the building. Keycards help track employees' punctuality in terms of entering and exiting the premises.
Video Surveillance
One of the most prevalent monitoring methods is video surveillance, and it is, however, primarily employed for security considerations rather than for genuine staff monitoring. Many businesses use video to track employee location on a real-time basis and complete productivity because it is nearly hard in most industries.
Web & App Activity Monitoring
According to the survey by Salary.com, 69% of men and 62% of women have admitted to their internet surfing for personal reasons while on the work floor. Keeping this in mind, web, and app activity monitoring solutions are the best to use. Organizations also employ a firewall or router to scan incoming and outgoing traffic and email addresses on their networks. You may even track and control who has access to which files and keep a history, depending on the monitoring tool you use.
Workplace Email Monitoring
In most cases, the Work email count is not private. if any employees are using the work email id for other propose, then you can capture it with workplace monitoring software. Employees also use personal email accounts at the workplace out of office work then workplace tracking software catches it and sends the proper reports to the admin.   Organizations utilize modern tools like email hosting services such as G Suite, and they frequently have admin access to monitor emails. Employee email monitoring allows them to screen spam emails before they reach the employees' inboxes.
Use of Employee Monitoring Software in the Workplace
Although we have covered this aspect under workplace monitoring tips, employee monitoring software is a vital type that helps maintain a better workflow. Employee monitoring software aids in the increase of employee productivity. Nowadays, many employee monitoring programs are accessible, each with a set of functions. One such is by DeskTrack, which offers feature-oriented Employee Monitoring Software helping users track app and website usage, activities, and other aspects of work. Employers installing DeskTrack's monitoring tool can check time and attendance, create reports and take manual screenshots. 
Conclusion
With the advancement in organizational tools for smooth workflow and monitoring, things are changing. Following the right employee workplace monitoring tips, software tools like DeskTrack's employee monitoring tools and keeping things transparent will help increase productivity, better manage time and projects, and improve overall organizational performance.