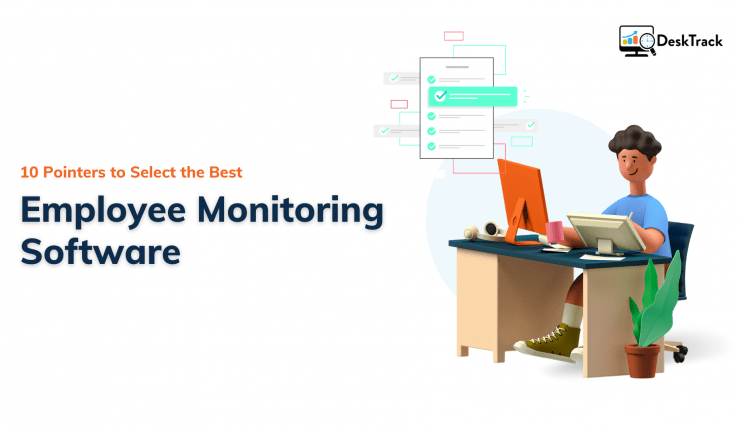 Businesses across industries saw a 44% increase in remote work post the onset of the pandemic. Ensuring employee productivity and compliance with company policy outside company walls is critical for businesses to remain profitable in a remote work model.
Deploying employee monitoring software is the need of the hour, irrespective of whether the business is a startup or a Fortune 500 one. Simply put, it helps to measure team performance, ensure policy compliance, and keeps the business afloat with measurable productivity reporting.
In a previous blog post, we discussed top time management tips for remote work. Today, we will demonstrate how to select the best employee monitoring software with examples from DeskTrack, our enterprise-level productivity monitoring tool that won the Best Support and Best Meet Requirement citation from Software Suggest.
10 Best Employee Monitoring Software Selection Checklist
Here are 10 pointers to make selecting the best employee monitoring software straightforward.
#1 Categorizing Applications to Track Productivity
The first step is categorizing applications into "productive" and "unproductive" sections.
A good employee monitoring software enables you to "WhiteList" applications that the employee requires to remain productive. Then, if and when managers notice a team's productivity going down, they can quickly identify the cause and course-correct.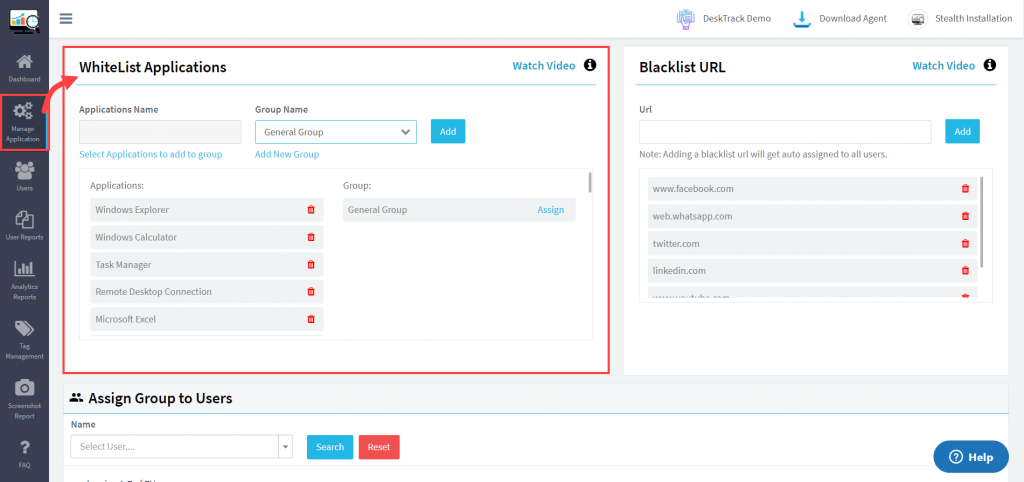 One can whitelist relevant applications on DeskTrack software as per team members' job requirements to track productive time.
#2 Reducing Time-Sink with Browser History Tracking
Browsing through the web may be required for some roles, but it is also a potential time-sink that can cost the business.
Browser history tracking and website blacklisting are features indicative of quality employee monitoring software.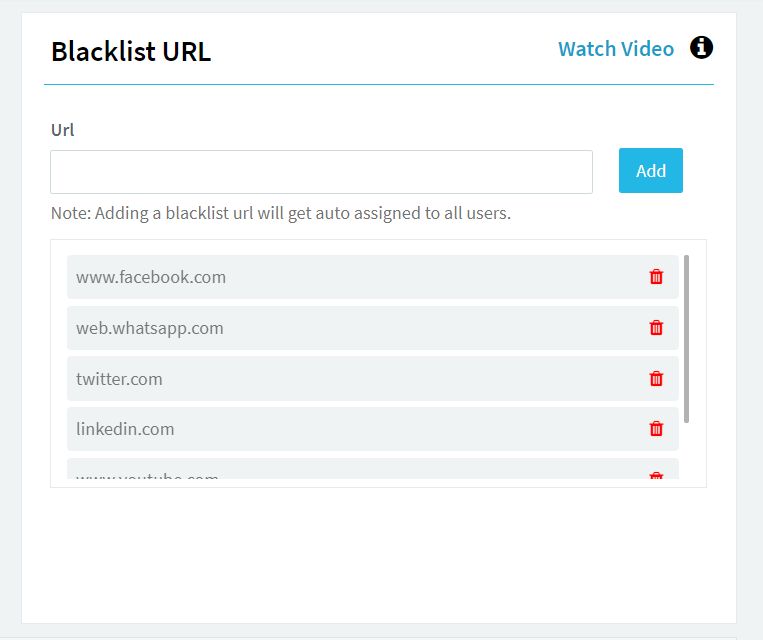 Using blacklist URLs, managers can block social media sites to prevent time-sink and loss of productive hours.
#3 Grouping Users per Job or Role
Different positions in a company require the use of different applications. For instance, social media managers spend most of their time on websites like Facebook and Twitter.
However, web developers don't require Facebook and Twitter to produce the desired outcome for the business.
The ability to create user groups and whitelist and blacklist applications and URLs specific to employee roles makes for fine-grained employee monitoring.
With DeskTrack, you can create groups with different whitelisted applications and blacklisted URLs in a matter of minutes.
#4 Controlling Members' Data Access
Not every user of an employee monitoring tool requires access to all of the company's data. For example, managers need access to employee application detail reports, absentee reports, and URL detail reports to gauge employee productivity.
However, employees working under a manager do not need access to this data. Therefore, when looking for employee monitoring tools, ensure that you can create user roles and manage access for them.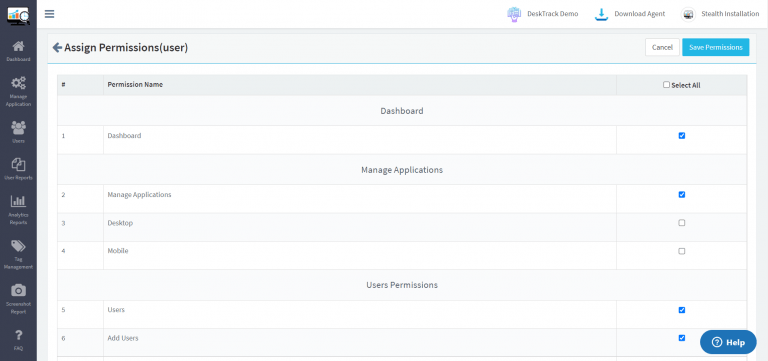 DeskTrack simplifies the process with an easy hierarchical grouping of team roles and responsibilities to create a siloed monitoring structure.
#5 Detailed Activity Reporting Statistics
In the modern era, productivity cannot be measured by a single metric. Instead, employees use a range of applications and use the Internet to complete their tasks.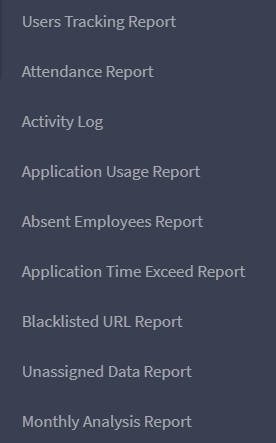 Reports such as attendance reports, application reports, blacklisted URL reports, and monthly analysis reports are possible with DeskTrack. In addition, it will enable the managers to have a birds-eye view of overall employee productivity and drill down into the data to compare employee and team efficiency.
#6 Real-Time Productive Data Visualization
Quality employee monitoring software will give you a real-time view of user and company productivity right on the dashboard.
Here is a screenshot of how DeskTrack collects data of every team member and presents it in a simplified manner for managers and management to review.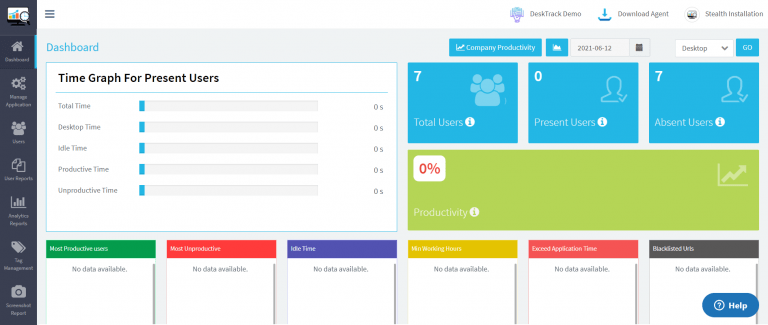 Data visualizations in bar charts, especially graphical charts that measure productive and unproductive time, can enable managers to analyze team progress quickly.
#7 Invisible Tracking Module
Some business owners prefer discreetly monitoring their employees' productivity. The best employee monitoring tools allow admins to install an invisible tracking module on the employees' computers.
With DeskTrack, you can choose to keep the monitoring software hidden from the user. You can use the Tagger module with which activities can be paused and resumed and is 100% configurable.
#8 Live Screenshot Capturing
Live screenshot capturing is often considered the most reliable way to monitor employee progress and policy compliance.
The best SaaS/cloud monitoring software stores recorded data on online servers, allowing managers to access them without much hassle.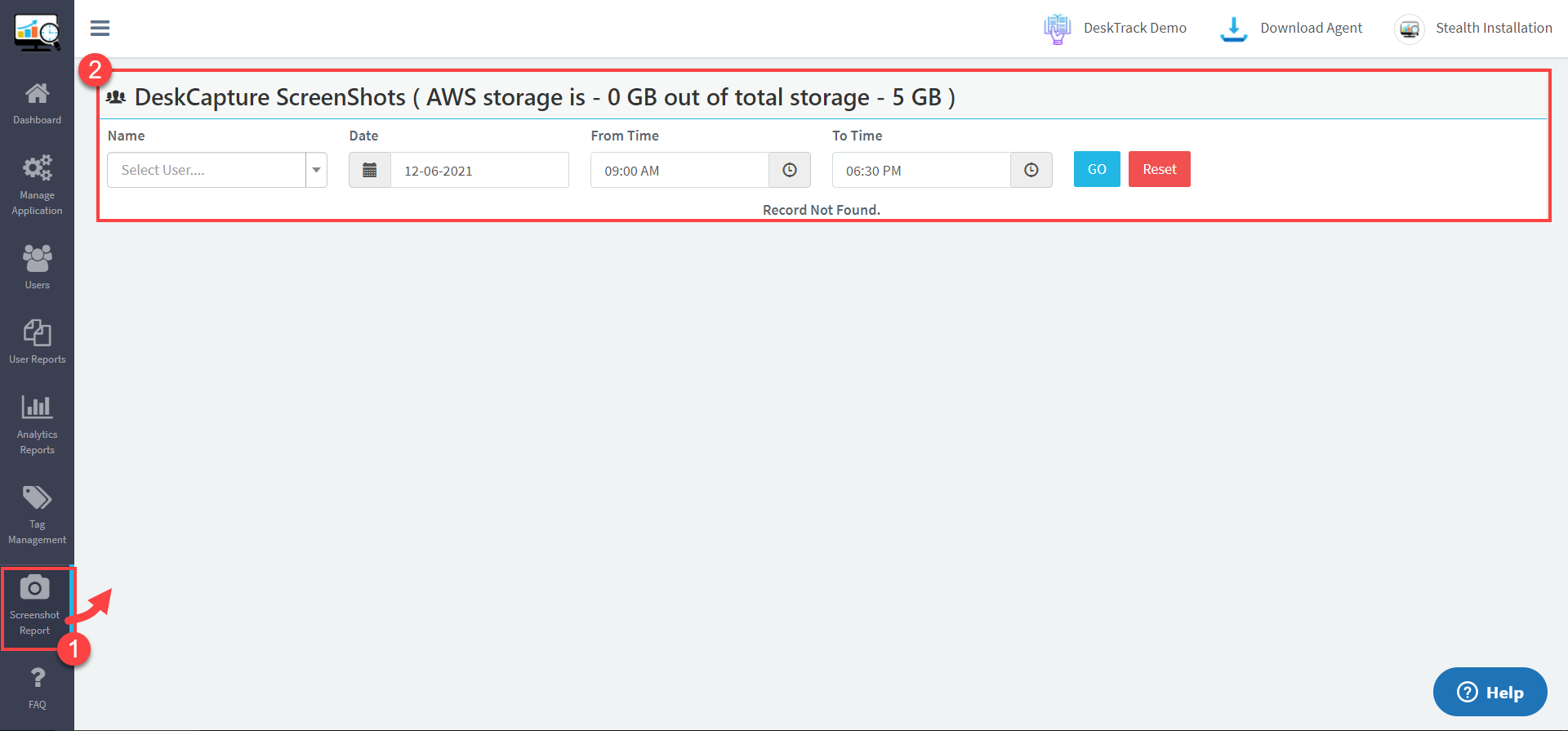 This feature of DeskTrack is particularly suitable for projects that need implementation in real-time, allowing teams to work in tandem, monitor progress instantly, share live feedback, and deploy on time.
#9 Login/Logout Time Reporting
Login and logout times are excellent indicators of employee efficiency and consistency. The login/logout feature generates a timesheet right on the dashboard, indicating when the employees start and finish their workday.
#10 Measurable Cost Incurred by the Company
Calculating the time spent on specific projects or aspects of a business is considered the biggest challenge of the remote work model.
DeskTrack's monthly timesheet option gives an idea of the cost to the company through the measurement of productive and unproductive time. The presence of idle and unproductive time enables the company to identify skill gaps and take course correction steps.
The best employee monitoring software makes tracking billable hours convenient and removes the need to hit a "Start" and "Stop" button.
Endnote
Finding the right tool can help manage employee productivity, keep a precise track of billable hours, and efficiently manage the business cost.
Take your team to the next level with DeskTrack, a robust and functional time tracking and employee monitoring software that syncs across multiple business verticals.