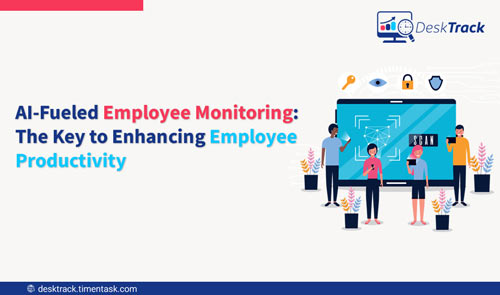 Have you considered what your workdays would be like if you had a personal productivity manager who could make work incredibly productive and efficient at the same time? Buckle up, because we're about to enter the world of AI-powered employee monitoring, where productivity meets technology in the coolest way possible.
Evolution of Productivity Monitoring With a Twist of AI
The era of outdated time clocks and dull spreadsheets to monitor employee output is over. A new, radically different era of productivity monitoring software has begun with the emergence of artificial intelligence. 
AI is about understanding the intricacies of work habits, utilizing data to uncover trends, and facilitating informed decisions that increase productivity. It goes beyond merely counting hours and tasks.
AI Evolution of Employee Productivity Software
AI-powered employee monitoring is fundamentally about using data to inform decisions. AI becomes a virtual ally that determines each person's most productive working methods by examining digital interactions, workflow development, and collaboration patterns. 
It determines when peak performance occurs, spots bottlenecks, and even knows when a well-earned break is necessary. This degree of information gives both employees and employers a comprehensive understanding of the best ways to use their time.
Not Oversight, but 'Insights'
A stealthy revolution is taking place in the dynamic world of today's workplaces, one that promises to transform how we view and accomplish productivity. The blend of artificial intelligence and employee monitoring aspects, which is altering the way we work and accelerating us toward previously unheard-of levels of efficiency and growth, is at the core of this change. 
Let's start by dispelling a popular myth: productivity enabled by AI is not about intrusive oversight or "big brother" surveillance. It represents a change from conventional oversight to astute partnering that delivers useful insights. It analyses work patterns and productivity and acts as your silent partner and confidant—someone who knows your employees better.
Benefits That AI Monitoring Software Bring to The Table
Increased Accuracy
AI surveillance technology can precisely monitor employee conduct and performance, lowering the possibility of human error. AI employee monitoring software benefits from these new technologies by making better judgments and seeing possible problems early on. In addition to lowering legal and regulatory risks, this can help protect your company's brand and financial well-being.
Personalized Work Methodology
AI employee monitoring software makes recommendations and suggestions to suit each employee's particular working preferences by analyzing their work habits and preferences. This personalization increases engagement, reduces burnout, and makes sure that work synchronizes with the employee's circadian rhythms.
Enhanced Performance
AI time tracking software can track employees' actions and performance in real time, giving companies accurate and current data. This might assist your business in identifying the areas in which people excel and may require more assistance or training. 
Ability to Adapt to Remote Work
AI Remote Work Monitoring Software offers a way to monitor performance and engagement in the era of remote work, regardless of location. It makes sure that employees are connected, interested, and productive regardless of where they are physically located.
Real-Time Feedback
Instantaneous feedback is essential for development. AI task monitoring provides in-the-moment observations, making suggestions for changes and enhancements. This encourages a culture of lifelong learning and aids in employee skill development.
The Magic of AI-Infused Employee Monitoring Software
What's the deal with AI technology in general? Imagine a modern-day Sherlock Holmes who is always looking for patterns, not to find criminals but to better understand how things get done. AI makes use of a wealth of data, including your virtual high-fives with coworkers, task progress, and digital exchanges.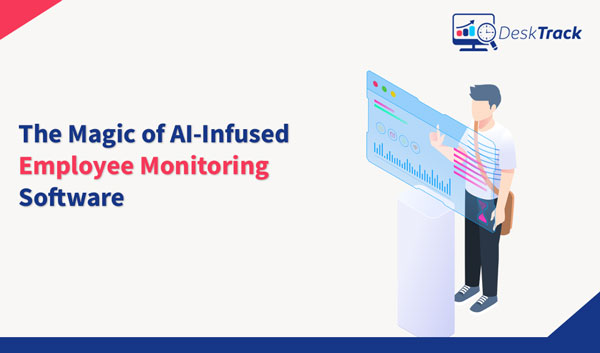 The clever thing is that AI can identify trends and insights that may be evading your frazzled eyes. In a variety of workplace settings, AI Employee Monitoring Software produces outstanding outcomes, but effective use necessitates careful targeting, testing, and improvement.
Beyond the obvious requirement that employees have regular access to a digital device, the strategy works best in settings that have a few similar traits. 
Revolutionizing AI Productivity Monitoring Software with DeskTrack
The way we measure, manage, and maximize employee productivity is changing as a result of a quiet but significant transformation being driven by cutting-edge technology in today's dynamic workplaces. 
Enter Desktrack, a revolutionary productivity monitoring software that will change the way businesses think about productivity and job efficiency forever.
Desktrack is not your standard AI employee monitoring software. It extends beyond the ordinary area of monitoring keystrokes and clock-in times. This cutting-edge AI-driven technology is an ally in productivity that ushers in a new era of comprehending, maximizing, and eventually, it improves the productivity of employees.  Desktrack examines the complex dynamics of how work is accomplished rather than merely tracking the number of hours spent.
The Crux – The Future Unveiled
The integration of AI with employee monitoring is not about surveillance; rather, it is a tasteful blending of empowerment and innovation. By providing individualized insights, promoting well-being, and reinventing collaboration, this synergy navigates the complex maze of productivity.
We set out on a journey towards a future where work is not just a habit but a purpose-driven endeavor fueled by data-backed wisdom as we embrace the potential of AI employee monitoring software. This isn't the rise of machines; rather, it's the advancement of human potential thanks to AI.