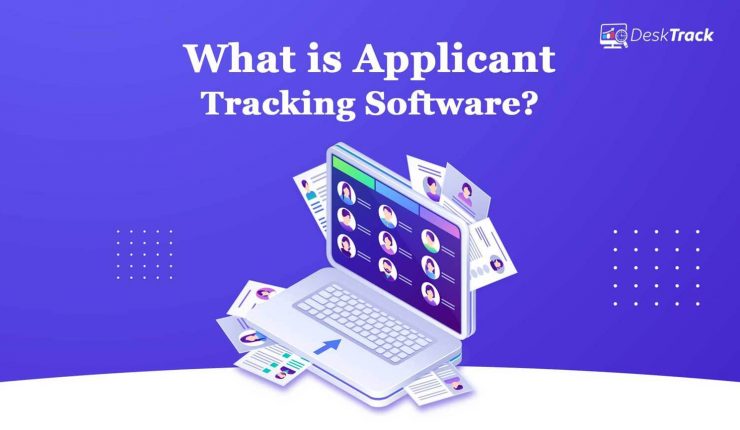 Every organization holds different requirements, but similarities like hiring and maximizing new and top talents are essential for everyone. Multiple businesses face struggles and challenges in finding and hiring the best fit employees for their organizations. The applicant tracking software streamlines the hiring procedure for recruiters, hiring managers, and HR departments.
Table of Contents
What is Applicant Tracking Software? Features, Working Process
A talent management system or recruiting software is commonly known as an applicant tracking system software. it helps companies to simplify the hiring process from beginning to end. It helps to post job posts on different job platforms, record applicants' information, and select the most relevant applicants as per your organizational needs. Therefore, it stimulates your recruiting or applicant management and lessens your time to fill. Get the best applicant tracking system software in India to log applicant resumes, assign the best skills in real-time, communicate with candidates, consult efficiently, make data-driven decisions, and never skip on prominent recruitments.
Working Process of Online Applicant Tracking System Software
The working process of online applicant tracking system software stores the complete data of applicants with their resumes, educational status, contact information, overall experience, and cover letter. It helps to transfer candidates' data from one system to another as they proceed through the hiring procedure. The functionalities and features of ATS are created to improve the hiring process for both applicants and recruiters or HRs. However, features like email reminders and communication channels help recruiters to communicate better with the candidates, whereas it makes candidates feel more comfortable and transparent throughout the operation.
The applicant tracking system is best for offering recruiters or managers to introduce, collaborate and give feedback to recruiting the best fit for their organization, so they don't have to lose the best talents. Also, it assures applicants about their place and where they stand.
Why Use An Applicant Tracking System?
Applicant tracking systems online can be very useful for any type of organization. It allows human resources to recruit the best talents, so integrating the wrong one can cause various issues and waste time and money too. So, have a look at the following advantages of having the best applicant tracking system features:
Find and draw eligible candidates
Sometimes, numerous companies are unable to reach or connect with the most relevant job seekers. Likewise, many others are skipping the important information to find the most suitable applicants on different online platforms. The applicant tracking software helps you resolve or face all these challenges. Therefore, it helps you better understand the experience, status, and work behavior of a candidate and target precise job seekers in the outlets and media they operate most.
Improve applicant engagement
Recruiting and hiring applicants can never be easy, as it takes a lengthy procedure and a systematic strategy. You can easily lose a good candidate because of slow response, time, and inadequate engagement within interview agendas. The best applicant tracking system helps you organize things better and make it effortless to collaborate with the most suitable candidates.
Enhance efficiency and reduce expenses
Applicants proceed gradually through the recruiting method because of the inadequate manual techniques, insufficient teamwork among the recruiting team, and poor contact with critical hiring stakeholders. This process conducts to a waste of time and costs to hire. An applicant tracking system software in India builds possibilities to automate manual operations, improve visibility into the hiring process for the human resources team, and enhance options for communication all over the applicant campaign.
Optimize the onboarding method
The best applicant tracking software also helps in the onboarding procedure as it keeps a tab on employees who have taken the job. It helps managers to know about their work behavior and processing and the complete details they ought to begin constructing an influence from their starting day, boosting overall productivity and retention.
Benefits of an Applicant Tracking System for Candidates
In this fast-growing competitive world, every industry has been in the race to get first. Likewise, the HRs and recruiting managers seem to get into every possible benefit that makes them hire the best talents for their organization. Therefore the best option to hire the best candidates for your organization is the applicant tracking system that provides you with immense benefits:
Enhanced candidate experience
Almost every job applicant wishes to have a frictionless digital understanding at the time of their job hunt. The best applicant tracking system software automates numerous bulkiest factors of job searching by delivering self-service interview scheduling, auto-fill online applications, and effortless, compatible contacts covering almost every recruiting group.
Greater efficiency in the hiring process
There are a lot of recruiting groups that are unable to unite effectively, have insufficient visibility into where they find candidates for hiring procedures or are unable to deliver necessary details to an applicant. Therefore, it seems a considerable disappointment for maximum candidates, who assemble findings on whether to get a position or not based on every element of the understanding. An applicant tracking software can help dodge adverse problems, get employed quickly, and create a lot of optimistic communication for the designation.
Immediate impact after the hire
The best talent searches for the best opportunity and possibilities. An applicant tracking system software not only helps in recruiting and hiring but presents multiple means to simplify the onboarding approach. It causes the evolution from applicant to full-time worker to a better aspect.
Benefits of an Applicant Tracking System for Recruiters and Employers
The best applicant tracking system helps recruiters and employers in different ways, and some are given below:
Speed up your recruitment process
Improve the quality of hire
Elevate candidate experience
Lower cost per hire
Facilitate collaborative hiring
Boost employer brand
Redefine recruiting metrics
Assist in finding candidates
Easy interview scheduling
One-click job posting to multiple job boards
Reduce time-to-fill
Mitigate bias
How To Select Applicant Tracking System?
In this fast-growing digital era, everyone needs to be better and work effortlessly. So before integrating an applicant tracking system in your organization, it is imperative to go through the multiple options available in the market and select the best one according to your business requirements:
The Best Customer Support
When it comes to using a new ATS solution, at that time, you may have multiple doubts or questions in your mind. Therefore, before buying one, you should know its functions and provide you with the best customer support. Also, look for live chat or phone or email built-in support with a training or onboarding program that makes you understand how to place a career porter, inspect resume, set up an employee referral system, different integrations, and many more.
Customization and Configuration As Per Your Requirements
Look for applications that can be customizable easily as per your organizational needs as every recruitment organization has its specifications. Inspect all the features that are mainly essential for the user settings, help to add more applicants and their necessities, or personalize each inquiry. An applicant tracking software will be the best fit that can fulfill all our recruitment essentials in a stroke.
Manage and Schedule Interviews
It will be easier for anyone to schedule and manage an interview with a good applicant tracking system. You can design the meeting according to everybody's calendar and must ensure the automation of the applicant tracking software. An organized interview means no hustle on your side and a positive-feedback response from the candidate. You can add many small features to the interview like scorecards, interview supplies, etc.
Valid Reports and Dashboards
A complete and self-explanatory report can help you make informed decisions regarding who to hire. Even after the completion of interviews, there could be confusion or disagreement among the team about candidates. However, reports and analytics can help you overcome this hurdle.
Choose an applicant tracking system that provides robust KPI reports for future help.
High Security
While dealing with vital data, you must require a robust and top-notch safety system. When choosing your applicant tracking software, check its security system thoroughly and if it meets all the standard tight security features.
SSL sessions and passwords are a must in a good applicant tracking software.
Flawless Relationship Management
The best applicant tracking system helps you manage your relationships with your candidates appropriately and expressively. When you can filter, tag, or write down notes on your applicant database, keep yourself up to date with the overall details on each job, many connected connections on each record, and find the best candidate that matches your requirements and is best for the position. Therefore, if you do not face any issues while searching for applicants through applicant tracking system software, then you have chosen the best fit for your organization.
Read Also

Best Employee Scheduling Software
Features of Applicant Tracking Software
Here are some of the top features of applicant tracking software that can help you recruit the best candidates for your organization:
Career page hosting
Multiple applicant tracking systems let you handle the display of your organization's website for available jobs from its medium. It provides various options for a manageable creation. You can add logos, illustrations, and social media options to make your openings well available in the market.
Job distribution
It can be the best option to enhance connections with top candidates. It helps to select the best fit as per your requirements and choose the top talents. Also, the applicant tracking system software has collaborated with many recruitment sites, which helps improve your connections by just a job post. It allows you to post your job position on different job boards and record all the details of upcoming applicants for further processing.
Receiving and sorting applications
The applicant tracking software in India contains the feature of receiving and sorting the applicants as per your requirements. It removes the less qualified candidate from the list and selects the best ones.
Resume Storage
The applicant tracking system stores all the resumes it has obtained at the time of recruitment even after the vacancy is full. It holds every resume and provides you whenever needed. It is the best feature that can be used to hire some additional employees or someone who can be the best match for the position.
Interview schedulers
Applicant tracking software allows you to have a conversation with your applicants through messaging as the chatbot available in the software helps you further. You can use it to convey anything you require, ask questions, and schedule interviews.
Social sharing
Almost every applicant tracking system has been designed by keeping social media in mind. This software automatically posts your job positions on different social media platforms with just a click for connection enhancement. This helps you in multiple ways as many applicants can apply directly through these platforms.
Read Also

Best Features of Employee Monitoring Software

Features & Importance of Employee Management System

Best Employee Productivity Tracker Software: Features
Best Applicant Tracking Software in India
Below mentioned are the best applicant tracking software list in India. Select the best fit for your organization:
BambooHR
Bullhorn
Greenhouse
IBM Kenexa BrassRing
iCIMS
Jobvite
Oracle Taleo
SmartRecruiters
SAP SuccessFactors
Workable
Conclusion
The best applicant tracking system software is the rich implementation that persists in creation to fit the speed of evolution and needs in the organization. There is a lot of tracking software available in the market nowadays which can help you face all the challenges related to your recruitment and job searching issues and provide you with the best applicants as per your needs. You can select the best applicant tracking system software from above that can help you achieve your goals effortlessly and robustly.