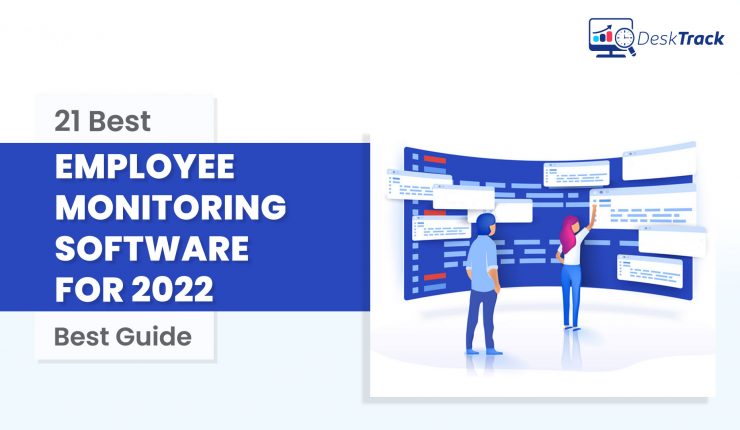 Introduction
It has been a long time since employees have been watched. However, monitoring has changed in recent years. As a result of COVID-19, remote work has changed dramatically, making employee surveillance even more crucial. This article compares the list of 21 best employee monitoring software for 2023 based on their features, usability, and intuitiveness. This article explains how the Employee Monitoring System works and how it can be used.
Small business owners and managers can monitor how employees spend their time at work using the best employee monitoring tools. Web browsers and other applications are monitored, user activity is tracked, blocked content and programs are blocked, random sc reenshots are taken, keystrokes are logged, and in-depth reports are generated. We analyzed and reviewed the best software applications based on affordability, ease of use, and features that monitor employee activity, productivity, and cybersecurity in order to help you find the best solution for your business. 
'FIND THE RIGHT EMPLOYEE MONITORING SOLUTION FOR YOUR BUSINESS
You can find vendors that meet your needs by filling out this questionnaire.
CHECK OUT THE LIST OF
21
BEST EMPLOYEE MONITORING SOFTWARE 
| | | | | | | | |
| --- | --- | --- | --- | --- | --- | --- | --- |
| Employee monitoring software | Best use case | Plan costing | User requirements at a minimum | Trial period for free | Keylogging in | Visible or stealth mode | Support via live chat  |
| Teramind | Security threat protection | Starting at  approx $10 per user per month or $5 per endpoint per month | 5 users or 10 endpoints | Yes | Yes | Stealth and visible | Yes |
| InterGuard | Workforce analytics | Starting at $9.99 per user per month | 2 to 5 users | Yes | Yes | Stealth and visible | Yes |
| ActivTrak | Remote workforces | Starting at $9 per user per month (free plan also available) | 5 users | Yes | No | Stealth | Yes |
| Veriato | Enterprises | Customized | None | Yes | Yes | Stealth | No |
| SentryPC | Most affordable | Starting at $59.95 per license per year | None | No | Yes | Stealth and visible | No |
| Hubstaff | Managing productivity | Starting at $5.83 per user per month (free plan also available) | None | Yes | No | Visible | Yes |
| Work Examiner | Perpetual licensing | Starting at $25 per user per month | 3 to 10 users | Yes | Yes | Stealth and visible | Yes |
| Controlio | Video recording | Starting at $7.99 per user per month or $79.90 per user per year | None | Yes | Yes | Stealth and visible | No |
| Workpuls | Employee privacy | Starting at $4.80 per user per month | None | Yes | No | Stealth and visible | Yes |
| BambooHR | Performance management | Customized | None | Yes | No | None | No |
The Best Employee Monitoring Software
Employee monitoring software helps the organization maintain its effectiveness and track the activities of the employees to enhance their productivity. This software allows employees to be more creative and be mentally free to provide their best services to the company.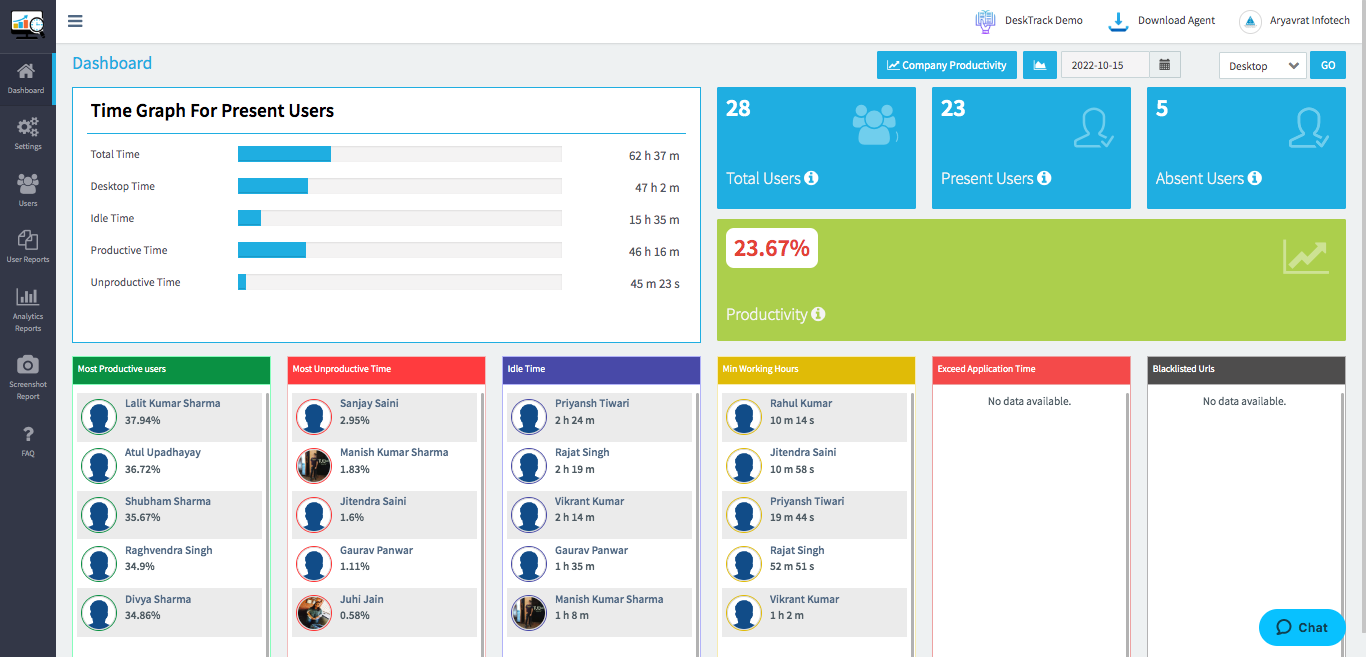 DeskTrack is the most popular employee monitoring

& productivity tracking tool on Cheap Price @ RS 99.

Using DeskTrack's automated employee monitoring and time tracking software, you can watch how applications are opened, queries are made, and files are viewed over time. DeskTrack helps teams keep organized and productive by identifying actual working hours and distractions.

Nonetheless. You can find DeskTrack as the most relevant employee solution after going through all the employee software. To learn more, see the details below.

It is one of the most popular and user-friendly employee monitoring systems. DeskTrack allows organizations to track their employees' activities like search history, unproductive URLs, needless activity on social network sites, email traffic as well as non-work-related browsing, at the workplace.
DeskTrack provides many benefits like User-Friendly Interface, Data Security, Behaviour Analysis, Offline Time Capture, Working on All OS, Private Time, Mobile Time Tracking.
DeskTrack has powerful features that will help you get the real picture of your employees' performance. We've made sure that DeskTrack is affordable so you won't have to put a hole in your pocket to keep track of your employees.
2. InterGuard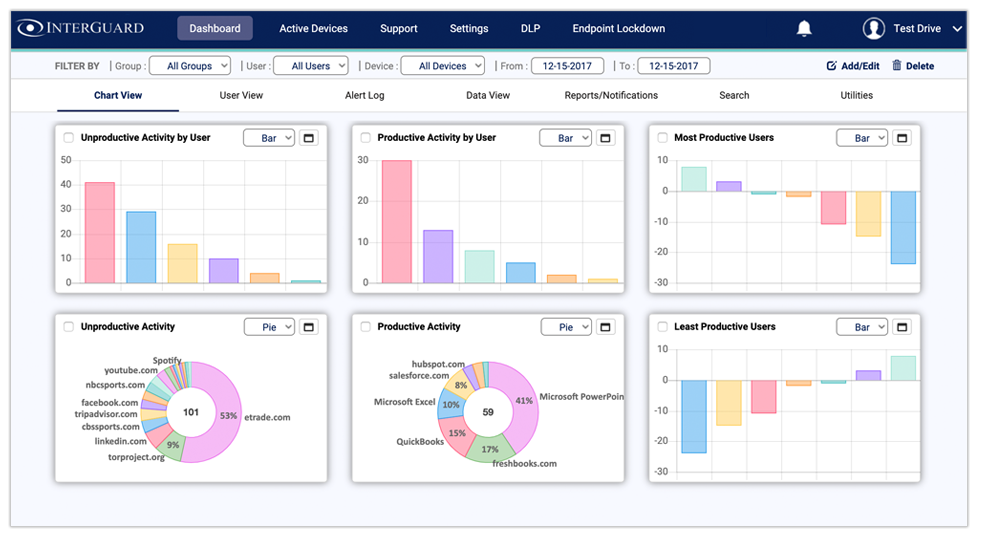 Best Employee Performance Monitoring Software.

Monitoring mobile devices is possible with InterGuard.

Secures endpoints remotely and retrieves data.

The minimum number of users for InterGuard depends on the plan.

However, InterGuard is an excellent cloud based employee monitoring software for remote workforces as well as businesses with in-office staff. Monitoring employee productivity and safety from afar is easy with InterGuard's tracking and security features.
3. ActivTrak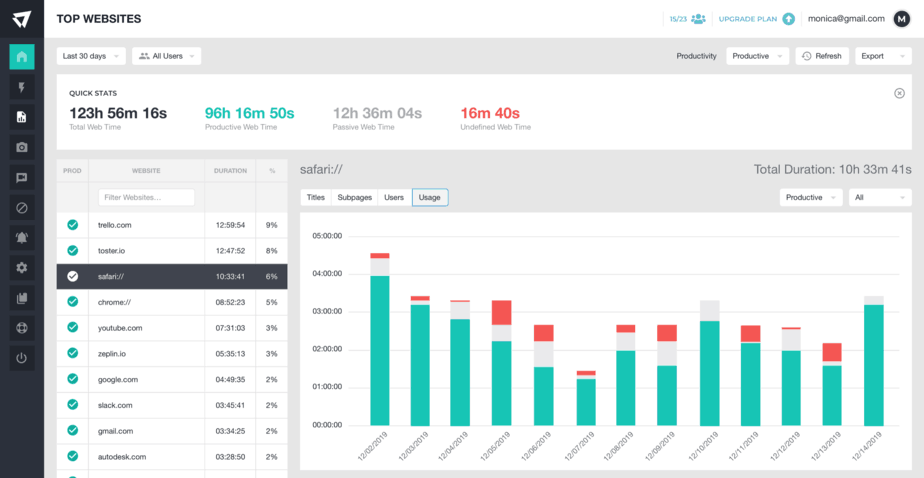 The Best Employee Monitoring Software for Workforce Analytics.

There is a free and paid version of ActivTrak.

Through the software's dashboard, you can get insights into your workforce and productivity.

Logging of keystrokes is not available.

The company's employee monitoring software, ActivTrak, tracks and measures individual and team productivity and efficiency, workload balance, and goal-setting. ActivTrak may be the right tool for you if you wish to improve employee productivity and efficiency. All the features you need for transparent monitoring of your employees are included in it.

4. Teramind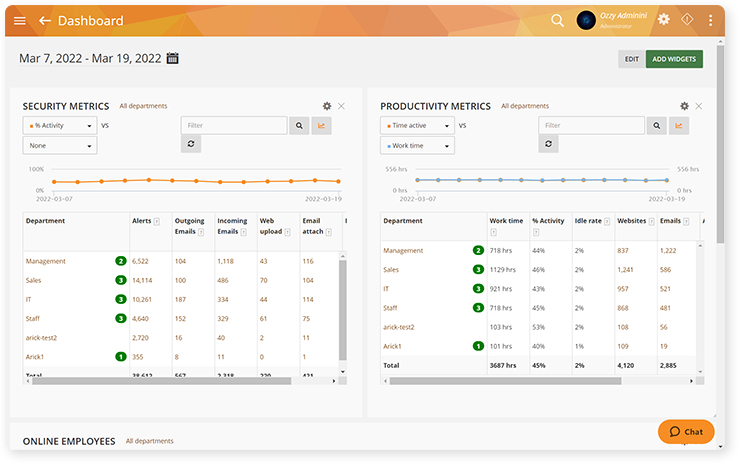 Best Employee Monitoring Software for Security Threat Protection.

A live screen view and a history playback are available in Teramind.

Employee devices can be controlled remotely and user accounts can be overridden manually.

A minimum of five users or 10 endpoints is required for Teramind.

You can deploy Teramind on your business premises or in the cloud, and it is extremely secure. Monitoring can be performed on Windows, Windows Server, Apple, Citrix, VDI, VMware Horizon, and terminal servers.
5. BambooHR Employee Monitoring Software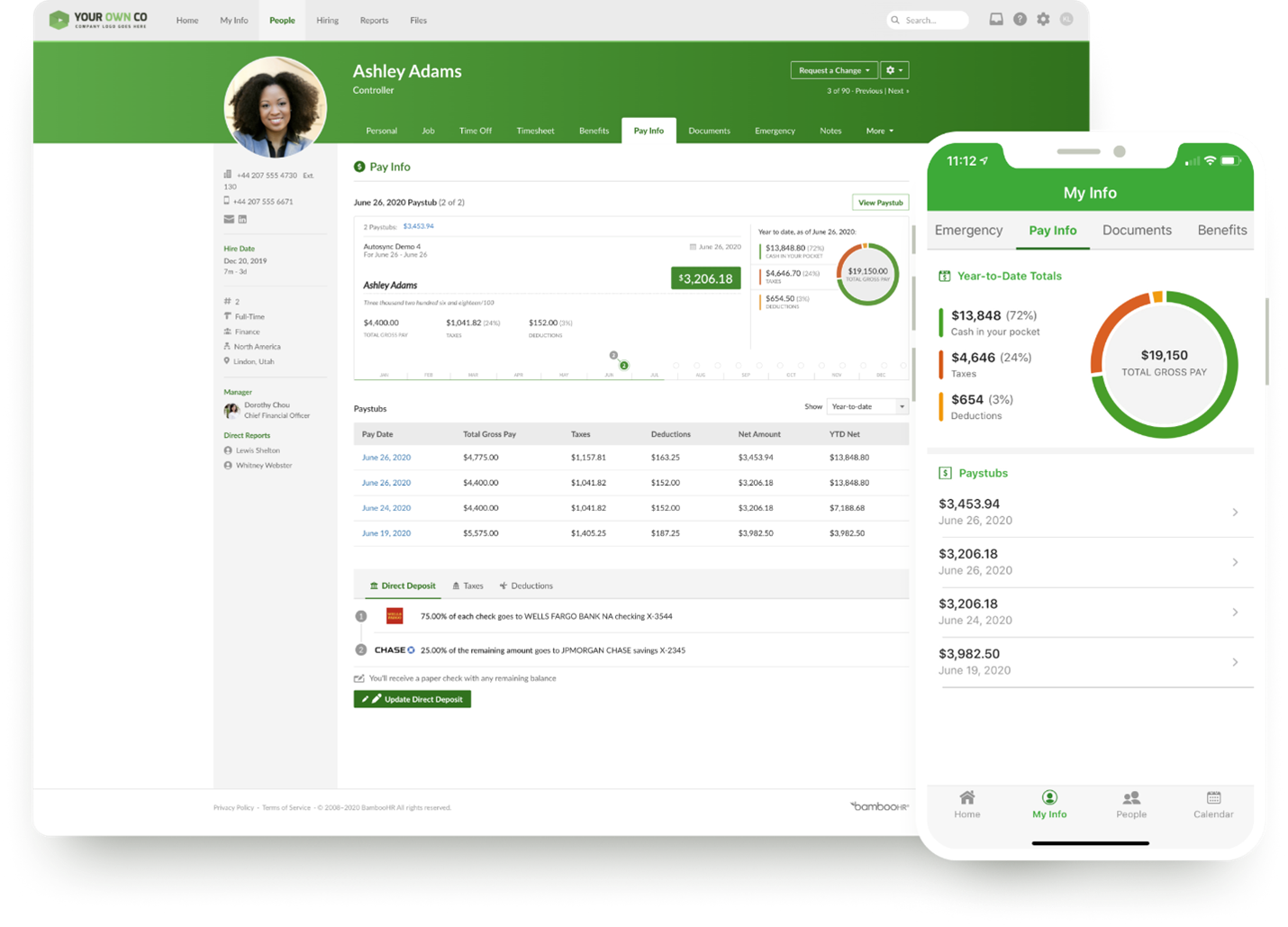 Best Employee Monitoring Software for Performance Management.

There are performance management features built into this comprehensive HR software.

BambooHR has a mobile app that allows employees to access self-service options.

Keystrokes are not logged or blocked by the software.

Employee performance management can be done with BambooHR, a cloud-based HR application. There are several features in it to assist small businesses in hiring and onboarding employees, managing employee performance, tracking employee hours, and running payroll. It is not just another employee monitoring application.
6. SentryPC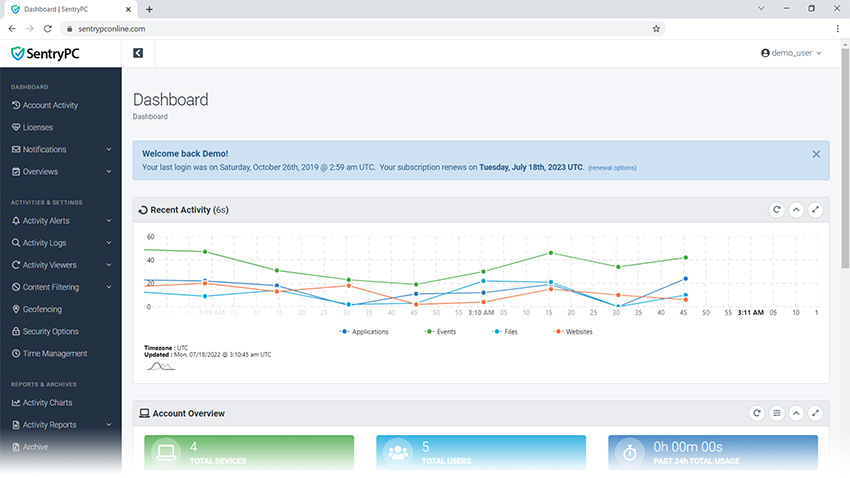 Most affordable cloud-based top employee management software.

SentryPC does not have a minimum user requirement.

Logging location IP addresses, as well as tracking apps, are among the top features.

Online forms are the only way to contact customer support.

Even software budgets that are limited can be accommodated by SentryPC's cloud-hosted monitoring software. In spite of their inexpensive plans, they offer a comprehensive suite of features that allows you to monitor your team successfully.
7. Hubstaff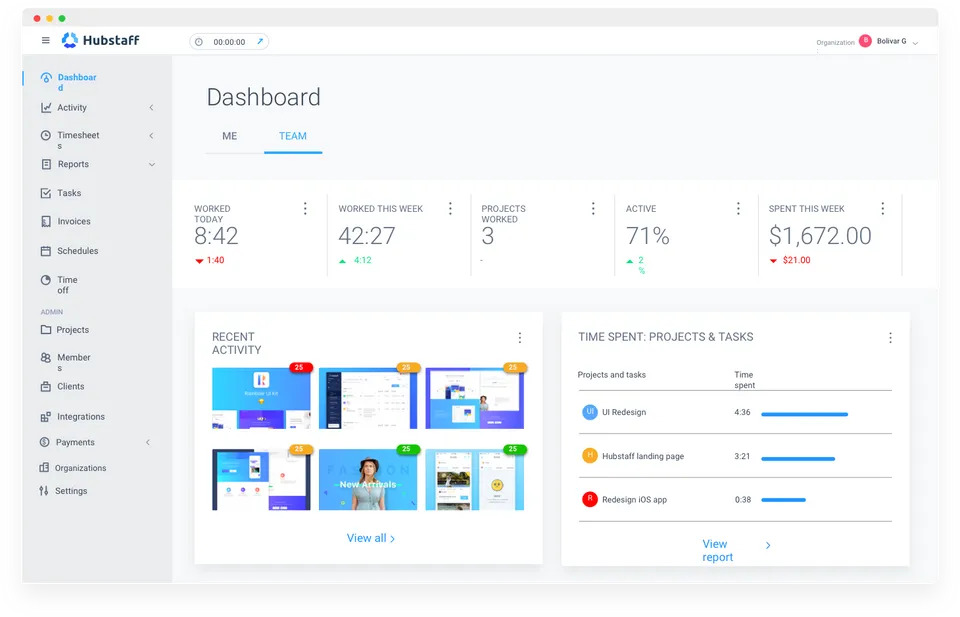 Best Employee Monitoring Software for Managing Productivity.

Mouse and keyboard usage is tracked by Hubstaff. You can take unlimited screenshots with paid plans.

Files and print jobs are not tracked by Hubstaff.

For managing employee productivity, Hubstaff is our top pick. It can be difficult to track each employee's productivity, especially remote employees. With Hubstaff, you can track employee time and activity accurately, as well as improve your team's productivity, without having to intrusively monitor them.
8. Controlio
Best Employee Monitoring Software for Video Recording.

Real-time screen recording and real-time surveillance are provided by Controlio.

It is possible to calculate productivity scores with the software.

PC devices are the only devices Controlio monitors.

EfficientLab's Controlio software tracks and records employees' PC activity using the cloud and on-premises. Larger businesses can choose between AWS on-premises and cloud options, whereas smaller businesses are more likely to choose the cloud option.
9. Veriato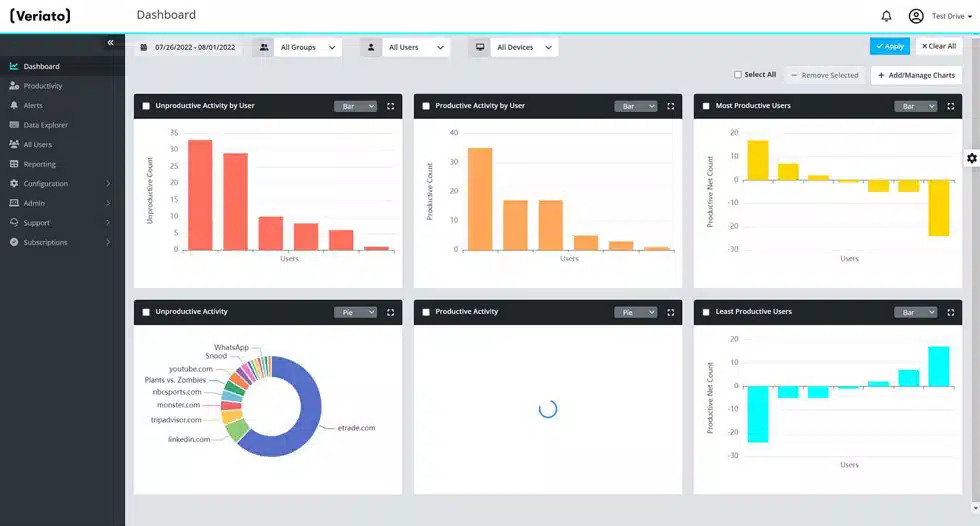 Best Employee Monitoring Software for Enterprises

Insider threats can be detected by the software.

Large businesses can take advantage of volume discounts, which can reduce costs.

It can be difficult to learn Veeriato's employee monitoring software.

With Veeriato, businesses using Macs, PCs, and Android devices can effectively monitor their employees and detect insider threats. Large enterprises that want complete insight into employee behavior especially benefit from the advanced features of the software. Among its functions are ensuring workplace productivity, detecting insider threats, conducting employee and forensic investigations, maintaining legal compliance, and preventing data loss.
10. Work Examiner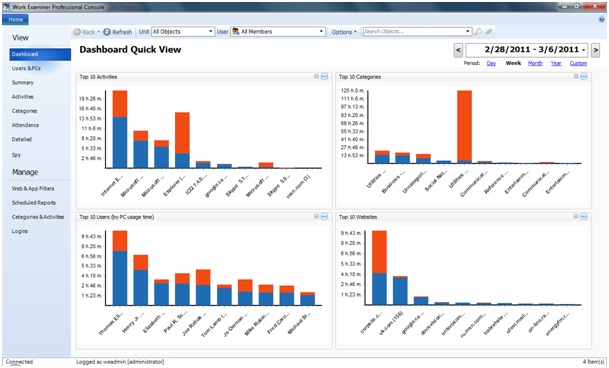 Best Employee Monitoring Software for Perpetual Licensing.

An annual licensing fee is charged instead of monthly fees by the Work Examiner.

Support and updates are included in perpetual licenses.

Windows devices are the only ones monitored by Work Examiner.

EfficientLab's Work Examiner is a Windows employee monitoring software that runs on-premises. In lieu of a monthly subscription fee, Work Examiner sells its software as a perpetual license for a one-time license fee (plus support and updates fees). Standard and Professional software plans are available. 
11. Workpuls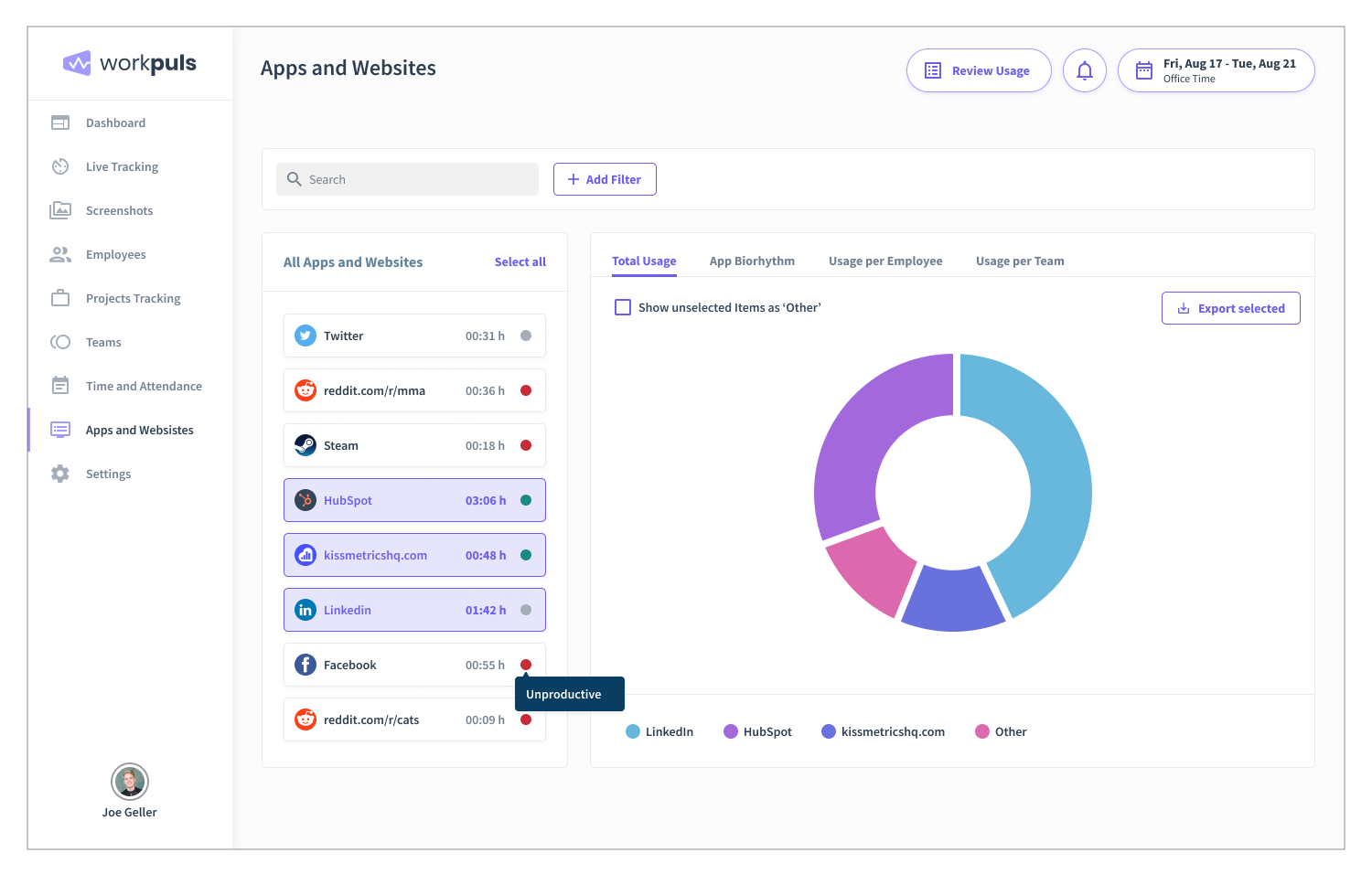 Best Employee Monitoring Software for Employee Privacy.

Workpuls can be used either invisible mode or in stealth mode.

Two-factor authentication is available in Workpuls.

The only accounts that offer 24/7 phone support are enterprise accounts.

Employers who wish to track employees' activity while preserving employee privacy can turn to Workpuls. Clients include architecture, insurance, healthcare, call centers, law firms, virtual assistants, and data entry companies. These services can be used by both employees and remote workers.
12. Kickidler: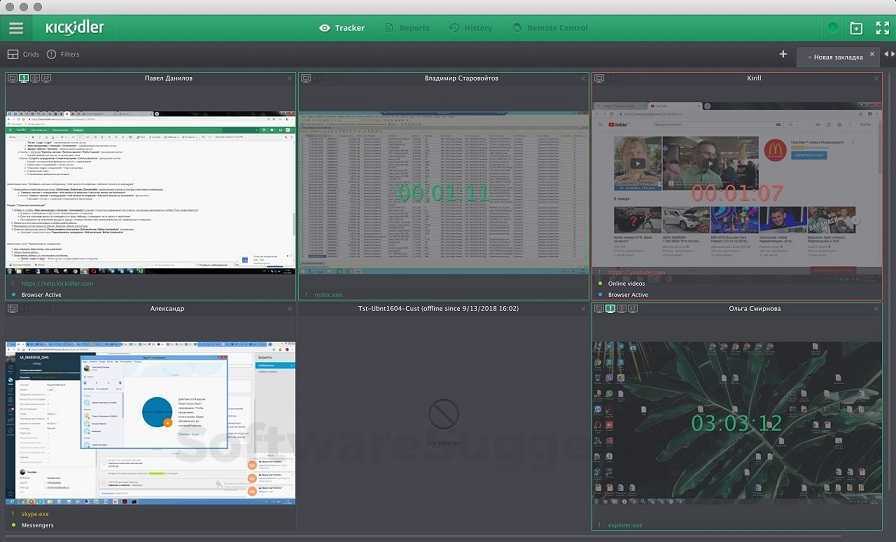 This is an employee monitoring solution that provides businesses with a complete view of all employee activities to ensure they have maximized productivity and immediately halt any suspicious actions. It comes with live desktop monitoring for all the employees, activities recording for easy referencing on past actions, tracking the time and working hours to the employees, etc. 
13. Time Doctor
: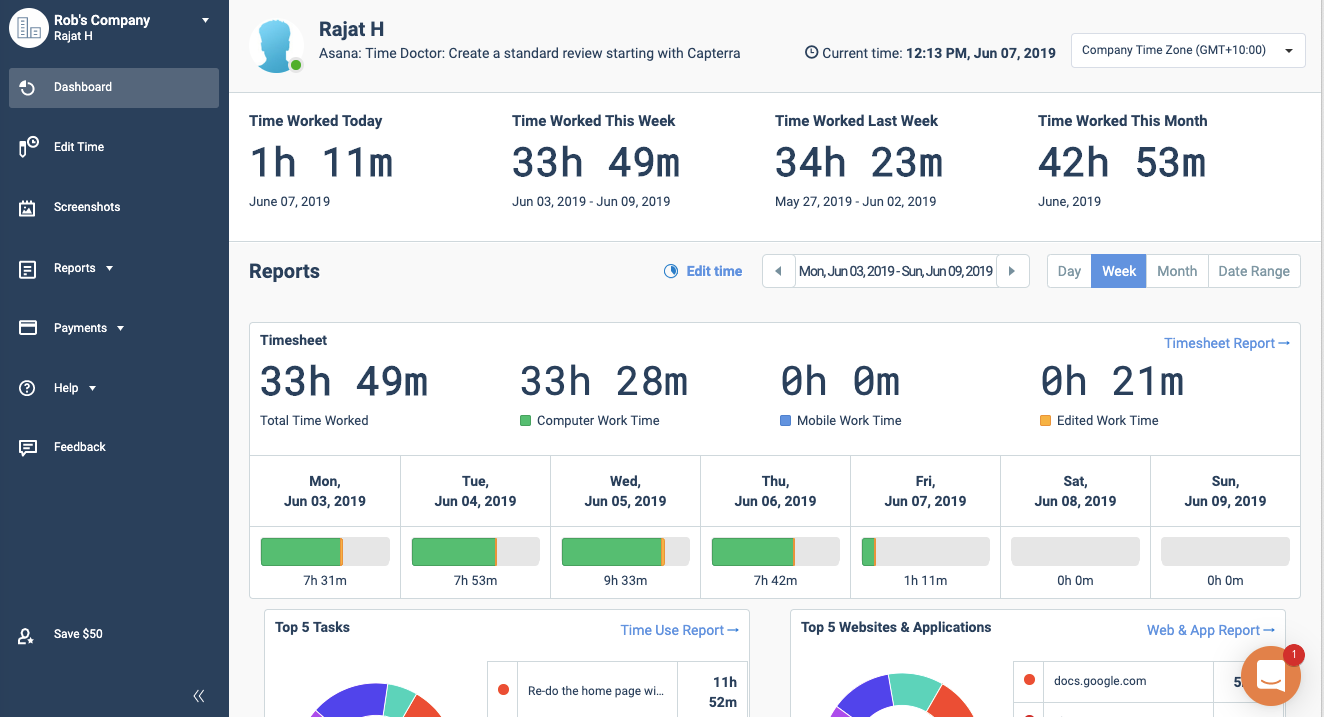 This app allows tracking the employees' efficiency by tracking the capabilities that are accurate to the seconds. It tracks the employee's entire day and tells you where they are spending most of the time during the working hours. Desktrack is a company that is helping organizations improve the productivity and efficiency of their users. 
14. Worktime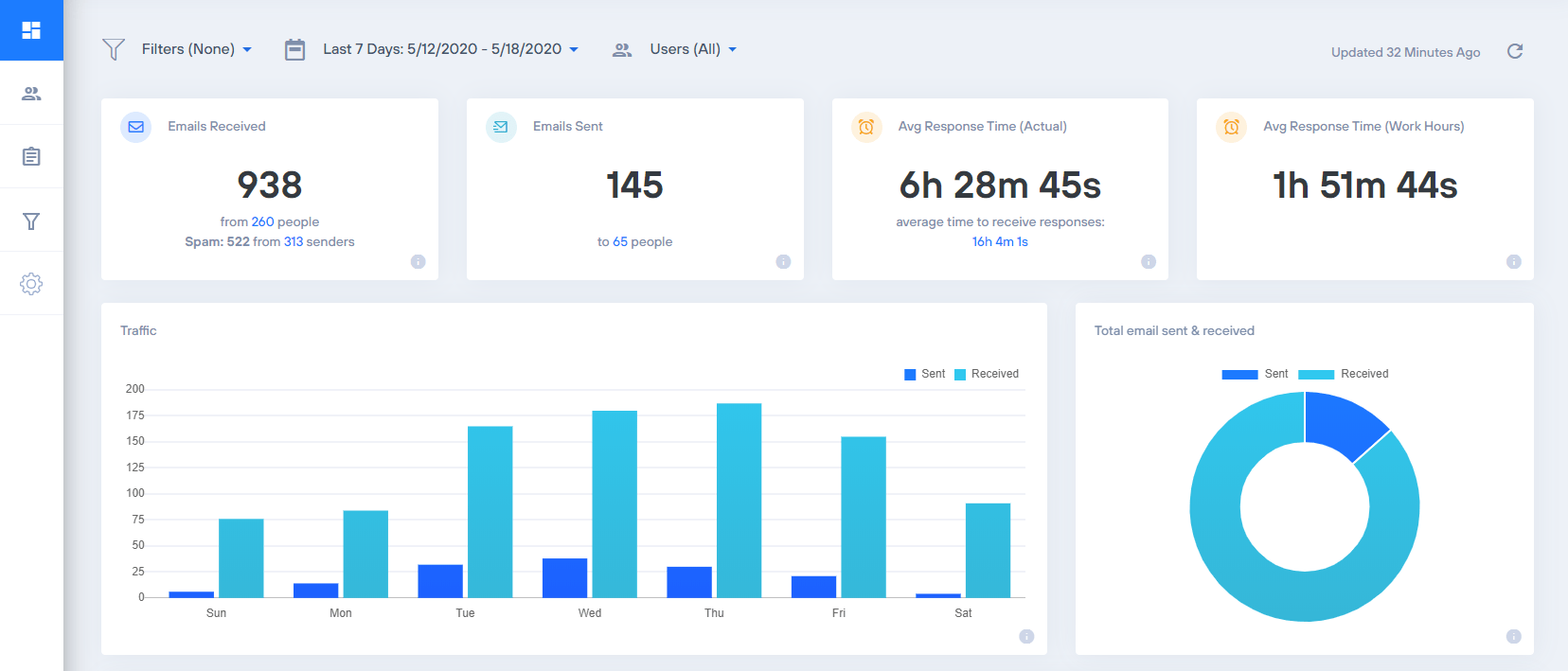 It is remote monitoring software that remotely monitors the employees' activity. It investigates compliance audits and makes data that helps HR find the loopholes and inform the employee about the skills they lack. 
15. Pivotal Tracker
: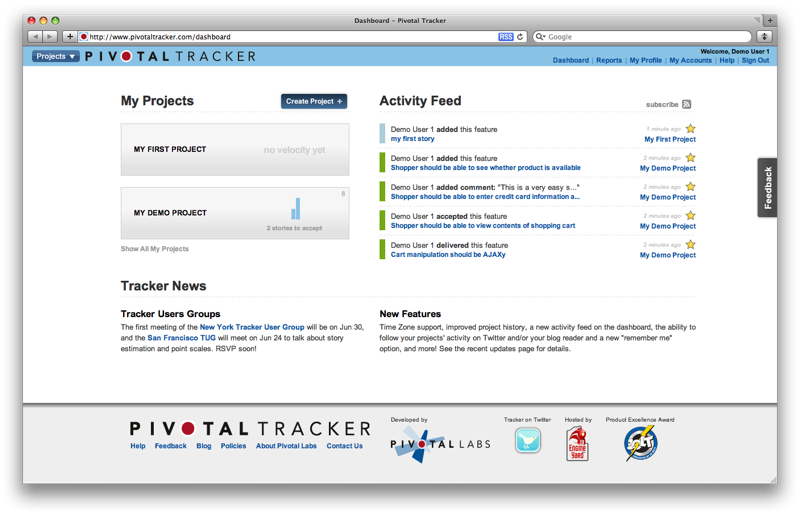 It has real-time collaboration and one view feature, with pivot tracker tracks and showing what every team member is doing in real-time. Moreover, it allows companies to develop the target software better and simplify the overall collaboration process. 
16. We360.ai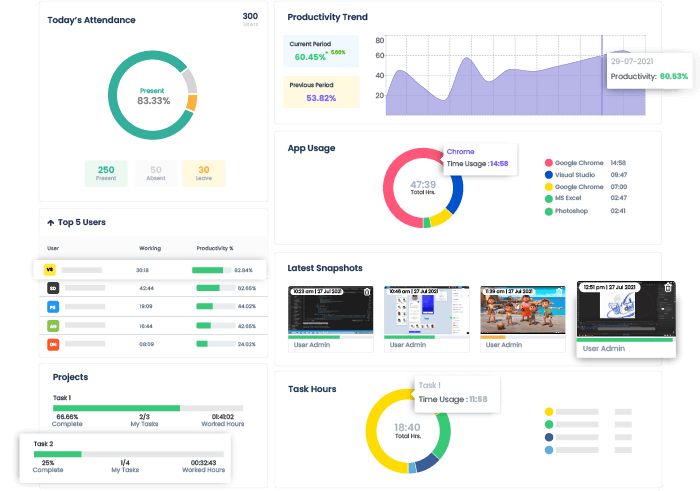 We360 is a cloud-based employee monitoring software & provides you configuration to take random screenshots and log keyboard and mouse activities. It operates on multiple operating systems and platforms, making it the preferred choice for multiple remote teams. 
17. Monitask
: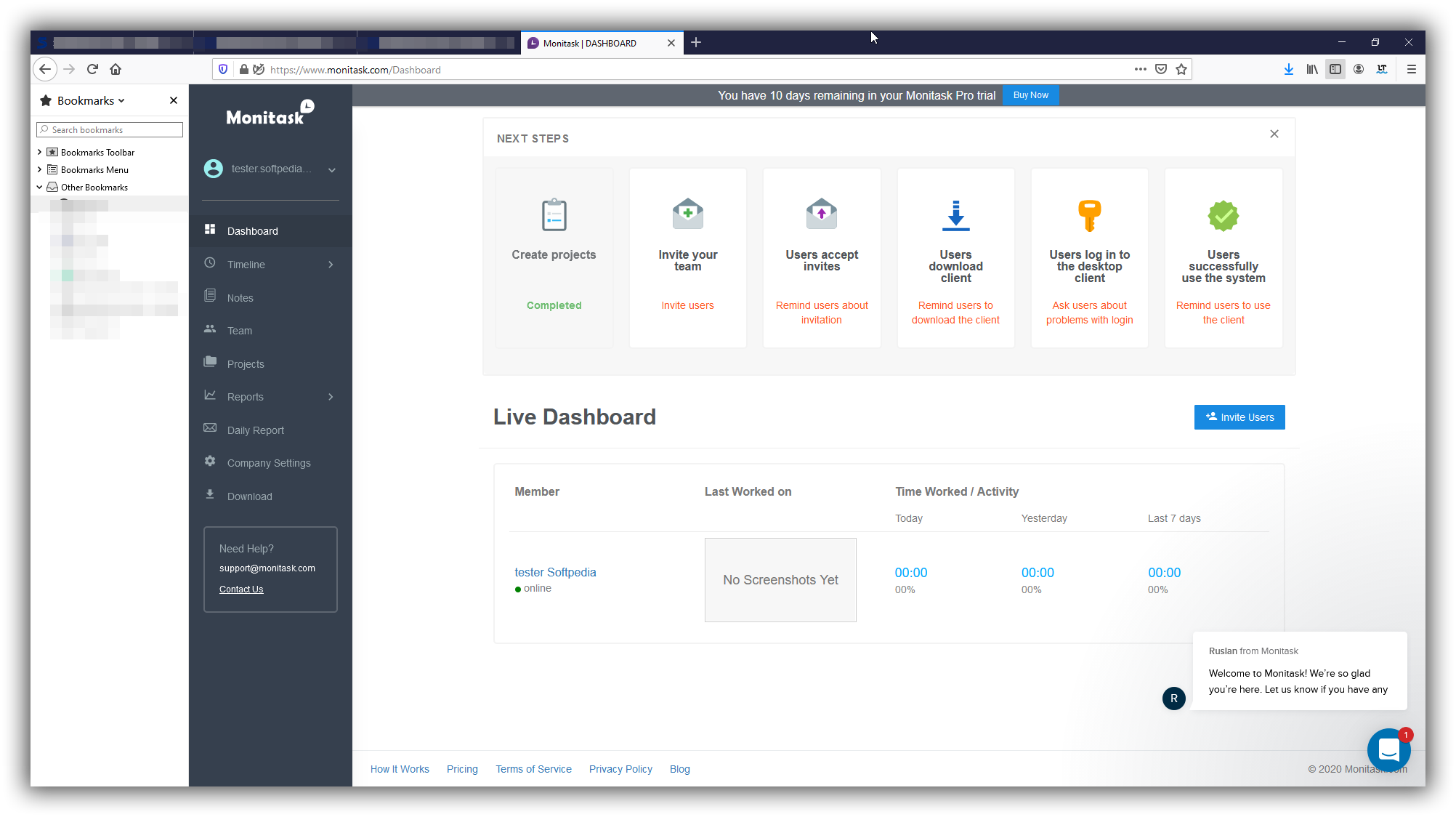 It is a remote employee monitoring system that is helping companies to enhance the productivity of their employees. It is an application that allows employees and freelancers to manually start a clock when they begin to work on an assignment. Desktrak is an organization that helps companies enhance their employees' performance. 
18. FlexiServer
: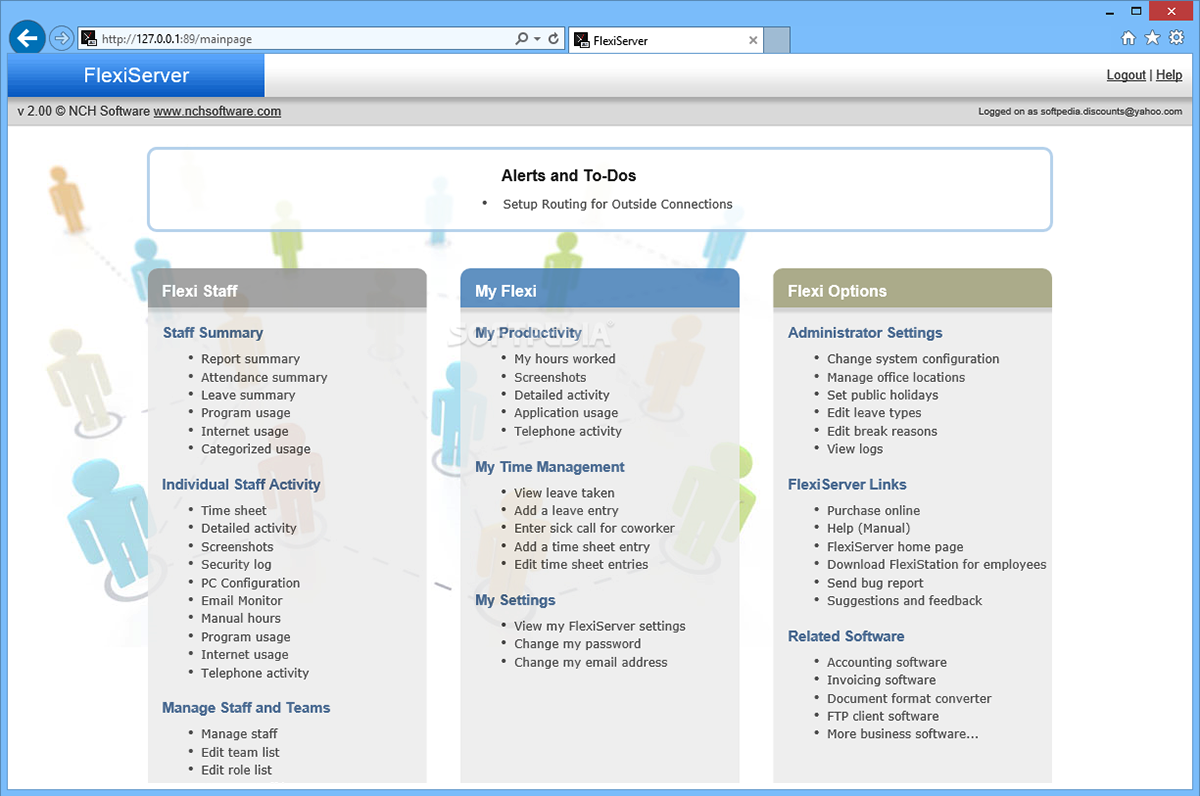 It comes with automatic attendance logs, tracking the time spent on different documents and applications, website monitoring, mouse click monitoring, and keystrokes. Moreover, integrating monitored data to payroll software and robust reporting tools enables users to run behind firewalls and routers. Software like this is helping employees to be more creative and productive.
19. DeskTime
: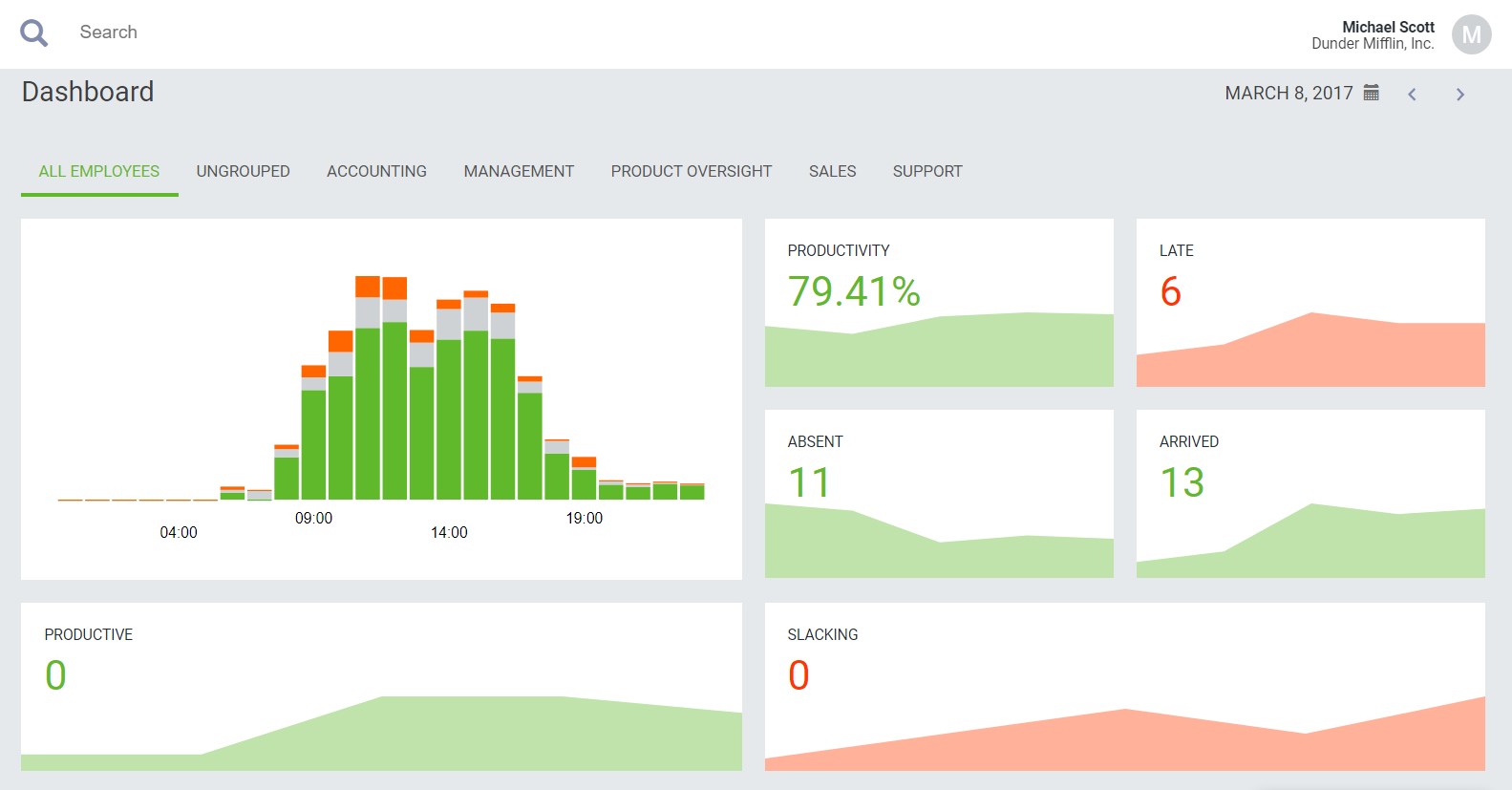 It is a mobile and desktop time-tracking application for a team of productivity freelancers, has powerful attendance-tracking features, and produces effective workflow management. It helps you be more organized and aware of your team and how your team is performing. 
20. Deputy
: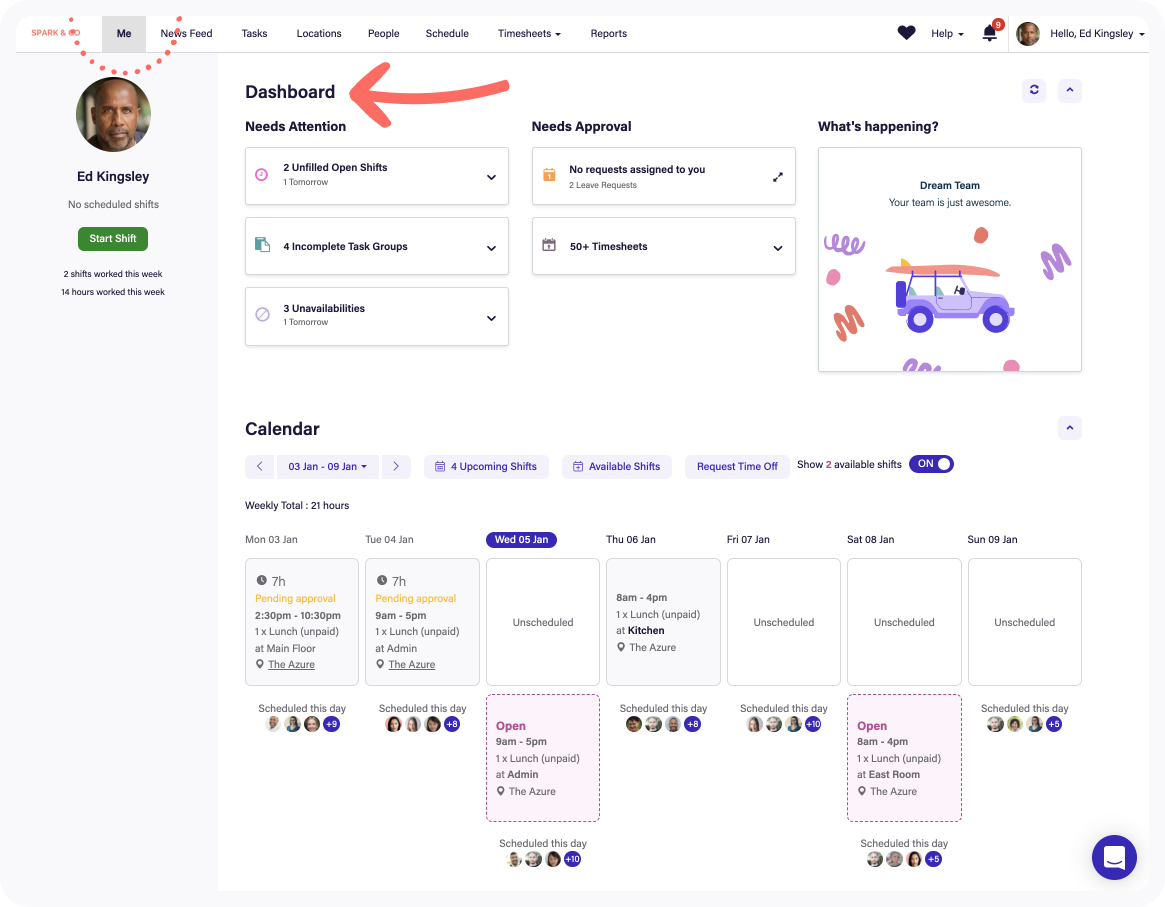 It is an easy-to-use employee scheduling, time clock software, and timesheet employee scheduling. Get started in minutes with its easy-to-use login process and see how you perform throughout the day. It is an application that helps companies track employees' work throughout the day.
21. RescueTime
: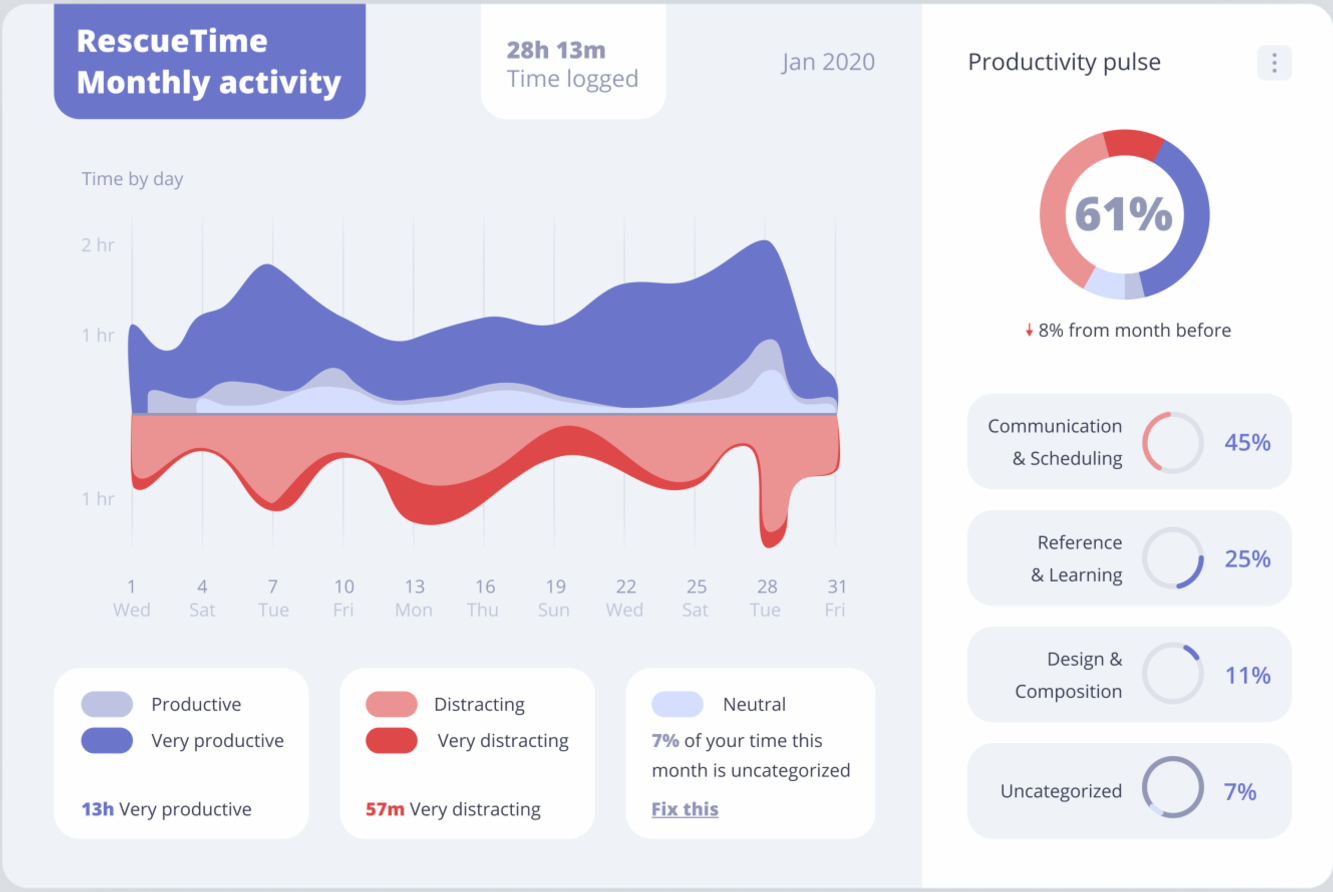 It tracks the rescue time programs used, websites visited, active windows, other computer activities, as well as monitoring the time that you are spending on the mobile phone. It also monitors the time spent on meetings, phone calls, and breaks like data enables managers to work with employees. 
Desktrack Time Tracking Software: How Does It Work?
Using Desktrack, employees can manage their time at work, boost productivity, and work at the top of their game. Whether freelancers or large organizations, Desktrackis convenient to use.
The Desktrack Employee Productivity Tracking Software is packed with useful features. The number of active users, late arrivals, attendees, and users on leave for your company can be viewed. Employees can also be ranked based on their productivity, unproductivity, tardiness, absence, etc. When the software is installed, the software automatically tracks the amount of time spent using apps and websites.
The time spent on productive apps and websites fills up the productivity bar, which is divided into Productive, Non-productive, and Neutral. 
 Software that Monitors Employees – DeskTrack
Increase team productivity with DeskTrack

: DeskTrack monitors employee activity and measures team productivity. Additionally, it increases employee efficiency by calculating the total work performed.

Eliminate Procrastination:

Procrastination can waste a few hours of work and is completely unproductive and harmful to the growth of the company. Having a time tracking software can help eliminate procrastination since it helps administrators/managers identify where employees are wasting time.

Easily measure total billable hours:

Time Tracking Software records the total time spent by an individual and helps Management track total billable hours which can further assist in accurately billing clients and paying employees.

The Hawthorne Effect

: According to a psychological study, employees are more aware of the use of their time at work if they know that their administrator or manager is monitoring their activities.
Why Organizations Choose DeskTrack Over Its Alternatives
The following are the advantages of DeskTrack's employee productivity monitoring software
Managing projects effectively

Tracking time effectively and planning resources accordingly

Efficient and streamlined communication channels

Easy to evaluate

 Analyze the real-time performance of employees

Develop Strong Relationships

Check for violations of company policies by an employee

Recognition of Employees

Solutions for remote working

Enhances employee productivity and efficiency

 Enhanced security

Management of attendance is easier

interface that is user-friendly

Security of data

Analyzing behavior

Capturing offline time

Supports all major operating systems

Private Time

Time tracking on mobile devices

Money Well Spent
HOW MUCH DOES EMPLOYEE MONITORING SOFTWARE COST?
Depending on the features you need and the number of employees, employee monitoring solutions costs differently. Software, updates, and tech support are usually included in the per-user pricing, which is billed monthly or annually. Here are four factors you should look for when you're comparing prices so you won't be surprised by the final bill. 
Minimum license numbers: Some companies allow just one or two licenses, while others require at least five or ten.

Additional features: Depending on your needs, you may have to pay extra for specific features, such as geolocation tracking.

Additional costs: Additional fees aren't common, but you should check for them before you enroll so you understand what you're signing up for. Establish the amount of the setup fee – which can be several hundred dollars – and the IP renewal fee.

Contract requirement: Some providers of employee monitoring software offer monthly plans, while others provide discounts on annual subscriptions. A contract is often required for any service. Make sure you know what the terms are. Check the contract for the length of the contract and the cancellation procedure if that is the case. 
Small Business Employee Monitoring Software: What to Look For?
Employee Monitoring products fall into many categories and help businesses of all sizes solve their business challenges. We match buyers to the right Small Business Employee Monitoring solution to fit their needs, since small business features, pricing, setup, and installation differ from businesses of other sizes. Use buying advisors to find the right solution within the Small Business Staff Monitoring category by comparing product ratings based on reviews from enterprise users.
In addition to qualifying for inclusion in the Employee Tracking Software category, a product must have at least 10 reviews from a business reviewer to qualify for inclusion in the Small Business Employee Monitoring Software category.
What can be Tracked using Employee Monitoring Software?
For a long time, employees have been monitored and surveilled. However, monitoring practices have evolved with technology and society. There was a time when they could even be considered excessive. 
Cardkeys
Surveillance via video
Monitoring of the network
Monitoring of emails
Solutions for DLP
Software that monitors employees
Conclusion
In the following article, you will be able to learn about the above benefits of using employee productivity software in the workplace. Employers and employees can benefit from it equally since it serves as a perfect middle ground. Ensure you choose employee productivity monitoring software that fulfills the needs of your organization and projects.