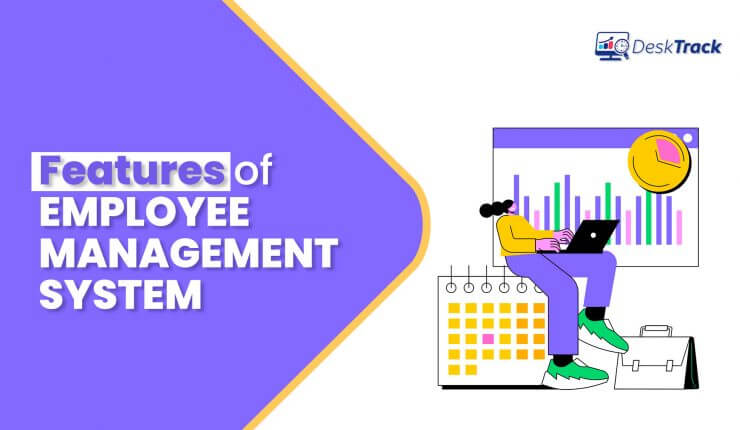 The employee management system is a technical program. It measures, analyzes, and maintains employee working hours and company workflow effectively. It caters to meeting the productive, social, and practical requirements of employees. Also, help them give their best efforts daily and in the right direction.
Table of Contents
Features & Importance of Employee Management System
Installation of a suitable workers management system is most prominent as per your business needs. Reducing the workload of the HR department is really helpful. Implementation of employee management software can benefit businesses with a lot of user-friendly features:
Features of Employee Management System:
There is no need to keep a tab on your workforce manually. You can monitor every activity of your employees through the DeskTrack employee management system features:
Time and attendance management
Time and attendance management is the best way to manage the team's activity records. The software monitors employee working hours and manages attendance data which helps improve workforce productivity and employee engagement and helps in reducing HR administration workload and payroll issues.  
Streamlined payroll
The software helps to deliver a streamlined payroll to all the employees by calculating their work efforts through real-time insights. It improves the payroll procedure and eases the need for manual data input.
Actual logs
The workers management system software represents the actual working and idle hours of an employee according to desktop login and logout time. 
Accurate timesheets
DeskTrack employee monitoring software provides accurate timesheets of employees to determine the actual efforts spent on every task or project and manage further proceedings. 
Productivity insights
The best employee management system software allows the managers to generate detailed productivity insights of the actual working hours of each employee that can help them manage productive and unproductive employees.
Cloud solution
DeskTrack provides a cloud-based solution that helps record the complete detailed insights with screenshot data that help the manager's review employee performance anytime and HRs at the time of salary payment. 
Desktop screenshot
DeskTrack auto-captures the screenshots as per the scheduled time that shows the screenshots of activity done on the system desktop.
Project and Task Management
DeskTrack provides project and task management benefits and presents the actual report of work progress, deadlines, and schedule in real-time. For employees, it's the best way to manage their tasks and work process. For employers, it provides complete data about employee productivity and allows monitoring of their activities.
What is an Employee Monitoring/Management?
Employee monitoring means how employees of any organization have been observed. This includes a track of all the user activity from collecting per day data to monitoring specific sorts of employee work performance and progress. Whether they are working from home, remotely, on-board, freelance, or representing the company outdoors. Therefore, it is the most essential requirement for a company's real growth.
Monitoring methods possess the management of employees' login/logout time, internet/desktop monitoring, web surfing, and interaction with social sites. At present employee monitoring tools have manifested more significant possibilities for employee productivity and workforce analytics. Employee Monitoring tools help in optimizing employee performance, improve employee involvement in work, and reduce process cost-effectiveness. By monitoring the efforts of employees, an organization can boost the entire workforce's productivity and gain more profits. 
Why is Employee Management System Important?
An employee management system is important just because the employees are at the workplace doesn't mean they are being productive or completing their tasks on time. Maybe they are busy with some never-ending meetings or emails or regularly distracted. Many companies have poor teamwork hierarchies, and they don't even have any idea about it. It can be difficult for a supervisor to monitor all the teams. Employees to know their working hours and performance in the workplace. Planning can't be the only solution to improve the productivity of a company. Therefore, getting proper insights about projects, working hours, activities, and tasks scheduled or performed by employees are very important for a manager or team leader. 
It is not possible for a person to keep a tab all over the workplace or on remote employees all the time. Hence, if an organization uses an employee monitoring system like DeskTrack will help them keep an eye on whatever is going on during a working day and allows tracking team productivity and efficiency wherever they are operating with just a click and under a console.
Types of Employee Management System Software
Employee Management Tools are categorized into different parts. It is basically differentiated according to employees. If we talk about developers we need software that is able to calculate productivity, as well as if we are talking about some of the HR they consume more time in administrative work so we need an employee management system that is able to track the time of tasks. Here is the list of the best software for employee management.
Project Management Software
HR Software
Conclusion
Software for employee management systems helps your organization improve workforce productivity and boost overall well-being by tracking and monitoring the daily working activities of every employee. DeskTrack is the best employee productivity monitoring software for workforce management. It keeps track of every activity done by an employee during his working hours. As a result, if you are searching for the best employee productivity monitoring software then DeskTrack has some impressive features that can be the best fit for your organization.