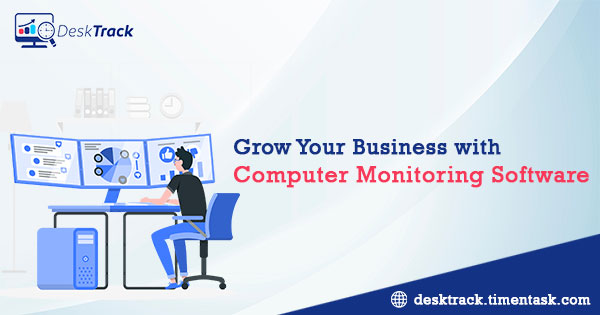 The entry of technologies in every sector of business is very evident. People adopt numerous tools and software to improve their daily functioning and attract more profitability.
However, these tools and technologies have also introduced risks of unproductivity, hacking, and fraudulent activities to businesses besides improving an organization's functioning.
When every business activity is taking place on systems, it is essential for businesses to find effective computer monitoring software. If you are also struggling to choose a reliable and trustworthy employee computer monitoring software for employees, then you are at the right place.
Understanding Computer Monitoring Software
Computer monitoring software is those applications that help organizations track and record the daily activities of their employees' computer systems. Such system monitoring software has multiple purposes supervising employees, ensuring cybersecurity, and many more such benefits.
Computer monitoring system software performs tasks like monitoring user actions such as keystrokes, application usage, browser history, accessing their files, capturing screenshots regularly, and many more. 
Features such as recording real-time insights on computer activities provide managers about the system usage behavior of their employees.
Small businesses can utilize computer screen monitoring software to promote employee productivity, prevent data breaches, and comply with company policies. Besides that, computer tracking software is also useful to identify and eliminate any security breaches by detecting and informing employers about suspicious activities such as malware attacks, unauthorized access trials, or any other fraudulent activities. 
Computer screen monitoring software is crucial to empower authorities by helping them make informed decisions about time management, taking security measures resource allocation, etc.
Qualities of Computer Monitoring Software
Now when you are aware of the computer monitoring software, you must be confused about their usage. 
These software are crucial for almost all the sectors presently, ranging from healthcare, and IT to the BPO industry. Different software is embedded with different features. Also, some of the prominent software allows organizations to get customized features suitable for their working styles and industry measures.
Here are a few prominent qualities that your monitoring software must have:
Internet and Email Monitoring
As we all know the Internet is both a friend and foe for the employees. If utilized for productive activities, it can be a boon for your functioning. However, if utilized for surfing, and managing personal social media during work hours, it can badly impact one's work efficiency and can hamper productivity.
Computer screen monitoring enhances productivity by finding distractive apps and optimizing resources. These software monitor employees' internet usage and their email content and attachments to ensure compliance with the industry standards and data protection.
Application Usage
Tracking what applications your team members are using during their work hours and which URLs they are mostly surfing will help in resolving existing productivity issues at the workplace. 
So next time you find any of your employees not responding quickly to your emails and messages, or missing deadlines, you must consider tracking their application usage and URL visits.
An efficient computer system monitoring software like DeskTrack lets you track every minute of activity of all your employees.
Data Safety
Since everything is present in computer systems, including private and sensitive information, it is essential to adopt data safety measures. For organizations, it has become a measure of concern to prevent data breaches, mitigate data exposure risks, and follow regulatory compliance.
Adopting methods such as employee monitoring software and computer tracking software helps organizations record every activity of their employees' system usage. They store every information of their systems and stores & secure systems from unauthorized access and data breaches.
Time and File Tracking
With the advent of computer tracking programs, managers can know their employee's in and out times, just at the press of a button. Also, managers can have full control over their employee's work, know their idle time, and find on what projects they are investing most of their time and resources.
Productivity Monitoring
Besides tracking computer usage and securing data, computer monitoring software also is a great tool for monitoring employee productivity at the workplace.
These tools provide employers with comprehensive data about how and what their employees are performing during work hours. They provide how much time a particular person is investing in different tasks, applications, and sites.
Reports
Engaging with computer tracking systems provides employers with detailed reports about their employees' work performance, activities, data usage, attendance, idle time, and many such crucial details that are otherwise difficult to gather.
With this comprehensive analysis, organizations can invest more time in business planning and productive activities. Also, they can come up with better ideas and plans for boosting productivity and profitability in their businesses.
Conclusion
The organizations wanting better productivity and profitability in businesses can adopt the finest computer monitoring software rather than running behind computer monitoring free software to track employee system activity and monitor their performance. 
Using such software is an ideal solution for organizations balancing efficiency with employee privacy. So find an ideal solution for your organization quickly.