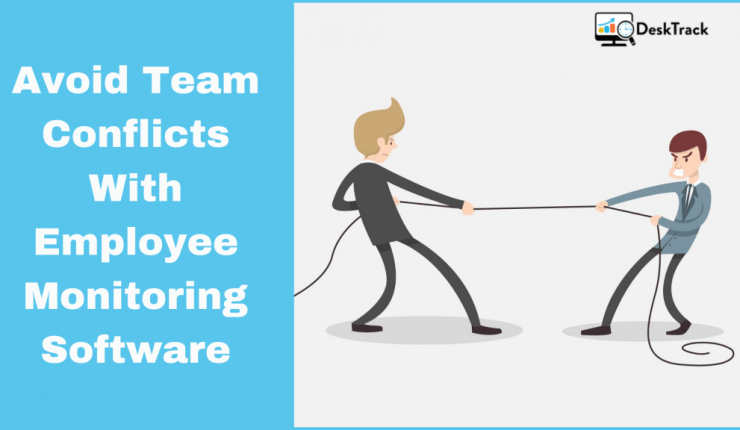 Having Team Conflict Issue? Let's find out a solution to make it disappear using a technology enhancement tool.
In a healthy environment also, the team can lead to conflicts easily.
Yes, you have read it correctly. Even in a healthy workplace team conflicts can occur.
Many organizations sometimes encourage constructive conflicts among the employees as it leads to issue resolution and exchange of ideas between the team.
Employee Monitoring Software helps to resolve the conflicts and get a clear view of the situation.
See how Employee Monitoring Software helps to resolve conflicts. Firstly we need to understand why conflicts occur and their drawbacks – 
Why Conflicts Awful?
Conflicts lead to disturbing the employee relationship sometimes even ruin them. This ends up increasing organizations costing as employee performance drops.
Some employees participated in conflict situations asked for leave, some blamed conflict for task failure, and even some left the organization either by firing or by resignation.
These facts show the need for Employee Monitoring Software to prevent or avoid team conflicts.
How Conflict Arises In the Workplace?
When the employee is not doing work properly, but managers are not noticing them or saying anything to them. This can bother other employees who are hardworking and not receiving any recognition. This can lead to conflict between the manager and employees, and among the employees, or it can influence this atmosphere among the whole team.
"Conflict is the representation of an unhealthy work environment."
How Employee Monitoring Software Resolves Conflicts
Conflicts should be resolved at a smaller level so that they don't cause a much eager issue. As one dissatisfied employee can disturb the entire team, that directly or indirectly disturbs the entire organization and its dynamics. This damages the business internally and externally by reputation damage, employer brand damage, client loss, and many more. Here comes the importance of Employee Monitoring Software and its need.
There are many ways also by which management can help to resolve the conflict within the team; one quickly understands the situation which is gonna convert into conflict and react immediately to solve it. This requires a skilled manager who should have a good experience and an excellent understanding of team members' understanding.
Another way is using Employee Activity Monitoring Tool that can help to identify the change in employee working patterns. This type of tool helps to keep the track of employee performance, their shortcomings, and even their hard work. Employees should know that they are being monitored. By using software and informing this to employees can increase their 20 to 40% productivity in the first month.
If your team is being monitored and aware of the result of unsatisfied work mentioning with their name and resume; they will be more committed to work. This even ensures that employees have nothing to worry about. 
Softwares like DeskTrack ensures that managers have distributed equal workload to employees. This helps to structure the team properly and establish authority. This tool helps to get an insight into the activity log, how much time an employee spent on each task, and which resources they have used. This way managers can calculate the productive and unproductive hours of an individual.
This shows that when roles are well defined there will less chance of conflict. A clear insight helps to increase the worker's productivity level, fair employee increment, and can raise the policies. All the information is data-driven, objective, and transparent as no one can argue.
Managers can even have one to one sessions with the employee; this ensures that the organization is maintaining the job satisfaction of employees and prevent conflicts.
Wrap Up
To create and maintain a healthy environment, one of the best solutions is using Automated Time Tracking Software can be beneficial. This gives an insight into Employee Productivity and helps managers to take important decisions to solve the conflicts. Schedule a Free Demo or just contact us.