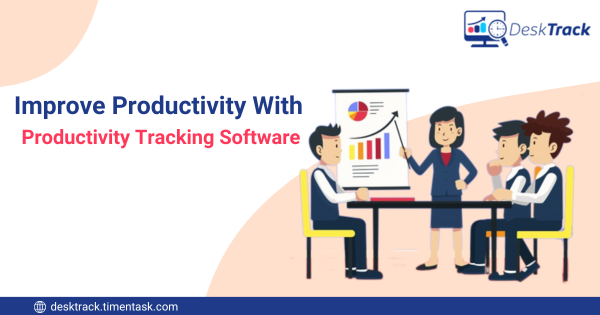 Today, the subject of productivity is quite popular. Hands down, productivity is the main goal we all work toward or strive toward, working without productivity is like walking on a never-ending road. But it has to change, right? The point is, how?
As a business leader or team leader, you must be wondering the same "How, just how, can I improve the productivity in my company and in my team?". Well, try employee productivity tracking software.
Our perception of productivity might appear to be a clear indicator of our level of achievement in life and feel like a badge of glory. However, despite the fact that everyone is talking about it, there is a lack of consensus over what productivity actually entails.
Productivity has little to do with crossing things off our to-do list. It basically is everything our businesses are established on in this super tech-fast era. So the question is how to improve productivity, simply – by employing Productivity Monitoring Software.
What's the Importance of Productivity Tracking Software in the Business World?
The main objective of productivity tracking software for employees is to ensure that firms use their resources, such as labor, time, and money, in a way that maximizes efficiency and profitability. Businesses may become more effective and competitive while cutting expenses by raising productivity levels inside their organizations.
A company's or business's effectiveness may be determined by looking at its business productivity. You can establish areas where you might be able to simplify processes by assessing the efficacy and productivity of your team.
Reducing unnecessary chores and giving priority to the most important ones are both aspects of streamlining. Using employee productivity monitoring software, you may prepare to acquire new skills, technologies, or other equipment and determine how to reduce employee downtime.
A productivity tracker for employees can be characterized as a gauge of how well a company can use its resources to produce goods or services. It simply brings out the best in them, in their performance and overall result for the company.
How to Improve Productivity in Your Company with Employee Productivity Tracking Software
A key element for the success of the company is all about having a good, solid strategy that encourages staff productivity, which leads to business results. Additionally, it benefits the workforce. 
For companies and businesses: A productivity increase is an indicator of the company's health and expansion. A successful company may grow, adding new services and even cutting prices.

For employees: Productivity is fundamental because it keeps individuals progressing toward their full potential, and achieving heights. Being productive enables us to successfully balance our obligations to our jobs, homes, interests, and families.
In order to improve and upscale the productivity of your employees, you must by all means use an employee productivity tracker. The tool will do the main work and report back to you with precise information and data. Thereafter, you can take proper action and activity into consideration to improve the overall productivity of your company.
Productivity Monitoring Software: Benefits it Brings to The Table
Assign Ownership and Accountability to Your Team Members
Employee performance tracking software is the most effective it gives accounting and ownership to the employees regarding their work and timeline and makes them accountable for their projects, tasks, and work.
A team member who is held accountable for the job, or project has a sense of ownership over it. Your employee will see their work in a different light, such that their preferences can affect the energy and efficiency of the team as a whole, which will surely result in productivity.
Specify the Strengths and Flaws of Your Team
A good productivity tracker for employees helps to identify the abilities and skills of team members and helps you, as a leader, keep those in mind when assigning duties.
For instance, you may force a team member who enjoys thinking outside the box to present innovative ideas to a customer or client. Which employee takes more or less time to do a certain amount of work or any particular task? Team members look forward to contributing to the company because they are certain that they are using their skills, knowledge, and abilities to the fullest extent possible with the best productivity measurement software to track their productivity. 
Effectively Monitor Attendance and Work Effort
It is challenging for a business to determine whether its employees are on the worksite or producing at a sufficient level without a system in place to measure employee productivity.
One of the most prevalent scams in business is time fraud, which may be as simple as a worker failing to show up for work yet claiming hours on their timesheet. In actuality, 75% of businesses are impacted by time fraud schemes, which result in lost productivity costs for employers.
Project Management that Works
Project management is at the forefront of managing and enhancing production. The efficiency with which a company runs and produces is crucial to its income. The methods used to define and follow the project prioritizing framework can influence whether a project is successful or not, regardless of whether it involves the creation of software or the building of a new structure.
Employee monitoring software is best when it comes to project management, where they are in charge of a number of crucial responsibilities, such as determining how long tasks will take, assessing the quality of the work done, and reporting on the challenges the team is encountering.
Eliminates Any Possible Obstacles and Bottlenecks
The uniqueness of each team member, their varied skills, and their limits all play a role in the productive running of workplaces (and the world!). However since not every team member is the same, this typically implies that some team members will take longer to complete tasks than others, either because they are more talented in other areas or because they haven't received enough training.
Teams may better understand each other's strengths and weaknesses by using employee time tracking software, and they can make sure that anyone who is falling behind receives the instruction they need to catch up.
Best Productivity Monitoring Software: DeskTrack
We have told you all about the wondrous and magical work of productivity monitoring software here, but you know the best way to learn them is to put them into practice for yourself i.e., use it, and try it out with your team. You may use the best employee monitoring software for yourself or for your business using one of the many time tracking applications available.
DeskTrack, an explicit, simple Productivity tracker for employees that is simple for teams to use, is one of the greatest productivity-focused software currently available.
You may use its features to design objectives for individuals, teams, clients, or projects, assign time to customers, projects, and tasks, rapidly produce invoices from your time entries, and more. The advantages of using productivity tracking software are obvious. It's time to experience those modifications for yourself now!