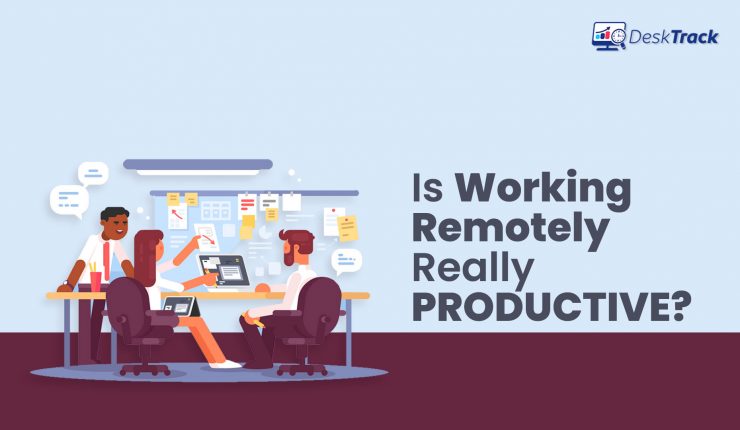 Is working remotely really productive? Nowadays, working remotely has become a productive trend. In this era of technology, apps, communication, and video conference tools make remote working more accessible. Working in an office has become less of a necessity for many businesses. Every business going to remote & operate easily, but the question has arisen, is remote working remotely effective? Because every organization is worried about remote work productivity.
A survey conducted by owl labs found that "70% of employees in the US are working remotely. Also many employees choosing to resign for a better work-life balance & shifting to remote work". 
Remote Work Productivity Statistics
When it comes to reducing business operating costs and managing work-life balance, remote working becomes a choice for every business and individual.  Here are some statistics on productivity while working remotely, confirming that remote working is on the rise.
70% of professionals work remotely for at least one day each week.

56% of startups around the world have outsourced their work to remote workers.

Employee retention rates rise by 10% in organizations.

39% of people working from home complete their tasks faster than those in traditional workplaces.

82% of remote working employees report lower amounts of stress than in their traditional offices.

30% of remote working employees said that telecommuting helped them to fulfill more in less time.

Companies of all sizes report large reductions in operating costs after implementing remote working strategies.

48% of remote workers say that working away from the office helps them to improve their motivation levels.

32% of staff find it hard to switch off in their personal time if they work remotely.
How Much More Productive People at Work from Home Compared to Office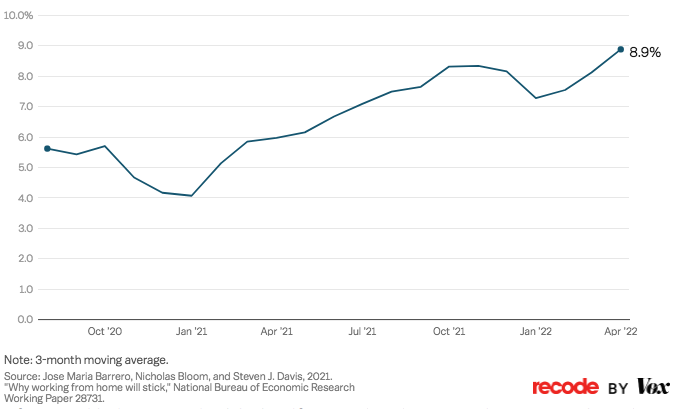 Impact of Work from Home on Productivity
Some companies still believe that Remote workers are more productive in the office instead of at home. Companies say that Working from home affects remote workers' productivity because they are in inattentive mode at home. They don't have fear of any senior persons and they can also do whatever they want,  it is not good for any organization. The impact of remote work is very bad and it is crucial
But in fact, according to forbes, Remote workers are more productive than those who work in an office. Because employees can set their own schedule, they can work when they are more productive, rather than 9-5. In remote work, employees work according to their flexibility they can't follow the 9-5 rule at home. Just because every person has their own time to be productive. If employees can do the work according to their work schedule can provide better results & increase remote worker more productivity.
Benefits of Working Remotely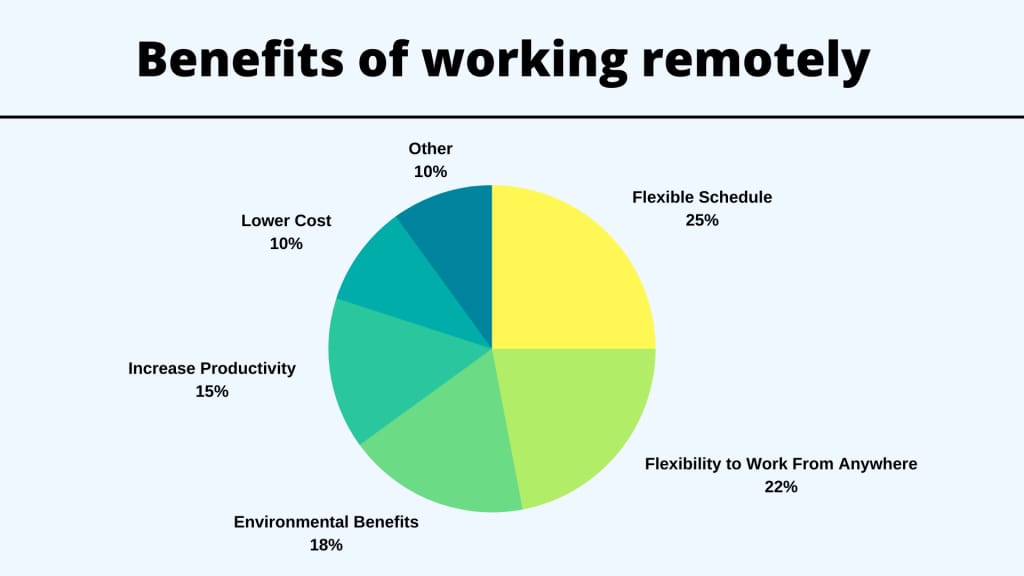 Productivity
One of the most crucial benefits that come with remote workers. Employees who work from home are more productive than their office counterparts. As the home is likely to be a more productive environment than a traditional office; employees can set up a place at home where nobody will distract them, which further helps them to produce higher productivity. It is the effect of remote work on productivity.
Hire More Talent
Hiring remote employees allows managers to choose 'the best of the best team'. Employers will be able to focus on hiring talented employees from anywhere in the world; who have the necessary skills required for a particular job.
Performance
Employees, working remotely, complete their projects and tasks with full quality as they are skilled enough for particular tasks. They lead to speedy and quality delivery of the project. Every employee wants to become productive at the work from home. Also, read Impact of remote working on employee engagement
Retention
There is also the biggest benefit of hiring a remote team, when it comes to employee retention rate, employees will be more loyal to the organization if the organization gives them more flexibility because it is the biggest requirement of many.
Profitability
Hiring a remote team also gives managers financial benefits as they can save a lot of money on necessary pieces of equipment, office workspace, and lower employee salary. According to the studies, Organizations save an average of $11,000 per year per remote employee, which is 21% more profitable.
The Disadvantages of Remote Working
There are also some significant disadvantages of remote work. The biggest problems are managing the productivity of remote workers as well as lack of communication, using high-cost communication technology, and lack of relationships among coworkers, which leads to social isolation, and sometimes it creates conflicts. Employees who work from a particular location with a poor internet connection many times face difficulties when attending online meetings.
The other major concern among managers is whether employees who are hired to work remotely are keeping up their responsibilities properly or not. Are they really productive or not?
Conclusion
It is clear that remote work productivity increases & already getting more popular even before the global crisis. Remote teams can produce much better results and save you thousands in cost. 
Managers need to implement some great strategies to reduce the potential feeling of isolation among remote employees. Measuring employee performance and productivity might be a little difficult at first but there are a number of Employee Monitoring and Time Tracking Software in the market that can further help both employers and employees produce greater productivity.
If the organizations are able to manage the cost of technological aspects then hiring a remote team can be a good option and they can definitely get benefits from the remote team while using the employee monitoring tool.