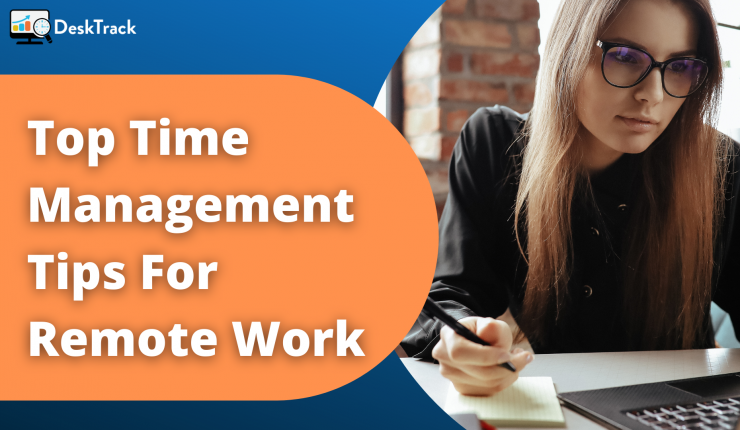 Does your remote employee need to improve their time management skills? These are the tips that, I used when I worked remotely, and my work-life balance was much better because of it. Here are some time management tips for remote workers.
With more than half the people in the world working from home; remote work is no longer just for a few people. Remote work is not just something that you can change over too quickly. Working at home is great because you do not have a boss watching your every move; but if you do not have a structure in your life, it is going to be very difficult for you. The fact that there are no physical boundaries between leisure and work can overwhelm some people.
Top Time Management Tips for Remote Employees

To manage your team remotely and employers having problems managing their time Then DeskTrack Remote employee time management software can help out. Our tested time management tips for remote employee management can also help you to improve business productivity.
1. Track your whole daytime
Track your team's whole day working time and what employees performing during the day is the best time management tip for your remote business. Take a day-wise report of your team and give the daily tasks to get the best productivity.  You need to know how you will be using the time that you have if you want to be effective. You must know how much time is needed for each task that needs to be done; so that you can plan your week. If you track your time, you can see what is a distraction while you are working, which will help you improve your schedule. It is also very important that you know how many hours you need to work each day; so that you do not end up burning yourself out. Doing this is easier than it was in the past because there are apps that you can use to track your time effectively. Many people who work remotely prefer to have a flexible schedule, but they still have a routine. The great thing about working outside of an office is that you have the flexibility.
2. Have Planned Breaks And Take Them Without Feeling Guilty
Another time management tip to manage remote employees is daily tasks and daily reports of their whole day's work. Due it applying this time management tip on remote teams you can save your employees from distraction or official politics. Studies have shown that people who take fewer breaks and time off work are more likely to burn out. Instead of trying to overload yourself with work and try to do as much as possible; rather set times aside where you can take breaks and stick to the times that you have allocated for this. Overworking yourself will just lead to you being less productive in the end. Remote workers are always trying to balance rest with work. It is advisable that you do not work intensely for more than an hour and a half at a time. It's not necessary to take massive breaks, just a few minutes will be enough. It has actually been shown to improve your cognitive performance by taking micro-breaks.
3. Stay Conscious of Meetings And Events
There are not many things worse than being dragged away from your work to attend a meeting; that you forgot about. Even though you have the chance of doing very productive work when you work remotely, you still need to keep track of team meetings and events. Even if you just write down these events on a piece of paper and stick them on the wall close by; you need to do something to remind you about them. Missing them can really mess up your work schedule. It is a good idea to check if there are any meetings for the next day before you end your workday. If you find that you are missing things regularly, or they are interrupting your work schedule; you could try and use a smart calendar to keep you on top of things.
4. Convert to PDF
Even though there are many word processing programs available, it does not mean that everyone in your team will be able to access all the documents that you send to them, as they may have a different program. If you convert to PDF all of your documents then everyone will be able to open them, as it is a universal format that anyone can access. You must remember that you want to make things simpler when you work from home, or wherever you choose to work. Keeping everything in PDF format will make things a lot better for everyone involved. Just imagine how you would feel if you were sent a whole lot of material and you could not open it – it would frustrate you and take up unnecessary time that you need for other things.
If you follow this advice, you will soon find that working remotely is actually great. No more sitting in traffic to get to work and no more bosses hanging over your shoulder, watching your every move.
5. Track your time
Time tracking software is a powerful tool that allows remote workers to keep track of their time working on multiple tasks. Using time tracking software increases accountability and ensures that your employees aren't wasting time on social media (or worse). There are many different time-tracking software solutions available, but DeskTrack is one of the best solutions for remote work time management.

6. Keep track of meetings and events
daily meetings and social events are the best way to connect with your remote team daily basis and the best remote employee time management tips to make a team remotely. Whether you work from home or sit in a bustling office, there are probably times when you are so busy with your tasks that you lose track of time. This can be an issue when it's time for a meeting, or to give presentations. You may even miss deadlines or appointments while working remotely. This can make it easy to double-book yourself and then fall behind on important projects. Do not risk this! Use DeskTrack to track your daily routines and time management strategies for teams.
7. Eliminate distractions
Eliminating distractions is the best time management tip for remote working companies.  Have you ever wondered how to work more efficiently, not waste time and get better results? No more distractions when working remotely! One of the biggest problems with remote workers is distractions. Desktrack has created a time tracking software solution that allows you to block your time management areas. Are you ready to work productively?
Final Thoughts
The best way to improve your productivity is by managing time. Seems obvious but for many people, time management is a big problem. When you are remote it is even easier to waste your time without realizing it. There are ways, however, that you can use to manage your time as a remote worker.
Apply our time management tips to your remote team to convert employee's productive side. We are expecting a revert from your side. how much do our tips work for your team?