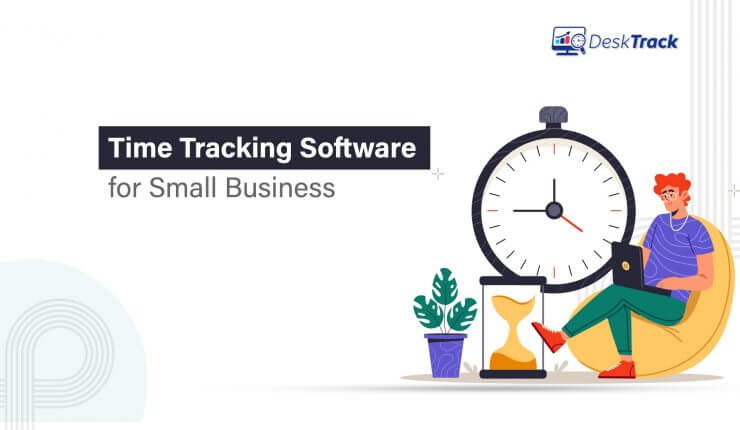 Small business Time tracking software in India is an essential & great tool to enhance the productivity of employees as well as the company. Employee time tracking software for small businesses gets back to the basics of productivity, which is crucial as there are many tasks that need to be completed throughout the day. With small business time tracking software, it's easy to figure out how much time each person spends working on different tasks and different duties. 
Table of Contents
How Time Tracking Software for Small Business Works?
According to Stats, "11 Billion is the cost of employee time theft & 7.4 Billion money lost per day due to unrecorded employee activities. 
We must understand the importance of employee time tracking software for small businesses. 
Best small business employee time tracking software is not just a need of a modern-day business, but also highly efficient and useful in recording employees' work. It helps you to monitor productivity, error rate and time lost.
Why
is
Time Tracking Software for
Small Businesses
Important?
Best idle Time tracking software for small businesses is important because it helps in saving employees' productive time and removes idle time.  Small business time tracking software to monitor remote employees is essential to enhance business productivity, understanding of employee working style, and smooth workflow. Keeping track of your own time is critical whether you're an executive, a manager, or a team member.
​​Time tracking app for small businesses helps owners to manage their businesses and make sure that they are doing everything right, even when they are not around. It helps them keep track of their employee's working hours so that they can reward those who work hard without rewarding those who don't do anything at all.
Read more: Top 8 Reasons Why Time Tracking Software is Important for Employees
Benefits of Time Tracking Software for Small Businesses
There are a lot of benefits of small business time tracking software available in them some of the best benefits of using time tracking software for small businesses we are sharing which gives a boost to any kind of business.
1. Track Employee Hours
Track every minute spent on tasks to find out how long it takes to finish projects. Time tracking allows you to monitor total work time in an easy way. It can be easy to track every task. 

2. Accurate Employee Timesheets
Best Timesheet software for small businesses helps you accurately capture employee hours, billing and payroll. Employees can work from home, or from the office, depending on their requirements.
3. Manual Time Entries
If manual time entries are required then they should be made using an approved method such as DeskTrack (the best timesheet software for small businesses). These methods allow users to input their own timesheets in an easy manner, which makes reporting on individual employee loads easier for managers and HR professionals alike.
4. Efficiency 
By monitoring the time taken by employees, you can easily identify the areas where they need to work more efficiently. You will be able to improve productivity and efficiency which will help you save money.
5. Clock in & Out Easily
Time tracking software provides an easy way for employees to clock in and out at work. Employees can be reminded of their start times and end times. Also provide their current location when asked by managers. This makes it much easier for managers to monitor their team's whereabouts.

6. Create Custom Reports
Time tracking software also allows you to create custom reports for any week or month. Reports can be based on individual employees, or they can be grouped together by department or job role. You may even want to make monthly reports that include everything from hours worked per day to customer complaints about late deliveries.
Types of Time Tracking Software Available in Market for Small Business
There are many types of time tracking tool that are available in market for every kind of business.
Timecard Software for Small Business
Timecards software are a way to track employee hours and productivity. Best time card app are used by businesses of all sizes, from small to large, to help keep track of their employees' time. Timecard systems can be used for both hourly wage employees as well as salaried employees. Timecards are used by small businesses and large corporations alike to track hours worked, overtime worked and other employee activities such as training or management meetings.
Timesheet Software for Small Business
Small Business Timesheet software can help your business stay organized and on track. The tasks are easy to see at a glance, allowing you to see the progress of your team or projects. You can easily see where time is being spent, which helps avoid time theft or overworking employees.
Time Management Software for Small Business
Time is money and time management is the key to success and productivity. Staff Time management software will help you organize your time, manage projects, set goals, track progress, and analyze performance. The best time management software for small business can help you get more done by helping you manage your time more effectively.
Time Clock App for Small business
Time Clock is an easy to use time clock app that allows you to track employee hours, overtime, and other job details. The free version of this app is limited in its features but can be used for basic tracking. There are several different versions of Time Clock available for sale depending on your needs. The paid versions offer more functionality such as advanced reporting and integration with third party applications.
Consulting Time Tracking Software
Consultant Time tracking software is a great way to track time, and it can be used by small businesses and individuals alike. The software allows you to track all of your engagements, including meetings, tasks and projects.
With best time tracking software for consultant, you can easily keep track of how much time each task takes. You'll also be able to see how long it took for that task and how long it should take in the future. This information is useful for planning future work or determining if there are any issues with the workflow process.
Time Tracking Software for Retail
Retail Time tracking software for retail is a must-have in order to keep track of your employees' working hours and their productivity. When you have best time tracking software for retail, you can easily see how long an employee was on the job, how many hours he or she worked and if he or she was productive. You can also create reports that show how much time each employee spends on different tasks.
Time Tracking Tools for Online business
If you are an online business owner, then you need to be aware of the fact that time is money. It is so because time is the most valuable asset that any person or company has in his possession. If you are not able to track your time properly, then it will be very difficult for you to determine your earnings, losses and profits.
What is the Best Time Tracking Software for Small Businesses?
As there are many software's available in the market. Time tracking software for small businesses is mainly useful to track employee activity with time & take a report. So that we consider the tool that provides real-time data on employee reporting. You can use DeskTrack as one of the best time tracking tools for small businesses. It contains all the features that an ideal time tracking software has with real-time data. Also provides real-time data of employees which is very helpful in making custom productivity reports of every employee. 
In additional features, you can make custom reports employee-wise, department-wise, role-wise, time-wise, etc the many filters are given according to user requirements. 
How Technology Involvement Can Improve Business?
Every business growth has a biggest contribution of technology. Technology involvement can improve businesses more & help to reach on growth heights. In today's market, we have many tools to help in business like CRM, Accounting, Hr, Employee monitoring, time tracking , productivity monitoring, etc. These tools have proven record of reduce the man efforts in business.
Technology helps a lot to businesses in terms of finance, customer relationship, employee tracking, etc. According to Znet.com, "In 2021, 60% of enterprises will invest heavily in digitizing employee experience, transforming the relationship between employers and employees".
Conclusion
Time tracking software is a crucial tool for small businesses. It's an easy way to make sure employees work at maximum efficiency, and it's also a consistent, reliable way to get and keep detailed records of all business expenses. If you haven't already, consider making the switch to time tracking software now so you're prepared when tax season rolls around.