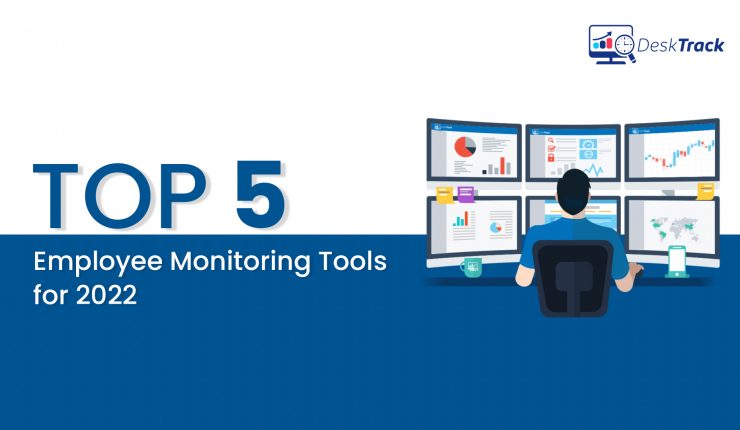 Which monitoring tool options do you have at present?
Which tool is most used by esteemed organizations to monitor employees?
Which is the best tool among them?
Various business management and optimization tools are currently in the market. Among them, employee monitoring software tools stand sophisticated and most functional. Even the professionals are raving about the same. These tools are adequate for ensuring working standard compliance, increasing productivity, data security, etc.  In Covid 19 pandemic employee monitoring tool that allows you to keep track of your employees' activities, including access to their computers and online accounts through remote work.
According to a report, 7 out of the ten employee spends 60% time of being productive in the workplace. The rest of the time gets wasted on trivial matters. 
As stated earlier, employee monitoring software may help you improve your employees' overall productivity. However, if you are dwindling while choosing the employee monitoring software for your organization, we are here to help you.
These 5 employee monitoring software list has been selected by our team of experts and they look great!
Here is the top 5 employee monitoring tools list. 
Desktrack is another renowned employee productivity software that offers features like real-time insights, 100% transparency at the workplace, managing the payroll with productivity reports and accurate timesheets, tracking time for recording login, logout working time/idle time. Employee monitoring tools in India can be used to track and monitor employee behavior, as well as to help you communicate with them.
Desktrack allows identifying the skill gaps and bridging the same with practical resources and technology. It helps the employees to hatch up the steps without affecting their productivity. 
Managing the attendance manually with registers or biometrics may lead to errors. Therefore, it can be more cumbersome for the management to detect the anomalies and eliminate them accordingly. However, Desktrack has made it easy with its time tracking software. It provides real-time insights that make the task easier for an organization to track an employee's productivity. 
DeskTrack has a unified dashboard to maintain 100% transparency. It includes summarizing the entire teamwork report within a single portal, manager and employee logins for the team, and accessing the team from anywhere, anytime. 
DeskTrack can run on Mac, Windows, Linux, Android, and iOS platforms. It offers three packages that are Desklite, stealth, and tagger. Choose as per your requirement. 
It's a popular productivity monitoring software. It can run on Mac, Windows, Mac, Chrome, and iOS and Android phones. 
ActivTrak is the employee monitoring software that has informative dashboards. It will provide you with a detailed summary of workforce performance and productivity trends. Here, productivity trends refer to the most productive time of employees for a day. Additionally, you will get a chance to set the usage limits for certain activities. Therefore, the employees will get pop-up alerts either go back to work or take a break. 
It is considered one of the best employee monitoring software tools as it has few advanced security features. For example, you may threat detection, user and activity risk scoring, remote vendor access monitoring, and risk level reports. Additionally, this tool allows you to record employees' computer activity, flag screenshots, detect file transfers, and block websites. 
ActivTrak can be integrated with productivity tools like Salesforce, Zapier, Xero, etc. It also offers support via email/phone,/online. It has other helpful resources like blogs, educational resources, and video training. 
A free version of this software is there, but only three users are limited. However, it has an advanced plan which costs $7.20 per month. 
Teramind is an employee monitoring and data loss prevention software. It allows for tracking the user activities on programs, applications, websites, emails, and instant messaging. Teramind has a keystroke monitoring feature that tracks, captures, and records the keystrokes. Therefore, business owners can get insight into employee productivity and attitude. Additionally, it has a remote desktop control feature that allows taking control of the employees' desktop or laptop to prevent and eliminate any untoward situation accordingly. Employee monitoring software freeware is a software application that helps businesses monitor employees.
Other advanced tracking features, including network monitoring, file transferring, social media, and instant messaging, are a few top-notch features of Teramind. If you are looking for software, which can protect your company and its clients, then Teramind could be your best choice ever. 
You can reach the support team via phone/email/outline. Besides, there are helpful resources like a help center, blog, ebooks, and videos. It is flexible for deployment in the cloud, on-premise, Azure, and AWS. 
A minimum of five people is required to implement Teramind. You will get a 7-day free trial, and the starter plan costs $12 per month. 
Desktime has both employee monitoring and time-tracking functionalities. It can run on various platforms, including desktop and mobile devices. 
Desktime has the features like app and website categorization, screenshots, and document title tracking with a set of customizable reports. A good PC activity monitoring software can protect the employee's privacy.
Visualization can be blurred and private time can be set by the user. In other words, the tracking program is able to be turned on and off at their discretion. Integration with projects and calendars is possible. Customers can access helpful resources such as blogs and webinars on the site. You can contact customer support either online or via email for any assistance.
There is a free Lite plan that is limited to one person. They provide a Pro plan for teams. It costs between $4.20 and $7 per user each month, depending on the number of workers. A 14-day free trial and a volume and yearly membership discount are also included.
Monitask is a productivity tracking tool that may help you track staff performance and increase productivity. It may coordinate tasks and projects to ensure that projects are completed on time and on budget Monitask features a time-tracking function that you may use to figure out which activities are taking the longest to complete and devise strategies to make them simpler and easier to finish.
Monitask is the finest employee monitoring software for checking how employees use their computers during work hours since it breaks down the websites and programs they utilize. If an employee's productivity diminishes, you may look at their computer usage to see, where they spend unproductive time, such as on social media sites. It also features a screen capture capability that takes random screenshots to keep staff alert and prevent them from visiting non-business-related websites and apps.
Monitask's monthly subscription starts at $4.99 per user, with a 10-day free trial.
The bottom line 
There is no one-size-fits solution for organizations when choosing the employee management software tool. Based on the current market scenario, you can choose from the above list to fit the organization's needs. Employee monitoring tools work by providing real-time feedback to your employees. If you are ready to take the plunge, there is nothing better than employee monitoring software. Most organizations have already chosen the tool; it's your time now. employee monitoring tools for Windows are software programs that allow you to track employee activity on your computer or mobile device. They can be used for tracking employee attendance, productivity, and other key performance indicators.