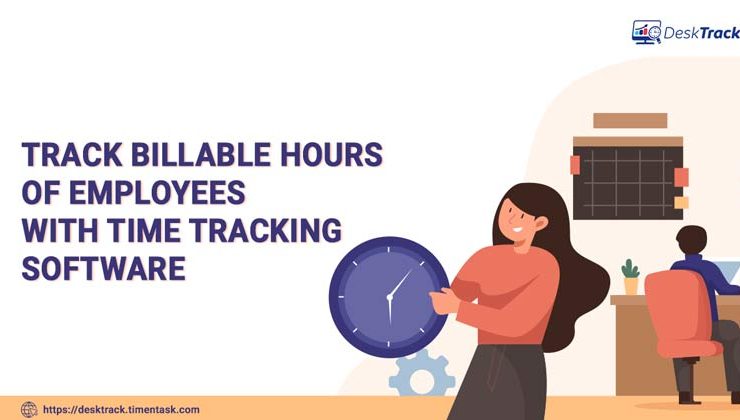 Do you track billable hours of your employees? If it's a big no, then you should go for it. Because not having track of your employee's working hours can cost your company a lot of money every year, maybe in lakhs or billions. In general, it is clearly known as time theft. 
Table of Contents
How to Track Billable Hours of Employees with Time Tracking Software
As per the analyses of FinancesOnline, it is stated that the US economy loses $11 billion alone as the result of time theft, which leads to more hours than those an employee worked for. The above-mentioned reference also says that $7.4 billion and 50 million hours are misplaced daily because of unlisted exercises. Therefore, these only statistics displayed the significance of time tracking at a single place. 
However, many business owners still do not believe in tracking the billable hours of their employees or undervaluing the procedure. 
The studies of manyrequests show around $50,000 have been lost by U.S. businesses each year because of unseen billable hours consumed on client emails. So, with the help of a daily timesheet, businesses can regain approximately $52,000 per employee in a year. 
Therefore, the more profitable conclusions come from real data, not through predictions, and there is no more suitable method to do this than by dipping into time tracking software. It helps businesses to save the misuse of time at their workplace. 
What is a Billable Hours Time Tracker?
The billable hours time tracker allows you to track the working hours of the users and simplify customer billing. Employees can monitor their working hours and determine the billable hours and non-billable hours by calculating the time spent per task, productive, and idle time. 
Accordingly, apps that track billable hours help to enhance team engagement, performance, and productivity by tracking hours, attendance, payment management, and invoicing. We can also say that the app for tracking billable hours makes it easy for your employees to estimate their working hours, have track of their projects, and schedule their agendas consequently. 
Why Should you Track Billable Hours?
Many companies in the market are not tracking the billable hours of their clients even when they get paid on an hourly basis, and that leads to unfair and unclear invoices because of inaccurate billable hours data. Whereas some firms, even when they do not charge based on hours, use the software to track billable hours without letting their employees know to signify earnings, clarify defined rates, and identify where the team is investing or wasting time. 
Billable hours provide companies with multiple implementation measures like operating rates, billable agendas, and completion prices. Also, tracking billable hours are very beneficial for employees too. Having the exact data about your billable and non-billable hours is very essential for organizing performance reviews.
Reasons to Invest in the Best App for Tracking Billable Hours
Investing in the best app for tracking billable hours can help companies in multiple ways, whether it is about improving the overall business operations or billing accurate data. So, below given are some of the reasons that will let you know why you should implement a tracking billable hours tool in your organization: 
→ Boost Employee Accountability
With software for tracking billable hours employees can self-assist themselves and monitor their everyday performance, accountability, and activities. For instance, they can track their working hours spent on each task, time spent on social media, and other personal activities that are not actually beneficial to the company. 
→ Streamline Payroll Processing
Keeping track of billable hours can help organizations streamline payroll processes with ease. The software can track the login/logout time of each employee with their work performance which leads to simplified payroll. Therefore, it is the best option for streamlining HR work regarding employee error-free payroll and attendance management.  
→ Keep Accurate Records
Apps that track billable hours help you maintain complete transparency and clarity among the clients. It keeps all the data and information that can be needed or demanded by the clients in any aspect. 
→ Track Expenses
The best app for tracking billable hours helps you to manage all the expenses, including the other additional costs. Also, it allows you to generate accurate bills and invoices for the task assigned. This helps in connecting with future clients as well because of accurate estimates generated by the software. 
→ Reduce Operational Costs
The billable hours tracking software makes the manual work or employee tedious work easy as it can manage all the invoicing or billing-related work with login/logout, attendance management, and many more. This saves a lot of time and effort given by the employees and reduces the overall operational costs.
→ Improve Team Productivity
One of the best options for enhancing your team's productivity is through apps that track billable hours. It will help you track and monitor the working hours and idle time, simplify work patterns and reduce task overlapping. It helps employees to work with more focus and reduce the efforts that they are working on because of the lack of necessary tools or support.
Best Apps for Tracking Billable Hours of Employees
As we all know, "time is money" which means it needs to be properly utilized for better outcomes. Therefore, time tracking for billable hours is the best option to record or manage any data as well as crucial for removing the excessive necessity to manually record the time spent on tasks during a working day. Here are some of the software for tracking billable hours: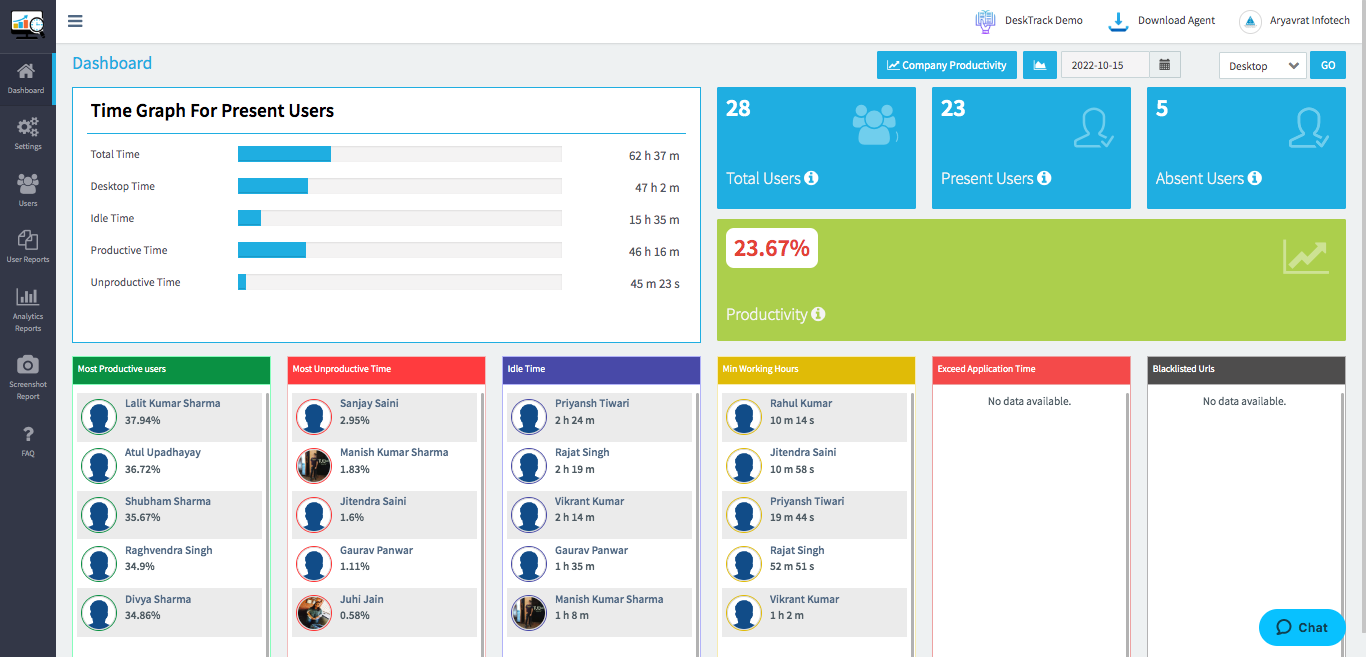 Features & Advantages:
Flexibility: manage 100% transparency at the workplace

Tracking and monitoring: record actual login, logout, working & idle/break time

Payroll management: manage the payroll with accurate timesheets & productivity reports

Analyze employee performance: optimize the team's workflow & business process

Reduce operational cost 
2. TSheets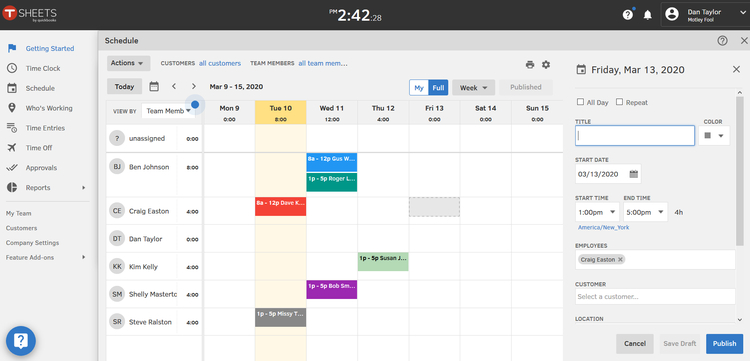 See the status of all your projects at a glance. Set geofence boundaries to automatically remind employees to clock in and out. Gain valuable business insight with real-time, interactive reports. 
Features & Advantages:
Adjustable timesheets: Track your time anywhere with any device (Android, iOS, mobile phone, laptop, tablet) 

Monitoring and tracking abilities: Managers can have track of teamwork and who is assigned to a particular task in real-time. 

Integration with existing apps: sync up with timesheet data
3. Toggl

Stay informed, accountable, and transparent. Make payroll and quarterly reporting easy with intuitive time tracking and accurate time reports for growing teams. It is the best tool for remote teams for flexible and better workflow. 
Features & Advantages:
Streamline the strategies: easy time tracking and task management

Reminders or notifications: the Toggl Button and Toggl Desktop apps give reminders when not tracking 

Record time entries: record idle time, productive, away time, and calendar integration
4. Accelo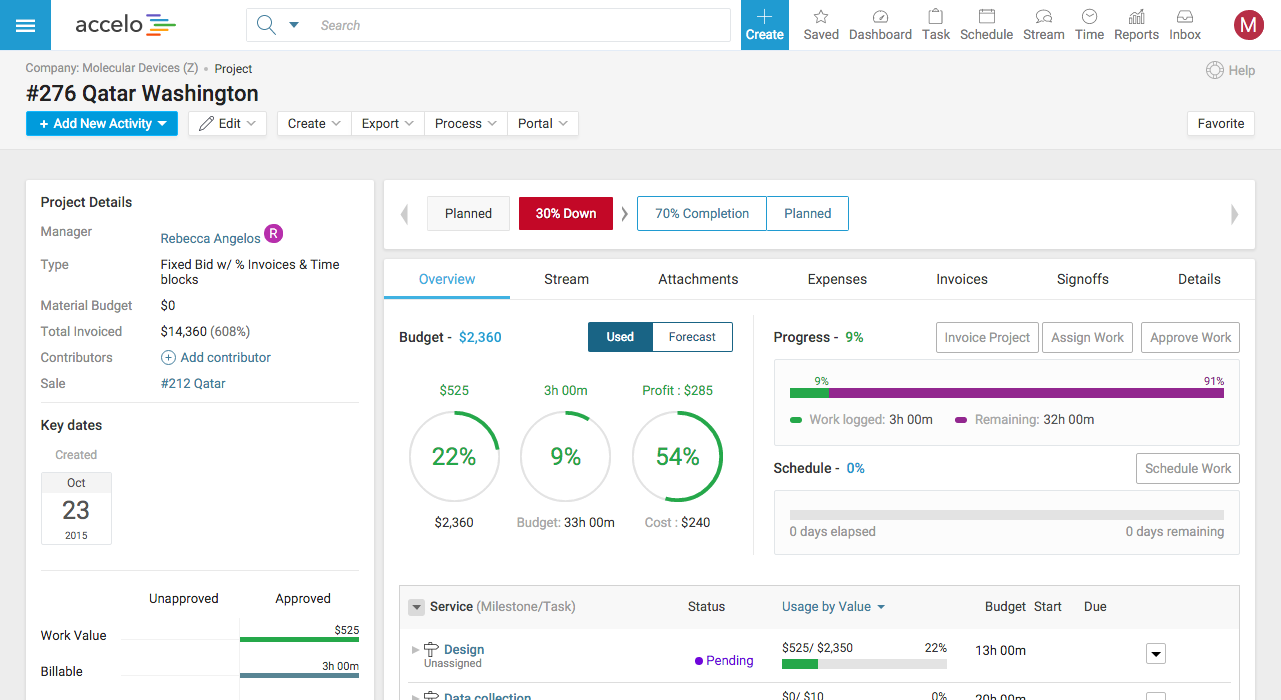 Track and measure business performance and profitability while forecasting and preparing for the future without needing another tool. Integrate teams, clients, and work into a single platform to easily access the most up-to-date information.
Features & Advantages:
Automated time tracking: automatically capture and record time effortlessly.

Seamless integration: with platforms that you're already using. 

Track activities: provide the ability to keep track of your work.

One integrated platform for all business purposes: manage your business from potential to error-free payment.  
5. Harvest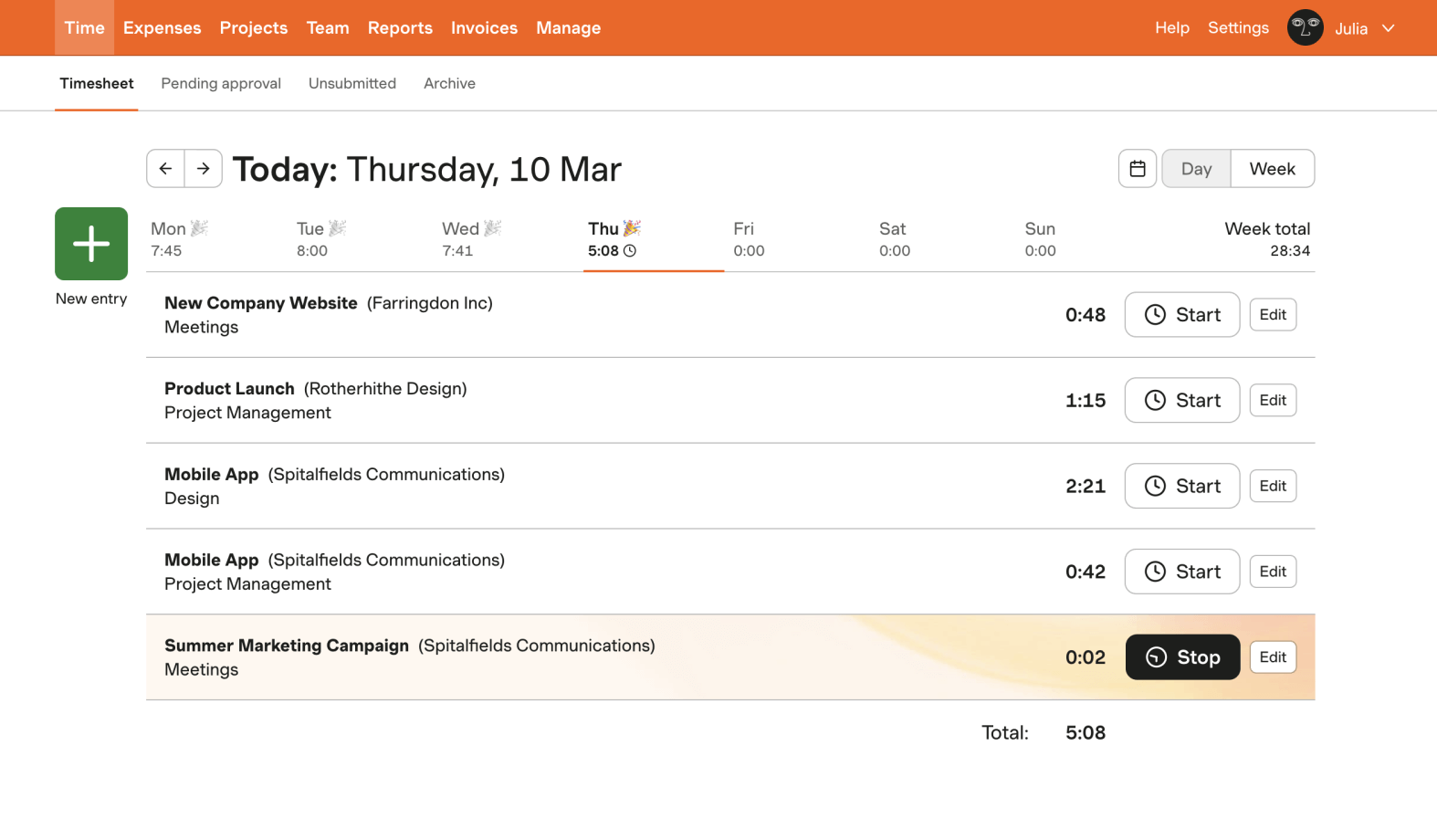 Features & Advantages:
Comfort: add timers to your desktop for efficiently available time tracking.

Visually detailed reports: the platform will even collect your timesheet data and provide insight to your team into what's going on. 

Billing and invoicing: create an invoice from your billable hours, mail it to your customer, and get payments online. 
6. ClickTime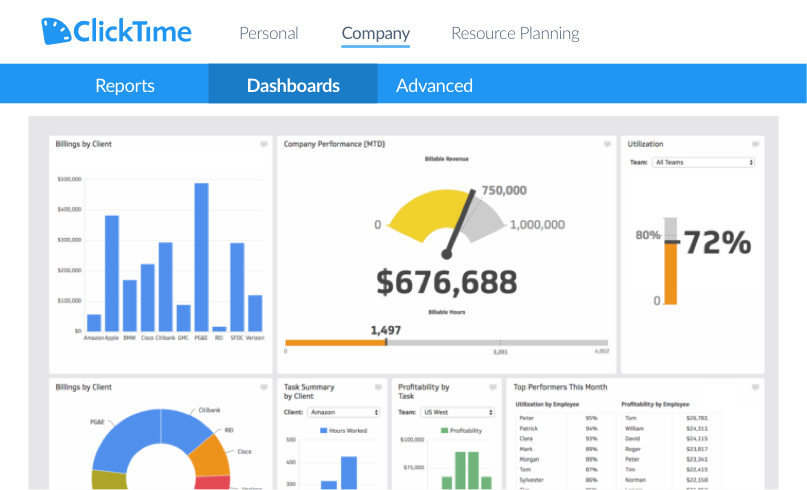 Track how much effort is placed into each initiative, measure their costs, and analyze their performance. So when it's time to choose your next project, you'll always know which ones are worth investing in.
Features & Advantages:
Time tracking: track time easily with multiple alternatives.

Take advantage of the ability to export timesheets or payroll 

Set automated reminders: help you save more time to dedicate to top priorities.

Streamline tasks and projects: facilitate the capacity to copy repeat tasks or time functioned
7. Timely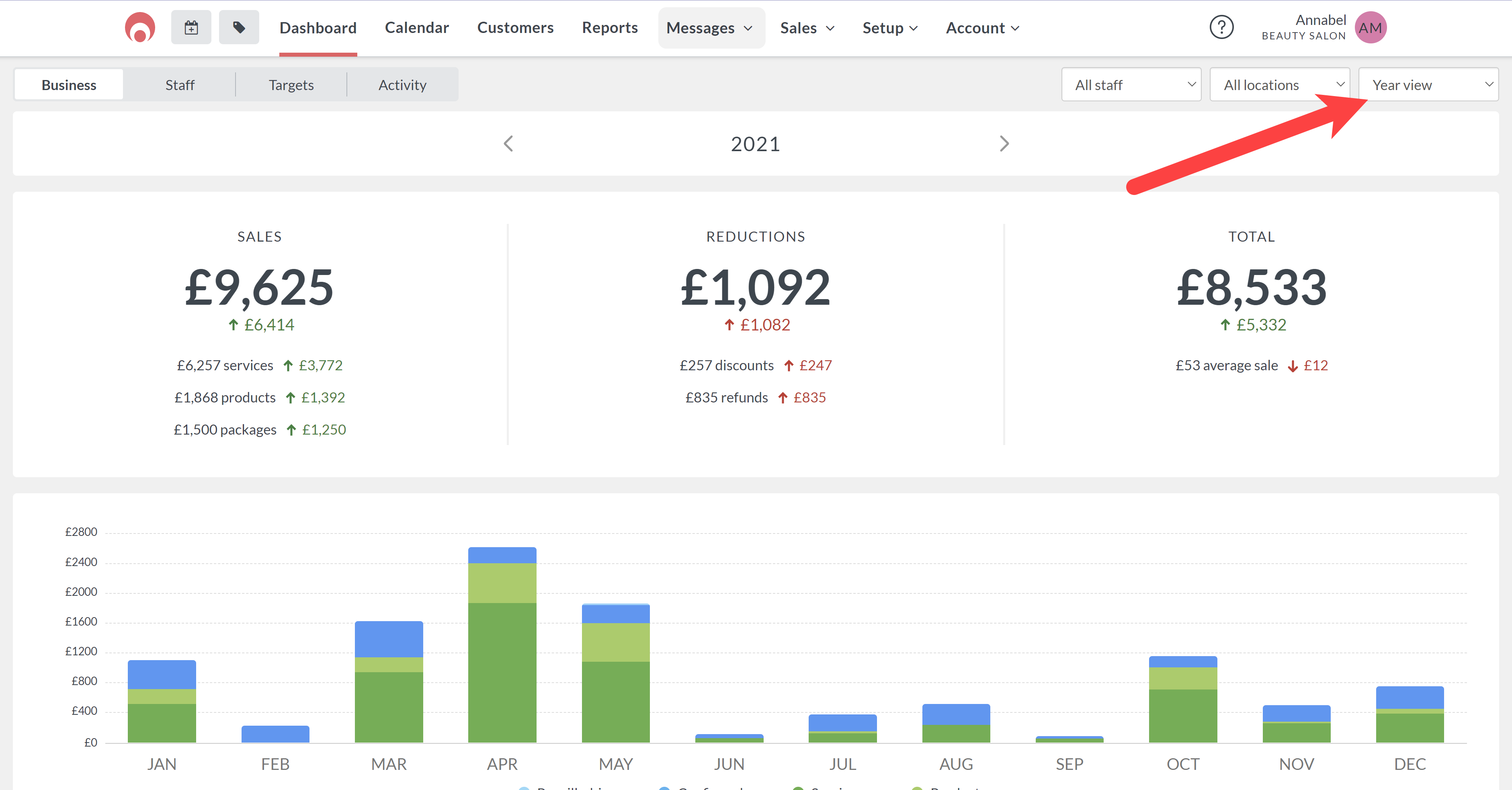 Empower your team to manage their productivity, and stay on top of performance, well-being, and workload without compromising anyone's trust. Also, access the benefits of automatic time tracking with flexible subscription plans that scale to meet your needs.
Features & Advantages:
Tracking and monitoring: records everything with its Memory Tracker 

Secure your data: locate it in the private timeline

Suggest valuable time entries: provide complete flexibility and effortless functioning 

Rename suggested entry titles

Modify grouped activities

Reassign tags