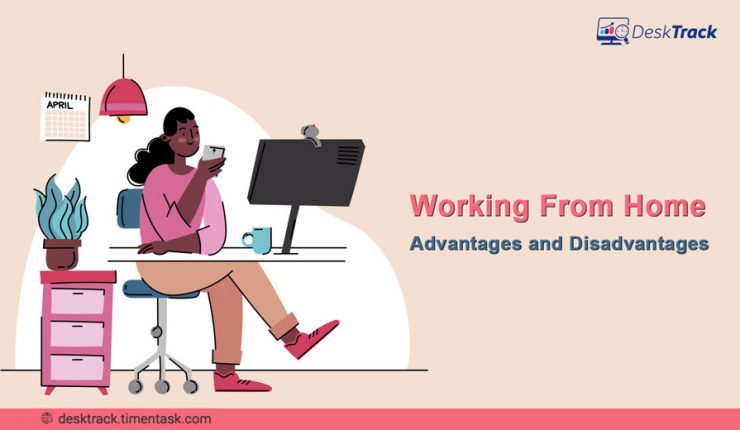 Who doesn't like to work in his comfort zone? I don't think you would answer it as no! Therefore, as per some good statistics by Owl labs  I don't mind sharing a perspective on 'work from home advantages and disadvantages' because now 59% of respondents prefer employers who offer remote work as an option too.
Table of Contents
Working From Home Advantages and Disadvantages
As you will read through the lines of this blog, you will know that working from home nowadays is merely not an easy-going option for employees but it has become a sign of increased productivity in an organization too. A study by Stanford says that the performance of an organization has increased by 22% ever since employees have chosen to work remotely.Post-COVID, most of us had this doubt about how long work from home will continue, and whether it would be preferred by organizations or not. Needless to say, now that good organizations are more concerned about the productivity at work delivered by their employees rather than their presence in the workplace.Ever since working from home has become a culture altogether, forming its entire set up of rules and regulations, Work From Home Productivity Tools, ethics, etc has become pertinent. A big thanks to technology and innovation that has made the entire process work in a smooth flow.
Work From Home meaning
You all may find it a little weird that why would I share the meaning of work from home here when it is very self-understood by the phrase. The only reason is that when we are speaking of work from home as an entire working culture or organizational set up then we need to know how most organizations define this phrase called ' work from home' in their perspective.
Some organizations define work from home meaning as work being done remotely. Nowadays, the wfh acronym is being used in messaging tools such as 'Slack', 'instant messaging', 'and text messages to tell their contacts that they are working remotely. 
Some organizations have created their version of work from home such as Doximity finds wfh Wednesdays as most beneficial for its employees. The logic for implementing wfh in this version is that it prevents employees from going through a midweek slump. Giving this flexibility in the middle of the week also enhances productivity for the next three days of the week.
Also, there are organizations where some employees are working from home in a full-fledged form. They are setting up their work accessories like a dedicated laptop, internet along with business applications inside their home. Besides, some are traveling to their office half of the time and working from home occasionally.
Work From Home Advantages
Since now, we have been talking very optimistically about work-from-home culture, I think there is no harm in learning more good points called 'work from home benefits below'!
1. Save commutation time 
We all know that time is money. What can be better than a scenario where you are saving time and money? Also, you are not just saving but also earning proportionally. Needless to say that this sense of work from home advantage encourages an employee towards a 'savings' mentality.
2. Flexibility of mind and schedule
Because everyone is different and differs in their habit of starting and ending their day. Therefore, to ignite creativity and productivity at work it is important to provide flexibility of mind and schedule in the work culture.
3. By Default enhanced productivity 
Several studies of the last few years have shown that employees working from home spend 10 minutes less in a day being unproductive. Such employees have shown to be 47% more productive than the ones working from the office.
4. Greater Scope of Inclusivity 
Gone are the days when specially abled groups, women with childcare responsibilities in our society had to face innumerable challenges at the workplace such as prejudice, unequal treatment in promotion, etc. Now, women who have access to work from home are 32% less likely to leave their jobs than women who do not have access to the same.
Work-From-Home Disadvantages
Now, for sure I would not want y'all taste buds to be saturated with sugary perspectives. Hence, it goes without saying that where there are advantages to something, there exist some disadvantages too. Therefore, below are listed work from home disadvantages from various perspectives:
39% of respondents feel isolated while working from home due to by default (for some obvious reasons) reduction in communication with their colleagues. 
2. Distractions and lack of typical working environment 
The end of the list for distraction is unknown. Some of those are Social media, Smart Phones, Binge-watching, kids, gaming, news media, pets, online shopping, partner, etc. As per Statista Research Department, 53.7% of employees working from home in the U.S. were facing maximum distraction by the usage of their smartphones.
3. Lack of data security 
Though technology and innovation are running on their peak these days, data security is also a major concern in itself. As per a statistics, remote work has caused a data breach for an average cost of USD 137,000. Moreover, security breaches were caused in 20% of organizations by remote workers.
4. No motivation around! 
As per the statistics, 29% of remote employees felt a lack of motivation. Not everyone is self-motivated. There are some who require external motivation to provide relevant outputs at work. Lack of a workforce environment tends to easily trap an employee in unmotivated psychology toward work.
Work From Home Tips 'Productivity'
I understand that it's a bit discouraging to acknowledge the disadvantages of working from home to some extent. Worry not! There exist solutions to every problem in this universe. Below is some work from home tips to realize productivity at the workplace:
1. Time to eliminate digital distractions 
As mentioned earlier, the highest form of distraction faced by employees working from home is a digital distraction. Therefore, it is advisable to find ways to eliminate the same. Some of the ways are :
Managing your phone's notifications

Remove your digital devices from the workplace

Schedule your 'distraction breaks'

Seek help from this time management tool called 'calendar blocking'.
2. Schedule a time to check emails 
Though checking emails is related to your job work, unknowingly the activity is also a sort of distraction. Checking emails without following a set schedule breaks the flow of work
3. Practice Mindfulness 
It is common for our minds to get stuffed with unwanted data due to our day-to-day activities. In such a situation, practicing mindfulness is a great way to channel your mind toward accomplishing set targets.
4. Prepare a to-do-list 
Concerning the above given tip, preparing a to-do list for a whole day's chores would be a cherry on the cake to avoid distractions and enhance productivity.
Which Tool is Best to Monitor Work-From-Home Employees?
I am addressing this question from an employer's and organization's perspective. This is a concern for every employer somewhere how his employees can provide a maximum output of their work being in their comfort zone of working from home.
So, here is a sigh of relief to the employees when I am going to lay out the best employee monitoring tool for all the employees reading this blog.
DeskTrack 
Desktrack is an employee monitoring tool that comes with the latest problem-solving features and becomes a platform for project management solutions.
Below are the modules provided by Desktrack that works best for employers who provide work from home to their employees:
 This feature of the product ensures enhanced workforce productivity by 40%, workforce management, work quality, and transparency.
This feature provides details about the websites, apps, and files worked on by an employee. It prevents employees from using unauthorized and irrelevant websites during work time.
This feature allows an employer to calculate the idle and working time of his employees. Hence, this feature reflects the working pattern of the employee and also the time utilized.
This can be achieved by features like virtual attendance of employees, scaling the utilization of resources, and computing team's efforts by learning the websites, apps, and files used by them to complete the task. All team members, whether working remotely or from the office are connected through this channel of Desktrack.
The features of Desktrack like silent and visible working, desktop activity logs, log in & log out time, working and idle hours, offline and online tracking, application tracking, URL tracking, file tracking, productivity calculator, department and team-wise analytics, etc makes the software to behave as a productivity booster.
Why are Employers Against Working from Home?
Managers are generally skeptical of the fact since working from home would reduce face-to-face communication so there are chances wherein employees can miss schedules and deadlines. 

Employers mostly tend to doubt the productivity of their employees

Employers are worried about the fact that there would hardly be any coordination and teamwork between their team members.

Employers generally find it challenging to manage projects when everyone on their team is not in the same physical space. This results in certain loopholes while executing the project.
How Long Work from Home Will Continue?
As per the increasing preference of employees towards working from home, the study found that demand for the same is going to be increased in the future. As per some data scientists at Ladders, 25% of the professional jobs are going to be turned to remote work by the end of 2022. Also, the remote opportunities are going to be increased through 2023.
Besides, as per a survey by ET, it has been found that 50% of the companies are going to put the option for a flexible working model open in the long run.
Additionally, as per Global Workforce Analytics, 56% of the US workforce holds a job that is compatible with remote working models. Moreover, 25%-30% are going to continue remote work even after COVID-19.
On the other hand, a study by the economic times states that companies in 2023 are preferring a hybrid model of working.
Work from Home vs Work from Office
Sno.

Work from home

Work from office

1
Trust concerns – Employees doing work from home face trust concerns while doing work from home
Doing work from the office rarely comes across trust concerns as employees face a lot of supervision and scrutiny by their employees.
2
Scope of skill upgradation

– While working from home, there is a lot of scope for skill upgradation as there exists a lot of mental flexibility for an employee to focus on his skill upgradation.

Work from the office more often includes engagement in organizational stuff and networking with colleagues.

3
Economic benefit to employers

– Employers save a lot of cost on office equipment, accessories, electricity, and other basic facilities for employees.

In the case of working from the office, the more the employees, the more there is the expense on electricity, sitting arrangements, basic refreshments, etc.

4
Reduced Commute

– A reasonable amount of monthly income on the commute is saved in a remote working model.

Working from the office doesn't provide the leverage of saving on commuting. Rather it adds up to monthly expenses even if the commute is arranged by the organization.

5
Work-life balance

– It becomes challenging to maintain a work-life balance in a remote working model. The reason is that in this model workplace and home tend to coincide. Therefore, self-discipline and scheduling are required to achieve a work-life balance for an employee.

Achieving a work-life balance in work from the office is no effort in itself. The routine of reporting to the office at a fixed time, and spending that 8 – 9 hr at work separates personal and professional life by default.
The bottom line 
The bottom line of the subject matter is whether you choose work from home or work from the office as your working model, the ultimate aim is to deliver productivity and justify your employment. Ensuring this on your part, organizations tend to extend reasonable leverage to their employees.
Also, ensuring work-life balance while adapting to this new working model is very significant.