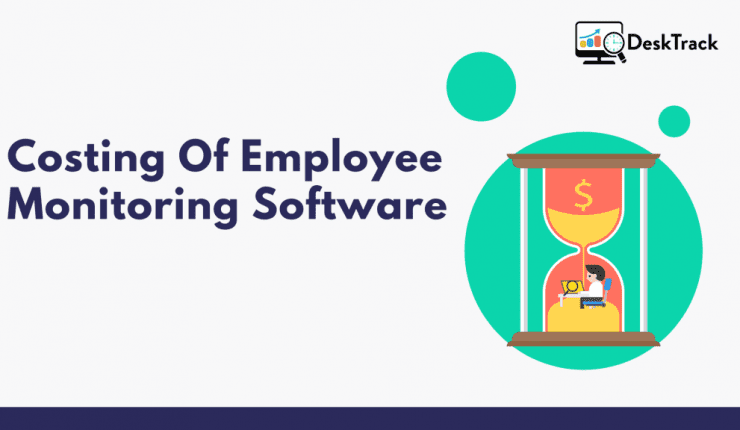 The costing of Employee Monitoring Software is one of the common and important concerns for prospective clients before choosing any tool. The costing depends on various factors and price schemas but while considering the price you should also keep in mind what you are getting in return. 
If you review the different employee monitoring platforms you will realize that the prices of the software can vary. They are somewhere in the range of $5 to $10 per employee per month.
Now comes the question in mind "What does per employee per month" mean?
Pricing Strategy
There are different modes and dynamics of pricing before choosing any Employee Monitoring Software. The businesses offer three different pricing strategies such as Subscription-Based, One-Time Payment, and Free Version.
Subscription Based
This is one of the most common price schemes. This means that businesses have to pay for each employee that you want to monitor. The main advantage of per employee scheme is that businesses have to pay for the number of employees. You are paying for a computer program that you install in employees' computers to track their activity and send reports to the managers' dashboard. We have talked about the monthly basis payment but some software with the monthly option also gives an annual option for pricing. This annual pricing option is lower than the monthly one but this is a long way commitment. 
One Time Based
Some Employee Activity Monitoring Software offers a one-time payment offer. They also offer an option to charge per license. Businesses only have to make a single payment before implementing the software and then use it for how long as you wish. This is also a brilliant idea to implement Tracking Software at a low cost.
Free Version
Some Monitoring Software also offers a free version which gives the option to upgrade to a paid version for more awesome features and more reliable support. This option sounds good but the main problem with this software is that they are limited at one extend.
Most of the software offers a free trial for one week max to one month; use this trial wisely to see whether it's good to fit your business or not.
Factors Describing the cost
When you are choosing the best one for your business several factors determine how much you are going to pay for Employee Monitoring Software. There are a few factors mentioned below:
Data Storage
Software companies offer two options for data storage including cloud server data storage and local server data storage. On-premises solutions can be expensive because implementing software on the local server has an extra cost.
Features
The features present in the software decide its costing. The decision for choosing the software should be based on your requirement. The low price with everything you need simply means that you have found optimal value for money.  
Support
Some Monitoring Software offers cheap support through online forms or chatbots but when you need human connection it may charge some additional cost. 
Number of Employees
As we talked businesses offer plans based on the number of employees. The businesses offer a special discount for enterprises having a large number of employees. 
How Employee Monitoring Software work as a solution
You might be thinking while paying that the software is worth the cost you are paying. So, it is important to see what the software gives back. Few Points are mentioned below that you must consider 
Work Optimization
Employee Monitoring Software can be used to measure productivity and time on the tasks performed. This helps to clear the path to an optimized workload and enhance efficiency. Work completed on time leads to more tasks taken on with resulting in more profit.
Attendance Report
The software automates some processes like compiling timesheets and attendance sheets. The software does this automatically depending on desktop activity. Keeping in mind its accuracy and reliability software can lead to eliminating the attendance tracking methods such as biometrics, which are expensive.    
Data Breaching
Because of its screenshot and App and URL features software plays a vital role in preventing data breaches. This helps to detect insider theft.
Automate Timesheets for Accurate Payroll
The software automates the timesheet that has employee tasks performed list with the total number of time spent on each task. This helps to calculate the billable hours and pay accordingly.
Make Self Management Easier for Employees
Employees are also able to see their task list with the total number of times spent on each task. With the help of these features, employees can manage their time and work accordingly.
Conclusion
As we can see many factors determine the cost of Employee Monitoring Software from the number of employees to the type of solution. But before seeing the price you must keep in mind that this software must be fulfilling all your business needs. Hopefully, you get all the required information to evaluate the price of different software when it comes to the time to choose the best one. DeskTrack is one of the best software having all required features according to business needs at an economical price. Connect us at business@timentask.com