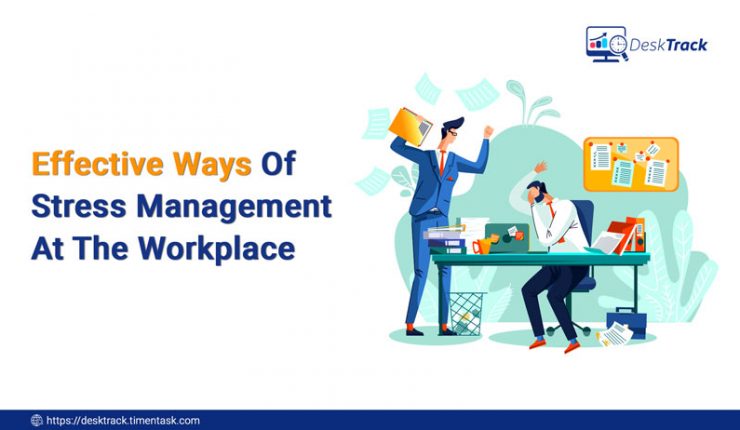 How do you deal with stress at the workplace?
Is your answer simply negligence?
Then, here is the high alert!
As per Gallup Report, workers in the US are amongst the most stressed in the world. Additionally, as per a survey, 38% of Indian employees face frequent burnout while the other 38% experience moderate distress. The term stress is so frequently used that even when we are not stressed, thinking about the same puts us in a state of stress.
However, there are a number of therapies, medications, yoga techniques, etc which claim to turn a person from stressful to stress-free. Besides, in this competitive world where everyone is running after success, money, fame, power, and glamor, managing stress at the workplace has become a task or better say a challenge.
Now the question arises how to do such occupational stress management effectively? So here is the time to know the real meaning of occupational stress at the workplace, and how to manage stress at the workplace. Etc.
Table of Contents
How to Manage Stress At The Workplace? Effective ways of Stress Management at The Workplace
What is Stress at the Workplace/Occupational Stress? How it is confused with Challenges at Work?
Occupational stress is first of all not to be considered a minor or acute toxic condition that can be cured through mere treatment. Rather it is considered a chronic disease. It can further be elaborated as harmful to physical and emotional health both when requirements of the occupation are unable to be fulfilled by the employee.
Also, the concept of job stress is confused with challenges at work. The difference between the two is that a challenge at work energizes the employee physically and psychologically about the management of task assigned to him. The employee is keen to learn new skills and master his work whereas stress at work may lead to injury, job failure, and illness.
What are the Common Factors of Occupational Stress?
Below are listed some common factors of occupational stress:
1. Demands
An employee may suffer through stress due to a lack of coping with the demands of their jobs.
2. Control
An employee may suffer through stress at the workplace due to their inability to control the pattern they work.
3. Support
Due to a lack of support and enough information from their superiors, Employees may have to deal with problems related to the workplace.
4. Relationships
Some employees may have challenges in managing stress at work due to trouble with relationships at work or being bullied due to some unfair reasons.
5. Role
Some employees get caught under stress as they face challenges in understanding their roles and responsibilities at work.
6. Change
There are employees who undergo stress as they are incapable of engaging in work while a business is undergoing a change.
What are the Symptoms of Stress at the Workplace?
Below are listed some common symptoms of stress at the workplace:
Taking frequent time-offs

Arriving late at work

Becoming more twitchy or nervous

Frequent mood swings

Loss of motivation and interest in work

More complaints and grievances from employee's end

Arguments at work

Being more sensitive – tearful, aggressive, etc.
How to Report Stress at Work?
In case you find stress at the workplace rising exponentially and are unable to cope with it, then this is the right time to report stress that you are facing at your workplace. As a first step, you should definitely choose to seek help informally from the concerned person you feel is the source of piling up stress for you.
In case you find the above-mentioned technique to not work for you, speaking with your HR, manager, or trade union is the other way. The other way if the above mentioned doesn't seem to work too is making a formal complaint to your employer about the reasons and situations you are facing should be your ultimate solution.
Besides, taking legal advice from your lawyer and claiming compensation in case your situation of stress at the workplace seems to exceed can be your last call.
What can you do to Manage Stress at the Workplace for your Employees?
Below are listed 8 ways to manage stress at the workplace for your employees:
It is seen that the major cause of stress and anxiety for employees at the workplace is a negative relationship with their boss. However, it is not that there doesn't lie any solution. Nowadays, management classes that include skills like leadership development or personal training like Reboot can guide you to deal with your team in a positive and constructive manner.
Subjects like emotional regulation and ways to give difficult feedback are some major concerns for employees to be aware of their stress levels. Also, this is how employees can bring self-awareness in themselves about managing stress in the workplace.
Offer health benefits – Physical & Mental
Organizations that offer health benefits/insurance to their employees are likely to have employees who perform better at work and are loyal to the organization.
As per a study by Aflac, 26% of small organization employees are more likely to move to a bigger organization for better benefits offerings.
Conduct Meditation Classes
As per an article by Harvard Business Review, many CEOs are undergoing meditation sessions and implementing the same for their employees as the former has seen immediate effects on stress levels.
Also, if hiring a meditation coach seems expensive to you, then you can also count on subsidizing apps like Headspace.
Who doesn't like Paid time off? And that too when it can be utilized for vacation. Taking paid leaves and going on vacation does leave an employee under the stress of loss of pay.
Therefore, in order to bring occupational stress management, it sounds like a great idea to implement paid time off for your employees.
Encourage your Employees to take Multiple & Periodic Breaks
In organizations where encouraging multiple & periodic breaks is not a culture, employees are likely to have damaging effects on their brains. This phenomenon is called 'Crunching'.
As per the latter terminology, video game developers work hours and hours in a day, and sometimes exceed 20 hours a day. As per designer Clint Hocking, as a result of the stress and anxiety of crunching on games, developers tend to suffer from memory loss.
Therefore, it is said that encouraging employees to take multiple and periodic breaks increases the chances of employees coming to the office less stressed and more productive.
Take Your Team out on Company Offsites

 
There can be nothing greater than bonding up, vibing up with your team by going on to some picnic spot, organizing a baseball game, visiting a vineyard, etc.
This method of handling stress at work works wonders as by knowing your team more, you will know ways to engage your employees in work and hence, it would also help in employee retention.
Read: How to bring Employee Retention in your organization without money?
Bring in Recreational Activities in the Office
In order to overcome stress at work, you can bring in the below-mentioned activities or games:
Board Games

Video Games

Dog-friendly office

Dart Board

Ping Pong Table

Basketball hoop
This method of dealing with stress at work would not only allow your employees to let loose but would also bring productivity at the workplace.
Allow flexible work schedules

 
Ever since the pandemic has caused life havoc, remote work culture has become a new normal. However, with decreasing chances of life threats from COVID now, work from the office has taken its normal pace. Having said that, keeping the work mode flexible too ease your employees' lives in coping with stress at work.
Nowadays, the hybrid working model suits both organizations and employees. Therefore, in cases where your employee needs to look after his newborn child or some sort of parental care is required at his place, allowing flexible work schedules can work wonders for him.
In case you are concerned about how you can assure your workforce to be productive during remote working, then it's the right time to know about a SaAS-based solution called Desktrack that assures your team's productivity during remote work mode.
Below are the features of Desktrack that work wonders in yielding employees' productivity:
To explore more such features, visit Desktrack.
How Can You Manage Stress at the Workplace as an Employee?
Below are listed 10 ways to manage stress at the workplace as an employee:
Create a Habit of Reading Books/Magazines
Whether it is a fiction Novel or a glossy magazine, you can distract yourself very well by diving into some different world which in itself is a great stress buster.
Pamper Yourself with a Cup of Tea
Though taking a tea break is one of the cliche ways to distract yourself from work stress, it works really well. Going on a tea break with your colleague leaves you in a different mind zone. You can chat with a cup of tea or a mug of coffee, the choice is yours!
In order to manage your work-related stress, you should start focusing on your breathing. Inhale, hold, and exhale, this way you end up inhaling more oxygen and will be able to keep stress at bay.
Pour Yourself with Plenty of Water
Develop this habit of intaking plenty of water. It not only reduces stress but also keeps various diseases at bay. Intaking at least 6-8 glasses of water is a must. This habit reduces the chances of headaches and boosts productivity.
Look out for a Nearby Gym or Fitness Center
It is well-known advice from our elders, teachers, and doctors that exercise helps in reducing stress. It is said that 150 minutes of exercise every day for an adult is a must to stay in good health.
Spend Time Listening to Your Favorite Songs

 
As per a study, listening to your favorite music brings down stress at an exponential level and the same applies to your favorite songs. So, it's not a bad idea to take time off from your desk and dive into the world of music and songs.
Use of Relaxation Spray or Rollerball

 
Since nose and mind are closely related, therefore smelling your favorite fragrance of relaxation spray or rollerball provides you with mindful moments to deal with stress at the workplace.
Pamper Yourself with a Massage or Spa Session
In our daily hectic schedule, we forget to pamper ourselves and take our self-care for granted. Needless to say, a healthy mind and body are a productive source of hitting daily targets at work. Therefore, without giving it too much thought, you can reward yourself with a weekly spa session.
Practice Yoga at Your Desk
Yoga has taken international importance. Therefore, it would be a great loss to you if you underestimate this process of balancing your mind and soul. Moreover, practicing yoga at your own desk is not a bad idea too and you would see the difference in your stress levels in a short span of time.
Speak out on Mental health
Speaking out on mental health with your co-workers releases a lot of your suppressed negative emotions and brings out some collective solution at the table.
Conclusion
Since our time at work takes up a larger chunk of our everyday life, problems like Manage Stress At The Workplace should be attended immediately. When we say that we earn our bread and butter then, definitely earning by piling stress in our daily lives would decline quality living from your life.
Stress is a mental problem, the way we immediately address our physical problem, we should take an urgent call on dealing with stress too, whether it is occupational stress or at your personal level.