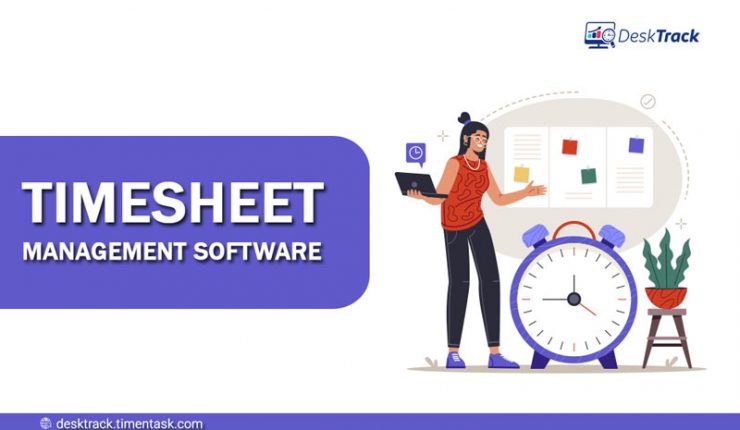 Are you searching for the best online timesheet software for small business? Then you have come to the right place. Presently, the market is having higher competition, and to stay on top, businesses need to meet deadlines on time and manage time, work, and productivity for better outcomes. 
Table of Contents
Timesheet Management Software- The Ultimate Guide
To make this workout, managers need to have a complete track of work done with employee work progress to manage overall cost and keep the business profitable and maintained. 
But is this possible to have the complete data and record of work done in an easy and organized manner? Therefore, timesheet management software for employees will be the best option to keep a tab on your business and workforce performance. 
As the studies of Deskera have shown, up to 38% of American employees are still operating with paper time sheets, biometric punches, and punch cards. Whereas the timesheet software helps you track time, which leads to reduced payroll costs for employees working on-site or remotely. 
What is Timesheet Management System?
Timesheet management software is a tool that helps employees to have a complete record of work done in a day. Therefore, it helps the manager and the HR department to pay employees by having the proof of work done by them throughout the day on the allotted project accurately. 
Also, timesheet software helps organizations manage and accomplish their projects by streamlining the work and achieving the target on time. The online timesheet software helps you to plan, schedule, target, and accomplish tasks or projects by calculating the efforts given by each employee with time accuracy during payroll. 
Importance of Timesheet Management System in an Organization
Timesheet management system is an important part of today's business world. It's not only about managing time, but also about managing the employees' well-being. Timesheet management system helps you to keep track of your employees and their productivity. You can easily check the performance of your employees and make timely changes according to the results.
Best timesheet app for small business helps in maintaining accurate records of time spent by each employee on various projects and tasks throughout the day. This helps in reducing wastage as well as increasing productivity levels. Time tracking software is very easy to use and there is no need to spend time on it as well as learn new things related to this field. It can be installed on laptops, desktops or mobile phones so that it can be accessed from anywhere, anytime with ease.
Online Timesheet Management Software Features to Look For
Here are some of the features of online timesheet system that your company will definitely need to figure out the things:
Different businesses have different requirements when it comes to time tracking. Some want to have simple login/logout, some time access for project management, activities, or business specializations. An entirely customizable online timesheet software India authorizes managers to make numerous timesheet templates and allocate them to employees as per their roles and responsibilities. 
Online timesheets that are trendy and user-friendly enhance work processes and help companies ease misconceptions. Intuitive user interfaces help management ease and quick time entry without generating any disarray. The online timesheet software provides you the easy-to-read dashboards that allow managers to determine directions and advancement possibilities.
Manual timesheets that are prepared by the employees based on their work processes are presented on the last day of the month or week, which leads to delays in financial procedures for projects that are performed before. As a result, it makes the client payroll processing slow because of incomplete timesheets. Therefore, online timesheet tools help employees fulfill their timesheets anytime whenever the managers need to have the progress info on which their workforce is working which helps managers process client billings on time with complete visibility. 
Smart Approvals and Notifications
The best online timesheet software will help managers ease their workload. Also, the real-time warnings and notifications on desktop and mobile appliances permit leaders to inspect and authorize appeals in a particular time span.
The online mobile timesheet applications help managers and leaders to review the performance and progress of their employees working from home, remotely, in-field, or in the mobile job anywhere and anytime. Employees can easily submit their work and fill the timesheets on time with attendance management, project costing, online billing of customers, or handling transferred services resources.
Benefits of Timesheet Management Software India
Many organizations track the time and attendance of their employees with a spreadsheet or on paper, and these manual actions lead to a waste of time and many other additional issues that demand extra human effort. Therefore operating the online timesheet system can benefit you and your organization in multiple ways and some of which are explained below:
Reduce cost and save time
When employees and managers both get free from manually entering the work updates of a particular day that helps to save time and reduce the cost. The best online timesheet software records the data and time automatically, so employees do not have to give effort manually. 
When employees record their own time spent at work doesn't mean accurate calculations. Similarly, when managers check the records manually, that may lead to multiple errors and mistakes while calculating the data. Therefore, timesheet software for employees can help minimize human errors and provide accurate data that helps in error-free payroll and identify the top performers of the workforce. 
Reduce payroll errors and legal conflicts
Payroll errors may generate legal conflicts, and that can lead to conviction issues among the company and staff. So, companies should take special care about the payroll management of their workforce in every way. However, using an online timesheet system can be the best way to stay valid in all aspects. These tools help to calculate the exact pay as per the roles and responsibilities of the employees with proof of work done during a project or task. 
If your organization has a team that operates on the field or is connected with different chains of the workplace at that time it is not possible to have a track of employees working with their presence and absence at the work. The timesheet software for small business help managers or leaders to have a complete record of employee attendance with their login/logout time and work pattern. Therefore, your organization will get complete visibility among the workforce and work engagement. 
Traditional Timesheets or Online Timesheet Software – which one is the best?
Have you ever thought about why timesheet is important? How are your employees going to get their pay without any conflict? Organizations use pen and paper to create timesheets manually, and that may cause errors multiple times, which leads to inaccurate payroll management and disagreement between administration and employees. 
However, timesheets keep track of time and work manually, whereas online timesheet software automatically monitors and tracks the work performance of employees with the allotted projects or tasks. Timesheet software for small businesses is the best option, as many of them are still using time cards, printable timesheets, and time log sheets to track their workforce. Here are some of the aspects that will help you understand which one is better for your business- timesheets or online timesheet software:
Different businesses have different workforces working with them in different fields. So, using timesheets manually can create errors while processing payroll. Therefore, online timesheet software provides the flexibility of customization for tracking timesheets more perfectly compared to the olden era of tracking work hours with time log sheets and time cards. 
The traditional timesheet process is not far different from the online timesheet system, but they are unable to fulfill the necessary requirements of a timesheet. Therefore, the best online timesheet software holds better storage that provides reports to the managers with daily insight into how their teams are working with their performance and patterns.
Security is the most essential thing for any organization, employee, and even personal life. Therefore, every field needs to be secured with a timesheet for software development, small business, large organizations, and others. The best online timesheet software helps you secure the data and maintain it from changes held within. 
Sharing manual or paper timesheets physically or via email may create conflicts or issues among the employees regarding inaccurate time calculations and work done in a day. However, the online timesheet system is available anytime and anywhere to anyone operating with the team. As a result, employees who are operating in the field or working remotely in your organization can easily update their work performance without mandating the manual timesheets from their department. 
The final words
Because the market is flooded with unlimited options for timesheet software for employees, accountants, recruitment agencies, software development, contractors, small business, and others provide unlimited benefits in multiple aspects. Organizations need to understand the necessity for error-free payroll management as it may create numerous disagreements among the workforce and the company, which leads to less productivity and employee engagement towards the company. 
Therefore, operating with the best online timesheet software can save you a lot of time and human effort, boost efficiency, and help make more promising business decisions. So, before selecting the best one for your organization, inspect the functionalities and features as per the needs of your employees and organization. 
So, if you are searching for the best option to integrate with your existing applications and tools, then DeskTrack employee monitoring software can be the best fit for your organization. Check out the best online timesheet system and know why multiple businesses have chosen DeskTrack.