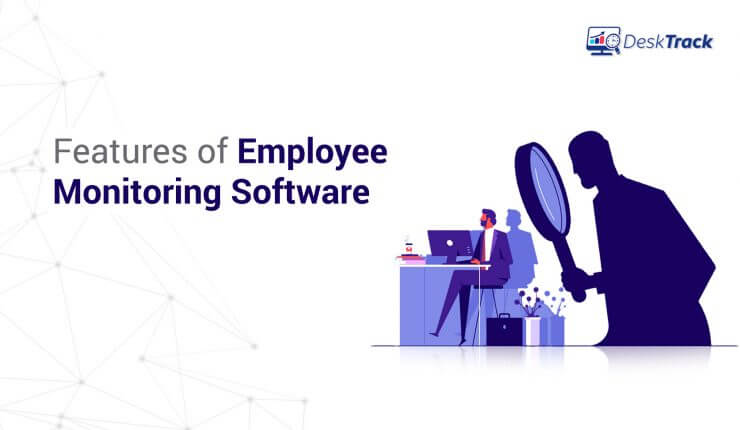 Most business owners are willing to grow their organization but they are suffering from unproductive employees. Now they can take a long breath because DeskTrack comes with advanced features of employee computer activity to overcome your problem. Features of employee monitoring software are generally used for organizational management that measures employee performance, maintains employee data, engagement, and productivity, and increases business value. It improves employee surveillance, assuring the best techniques to monitor work performance and access confidential data.
Therefore, different employee monitoring software delivers distinct features and benefits. So, before considering any one of them, see if it is fulfilling your business requirements and is effective for your complete workforce. 
Whether you are going to introduce an employee tracking application or looking for better and smarter features for integrating into your organization, this blog will help you understand features associated with an employee tracking system. So, let's start!
Best Features of Employee Monitoring Software
Here are some of the best features of employee monitoring software:
1. Employee Time Tracking
Features of the employee monitoring software help track the time spent by each employee in the complete workforce finishing the allotted tasks. This includes the login/logout, active/idle time, and the hours spent on work, applications, web pages, etc. Accordingly, it provides complete information about employee performance and identifies gaps, distractions, and the time spent on work throughout the day.
2. Employee Attendance Monitoring
With this feature of employee tracking software, you can easily identify your star performers and employees who are not working properly or not meeting deadlines on time. Therefore, if you want them to be disciplined at work, keep a tab on their login/logout time and attendance by including this feature. By keeping track of employee attendance, you can monitor them with ease and make improvements in their working patterns.
3. Staff Productivity Evaluation
It's a fact that when managers monitor employees, they work with more proficiency, and employee performance improves organizational workflows that boost productivity. The employee productivity monitoring software provides a clear picture of employee work with real-time insights and helps them generate detailed information on per-day productivity by which managers can keep track of work done during the day.
4. Project Management
Proper project management is essential for finishing projects and meeting deadlines on time. Therefore, the feature of employee monitoring software is very helpful for project managers as it allows them to track and monitor employees so they can have an eye on ongoing tasks. Project management helps employees improve their focus and work pattern, which is essential to meeting preferred results and deadlines.
5. Generating Reports
Features of Employee management software allow managers to generate detailed reports of employees in just a click. whether it's about attendance, idle or productive hours, or particular tasks or project progress. Real-time analytics allows businesses to specify whether or not to boost their workforce based on the productivity and effectiveness of existing employees.
6. Payroll Management
The feature of employee productivity monitoring software provides error-free payroll management. It is a time-saving process that can help managers or HRs maintain relevant, accurate, and transparent payroll management for the employees working with your organization. It removes unnecessary payroll errors, conflicts, or inconsistencies by providing detailed reports of employee work and performance.
7. Timesheet Analysis
The feature of employee time tracking software allows leaders to track the time employees spend on tasks or projects. It counts the number of hours worked, including overtime, user activity, log time, etc., and can be used to calculate employee performance, bill clients, simplify invoice processing, know the project status, etc. Also, it helps estimate future project expenses with a timesheet database.
8. Integrations
An employee monitoring software cannot by any chance hold all the features required by any organization. With effective integrated solutions, the employee tracking software can provide complete flexibility to easily integrate different tools and applications for more effortless management. That can help you maintain the progress of the project more effectively in your organization.
Advanced Features of Employee Time Tracking Software
Employees are known as the most essential assets of an organization, and having a tab on each one of them is not an easy task. Also, holding a summary of the entire workforce is even more difficult. Therefore, these below-mentioned advanced features of employee productivity software help you control employee work hours and maximize the utilization of human resources.
User Behavior Monitoring

Boost Productivity

Provide Employee Privacy

Web/App Tracking

Location Tracking

Stealth Mode (Hidden Mode)
Which Features Make DeskTrack Unique
In the employee monitoring software segment, DeskTrack is the best employee monitoring software because of its various features that make it unique from other software. Here are some of the best features of DeskTrack listed below
Screenshots Capturing
Track and analyze suspicious behavior & activities at work with real-time screenshot monitoring. It helps to make fact-based real-time actions. Also, we should not invade employee privacy and make it enable/disable for the users.
Online & Offline Tracking
Employee monitoring & time tracking works well in online/offline mode. DeskTrack keeps tracking the system if it goes to the offline mode (internet not available), but data syncing to the server stops. As soon as the internet connects, it syncs the data.
Silent & Visible Working
The DeskLite & Stealth module allows the agent to work in the invisible mode where users can't turn it off. Whereas, in the Tagger mode, the agent works in the visible mode, where users can turn on/off and pause the tracking.
Whitelisting and Blacklisting
Classify the apps & website as per the roles & responsibilities and functionality of the teams into whitelisted & blacklisted activities to track the working time into productive & unproductive time respectively.
Email Reporting
Receive streamlined reports on emails for employees' work timesheets and activities performed like time spent on Outlook, Gmail, etc. Quick & easy way to monitor employee engagement & performance that helps to take real-time actions.
Mobile Tracking
Mobile is a friendly & handy way to operate a business, but it is also responsible for distractions at work. Use DeskTrack MobiTrack to track mobile utilization during work time & evaluate overall productivity for teams working on mobile.
Benefits of Using the Features of DeskTrack Employee Monitoring Software
DeskTrack employee monitoring software can be the most suitable and beneficial for the easy functioning of your employees. Let's have a look at some of the benefits of using the features of the employee monitoring system DeskTrack in your organization:
Track and evaluate organizational effectiveness and increase employee engagement through DeskTrack.

Interactive cloud-based dashboard & mobile apps to access the team's reports from anywhere and anytime

Easily track employee activities to ensure everything is operating smoothly and enhance workflow efficiency.

DeskTrack allows automatic log-in to the user's machine to record the timesheets & activities performed.

Get detailed reports with result-oriented parameters and graphic representations of the employees' data to understand the workflow better.

Self-assessment board for employees to rate their self at work. Highlight & eliminate poor work habits to improve efficiency with work time analytics.

Track and analyze suspicious behavior & activities at work with real-time

screenshot monitoring software

.
Conclusion
Including the above-mentioned features of employee monitoring software – DeskTrack allows your employees to have a more efficient work-life balance. If you consider all factors when determining the best fit for your organization. Features of employee monitoring software can help improve overall performance. 
Therefore, if you choose DeskTrack employee monitoring software. it allows flexibility, productivity, analytics, and other features to maintain a high level of employee satisfaction while maintaining workflow efficiency.