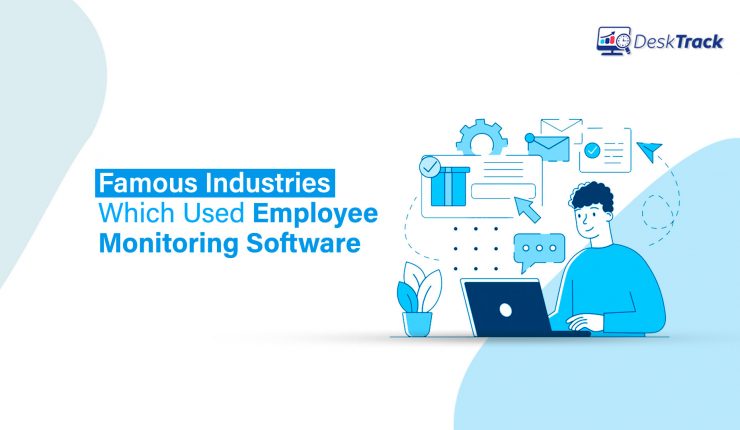 There are many industries that have a large employee base that needs time tracking and monitoring tools to manage their teams. Most industries are choosing to adopt employee monitoring and time tracking tools in their organization. Companies have many choices of software used to monitor employees. Employee monitoring and time tracking tools in different industry verticals across the globe to make their employees work more productively.
There is a lot of information available online about employee monitoring solution market size and forecasts; however, they are not precise enough to give you an accurate idea of the employee monitoring and time tracking solution market. There are many different methods and approaches adopted by different companies to increase their productivity level e.g. software to track employee computer usage.
Key Benefits of Employee Monitoring and Time Tracking Software:
In this era of competition employee monitoring and time tracking tools are playing a vital role among all types of business, It is not dependent on the size and type, these types of solutions are beneficial for startups, SMEs, large enterprises, freelancers, etc. as it helps in the employee and work management. Some of the key benefits are:
Understanding Employee Behavior
100% Transparent Reporting System
Automated Attendance and Timesheets
Helps in Increasing Productivity and Working Efficiency
Protecting the Business From Potential Legal Problems and Preventing Data Loss
Analyzing Total Cost Spent on Business Operations & Measures to be Taken to Reduce it
Overall, organizations that use employee monitoring software can experience enhanced business growth and employee engagement. This can be done by only employee computer use monitoring software.

A good computer usage tracking software helps you to improve the productivity of your team by tracking their desktop activities, physical movements, in-out time,  internet usage emails, and more.
Sectors That Benefit From Employee Monitoring Software

Employee Monitoring Software for Freelancers and Remote Workers
If you are a freelancer and finding a good Automated Time Tracking Software that helps you stay organized, focused, and on task; DeskTrack is the right solution for you. It is a simple, easy-to-use, and affordable tool that helps you track your working time, manage multiple projects, and reports, and keep all the data in one place.
Usually, to find the best talents and provide services to every part of the world companies hire teams globally, they are scattered all around thus employers may lose visibility of them, not able to identify actual working time, activities, and tasks performed in a day.
Therefore software to monitor employee computer using time tracking & desktop monitoring tools are the best solutions as it helps to provide accurate reports of the work done, manage multiple projects, calculate time spent on the projects and tasks, etc performed.
They are easy to use, as they work automatically, and generate different combinations of reports which can be accessible at any time by anyone thus allowing to manage 100% transparency and bringing trust between the team and management.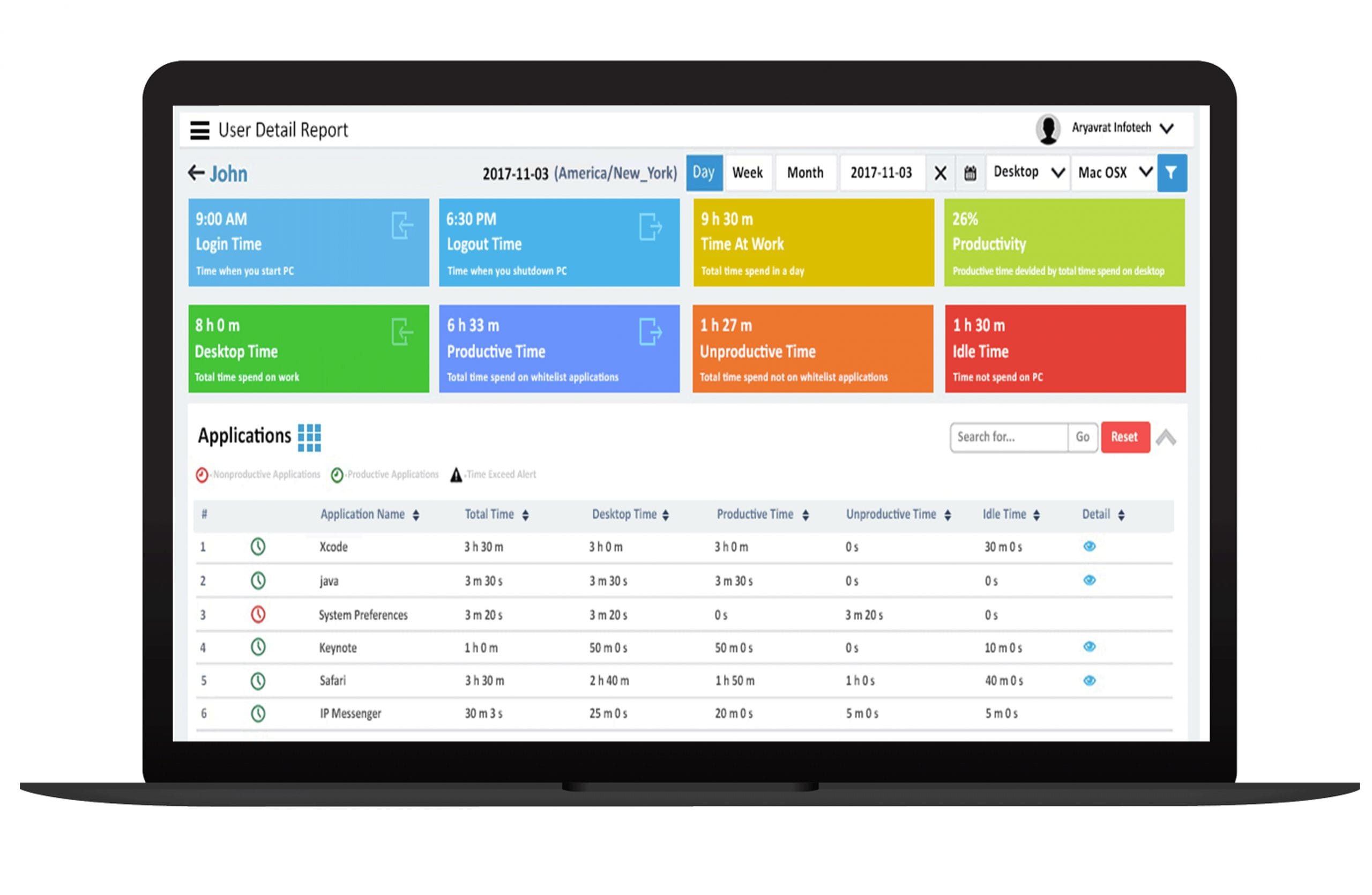 On top of it, such tools also help in generating invoices by showing the actual efforts made to finish the tasks and calculating billable hours without any alteration or gimmick.
---
Employee Monitoring Software in IT Industry
The most obvious sector that benefits from employee monitoring software is the IT industry. IT industries should use employee monitoring software to get full transparency about employees' efforts. At the time of performance analysis, employees also want their real productivity to be recognized, proper reports to show their efficiency, tasks are done, time spent on projects, efforts made, etc. To manage 100% transparency and obtain actual reports of employees it is recommended to use a Time Tracking by industry & Employee Activity Monitoring Tool at the workplace. 

---
Employee Monitoring Software in Law Firms
Employee monitoring software helps Law Firms to review the accurate reports of a team member's total time spent on a particular project, all legal matters, and cases. They can easily identify billable and non-billable hours and can create more accurate total project budget costs. Ultimately, it frees you up from the paperwork and you can focus more on your work.
In addition, they use it to make sure that their employees aren't taking too much time off work, which could lead to serious issues with productivity later on down the line.
---
Employee Monitoring Software in
Staffing and Recruiting Industry
When it comes to the Staffing and Recruiting industry, they also face issues in tracking their team's work. Implementing an Employee Monitoring Software in the staffing industry will help managers to monitor staff computer usage & track the accurate time for better managing projects, budgets, and teams.
Employee monitoring software is a great tool that helps in hiring the best employees for your business. It helps in making sure that you are hiring the right person for the job and not just any person.
---
Employee Monitoring Software in
Finance & Accounting
As an accountant, good bookkeeping is the main part of the job. When your organization is focused on tax or audit, bill-per-hour, or fixed-fee projects you need to track all the time you spend on multiple projects and with clients during working hours. DeskTrack helps you keep track of multiple projects and billable hours, bill clients accurately, and saves your time from your own accounting.
Finance and accounting departments also have a high rate of turnover, which can lead to increased risks of fraud in the workplace. Employees who have been fired or laid off may try to find new employment by stealing from their previous employer. The benefit of using employee monitoring software is it helps reduce theft by track all transactions. So that when an employee leaves (or is fired), there will be no confusion over how much money was spent on various projects or what items were purchased with company funds
---
Employee Monitoring Software for
Architects
Architectural firms are under increasing pressure to reduce costs and improve productivity. The architecture industry is a high-turnover industry and, with so much demand for architects, it can be difficult for firms to retain top talent. The solution is to monitor employee performance.
Time Tracking is one of the most essential parts of every architect. As an architect, you have to face many challenges like making adjustments for clients, designing new constructions, and monitoring the construction process. Try DeskTrack, it is helpful for both individuals and organizations, doesn't matter the size. It helps constructors to manage all the projects, tasks, working time, and exact billable hours, all in one place.
---
Employee Monitoring Software for
Consultants
Employee monitoring software "DeskTrack" helps you make your consulting business grow faster. It doesn't matter whether you are working solo or with a consulting company, your business always depends on the number of billable hours you have spent on particular projects. With DeskTrack, you will be able to track the time you have worked, billable hours, and calculate project profitability.
They can also use the information to determine what types of training or education may be needed for each employee. Consultants can use this data in order to get additional training for employees who need it most. It is important that consultants understand exactly how their employees are performing.
---
Employee Monitoring Software in Retail Industry
In the retail industry, employees work on sales floors, in stock rooms, and behind the scenes to keep things running smoothly. In such a high-pressure environment, retailers need to manage their workforce efficiently for maximum productivity, better customer service, and better business results. A powerful way for retailers to manage their workforce, improve efficiency, and streamline their operations is through employee monitoring and time tracking tools.
Employee monitoring software in the Retail industry is meant for tracking what kind of activities staff members engage in during their working time. This can include phone calls made on company phones, faxes sent out during office hours, and emails sent. If you have an internet cafe or an IT training center, you need this software because it allows you to track what your employees do in your absence.
---
Employee Monitoring Software in Manufacturing
Employees in the manufacturing sector perform a wide range of tasks, from assembly lines and quality control to logistics and production. In the manufacturing industry, employee monitoring software is useful in ensuring that people follow standard protocols, whether it's to protect a company's intellectual property or meet compliance standards. When used properly, it can also make sure that confidential information doesn't get into the wrong hands.
---
Employee Monitoring Software in Real Estate Industry
The real estate industry is one of the most competitive industries in the world and it can be quite tough to survive without the right tools. In Real Estate employee monitoring software is a great way for estate agents to keep track of their time. Agents can keep better records of their work whereas managers can easily identify any inefficiencies in their team's working patterns and make changes to improve productivity.
---
Employee Monitoring Software in Telecom Industry
From network operations and customer service to sales and marketing, the telecommunications industry is a rapidly evolving and competitive field. In Telecom Industry, Employee monitoring software has several integrated modules that help you to monitor your mobile networks. You can also analyze the performance of your operations with its advanced analytics and reporting capabilities. It is a cloud-based tool that performs in real-time and assists you in managing your entire telecom business processes efficiently. Furthermore, you can even leverage this robust solution to monitor your traffic and to process the huge amount of critical data needed to improve your telecommunication services.
---
Employees Monitoring With DeskTrack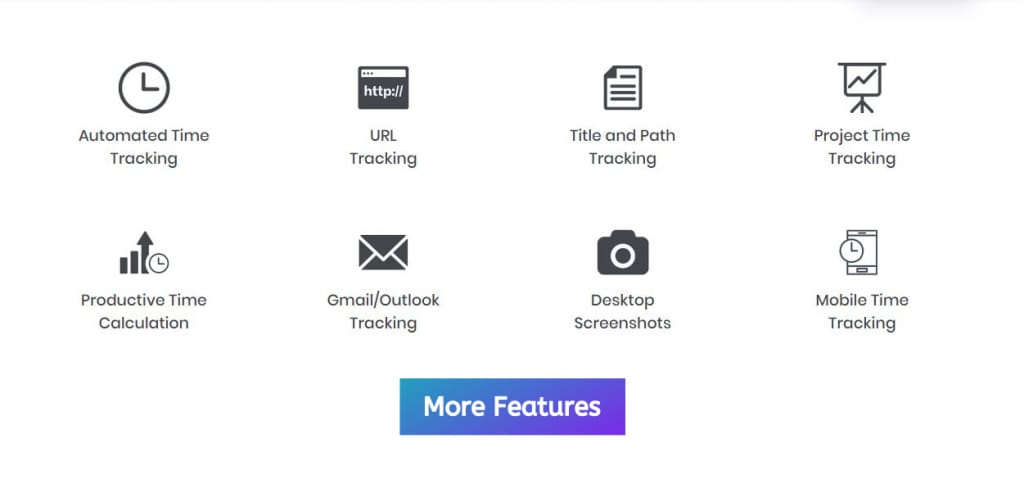 DeskTrack helps you save 20% of office working hours by avoiding irrelevant activities at the work. It reduces the business operation cost and maximizes your business productivity and efficiency by 40%.
DeskTrack is Best Employee Monitoring & Time Tracking software for every industry. It has several features and it can be used by different types of industries to monitor employees for increased business productivity by beating their different types of drawbacks.