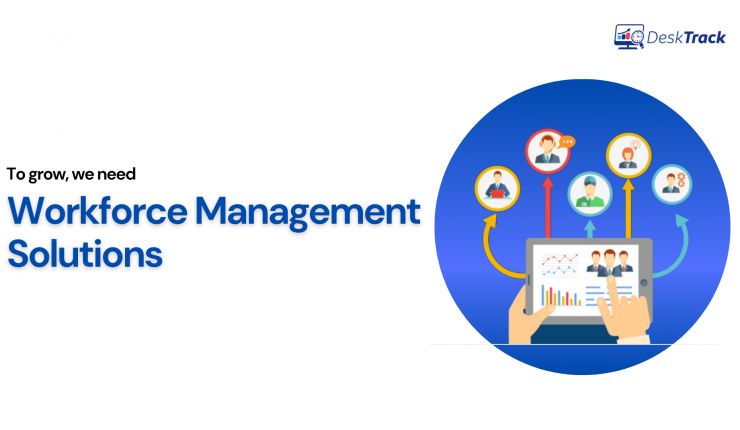 If you run a call center or a customer service-oriented organization, you understand the value of good workforce management solutions. You're well aware that there's a significant difference between your team's performance at its best and when it isn't. You can make the best use of your staff's time and abilities with the workforce management software, addressing customer needs promptly without wasting time or resources.
It can be challenging to develop the most efficient staffing and scheduling without workforce management solutions. The workforce is a tangible asset but faces underutilization of employees for growth, and organizations fail to fill the gap between intent, planning, and executing. Workforce management solutions here work as the method for managers to strategically improve employee productivity at work by ensuring that all resources are deployed appropriately in the right location at the right time. Organizations implementing this tool have seen a significant difference in organizing work and seamless project completion. 
What are Workforce Management(WFM) Solutions
Workforce management solution ensures organizations stay on track when adopting the mentioned workforce management (WFM) practices to maximize employee performance and organizational competency. Scheduling and planning, tracking time, performance management, and salary administration are all duties that the workforce management system may accomplish. 
It can also aid in hiring employees, the delivery of goods and services, the measurement of productivity, and the assurance of customer happiness. WFM software is crucial for firms with hourly or shift-based workers and additional complexity, such as changeable schedules, fluctuating availability, and wage and hour computations, even though every business can profit from these capabilities.
Furthermore, it can assist leaders in gaining a better knowledge of each team member's capabilities. And in doing so, you'll improve one of the most important components of running a successful and lucrative business: hiring the proper people for the job. You can make a workforce management system as seamless as possible by following a few carefully laid-out stages that tie together some of the most critical workforce management processes.
What Does Workforce Solutions Do?
Workforce Solutions' core purpose is to help your organization achieve business goals, empower your workforce and increase profitability. workforce solutions help in managing the workforce efficiently without any hurdles. There are many features that can ease our tough tasks.
Workforce Management Processes
The Workforce Management process involves a specific process that makes it user-friendly. The tool works in a systematic process for seamless functioning of the organizational workflow-
Forecasting Workload and Budgeting-

The system can provide recommendations on appropriate timetables and staffing levels and enable scenario planning to change budgets, thanks to powerful analytics and AI capabilities.

Staff Scheduling

– Forecasts and historical data are combined with information on availability, skills, and eligibility to influence scheduling and staffing levels—particularly in light of present capacity constraints.

Employee Performance Management & Satisfaction– Setting goals and including staff in the feedback
process through regular performance reviews keep them interested. You and your employees can see reports such as hours worked and goals fulfilled by bringing different data together in one place. Each employee is unique, & critical to meet team members where they are, regardless of their background, age, or experience. The Workforce Management system also aids a call center in determining individual staff needs & requirements & how to enhance their efficiency. It can help managers identify an employee's strengths and shortcomings based on their performance, allowing them to provide attention and assistance when needed.
Compliance with Guidelines

– Efficient workforce management software guarantees that state and federal labor rules are followed in terms of breaks, remuneration, and time-off policies, among other things. You may also build and track compliance with your company's or employee's policies.

Payroll and Benefits Administration

– As part of your human capital management, you must accurately report time off and hours worked to ensure payroll accuracy. Benefits administration, including health plan benefits, is also managed by these systems. The program will assist you in creating and managing different open enrollment plans throughout the year and track employee enrollment status, pricing, and eligibility.
Why is Workforce Management Important
?
The main objective of workforce management is to ensure that the right people are working at the right time and place. Organizations are moving from the traditional work process to modern ways, which involve technology and effectively managing the workforce. Hourly Workforce management software has traditionally been thought of as a tool for keeping track of hourly workers. Even as more employees work from home, workforce management solutions software can help track absences, track PTO, and create feedback mechanisms for employees and managers who don't have as much contact as they worked in a physical office. 
Reasons Behind Importance of Workforce Management Solutions
Planning Accuracy
Workforce management aids a call center's ability to anticipate future needs accurately. Workforce management can assist in reducing wasteful costs associated with the planning process. They are seasoned and have followed the fundamental rules of personnel planning in search of accuracy assurance. The data offered by efficient workforce management systems can guide employers to important insights about how to overcome foreseeable losses of coverage.
Maximizing Efficiency
Workforce management solutions assist the call center in efficiently distributing the appropriate task to the right employee. Task matching is made easier with data acquired from workforce management operations.
Customer Service
Customers who use the call center's customer service may become frustrated and abandon their inquiries. If their questions are not answered promptly or their calls are held on hold for an extended period. Workforce management solutions make it easier to disperse staff in an organized manner to handle call surges and save customers from waiting too long. It aids in the timely and efficient fulfillment of consumer requests.
How Can Workforce Management Solutions Benefit the Organization?
Lower labor costs, precise payroll, and fewer compliance violations are some benefits organizations can get with the workforce analytics software. Customer service is improved by assisting employees in being more productive and placing them in the best position to increase sales or productivity. This leads to higher levels of employee engagement and consumer satisfaction. Some of the benefits organizations can have with efficient workforce management solutions software-
Proper Alignment of Work
An organization that properly aligns with the work faces no issues with organizational structure. Employers can designate the work to employees according to the schedule and importance of the work. 
Real-Time Evaluation
By implementing efficient workforce management software, employers and employees can have a real-time evaluation of their daily work. Employers can keep track of their progress with real-time data so that nothing will surprise them.
Creating Clear View on Talent and Demand
With set workforce management solutions software, employers can view the existing talent and the demand. By analyzing the overall talent, employers will segregate the work according to the demand or priority.
Helps in controlling unplanned costs
Organizations face unplanned costs that can trigger the budget. So to avoid this, implementing a workforce management solution can work best. It helps in scheduling the proper budget and seamless workflow that can benefit in the long run.
Helps with Constant Reporting
Employers and employees can create constant reporting daily using the right workforce management tool. The daily report helps in scheduling the work according to its importance. This reporting also allows staffing and scheduling in the organization seamlessly.
Conclusion
Best Workforce Management Solutions offers high-end capabilities.  Workforce management software demonstrates its usefulness in activities such as contact tracing and ensuring staffing fulfills capacity rules most cost-effectively.
It's all about pairing the right employee with the right job at the right moment for demand workforce productivity software. Everything is covered, from hiring and recruiting to scheduling and performance monitoring and feedback. It uses data from various sources to help you enhance employee engagement while keeping your business functioning smoothly.