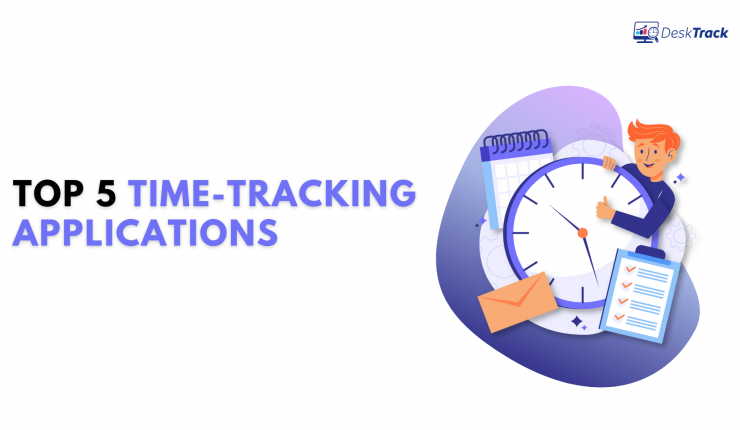 "It is not enough to be busy. The question is: what are we busy with?" 
The above quote depicts the expected productivity of an individual. It also defines how someone uses company time for the organization's work efficiency, profit, and other things related to work life. 
Therefore, practicing effective time is essential for employees, leading them to successful work management. 
Time tracking tools play a pivotal role in tracking time while working for an organization. According to The Economist, 73% of small and large organizations are satisfied with the returns from business tools. Needless to say, time tracking software is a significant part of this to cater the business owners in a mellifluous way. 
Although a handful of time-tracking software is available on the market, few of them cut through the noise. This article has the curated list of time-tracking tools ready for you. 
What is a time-tracking application?
Time tracking application is a software solution that helps individuals keep track of the time spent on various activities in a day. With a time tracking tool, freelancers and professionals can bill the customers by the hour. Professionals use time tracking software as a stand-alone or integration with other business productivity tools for better efficacy. It may be accounting software or project management software, etc. 
To be precise, time tracking software is the automated version of timesheets. It facilitates the benefits for both parties, i.e., business owners and employees. On the other hand, freelancers also get the maximum advantage as it generates time-to-time work reports for their clients. It helps to maintain transparency without affecting the work quality. 
Benefits of time-tracking applications
According to an IT company owner, "Time tracking tools are like a blessing in disguise to me. It helps me track the employees' productivity and the entire workflow under the same roof." We have jotted down the benefits that may help to understand better. 
It helps team leaders to track the progress of their fellow employees. 

Teams can improve the estimations followed by managing project costs in real-time. 

Business owners can coordinate better based on the reports of the time tracking tools. They can also balance the team effort. 

Time tracking tools ensure that employees are working as per task priorities.

Time tracking software automates the entire workflow and helps the team to focus on productive work.
Top 5-time tracking applications in 2022
DeskTrack 
Desktrack is a time tracking application designed to help teams to make their entire work cycle more efficient. It has features like project monitoring, team collaboration, time tracking, and last but not least, enhancing entire work productivity. With Desktrack, it is quite easy to deliver the projects on time. This tool is intuitive and loaded with a plethora of tools to ensure smooth progress. 
In order to check employee's availability at work get detailed day insights of employee's work time, end to end work, and break time analysis.

Detailed activity insights of the team's work to analyze what actually they are doing, find work gaps & help the team to improve work efficiency.

Organizational hierarchy mapping to view the team's report from their respective logins to maintain 100% transparency at the workplace by viewing the real-time work logs of team 

Unified web & mobile logins for admins, managers to view the team logs from anywhere anytime.

Desktasker with clocker & manual time entries as options to log time on tasks for creating project timesheets which help in the client billing

Mobile app tracking for managing field teams by tracking location, time spent on mobile & calls they have done for the day.
Pricing
DeskTrack Starting from $2.99 per month.
There is a free 15-day free trial option without submitting any credit/debit card option.
Hubstaff 
It's an effective and powerful time tracking tool that can be used for all kinds of organizations. It can be considered as remote work monitoring software as it creates visibility to see what a team member is working on at any given moment. 
Based on your requirements, one can simultaneously use Hubstaff to record the work hours and projects. It has an effective monitoring capability and can transform the entire tracking experience into robust. 
Pros 
Hubstaff app has a location-based time tracking feature for remote and field teams. It helps business owners automatically check the in and out time using GPS technology.

Employees can track time using a mobile or desktop app. However, there is a chrome extension that also has the same features. If any team member forgets to start the timer, they can manually add and edit the time entries. 

Managers may approve the timesheet for the payments. There are payment integrations that help managers to pay the team once the timesheets are approved. 

Based on the team's time entries, invoices can be created. Additionally, managers can manage the entire expenses, sending invoices and collecting invoices all under one umbrella. 
Pricing 
Starts from $7 per user/per month  
There is a free 14-day trial option. One can use this trial period to know whether it's the right fit for them or not.
Workpuls 
Workpuls is another time tracking application that focuses on employee work time by tracking and analyzing their work productivity. This application is super easy to use. Checking the work start time is more accessible as it is done automatically based on when the employees start working. Secondly, it runs in the background and tracks the employees' work or non-work-related activities without violating privacy. 
Pros 
Real-time monitoring to better understand the productivity of the employees

Budget tracking and project reports with screenshots as proof of work. 

Based on the employee's regular activity, automatic timesheets are generated. 

Automated time and attendance tracking for the businesses. 
Pricing starts from $6.40per month
Time Doctor
If an organization needs the amalgamation of time-tracking, employee monitoring, and project management software, Time Doctor may fit on their bill. A robust employee monitoring software tool gives minute details about the employees. 
It records the information of web pages and applications that an employee uses throughout the day. Besides, it also helps managers to take screenshots to see what the employee is currently working on. 
Time Doctor allows paying the employees directly from the software via Payoneer, PayPal, TransferWise, or any other chosen method. It will be automatically calculated from the working hours of an employee. 
Pros 
Time Doctor takes automatic screenshots to maintain transparency between the employee and the team leader/boss.

Chats can be monitored. 

Creating payrolls is easy with this time tracking software. 

Paying with chosen payment methods within Time Doctor smooths the entire workflow. 
The plan starts from $10/month
Desktime
If an organization is looking for a simple-to-use time tracking application, then Desktime could be ideal. It has three main features – Project management, employee monitoring, and productivity analysis. Besides, this tool helps managers and their teams identify unproductive habits. It sorts the applications and the web pages into "unproductive" and "productive." 
Pros 
Automatic screenshots

Timeline for daily productivity

Can be integrated with project management apps

Absence calendar

Invoicing 

Shift scheduling 
DeskTime Starts from $7 per user
Summing it up 
Did you catch the ultimate goal? It all centralizes around making the work more productive while tracking the activities of an employee. Introducing remote tracking software to the team will help to make the entire work lifecycle more flowing and efficient.
Start managing your time better with Desktrack. Start your free trial today.